Temples And Gods Suffer In 'Rationalist' Tamil Nadu While Centre Chooses To Look Away 
by
T R Jawahar
-
Thursday, September 5, 2019 09:41 PM IST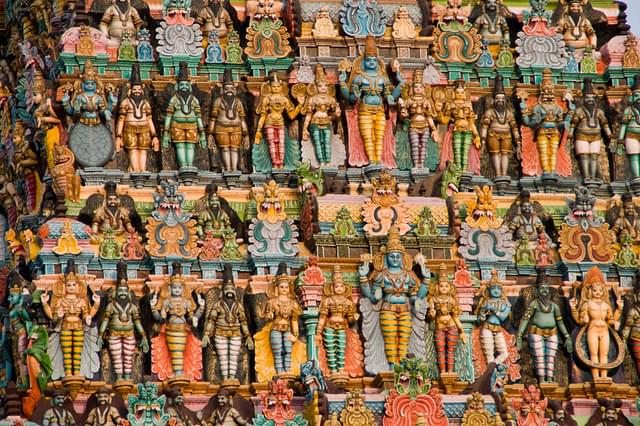 From the Meenakshi temple in Madurai (Rainer Voegeli/flickr.com)
Snapshot
Tamil Nadu is home to the pinnacle of all that is celebrated and revered in Hinduism. And yet, its temples and gods are looted at worst and ignored at best.
Tamil Nadu (TN) is Templenadu. Temples here are of various vintages, many with deep, unknown antiquity, many with ancient datings and many still mushrooming.

The Gods of all sects and sections are ubiquitous: under trees, street corners, village borders, everywhere, besides gorgeous temples. It appears all the heavenly beings have unanimously decided to descend here replete in their resplendent forms and functions. And TN people have always hosted these revered residents with great pomp and piety.
There is a Tamil adage that one should not live in a place that has no temple. But what is the state of the temples of such a State?

Aah, that is a sad story and with a long history too.

To the positive part, first. Temple building is a tradition in TN from time immemorial. These were not mere stone edifices but great works of beauty and splendour. The imagination and handiwork of sculptors, painters, artisans, architects, ordinary labourers and people all find consummate expression in the temple structures. The patronage of lineages of kings and the profuse paeans of saints have etched the temples in our sight and soul as physical and meta-physical entities.
The temples, of sand and stone, are naturally subject to decay.

So, temple renovation too is a matter of great celebration in TN. The belief is that external distortions do not affect the divinity of that deity. Structures may come and go, but the Almighty that lends it sanctity is eternal.

Temple building and renovations are governed by rules set by scriptures. Savants like Ramanuja had prescribed norms for administration and rituals that are adhered to till date. Also, one can learn from the priest and even see in inscriptions, extensive details of the 'site history' (sthala purana).

Temples enjoyed an exalted status in society and life revolved around them. They were centres of education, economy, entertainment and enlightenment.
Even during the times of great kings and influential gurus, temples had a well-insulated system of self-regulation. The devout society ensured this.

And this is the area where the temples of TN received their first blow.

They somehow survived the Islamic onslaught that laid waste several holy places of north India. But the British colonisers, enticed by the wealth and driven by religious zeal, began interfering in the affairs of the temples of Madras Province from around 1840s.

Since then, for a century till Independence, they ceaselessly toyed back and forth with temple administration through legislation and executive action and permanently tangled them in red-tape.
The deadliest albeit duplicitous blow from the Brits came in the form of The Madras Religious and Charitable Endowments Act 1925. Muslims and Christians protested and the Act was forthwith amended and rechristened Madras Hindu Religious and Endowments Act 1927, thus inaugurating a hypocritic secularism that reigns till date.

The Justice Party rule in Madras in the 1930s ensured that the State, by a simple notification, could take over administration of any temple on grounds of 'mismanagement or corruption', an absolute power prone to political abuse.

In time, with one law after another, post-Independence, the government gained complete control over temples, which were deemed 'public property'.
The present Tamil Nadu Hindu Religious and Charitable Endowments Act promptly gave birth to a Cabinet ministry and a department with a HR&CE Commissioner. A temple under it is managed by an Executive Officer. Big temples have Board of Trustees, usually headed by a well-known personality from the locality or the larger Hindu society.

But these heads, usually devotee-business people, are not involved in the micro management. Also, in the last fifty years of 'atheistic' Dravidian rule, many partymen have managed to infiltrate and even control temples. A politico, even if in a temple, is still a politico and a perennial pain.

However, in due secular deference to Islam, the same government just appoints the Waqf Board chief, and then abdicates.

As for churches, the State does not even exist. Lack of such immunity to temples in a Hindu majority country really riles.
TN temples get huge hundi collections. The devotees believe their contributions in cash and kind go to the deity and the upkeep of the temples. But in reality, hardly 30 per cent are used for this. The government controls these funds and bulk of it is used for various non-temple programmes. T

emple money also flows into the State treasury as a contribution to the salaries of the HR&CE employees, besides as fee for 'administering the temples'. Ironically, the archakas, who are the custodians of the culture and tradition of a place of worship, get paltry pay or no pay and have to rely on devotees' largesse, which vary according to temples. And worse, Hindu activities like patashalas, prayer centres, educational institutions get no support.

State funding for renovations (kumbabishekham) is minuscule and mired in bureaucratic maze; only liberal donations from Hindu society help these holy rituals happen.

In short, the wholly religious offerings of the Hindus made in all 'good, abiding faith' in their deities and for their worldly abodes, reach the intended destination just in trickles. Truly a trickery on the trusting faithful.
Temples have always owned huge tracts of land, donated by kings, devotee landlords and philanthropists.

Temple records, that predate all modern, colonial laws clearly state that these lands are to be used only for specified temple purposes. They are not mere palm leaves or stone plates meant for museums, but valid legal documents. It is the duty of the government to honour their content and intent. My enquiries with many experts, Hindu organisations and even HR&CE officials, however, reveal an extremely tragic travesty.

The temples of TN own close to 6 lakh acres of land and about 3 lakh sq ft of property. Estimates vary. But reality is, an incalculable part of this has been 'grabbed'.

Many temples just have the land inside their walls to contend with while many others with sizeable holdings suffer for want of even an approach road!
The vanished lands are now under judicial searchlights.

Just in the last five years, a shocking 50,000 acres have been gobbled by land grabbers and encroachers. 'A drop in the ocean', say Hindu activists. They also aver that encroachers and illegal occupants pay paltry rents to temples: In place of an estimated Rs 7000 cr per annum, what is netted is a meagre Rs 50 cr!

In October 2018, the Madras HC asked the HR&CE department to furnish the whereabouts of these lands that have 'mysteriously disappeared from the documents and records'. It ordered the Government to retrieve these lands in six months. And the Government came back, proudly proclaiming that it had recovered about 900 grounds and 3000 sq ft!

The court has since passed several stinging strictures to tackle this and also given directions for the quick eviction of illegal occupants and encroachers. Meanwhile, someone has approached the Madras HC with a complaint that a temple itself, situated in Nungambakkam right under the nose of the HR&CE office, has been sold away!
TN is the only State in the country with an idol theft wing in the police department. Foreign invaders plundered Northern temples. But in TN it is an inside job. Stealing original idols and jewels and making duplicates to replace them is an ingenious indigenous cottage industry.

While the loot is a century-old legacy, in 1980 there was a sudden spurt in the disappearance of panchaloha idols, hurting devotees' sentiments much.

In 1983, by a Government Order, the Idol Wing CID was formed which was later brought under the Economic Offences Wing. Its mandate were to: Investigate thefts of idols and antiquities over Rs 5 lakh, collection of intelligence on suspect antique and art dealers, investigate cases referred to it by Government, District police, ASI, etc.

A Central Act on antiquities also finds full play in TN. A feather in the State's holy cap, surely.
More than 1000 idols from about 400 temples were stolen just in the last quarter century, media reports say. And these are only official estimates, apt to be low.

Recovery of Chola bronzes of Rajaraja and his queen, which vanished from the famous Brihadeeswarar Temple at Thanjavur, from a private museum in Ahmedabad caused a stir. Notorious characters like Subhash Kapoor and Deendayalan, since apprehended, had a free run across the State temples besides access to a thriving export market. TN idols are hot stuff with many nationals and nations that shun idolatry! Gods, supposed to elevate us are easily 'lifted', and after the cash and 'carry' deal, travel across oceans and continents like illegal immigrants, undetected and sans visas.
Local thieves also abound and small, lonely temples are easy game. Temple staff, under coercion and/or temptation, collaborate.

It is no coincidence that incidents has spiked with the advent of Dravidians, who seem to have rationalised that idol theft is a far more profitable vocation than Periyar's prescription of idol-breaking.

Officers who expose culprits are mercilessly targetted. For instance, Pon Manickavel, current chief of the Wing, and a tough one at that, has alleged in open court that a Minister and DGP were interfering on behalf of influential people. He has been subject to much harassment just for being effective. Still, many politicos have come under judicial scanner with some HR&CE officials suspended and arrested.
So what can BJP do? The return of several artefacts belonging to the Thanjavur Temple by Australian PM Abbot to Modi was a grandiose affair. But such photo-ops won't wash here. The HR&CE Act is an abomination, an atrocity on Hindu culture, particularly painful because other communities have no such official oversight. The legislation is a British legacy, perpetuated by atheistic Dravidians whose concern is not for the temples but its lands, tenders, idols and such other material aspects of a spiritual place. Swami Dayananda Saraswati's Acharya Sabha, among other Hindu organisations, had demanded these temples be returned to the community and had also presented detailed ways and means to manage them.

The current BJP regime, which has just recently cracked a complicated Constitutional conundrum as Article 370 cannot claim impotence with respect to TN temples on the pretext that it is a State subject.
There are thousands of dilapidated temples dating deep into the past, with hoary heritage but hardly any attention. There are many that are in utter ruins, with the deity having to do without even the basic pujas. They own lands but grabbers 'own' them now. The Government controls temple funds and even a pittance is enough to restore these temples, revive their glory and ring in revenues. But alas, funds received from wholly Hindu sources turn secular in the HR&CE hands and go out of bounds!

By the way, some of these are Ram temples, with no dispute whatsoever. State subject? But then, the BJP did not deem Ayodhya just Uttar Pradesh's subject! Aah, we are Dakshin Pradesh, beyond the ken of BJP's Hindutva politics. Temples here can rot, because they don't fetch a single vote!
This North bias finds a blatant display this year.

The Kumbh Mela at Prayag was preceded by massive preparations, with abundant central support to Yogi Adityanath's UP regime. It was well organised, the pilgrims taken good care of and and all went smoothly.

The Kumbh comes in 12-year cycles. Right now in Kanchi, the Athi Varadar festival of once in 40 years, a rarity in Bharath, is on for 48 days. Crowds are unprecedented and zooming everyday, with the prospect of security, health and organisational disaster looming. Yet there is no sign of the Centre while just a hapless Collector is in charge.

Nagaresu Kanchi is now nightmare Kanchi. Still, it is the unflinching faith and love of devotees for their Lord that helps them overcome long hours, long queues and all obstacles, to have a darshan. A festival that should have been promoted as a chart-busting religious and tourist event suffers from want of even elementary planning.
For that matter, people from all over the country throng temples in TN round the year for some occasion or other: planetary shifts, annual fests, renovations, ancestral rituals, etc. But these places are where lofty heavens meet civic hell.

Suffice it to say that TN, suffused with Hinduism, in spirit and stone, is a fertile field for temple tourism that deserves the Centre's pro-active patronage. But Uttar Pradesh and Uttarakhand are all there is to India's shrines, its deities and festivals. Their religiosity gets national status from a 'Hindu nationalist' regime while pious TN's fate rests with a 'rationalist' State!
People in north voted BJP because they 'bow'ed to Ram's 'will'. But given the party's distance from TN's Gods, small wonder the odds are stacked against it.
Tailpiece: Next when Modi wants some time alone with his Maker in an alcove, he must look South. in Tiruvannamalai, there are caves galore that he can choose from, more than in Kedarnath. A penance here would do him and his party some good, personally and politically, respectively!
Get Swarajya in your inbox everyday. Subscribe here.
An Appeal...
Dear Reader,
As you are no doubt aware, Swarajya is a media product that is directly dependent on support from its readers in the form of subscriptions. We do not have the muscle and backing of a large media conglomerate nor are we playing for the large advertisement sweep-stake.
Our business model is you and your subscription. And in challenging times like these, we need your support now more than ever.
We deliver over 10 - 15 high quality articles with expert insights and views. From 7AM in the morning to 10PM late night we operate to ensure you, the reader, get to see what is just right.
Becoming a Patron or a subscriber for as little as Rs 1200/year is the best way you can support our efforts.
Become A Patron
Become A Subscriber