Kazi Nazrul Islam: The Poet Child of Mother Kali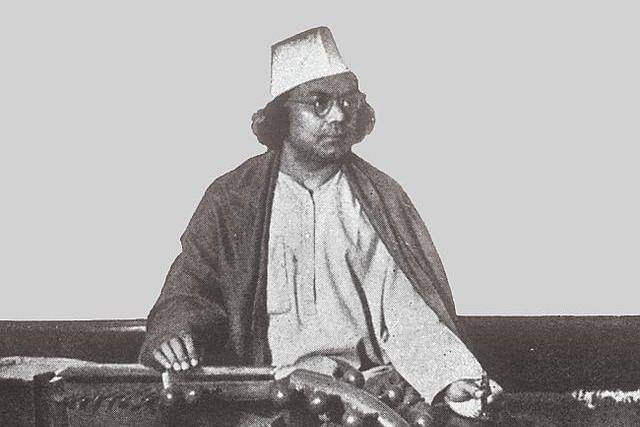 Kazi Nazrul Islam (Wikimedia Commons)
Snapshot
A tribute to a great patriot and a devotee of Maa Kali, on his birth anniversary.
Today is the birth anniversary of one of the greatest of the modern poets of the Shaktic tradition – Kazi Nazrul Islam.
Today, with the proliferation of digital media, Shyamala-Sangeet or the Bengali devotional music for the Mother Goddess is more accessible for even those who are outside the immediate sphere of Bengali tradition. In most of these melodious, soul-stirring hymns, one finds the marvellous poems of Kazi Nazrul Islam along with that of Ram Prasad Sen, an eighteenth-century devotee of Mother Kali.
Nazrul was born in 1899, the same year Swami Vivekananda established the Belur Math on the western banks of Ganga. Having lost his father, he had joined the British Indian army in 1917. He came back to Calcutta in 1920 and plunged himself to the radical literary movement.
He also contributed to the founding of the pro-Communist Workers and Peasants Party. He urged the unity of Hindus and Muslims. He famously castigated the orthodoxy among the Hindus and the fanatics of Islam with stinging words 'tikism' and 'beardism'.
In 1922, he launched a magazine, Dhumaketu – comet.
In its Puja issue, he wrote a poem about the arrival of the blissful Mother. It was the plea to Mother India, whose identity merged with Kali, the ferocious Goddess. It was a plea for Mother Bhavani to come and accept the sacrifice of her children. It was a plea to slice the enemies of the nation – both the external aggressors and the internal traitors and cowards.
Slice off, Ma, this hoax of a castrated man's love!
Strike with your scimitar, bring on the battle, teach us the mantra of immortality.
Make men of the effeminate, give blood, Ma; show blood!
Come alone, mad girl, dancing the tandava ̣ —"ta thai, ta thai"
Thirsting for blood, chanting the lamentation, 'I am hungry!,'
Chinnamasta, mad for blood, "I am hungry," come, Ma Kali
In vain did Siraj, Tipu, and Mir Kasim sacrifice themselves, Chandi!
You took your form of illusion; everyone said it was the law of destiny
Suddenly when that rebel, the Rani of Jhansi burst into rage,
Even when that crazy girl pleaded with you, you did not come, Ma Bhavani.
If you act such and play tricks, how much longer will you be worshipped?
You are the stony daughter of a stony father; come now, Ten-armed Mā!
Acting like this year after year—this is your disgrace; this is no worship.
What blessing is this that you give—cheating in return for the salutations of crores
of children?
You have eaten many goats and buffalos; Oh Rakshasi, but your appetite isn't satiated
yet.
Come, Stony Woman, now take the blood-nectar of your own sons!
[Trans. Rachel Fell McDermott]
The poem shares its heartbeat with the moving song of Tamil poet Bharathi where he laments to Mother India that if it was just that her finest children suffer hardships in the British jails. (Lest anyone gets worked up by the inclusion of the tyrant of Mysore Tipu, it should be remembered that for most non-South Indians, Tipu was seen more as a warrior against the British, and his true face was unknown).
The poem, though, is brilliant. Nazrul points to the resistance of a list of Muslim chieftains and contextualises them as the sacrifices made to Mother Bhavani, who is Mother India, who is Maha Kali. The poem earned him arrest and imprisonment from the British.
Nazrul married Ashalata, whom he renamed Pramila. The marriage created quite a furore. Many supporters of Nazrul left him. His poems were dropped from the Brahmo magazine, for which he was writing regularly. But the poet withstood all these and was also supported by the family of Pramila. Pramila did not convert and always wore the auspicious vermillion mark on her forehead. Girbala Devi, the mother of Pramila, lived with the couple and performed Lakshmi Puja regularly in their house.
Life was not a smooth sail for the poet.
His children Krishna Muhammad and Arindam Khaled died young. Only Kazi Sabyaschi (1929-79) lived beyond his father. His other son, Kazi Aniruddha, died two years before his father. His beloved wife lived paralysed waist-down for 25 years.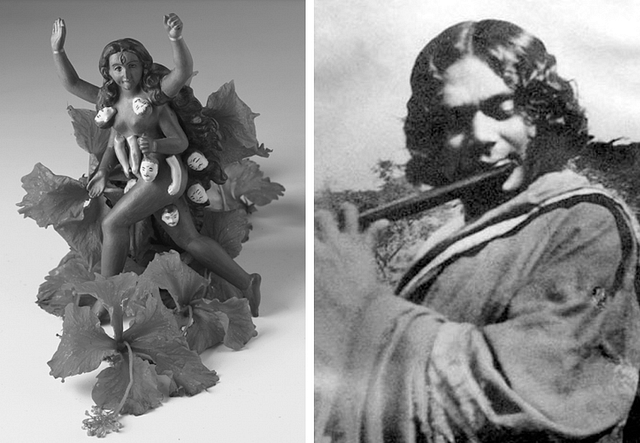 His Shakta Guru was Baradacaran Majumdar. Nazrul practised all the rituals into which he was initiated daily.
From 1942, he slowly lost his voice and outward mental abilities. It was as if the Mother wanted Her beloved son to merge in Her within this birth itself.
He sang:
Going to look at my face in the mirror, I see your image shining.
If I close my eyes, I see your image in my heart.
How much longer with your picture
will you bewitch me, Mā?
When will I get your lap? When will I get peace in my heart?
[Trans. Rachel Fell McDermott]
When in suffering, he went to his Mother. Debts and tragedies never made him doubt Her benevolence and grace. In Her, he abided. To Her, he always returned.
Oh Ma, whatever suffering, scarcity, and debt I have
I've placed it all at your feet.
Repay now, Ma,
all your devotee's debts.
...
I no longer belong to myself
but am already offered at your feet.
Now you've become my surety;
make them understand
[Trans. Rachel Fell McDermott]
Again the parallel feeling from the lines of Subramanya Bharathi is striking.
The Mother of Nazrul had space for all in Her lap – including Islamic tradition. So Nazrul could easily move between the traditions in his poems.
He once said when he heard that Kalima, it reminded him of Kali-Ma. If his Mother India as Maha Kali was the Goddess battling the evil oppressor and cowardice with raging anger, She was also the Goddess who allowed no space for hatred:
He who has seen my Mother
can he ever hate his brother?
She loves everyone in the three worlds;
her heart cries for all.
With her there's no difference of caste,
no distinction between high and low;
all are the same.
If she sees a Candala
like Rama with Guha
she clasps him to her breast.
Ma is our
Mahamaya, highest Nature, and
Father our highest Self;
that's why one feels love for all
we feel love for all.
If you worship the Mother
hating any of her children
she won't accept your puja;
the Ten-Armed One will not.
The day we forget the knowledge of difference
on that day only
will Ma come home to you
[Trans. Rachel Fell McDermott]
The poem is what Swami Vivekananda called 'Practical Vedanta'.
The poet says the one who has seen Her can never hate. She is the Consciousness that permeates everything and manifests as all diversity. So, one who witnesses the Divine permeating as the common principle in all existence cannot hate. This is the dictum one finds in Isavasya Upanishad, verses 6 and 7:
He who sees all beings in the very Self, and the Self in all beings, feels no hatred by that (realisation).
When to the man of realisation all beings become the very Self, then what delusion and what sorrow can there be for that seer of oneness?
As Nazrul Islam wrestled with poverty, the worsening condition of his paralytic wife and tragedies like the death of his mother and his child within a few months, Fazlul Huq, then 'Prime Minister' of undivided Bengal, turned his back though he owed the poet money from his early days.
Ajharuddin Khan, a scholar, specialising on Nazrul Islam, has this to say about the situation:
Most of the honourable personalities of the then Muslim society, like Mr Tamisuddin, Education Minister, Najimuddin, Hossain Shahid Sohorawardy, Maolana Akram Khan etc., did nothing for him. Only Haidar was trying to meet the financial problem of the sick poet. Shyamaprasad is the only person who came forward for the medication of the poet and tried to cease the expenses of the family. Noted heads of the Muslim community did not even come to see Nazrul.
From the note of Subrata Kumar Das along with his translation of Nazrul's Letter to Shyamaprasad Mukherjee: Bangla Sahitye Nazrul (Nazrul in Bangla Literature, 1997, P-210
Ajharuddhin records that Dr Shyama Prasad Mukherjee even absented himself from the memorial service of his father at the University and visited the ailing poet. He arranged for the poet's stay in a medical resort at Madhupur as recommended by his physician.
Later, the poet thanked Dr Mukherjee that but for his help the poet would have died in the hospital like Madhusudhan Dutta. That the devotee of Shyama should be supported by Shyama Prasad Mukherjee indeed should have been Her divine play.
The poet, too, was a great admirer of the nationalist leader. In a letter written to him, the poet wrote:
Among the coalition ministry, I love and respect only you from the core of my heart no other one else. I know, it is we who will liberate India. Then Bangla-desh [he means undivided Bengal] will remember Subhash Bose and you first. You will be the true heroes of this country. Please accept my gratefulness and thanks from my inner heart.
Kazi Nazrul Islam was sent to Bangladesh after its liberation by the Indira Gandhi government as a gesture of goodwill. He was made an honorary citizen there even though he was outwardly unaware of all these happenings.
He breathed his last there, and his wife, before she died in 1962, had told the son not to cremate her but bury her so that when the time comes, her husband would always be next to her.
As a Tamil one feels that his poems on Kali resonate with the works of Mahakavi Bharathi of Tamil Nadu who too was a strong Shaktic poet.
Bharati saw the Mother in everything. He sang devotional poems on Desa-Muthumaari – the grama devata of Tamil villages. He saw in Mother India, Kali, the madly dancing consort of the equally divine and madness-intoxicated Siva. He wanted her to purify his mind and at the same time remove the social strife being created by the middlemen of conflict and discord.
From the blossoming flower to violent natural phenomena like storms, Bharati saw in all manifestations of nature the eternally dwelling Shakti, the Goddess supreme. A comparison of the poems of Bharathi with Kazi Nazrul Islam is an important topic of research that is like an abandoned child waiting in a lonely room to be discovered.
The Shaktic matrix forms the basis of the nationhood of India in the deepest sense of the term, transcending the nation-state boundaries even. Kazi Nazrul Islam reaching out to all humanity, nay even all existence from the lap of Mother Kali, personifies the devotional, empathy-filled mysticism of Shaktic universalism.
The nation should honour this great son of Mother India by translating his poems to all Indian languages and by including a chapter on him in history textbooks.
Post-Script:
In 2006, I translated some of his poems for Tamil web-portal Thinnai.com. Then I know not the poet's history. The sheer beauty of the poems and the way they move the heart appealed to my Hindutva and compelled me to translate them. Unfortunately, my ignorance of the Bengali language made me dependent on English translations available randomly on the web then.
Despite second-hand reading of his poems, blessed should be those who can read them originally in Bangla. They exude the power of moving the heart and fill one with the devotion for Mother Kali.
Ref: Rachel Fell McDermott, A 'Muslim' Poet in the Lap of a 'Hindu' Mother: Kazi Nazrul Islam and the Goddess Kali: in 'The Goddess' (Ed. Mandakranta Bose), Oxford University Press, 2017, pp.281-303
Get Swarajya in your inbox everyday. Subscribe here.
An Appeal...
Dear Reader,
As you are no doubt aware, Swarajya is a media product that is directly dependent on support from its readers in the form of subscriptions. We do not have the muscle and backing of a large media conglomerate nor are we playing for the large advertisement sweep-stake.
Our business model is you and your subscription. And in challenging times like these, we need your support now more than ever.
We deliver over 10 - 15 high quality articles with expert insights and views. From 7AM in the morning to 10PM late night we operate to ensure you, the reader, get to see what is just right.
Becoming a Patron or a subscriber for as little as Rs 1200/year is the best way you can support our efforts.
Become A Patron
Become A Subscriber