Why Accepting Malini Awasthi's Deep Cultural Connection With Uttar Pradesh Is Hard For Her Opponents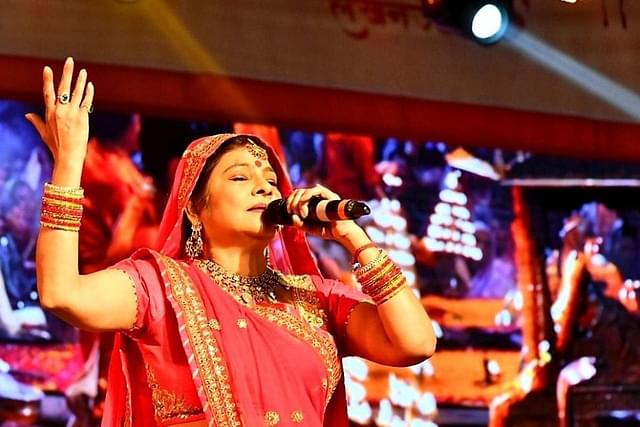 (Facebook)
Snapshot
With a solid grounding in classical music, Malini Awasthi is taking people's music to the people.

The opposition to, and the attacks on her, seem to be a result of an inability to understand her popularity, or her art.
Renowned vocalist and artiste from Uttar Pradesh, Malini Awasthi, sent a legal notice for defamation to a social media coordinator from the Congress party on Wednesday. Awasthi had demanded an apology to a post on Twitter and the allegations made in that post.
She had earlier reacted to the post on Twitter which said: "UP Addl Chief Secretary @AwasthiAwanishK is behaving like BJP's Shakhaboy, against poor migrant workers. Is it because his wife Malini Awasthi does hundreds of shows for UP Govt and hence earning crores from BJP Govt? Their bank account statements won't be surprising at all!"
Malini Awasthi is the wife of Uttar Pradesh Additional Chief Secretary Awanish Awasthi.
Who is Malini Awasthi the artiste?

Awasthi has shared people's music heritage with people with more freedom than most self-attested upholders of creative liberty among her contemporaries.
More. She comes from UP and celebrates her roots. She gives a glimpse of her religiosity at times.

She chooses to express her views on culture and the political in culture, several times, openly.
The music fraternity -- divided by categories and priorities, hasn't been really fair to artistes such as her. Awasthi has never been really given the recognition for the "classical" concealed in her practice of "semi classical" and "folk" that she has deserved.
Social media is not the best of platforms to find or reveal the finer aspects of her art and its aesthetics. The niche audience lies elsewhere. The familiarity and depth of understanding of the aspects that bind her musical repertoire lie elsewhere.
So, those who are unaware of her art and contribution see only familial connections and her huge following. They have no option but to keep needling her space. It's easier than understanding her music or art or her own achievements and contribution.

Politics is often lazily termed as "art". In art, jealousy is the first and last resort of the lesser gifted or the lesser committed. Awasthi's popularity and her acceptance in public life could be prompting some during this phase of her career.
The cultural-Left has fancied folk music as either a thing of political weaponry, or a material of possession which is dished out to the urban elite in the language he understands.
Awasthi's celebration of folk music is doing the opposite.
She is putting out songs and thoughts, even texts passed over and collected, from those precious, private diaries and notebooks for people on different platforms.
Imagine for a while that Awasthi in fact had the political power she is imagined or said to have been enjoying. Here is what should have happened then:
One: The possibility of her songs and repertoire finding documentation would have been huge.
Two: The possibility of an extensive research into music and social structures, and community diversities embedded in her musical repertoire would have been huge. Putting it more clearly -- it would have been in the process in 2020.
Three: The exploration of those aspects would have, by now, been part of three seasons of literary festivals arranged and endorsed by the cultural right, and endorsed by the state in, say, Banaras, or Gorakhpur, or a power packed Lucknow, or Agra, or in Purvanchal.
Four: The UP government would have in place Awasthi as the "kartaa dhartaa" of an institution established and named "Girija Devi Smriti Sansthan Of Performing Arts" promoting the lesser known art narratives and emerging artistes of UP. Instead, you see Awasthi wading through minute efforts of her own towards urging for support to artistes during Covid-19, or giving space to the humble folk artistes in Delhi.
Five: By now, she would have run out of the space and time to create and recreate new from the old. Awasthi, thankfully, has social media to substitute for the limited dais. Who would need social media if the number of "shows" exceeded her social media interactions?
Six: Intelligent use of Nakta and Nautanki would have been better known and celebrated on social media as a people thing. They would have taken over the abominable "teri rooh pe, tere jism pe, haq hai bas mera" type of songs from Pakistani artistes. Bundelkhandi, Awadhi, Bhojpuri and Hindi songs would have become expression vocabulary feeders in three years.
Over the years, Malini Awasthi has been witnessed moulding into any dais that provides her the space to share the heritage with people. Dais stable, or, dais floating.
This author has always been interested in Awasthi's bank balance of compositions, musical forms involved, art and knowledge.
She is largely known as a "queen of folk", but her artistic strengths have a parent - rasa.
She gives it identity. She walks in and out of studios and concert halls, wearing the traditional, the yards, wearing the chunari, gota, the Benarasi motif, and the Awadhi flow. Proudly Uttar Pradesh.

Awasthi has an immense repository of songs and compositions that celebrate the ragas. She knows narration and narratives that explore UP's villages, the fields, the worship, festivals, marriage, ceremonies, occupations, kitchens, the ghats, the many communities. These represent the diverse castes in the state.
In the last few years, Awasthi's visibility as a public figure has grown. It has happened because the celebration of people, and the celebration of their dignity, has reclaimed political space in UP.
If at all her spouse comes into picture when one talks about her, it would be for his emotional support to her art and journey.
The pursuit of music, the requirements of selection and omission, the practice of the need to perform before people -- collectively -- wasn't an easy wheel to fit the social perceptions of gender in art in UP three decades ago.
Fortunately ( not unfortunately), people opposed to her ideas on culture are programmed into ignorance. Her art and its civilisational value will never penetrate it.
The guru and the shishyaa

People are missing out on a fact when they prick this artiste. She is a disciple of a legend who came over several tides in her own life to uphold her art, devotion to it, and singing. She has the memory of her guru's words, lessons, tests, words hard and soft, with her.
Awasthi has been served litchis -- selected and peeled -- by her guru Vidushi Girija Devi herself. The discipline and affection passed on to Awasthi and the 40 plus years in music will work their way against come-power-go-power sequence of the opposition to her art, success and ideas. The diaries and her repositories will grow in thickness. Politics cannot affect them.
The tallest of stalwarts from the most valued families and gharanas chose to shift base, from their hometown or art bastion to New Delhi during the 1960s and 1970s. Within the fraternity, the shift was seen more as an essential move to have feet firmly placed in the performance rosters and presence in the echelons of power.
There were some artists who moved against the tide by moving out of Delhi for continuing with their creative journey in freedom. There were others who were living in culture hubs and capitals of their own states. Delhi was just another dais for them in the unending itinerary.
Vidushi Girija Devi, or Appa ji, as she was known, was one of the legends who remained physically rooted to the city of sadhana and karma -- well, largely. Benaras and Kolkata were her larger home destinations. Awasthi, her disciple, had a different kind of destination advantage in her marriage.
This opened Awasthi to an extended home and home room for her music and practice. With every change in destination, came the opportunity of fresher and deeper interaction with the local music narratives, and more importantly, with the real carriers of the folk performing arts.
With every new destination, she would open the gathri, the carefully knotted bundle -- of folk voices, lyrics, folk expression and songs to introspect and to study them. She witnessed the state's own musical tapestry inside out.
She had the influence of classical on the semi classical and folk, properly drenched, steamed and ironed out. After years of practise, she now needs to simply hold that delicate fabric and wrap herself around it and present it to folks.
It isn't surprising that people opposing her are not peers from the artiste fraternity. If it was done (this openly) in the artiste fraternity, Awasthi would have been placed on a level field, where her arsenal - made of a prolific repertoire, experience and language would have taken care of the purposeful pricks pointed towards her.
Awasthi will remain largely detached from the politics of political twists and turns. Her journey is her own. To accept that is hard for some.
Get Swarajya in your inbox everyday. Subscribe here.
An Appeal...
Dear Reader,
As you are no doubt aware, Swarajya is a media product that is directly dependent on support from its readers in the form of subscriptions. We do not have the muscle and backing of a large media conglomerate nor are we playing for the large advertisement sweep-stake.
Our business model is you and your subscription. And in challenging times like these, we need your support now more than ever.
We deliver over 10 - 15 high quality articles with expert insights and views. From 7AM in the morning to 10PM late night we operate to ensure you, the reader, get to see what is just right.
Becoming a Patron or a subscriber for as little as Rs 1200/year is the best way you can support our efforts.
Become A Patron
Become A Subscriber