Coimbatore-based Shanthi Gears, a unit of Murugappa Group, develops gearboxes and superchargers for India's T-72 tanks that are produced at Heavy Vehicles Factory at Avadi in Chennai suburb. But for the Rs 30,000 crore company that employs 35,000 workers in 28 firms across 55 manufacturing locations worldwide, defence sector supplies make up a mere 4 per cent of its total turnover. The company's chief executive, Rajiv Moorthy, recently told Business Standard that the share of defence supplies in the company's turnover will double in two years' time.
The gearmaker is betting big on the Narendra Modi government's plans to set up a defence corridor in Tamil Nadu. Hopes of companies like Shanthi Gears were kindled in Union Finance Minister Arun Jaitley's budget, presented this year on 1 February. In a gesture to the two states warring over Cauvery river water, Jaitley announced that a defence production corridor would come up between Tamil Nadu and Karnataka, starting from Mysuru and running down south to Trichy.
Defence Minister Nirmala Sitharaman followed up on the announcement quickly to execute the budget announcement. Chennai, Salem, Hosur, Trichy, and Coimbatore – the industrial cities that have all the wherewithal in terms of infrastructure, manpower, and finance – will form the Tamil Nadu part of the defence corridor.
The Defence Expo currently being held in Chennai, has come in handy for the setting up of the corridor, with many overseas players, mainly from Russia and the United States (US), eyeing opportunities up for grabs. Not surprising then, that a record number of companies, including from outside India, has taken part.
On his part, Prime Minister Modi silently told the people of Tamil Nadu that he and his government are aware of the state's potential, its people, its capability, and would now want to tap them all.
The Prime Minister, inaugurating the Defence Expo amid huge protests against him on the Cauvery issue, said his government was committed to setting up the defence corridor. No doubt, the plan is a game-changer, as the government sees this as a vehicle of economic development and growth of the defence industrial base.
The defence sector has come a long way in the last four years since Modi took over the reins of the government. It has attempted to come out of the paralysis induced by the earlier defence minister AK Antony who either cancelled contracts or banned suppliers without regard to defence preparedness.
The new establishment has tried revising the defence procurement policy (DPP) and also tinkered with the offsets model. There have also been significant changes in the And then there is the Make In India initiative.
The reforms in the defence procurement policy has helped the Defence Ministry immensely. During the 2017-18 financial year, the Ministry spent more than what it was allocated in the budget. That is in stark contrast to the fact that all these years, allocation to the Defence Ministry has gone under-utilised.
The sector has now been opened to 100 per cent foreign direct investment. Not just the defence industry, even emerging aerospace markets in Asia and West Asia can be tapped by emerging entrepreneurs. Besides, the Centre has decided to allow investments in the manufacturing of small arms and ammunition that is critical for the Indian defence forces.
India will be able to take advantage of the low-hanging fruit from these measures initially to start with, before bigger things shape up. Computer-aided design, castings and forgings, wiring, cable, and sheet metal components are sectors that will be tapped in the immediate future.
India will also be able to drive home with its competitive labour costs that make up over 30 per cent of total costs in developed nations. Competitive labour in itself can bring down the defence manufacturing by at least 25 per cent – a key aspect when defence ministries across the world are restricted by budget allocations.
In a presentation made to the Confederation of Indian Industry, N Shekar, president – Aerospace Industry Development Association of Tamil Nadu, said some of the global manufacturers like Sikorsky, Lockheed Martin, BAE System, Airbus, and Bell Helicopter have enjoyed 20 per cent to 40 per cent cost advantage by outsourcing from India.
How does Tamil Nadu, a state which sent technical textiles from Coimbatore for the rockets fired by the Indian Space Research Organisation in the 1990s, then fit in to take advantage of these benefits?
When the announcement of setting up of the corridor was made, the Defence Ministry said that Tamil Nadu alone could attract Rs 1.25 lakh crore investments and create at least four lakh jobs in Tamil Nadu and Karnataka.
Much thought has gone behind the plans to create a corridor because these cities that have been identified are the ones where defence public sector units (PSUs) like Bharat Heavy Electricals Ltd, Heavy Vehicles Factor, Bharat Electronics, and Hindustan Aeronautics are already there. These PSUs have set up facilities and capabilities that have helped many private enterprises – especially medium, small, and micro ones – mushroom.
Shekar, in his presentation, had pointed to Tamil Nadu's vibrant manufacturing culture, its ability as the Detroit of South Asia that can easily be scaled up to shift to producing defence products, and its heavy engineering capability as key factors that can help the state tap into the existing potential.
He has a point. Hyundai, Ford Motors, Renault-Nissan, Daimler, BMW, Ashok Leyland, Tafe, Caterpillar, and a host of other automobile majors have their production facilities in Tamil Nadu. The presence of information technology majors Tata Consultancy Services, Cognizant, Infosys, Wipro, HCL, and IBM, among others, is another advantage.
According to Vinod Surana, Assocham Tamil Nadu Chief, the corridor can create five lakh high-tech jobs and his association's study has found Tamil Nadu well-suited for a large defence corridor as it has two tier-1 manufacturing units that supply to other tiers. Not for nothing then, has Chief Minister Edappadi K Palaniswami offered to cater to 25 per cent of the country's defence needs.
Tamil Nadu has 36 operational Special Economic Zones – the highest – in the country. The state enjoys a logistical advantage of having airports at Chennai, Coimbatore, Trichy, Madurai, and Tuticorin. (Salem has been added to the map now, and Bengaluru airport is a few hours' drive away!)
The other plus point for the state is that it is well-connected by road and sea too, with ports at Madras, Ennore, Kattupakkam, and Tuticorin – a factor most of the investors in Tamil Nadu point out. (The Kochi port is another nearby option.)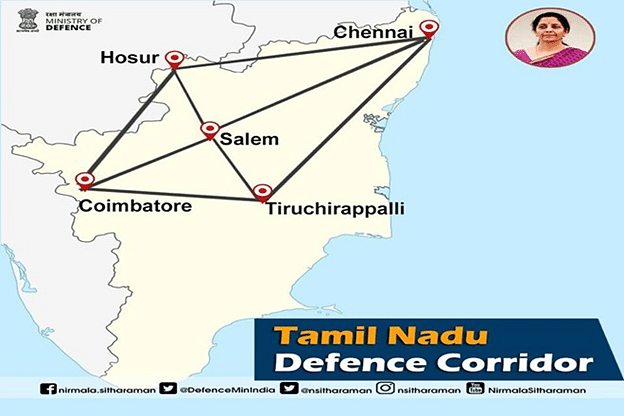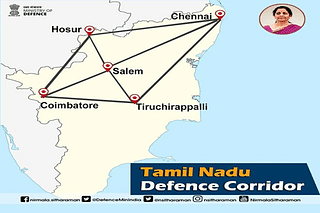 A depiction of the defence corridor (Graphic by @nsitharaman)
Though the state ranks only fifteenth in the ease of doing business rankings, what matters most is that Tamil Nadu is the highest contributor to the country's gross domestic product. In 2016-17, it boasted a per capita income of $2,284 (~1.49 lakh) – one of the highest in the country, which means attracting talent will not be a problem.
The state, which has received $27 billion as foreign direct investments from 2000 to 2017, also boasts of a vibrant youth population with around 30 per cent being in the 20-35 years age group. With over 500 engineering colleges and another 500 polytechnics, Tamil Nadu can be a state that will offer vast skilled and educated manpower.
The thousands of small and medium industries that line up from Bengaluru to Chennai, Salem, Coimbatore, and Trichy are all capable of meeting the Defence Ministry needs. These industries, which have great engineering capabilities, are expected to meet the stringent quality norms, given their track record over the years.
Initiatives have already been launched in Tamil Nadu with a Defence Park being set up in collaboration with the Coimbatore District Small Industries Association and the launch of Innovation for Defence Excellence. Industrialists in the western districts of Tamil Nadu are eager to take advantage of the opportunities and deliver, what with the state unable to witness any major investment in the last couple of years.
Back to Shanthi Gears. The company is now developing gearbox components for the helicopters that Hindustan Aeronautics Limited is manufacturing in Bengaluru. It has tied up with David Brown, a United Kingdom-based gearbox firm, to supply parts for the main battle tank called Future Ready Combat Vehicle that is being produced now. Many more companies like Shanthi Gears are rubbing their hands with glee in Tamil Nadu.