A look at key reform and governance areas in which States have yet to improve.
The Department Of Industrial Policy & Promotion jointly with World Bank released a report on 'ease of doing business in India'.  The report is based on a ninety-eight point Action Plan on "Ease of Doing Business"  prepared by Chief Secretaries of States.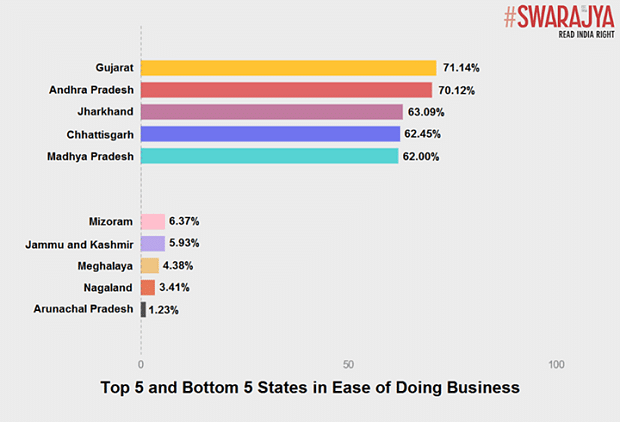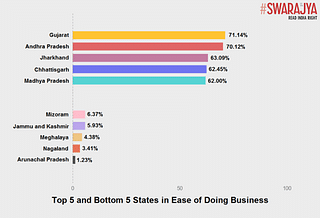 The report ranks the states in terms of their implementation of the above mentioned Action Plan. Ever since its release a lot of talk has been focused on the competitive ranking of states. However the report also touches upon many important facets of governance and administrative reforms which equally deserves attention.
These specific areas indicate India still has a long way to go to become the primary hub for investments as most states need substantial improvement in the said areas. We looked at four major areas of reform in which states are struggling to catch up with the standards set by DIPP/World Bank (excerpted from the report)
1. Taxation And Returns Filing
Entrepreneurs are subject to various registrations for tax purposes at a State level, including VAT, CST, Entry tax, Entertainment tax, Luxury tax and Professional tax. A separate registration number for each makes it difficult on the part of the entrepreneur to file as well as for tax authorities to develop risk profiles as they often do not have access to the full tax compliance history of a business.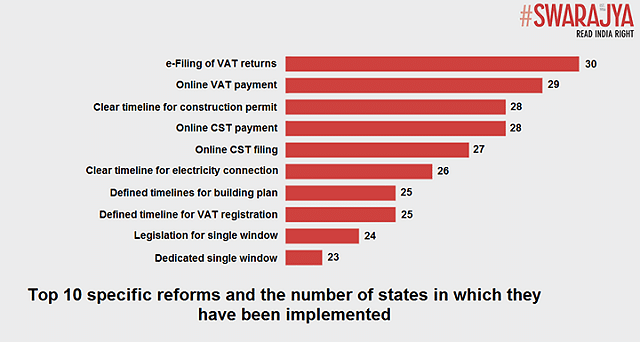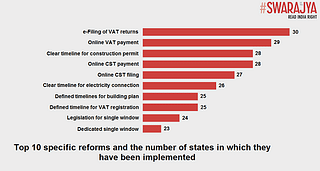 A single ID from the user perspective makes it easier to file taxes and also enables greater integration of tax payment. Only Odisha, Rajasthan and West Bengal issue a single Tax ID to cover all State taxes.
2. E-Governance
Courts: Twenty nine states are yet to begin implementing electronic courts, i.e. district courts which allow for e-filing of disputes, issuance of e-summons, online payments, e-cause lists and digitally signed court orders.
Single window system: Only a total of six States have converted their single window system into truly effective online portals. These States include Andhra Pradesh, Madhya Pradesh, Maharashtra, Punjab, Telangana and Uttar Pradesh.
Land/Property Records: Similarly, no state has focused on integrating data at sub-registrar, municipality and land records offices comprehensively to provide a sense of conclusive title on each property. Fourteen states have introduced e-stamping. However, only five allow online property registration application and payment – Andhra Pradesh, Jharkhand, Madhya Pradesh, Maharashtra, Rajasthan and West Bengal.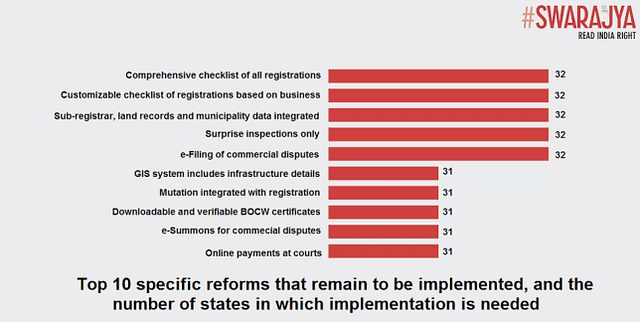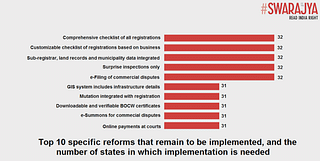 Andhra Pradesh, Bihar, Chhattisgarh, Gujarat, Haryana, Madhya Pradesh, Orissa, Tamil Nadu, Telangana and West Bengal have digitized both sub-registrar and land records offices. However, municipal digitization is lagging behind, as is database integration. In Maharashtra and Rajasthan, all three offices are digitized – however, no State features a truly integrated property database. Nearly two-thirds of the States assessed have an online consent management system for granting environment/pollution related approvals and online fee calculator.
3. Licenses and Information
No State has been able to demonstrate a fully comprehensive list of all licenses, NOCs and registrations required by a business to set up and operate, as a result of which no state allows entrepreneurs to filter the list by industry or number of employees to get a truly comprehensive sense of what his or her entire regulatory burden will entail.
Many States have developed checklists, but they are not comprehensive in that some registrations, licenses and NOCs may be missing. On the inspections front, no State allows for all compliance inspections to be solely based on complaints with approval from the Head of Department. This implies that there is still a lot of scope for improvement in how inspections are administered in all States.
4. Time-Bound service delivery
World Bank recommended that the legislation cover time-bound service delivery for at least any four of the following registration or licensing processes: Labor, Environment, Land Allotment, Construction Permits, Power/electricity connections and State taxes. States seem to be struggling in this regard. Only Andhra Pradesh, Chhattisgarh and Uttar Pradesh have scored well on all four of these questions.
The complete report can be accessed here.