For 55-year-old Chandrasekar, it will be a long wait at the Vellore regulated market, about 125 km from Chennai, to get payment for his agriculture produce. Rains the previous evening made him so busy that he had to pack his paddy from his farm at a village some 15 km away from Vellore late in the night. He left for the market at night so that he could put his produce in the market shed to avoid his paddy getting wet. The 10-odd bags of paddy, each 75 kg, got sold in the morning. But he will have to wait till 5 pm in the evening before he gets the payment for his paddy. The only solace for Chandrasekar, who was forced to take voluntary retirement from Tamil Nadu Explosives Ltd, was a friendly, cool weather, thanks to periodic drizzle during the day.
The sale of his paddy, in contrast to the difficulties he is undergoing, was like a breeze. There were quite a few traders who bid for his offering through e-trading via an app on their mobiles. "The paddy I brought here is ADT 37 and I am getting around Rs 975 a bag. This is lower than the minimum support price fixed by the government, but I have no other alternative," says a weary Chandrasekar.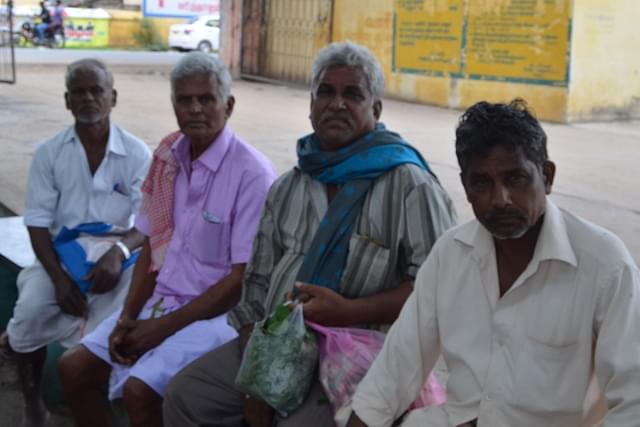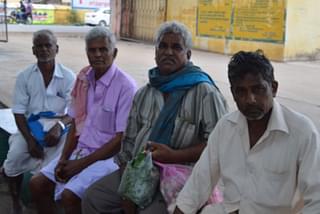 Chandrasekar, second from right, waits with his fellow farmers for his payment at the Vellore regulated market.
His farm is near a lake, and transportation from there is difficult. "We have three acres, and we can grow either paddy or sugarcane only. Either crop, we have problems in transportation, and we have to carry the loads on our head from our farm," he says, adding that he doesn't want an electronic transfer of the due amount since he would have to spend two to three hours at the State Bank of India branch, which is about 2 km from his house, a day or two later. Another reason for Chandrasekar to take cash is that the payment he will receive is below Rs 10,000.
About 35 km from the Vellore regulated market is Ammoor regulated market that has emerged as the second-highest centre for paddy arrivals in Tamil Nadu. Gopal, an 83-year-old farmer from a village that is 12 km from Ammoor, brought 92 bags of ADT 37 paddy to the market there in the morning. By noon, he was relaxed and smoking a beedi, happy that he had sold each bag for around Rs 1,110, and would be getting over Rs 1 lakh in his bank account the next day. Again, his wares were sold off without a hitch, but through the electronic National Agricultural Market (eNAM), with traders bidding at a higher price.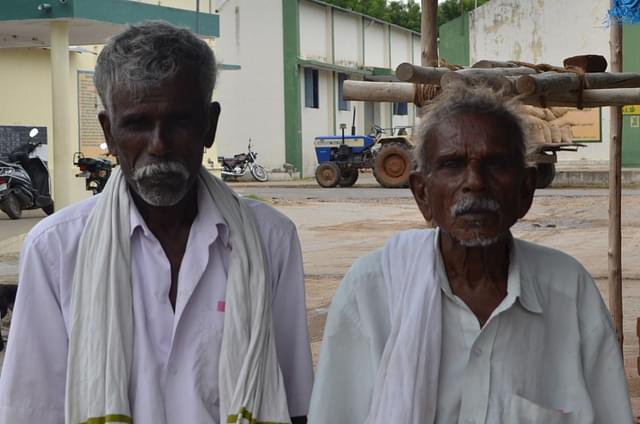 Farmers Kuppan and Gopal (right) relax at Ammoor regulated market after having sold their produce through eNAM.
Gopal, who has come to the Ammoor market with his farmer-friend Kuppan, is happy that he is getting a good price for his produce, though he complains that he had to pay Rs 500 as labour charge for unloading. He also had to pay Rs 50 per bag to transport his paddy to the market. Gopal and Kuppan are not unhappy to get their payments directly through electronic transfer, though both would prefer cash.
"Once the money is deposited tomorrow in my account, I will have to go and withdraw to pay loans that I took to pay for transplantation. I need to pay Rs 8,000 for the combine harvester I rented, and payments are also due to other farm hands," says Gopal, who says he stays in a hut on his farm to tend to his crop.
Be it Gopal or Chandrasekar, both agree that the weather has been kind to them this year now that they have got a good crop. Agriculture Department officials at both markets say arrivals this year are more.
"Ours are drylands depending on rains for irrigation, even if we have our own wells. For almost eight years, we had to bear with deficient rains that farming was difficult," says Chandrasekar. Concurs Jayanthi, granddaughter of Gopal who has accompanied the farmer: "We are seeing better times this year."
Vellore and Ammoor are, however, studies in contrast on e-trading and eNAM that are taking place in Tamil Nadu. According to the Tamil Nadu government, Ammoor was among the 15 markets selected in the first phase for launching eNAM in the state. On the other hand, the state government has introduced e-trading on a pilot basis in 15 regulated markets including Vellore. There are 12 regulated markets in Vellore district, with eNAM functioning at Ammoor and Kalavai. E-trading is conducted only at the Vellore regulated market in the district.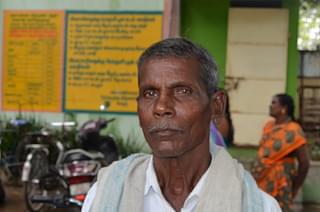 Farmer Duraikannu at Vellore regulated market, where he finds e-trading beneficial, with the need for commission agents having been eliminated.
"We are happy with e-trading since it cuts out commission agents. This is so hassle-free," says Duraikannu, a farmer from another village near Vellore who sold his groundnut through e-trading. The e-trading is facilitated by a couple of data entry operators, who also enter the bids of traders who don't know how to use the app, recruited by respective market committees. Even for eNAM, the rice market committee has hired three data entry operators to facilitate smooth conduct of trading.
Trading in eNAM and e-trading is witnessing a rise in interest from farmers. "Nearly 300 farmers and 67 traders have registered for eNAM trading across the state," says the superintendent of Ammoor market. In Vellore, the superintendent says over 100 farmers and around 50 traders are active on a given day. "Farmer participation is increasing as we have been canvassing among them to shift to e-trading," the Vellore regulated market official says.
"We have sold our groundnut for the first time in e-trading, though we think we got a price lower by a few rupees that what an oil mill offered to us," says 60-year-old Selvi, who came rushing to the regulated market to sell three bags (each 80 kg) of groundnut along with her husband, Mani. One problem for Selvi was that she came just ahead of the deadline for bids at 10.30 am, resulting in only one bid for her produce. "Had she come early, she would have got a far better price since there would have been better bids," said an official.
In e-trading, government officials are a little flexible with the payments to farmers. "Payments up to Rs 10,000 are given in cash if farmers demand it. But any payment above that is done through electronic transfer to their bank accounts," says the Vellore market superintendent.
"But in eNAM trading, there is no cash payment to farmers. All payments are done through electronic transfers of money through banks," says another department official, who doesn't want to be identified.
But trading in eNAM hasn't really brought in traders from far-flung places in the country as envisaged by the central government. This means, farmers' produce in Vellore isn't finding any trader from outside Vellore, leave alone the state. "Right now, eNAM has been launched, no doubt. But only traders in Vellore district, who are able to be present at Ammoor or Kalavai (30 km from there, another eNAM functions) when the farmer brings his produce, take part," says the official unwilling to be identified.
The problems with eNAM in Vellore district are that there are no facilities for assaying and grading. "We have got the moisture meter, blowers and all equipment for grading. But no staff has been recruited yet for these functions. Currently, traders carry out their own assaying and grading relying on their experience," says the official.
A Tamil Nadu policy note on agriculture department said assaying and grading facilities are available in only 10 markets, and all markets nominated for eNAM, save for facilities that are lacking, will be provided before the end of the current financial year.
"Without assaying and grading, you cannot expect someone from a faraway place like Punjab or Haryana to buy Tamil Nadu produce. This, in a way, has restricted eNAM trading. These are initial problems, and we expect all these issues to be sorted out soon," said the official requesting anonymity.
Overall, eNAM has been introduced in 23 markets with 23,500 tonnes of agricultural produce worth Rs 34.51 crore being traded so far. The target is to top 40,000 tonnes by the end of the fiscal, says the department's policy note. During the same time, e-trading has seen a business turnover of Rs 72.05 crore only in turmeric.
For now, e-trading is picking up in Vellore while eNAM will have to overcome its teething troubles. Yet again, the state and central governments will have to convince farmers on digital transactions. Farmers like Chandrasekar and Gopal, to an extent, think digital transactions are painful. Some like Doraikannu complain about bank staff being harsh with them. But the bottom line is: Tamil Nadu is digitising, albeit at a slower pace.