No Commercial Clearance For GM Crops In India Since 2006; Union Government's Policy Lacks Clarity, Say Experts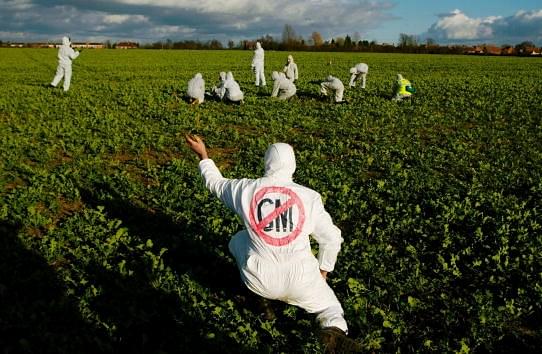 A protester tears up a genetically modified (GM) oil seed rape plant at a demonstration against GM crops at a farm in Long Marsden in Warwickshire, England. (Sion Touhig/GettyImages)
Snapshot
"What is the use of reforms and providing freedom to market agricultural produce without giving growers access to the latest technology?" wonders an industry expert.
The Narendra Modi government seems to be constrained by ideological opposition to allowing modern technology in agriculture, especially permitting genetically-modified (GM) crops cultivation in the country.
The Union government's policies on transgenic crops provides no incentive for seed companies to scale up their size and is creating a negative environment for the seed industry, according to experts in the sector.
"Nothing has happened with regard to GM crops in the last 15 years. Two new applications, Bt (Bacillus thuringiensis) brinjal and GM mustard, got technical clearance but not political. Similarly, herbicide tolerant Bt (HTBT) cotton has been put on the backburner," said Ram Kaundinya, Director-General, Federation of Seed Industry of India (FSII).
The last time a GM crop got approval for commercial launch in India was Bollgard II, an advanced version of Bollgard I Bt cotton, in 2006. Since then, no GM crop has been approved for commercial launch.
In 2009, the Genetic Engineering Approval Committee (GEAC) cleared Bt brinjal, which helps resist shoot fly that causes enormous losses to the growers. But the Supreme Court stayed it and announced a 10-year moratorium on its cultivation.
This has resulted in Bt cotton being the only GM crop that has been approved for cultivation in India since 2002 when genetically-engineered crops were allowed to be grown.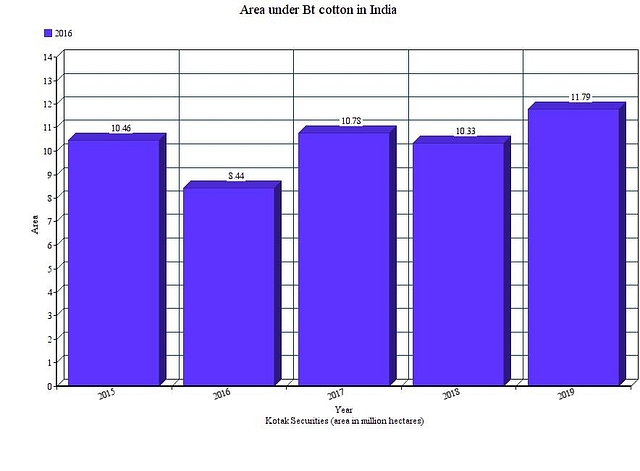 "This government is ready to accept organic farming and promote zero budget farming but not modern technology, especially GM crops, in farming. As long as GM crops are not allowed to be grown in the country, it will be difficult for Indian farmers to compete in the global market," said Anil Ghanwat, President, Shetkhari Sanghatana, a farmers' organisation that seeks the latest technology for farmers to grow their crops.
"Even among the Bt cotton crops, the government's stand on intellectual property rights for traits is not clear. It has made life difficult for those who have developed GM technology. They have now begun to cut their investments in India," Kaundinya said.
A multi-national agriculture company official, who did not wish to be identified, said: "The Centre's policy lacking clarity is the reason for lack of innovation in the field of agriculture. Productivity has stagnated across the agricultural ecosystem. Seed companies are looking at the challenges posed by the policy environment. The government fixes the prices for cottonseed. In the case of Bollgard II, whose technology has been patented, the government has fixed the trait fee at zero. The government has introduced guidelines which are akin to compulsory licensing that has made multi-national companies think if it is worthwhile to continue operating in India. They will go somewhere else."
"Bt cotton has gone at least three generations beyond Bollgard II. If Indian seed firms need to make a foray in the global market, the regulatory framework here needs to improve," the official added.
According to industry experts, the gestation period for a biotechnology product is 10-12 years and involves huge investment. Only around the tenth year do companies get to know if the results are positive or negative.
In India, a GM crop has to undergo multi-seasonal trials and all details with regard to the trials will have to be included in the dossier that has to be submitted to the GEAC for approval.
The FSII Director-General said all these have resulted in a cut down of investments in the agriculture biotechnology sector.
"Du Pont (US firm) has closed its laboratories (in India). There is a negative sentiment about GM crops as people are not sure of the government's policy. There is no guarantee that a GM crop will be cleared for trial despite the GEAC green signal," he said.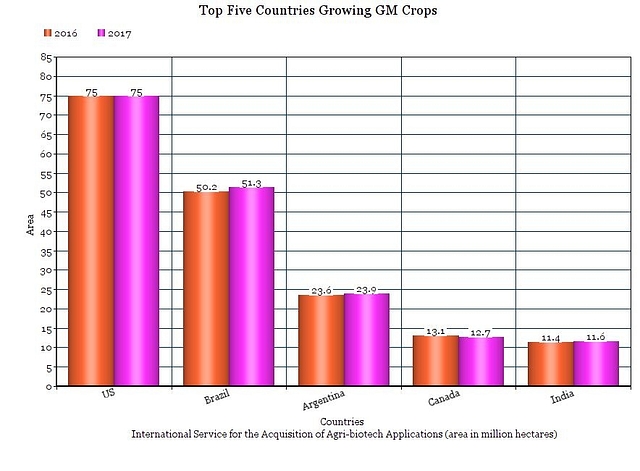 The multi-national agriculture firm official said that the price control on cottonseed and lack of clear policies have stopped or slowed down investments in agricultural research and development (R&D).
"BASF has discontinued its research on rice biotechnology. Monsanto (now taken over by Bayer) has withdrawn its application for the next generation Bt cotton. Scientists are clueless on what to do. Even domestic firms such as Rasi Seeds and Kaveri Seeds have slowed down," he said.
All these have resulted in farmers in some parts of the country such as Telangana, Andhra Pradesh, Maharashtra and Gujarat illegally growing HTBT cotton as the Union government has not approved its commercial cultivation.
"Illegal HTBT cotton cultivation makes up 15 per cent of the total area under cotton in the country. It is priced 50 per cent higher than Bt cotton seeds fixed by the government. No efforts have been made to regularise it," FSII's Kaundini said.
"About 90 per cent of the area under cotton in Maharashtra is made up of HTBT cotton. No cases have been filed against the farmers who are cultivating it but no permission has also been given to grow them," said Shetkhari Sanghatana's Ghanwat.
The farmer organisation leader said that Maharashtra is not among the eight States where biosafety field trials of two new indigenous varieties of Bt brinjal had been permitted by the Centre.
"If Maharashtra had been among the eight States, we would have chased and got permission for field trials," Ghanwat said.
According to Union Minister of Agriculture Narendra Singh Tomar, the trials have been allowed during 2020-23 after taking no objection certificates (NOC) from the concerned States.
The multinational agriculture firm official said that though the Centre says NOC had to be obtained from States, they do not get the permission easily.
"There are other problems too. Suppose, a State is in for Assembly elections in 2021 and there is a change of government leading to the cancellation of NOC, then the whole effort would go down the drain," he said.
A lot of efforts and research goes into conducting the trials. Any cancellation of NOC will only be a setback. "Activist groups keep these in mind and continue to disrupt or divert the people's attention," the multinational firm official said.
While India declared a moratorium on Bt brinjal cultivation, neighbouring Bangladesh has reaped success, embracing the technology developed in India by Maharashtra's Mahyco. The technology was approved by GEAC in 2009 before its commercial launch was halted.
In the last two years, Bt brinjal has been smuggled into India from across the border and its cultivation has been detected in farms as far as Haryana.
"It will take at least three years for commercial launch after field trials are conducted and everything is found in order. State governments should not indulge in politics but allow access to new technology to farmers," said Ghanwat.
"The Swadeshi Jagaran Manch (a right wing organisation close to the Rashtriya Swayamsevak Sangh) writes to the Prime Minister to not allow field trials. Without such trials, how do we know the efficacy of the crop?" Kaundini wondered.
Industry experts said that getting States' nod has always been a problem, accusing former Union Environment Minister Jairam Ramesh of introducing this clause knowing well it will create a hurdle.
Industry experts say that there is significant data on safety analysis of Bt brinjal and they have not been considered.
Kaundinya said the Union government has been talking about modern technology to improve oilseeds productions in the country for the last six months.
"Soybean is one of the oilseeds that can help improve production. We have to wait and see what the government decision will be," said.
Firms that have the latest soybean seed will have a lot of thinking to do since it is an "open pollination" technology. Private companies who put their genes in the seed would lose them. Thus, it would be difficult to attract the best technology without a proper policy in place.
"The GM mustard has been developed by our own Delhi university, but it is yet to be approved. The government must make its mind up in using GM technology in food crops. Otherwise, it cannot move forward. We import edible oils produced from GM soybean and do not have any problem," said the FSII Director-General.
These could be available in India itself if farmers here are allowed to grow them. But farmers are at a disadvantage as they have been denied access to modern technology, he said.
"Lack of technology is hurting Indian farmers. Prices of soybean and arhar (pigeon pea) in the global market are lower than Indian prices. If they are allowed to be imported, what can farmers do with crops whose productivity has stagnated?" wonders Ghanwat.
Kaundinya says one solution could be to allow the field trails in universities, research associations or Indian Council of Agricultural Research research farms owned by the Union government. "The State government's NOC would not be required," he added.
Ghanwat agreed with the view saying if the Centre does not have a proper policy on GM crops in place, it would defeat the very objective of agricultural reforms it had brought in recently through three legislations.
"What is the use of reforms and providing freedom to market agricultural produce without giving growers access to the latest technology?" Ghanwat wondered.
The lack of clarity is evident in how the area under GM crops has stagnated in India after Bt cotton was first approved for commercial cultivation in 2002.
Indian farmers have only grown Bt cotton till now, which officially makes up the total area under GM crops, though of late, Bt brinjal is being cultivated, albeit illegally.
According to International Service for the Acquisition of Agri-biotech Applications, India is fifth in the list of countries where GM crops are grown with 11.6 million hectares under transgenic crops till 2017.
Get Swarajya in your inbox everyday. Subscribe here.
Tags: 
Bangladesh

, 

Bt Brinjal

, 

Bt Cotton

, 

Monsanto

, 

Narendra Modi government

, 

Genetically Modified Crops

, 

Transgenic Crop

, 

Union Agriculture Minister Narendra Singh Tomar

, 

HTBT Cotton

, 

Bangladesh Bt Brinjal

, 

Bayer Corporation

, 

India agricultural reforms

, 

India agriculture reforms

, 

Bollgard cotton

, 

Du Pont

, 

Bt gene

, 
An Appeal...
Dear Reader,
As you are no doubt aware, Swarajya is a media product that is directly dependent on support from its readers in the form of subscriptions. We do not have the muscle and backing of a large media conglomerate nor are we playing for the large advertisement sweep-stake.
Our business model is you and your subscription. And in challenging times like these, we need your support now more than ever.
We deliver over 10 - 15 high quality articles with expert insights and views. From 7AM in the morning to 10PM late night we operate to ensure you, the reader, get to see what is just right.
Becoming a Patron or a subscriber for as little as Rs 1200/year is the best way you can support our efforts.
Become A Patron
Become A Subscriber