Exports for the month of October 2015 fell by 17.5% to $21.35 billion in comparison to October 2014. In October 2014, exports had stood at $25.89 billion.
This is the eleventh month in a row when the exports have fallen. In fact, between April and October 2015, exports have fallen by 17.6% to $154.29 billion, in comparison to the same period last year. Between April and October 2014, the exports had stood at $187.29 billion. And this is indeed a worrying trend.
So why are the exports crashing? Much has been written about how India has benefited from falling oil prices. On April 2, 2015, the price of the Indian basket of crude oil had stood at $54.77 per barrel. Since then, it has fallen by 27.2% to $39.89 per barrel.
This has pushed down the oil import bill. And that is the good bit. Nevertheless, there are negative impacts of falling oil price as well. The export of petroleum products in October 2015 crashed by 57.1% to $2.46 billion, in comparison to a year earlier. In October 2014, the petroleum exports had stood at $5.73 billion.
The petroleum exports amounted to 22.1% of total exports in October last year. Since then, they have fallen to 11.5% of exports. In fact, in October 2014, petroleum products were India's number one merchandise export. In October 2015, they came in third behind engineering products and gems and jewellery exports. So this is the flip side of falling oil prices. Surprisingly, this doesn't get mentioned much in the media.
While writing this column, I heard an economist who works for a big American bank say on one of the business news channels that we should be considering exports data stripped of petroleum exports. If we do that a much better picture emerges.  Exports (without petroleum products) have fallen only 6.3% between October 2015 and October 2014.
Nevertheless the thing is that such suggestions were not being made when petroleum exports had been on their way up because of the rising oil price. And they are being made only now, when the petroleum exports have crashed because the oil price has crashed. If a certain basket of products makes up for our exports, the need is to look at the complete basket and not remove certain items as and when it suits.
What is worrying is that exports by sectors like engineering goods, gems and jewellery and leather and leather products have also fallen. Exports of engineering goods has fallen by 11.65% to $4.58 billion. Exports of gems and jewellery has fallen by 12.84% to $3.49 billion. Exports of leather and leather products has fallen by 6.6% to $417 million.  It is worth remembering that these sectors especially gems and jewellery and leather and leather products, are fairly labour intensive.
The finance minister Arun Jaitley explained this fall in a statement he made on November 17, 2015:
"One aspect of India, which is adversely affected, is our exports because of shrinking global economy. The headwinds are against us."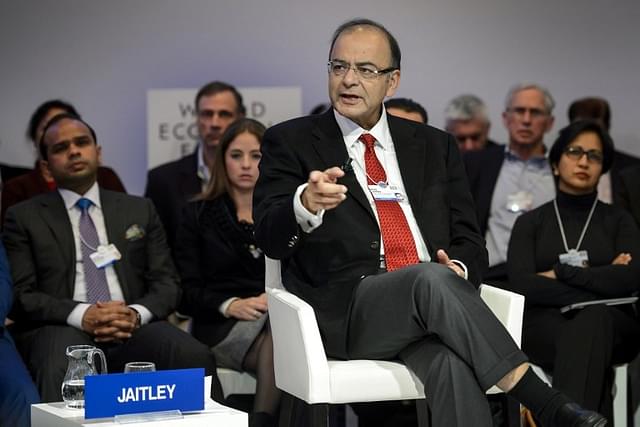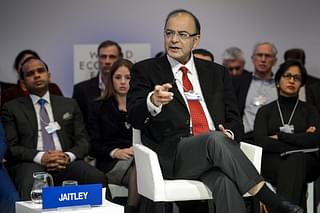 Finance Minister Arun Jaitley (Credits: AFP PHOTO / FABRICE COFFRINI)
This is yet another of those motherhood and apple-pie kind of statements that Jaitley specialises in. As he had said in May earlier this year:
"The country has the potential of taking the economic growth to double-digit. The government will take appropriate action in the regard."

In fact, exports are a very important part of economic growth and no country up until now has seen sustained economic growth without rapid export growth. As TN Ninan writes in The Turn of the Tortoise—The Challenge and Promise of India's Future:
"While optimists like Jaitley talk of getting to double-digit growth, it is worth bearing in mind that no country has achieved this on a sustained basis without rapid export growth—which, in an uncertain world economic situation, is not likely to materialize especially with continuing deficiencies of India's physical infrastructure."
Hence, falling exports are a very worrying trend.
How are things looking on the imports front? Imports for the month of October 2015 were down by 21.15% to $31.12 billion. The total imports in October 2014 had stood at $39.47 billion. The fall in overall imports was primarily because of a fall in oil and gold imports.
Also, if we look at non-oil non-gold imports, an indicator of the strength of domestic demand, the situation doesn't look great. The non-oil non-gold imports for October 2015 stood at $22.57 billion. This number is an improvement on the August 2015 number, but it is down from the September 2015 number. The non-oil non gold imports are down 0.76% from October 2014. This is a good indicator of flat domestic demand.
The total imports between April and October 2015 stood at $232.05 billion, down by 15.17% from $273.56 billion between April and October 2014.  Despite this fall, the customs duty collections are up 16.8% between April and October 2015 to Rs 1,22,448 crore.
One explanation for this might be a fall in the value of the rupee against the dollar. But that doesn't explain the whole thing. As TN Ninan recently wrote in the Business Standard:
"Perhaps the import mix has changed, or there is some other explanation — the government has been upping import duties on specific items to combat imports. The point is, an explanation is due; an increase in the collection rate usually points to increased protectionism."
To conclude, things aren't looking good for India on the trade front.