Secularism through the eyes of a Kashmiri Hindu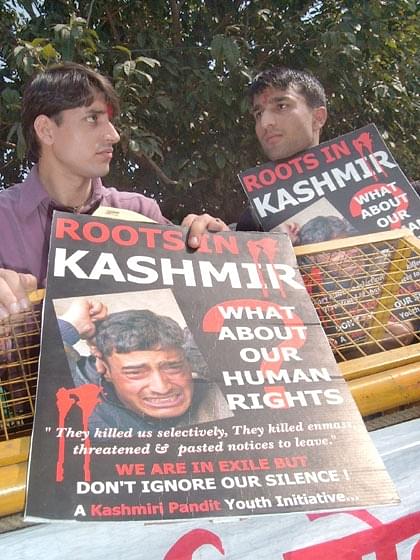 Does the name Vinod Pandit ring a bell?
Probably not. This gentleman along with Sunita Sharma fasted for 10 days in Jammu last week hoping to get the attention of State government and preferably Central Government to the 'Temple and Shrine bill' pending in J&K state assembly. They were also demanding a CBI probe into multi crore scandal in encroachment and illegal selling of temple properties by land sharks in valley.
The temple bill ensures that all Hindu places of worship in the state are put under Temple trust board thereby ensuring that these temples, some of them really ancient, are properly maintained and conserved. No cameras followed them for 10 days, no medical assistance was provided to them, and no reporters hovered over them to get sound bytes. No major national daily covered their fast or the reason behind the fast, no news channel considered it 'Breaking news'. They were not considered worthy enough to be the 'people' on 'We the People' nor did any 'Buck stop with them". Tweet a minute J&K Chief Minister did not find this cause worthy enough to tweet about, nor did Government of India care. Eventually after 10 days a minister from State government was sent who promised to 'look into' the bill and the fast now has been temporarily broken.
This episode in nutshell describes the story of Kashmiri Hindus commonly known as Kashmiri Pandits. This miniscule minority, original inhabitants of valley were driven out of their centuries old homes in 1990 in what has been the worst case of ethnic cleansing since partition. Kashmiri Hindus were the first victims of Islamic Jihad that lurked its ugly head in Kashmir back in 1990. Much before 9/11, when world had not yet known the words 'Jihad' and 'Islamic fundamentalism' the tiny community of Pandits paid the price of being Hindus in the Muslim dominated Kashmir valley. As selective killings of Pandits took place in 1989 and 1990, they were threatened on loud speakers from mosques that 'Kashmir will only have 'Nizam-e Mustafa' and Kafirs (infidels) would have to convert in order to continue living inKashmir. Under the garb of 'self determination' and 'Azaadi', Pakistan's ISI, armed and trained young Kashmiri Muslim  to wage a Jihad against 'Hindu Indian State', thus making Kashmir a laboratory of Jihad in India. As the Pandits fled for their lives, leaving behind their homes, their dreams, their aspirations, no one stopped them. No one offered them protection, nor did anyone raise a voice against armed Jihadis. And thus began the exodus of Pandits making them refugees in their own country.
As I explore 'Secularism from the eyes of a Kashmiri Hindu' in this column, it was very important for me to narrate this background, to put things in perspective.
Kashmir is a unique example in India because it is the only province where Hindus formed a tiny minority and lived amongst majority Muslims until 1990. If Secularism is what I understand it is i.e.  'State will not favor any religion and minorities will be protected', then Kashmir is the only place in India where secularism was put to test and Indian state miserably failed. The Government of India was not able to protect minority Hindus while they were being killed and while they fled their homes. A truly secular state would protect any minority irrespective of their religion. Indian state 's secular instincts are out in full  force only when minority happens to be Muslims or Christians. While other minorities fully reap the benefit of Indian secularism and rightly so, the indigenous Hindu community of Kashmir has been rendered homeless and rootless.
Apart from doing lip service to Pandits, no government has taken any concrete steps of rehabilitating thousands of Hindus who languish in camps of Jammu. Such is the apathy of Government and media towards the plight of Pandits that their voice has been completely muted. Whether it is the interlocutors report, or discussion about more autonomy to Kashmir, Pandit voice is never taken into consideration. While debates and seminars are held about integrating Muslims in mainstream in rest ofIndia, no Muslim leader in valley ever talks about Pandits being integrated in political system of valley. While a lot of rhetoric is thrown around, never has there been any representation of Pandits in political spectrum. Kashmir will never see a Pandit Chief Minister or even a Pandit Minister in state cabinet.
Not even the so called 'moderates' in valley will demand political representation for Pandits. This makes me wonder 'Is Secularism a one way street' in India? Is the onus only on Hindus of India to make sure there is representation of minorities in all spheres, and one place where Muslims are in majority no such effort or attempt is made or even expected? Kashmir is the only place in independent India where an entire minority community was wiped out yet there has never been much outrage. All the politicians who claim to be secular with a capital 'S' have never bothered to address the issue of rehabilitation of Pandits lest they be called 'Communal'.  Is there any other community in India that has suffered as much at the hands of terrorists as they have by their own government?
Not only were Pandits driven out of their homes, now there is a serious attempt to downplay their exodus and their tragedy.  Their exodus is also given conspiracy twist e.g. then Governor of Kashmir, Jagmohan, facilitated the exodus. Nothing could be further from truth.
I am myself a victim of ethnic cleansing in Kashmir. My family fled not because Jagmohan said anything but because we were petrified for our lives. Our names were put on so called 'terrorist hit lists" and anonymous letters were dropped in our home threatening us with dire circumstances if we didn't leave. Where was our 'secular' Government then? Where was our secular Government when Pandits were killed in cold blood only because of their religion? Our secular government failed us, and when we say that Indian secularism is flawed we are accused of communalism.
When we talk about protection of our temples, we get no coverage because that is a 'communal 'demand. No one in this country will ever forget Babri Majid which was a disputed structure before it was pulled down and no one prayed there. Yet hundreds of temples were ransacked inKashmir, desecrated and looted, no one says anything. If the secularism isn't flawed then how come minority places of worship are not secured in Kashmir? How come destroyed temples inKashmirdon't elicit as much emotion as Babri Masjid does?
I am a firm believer in equality and justice for all irrespective of caste, religion, color or creed. But I am firmly against appeasement of few to win their votes and for short term gains. Pandits are so few in number that they don't form a voting bloc; hence they don't get courted by political parties. Our case just isn't fashionable enough to be discussed seminars and debates.  Our children aren't considered "children of conflict'. Our dead aren't counted with 'unmarked graves'. We simply don't exist for 'Secular India'.
While our Prime minister made a strong detour in his speech in United Nations General Assembly recently about India supporting Palestinewith 'capital in Jerusalem', his audience clearly was Muslims of India. That the PM of our country played communal politics at such an important international forum will tell you how far we are from being a truly secular country. A real secular country will favor none, yet we see just the opposite in our country.
Omar Abdullah excitedly tweeted that he would personally see off the first batch of Haj pilgrims in Kashmir. I wish he had extended the same courtesy to Vinod Pandit who fasted for 10 days for the Temple and Shrine bill to be passed. If I say that we are made victims in our own country due to our religion would I be wrong? If I say secularism in India is nothing but appeasement of minority at the cost of majority, would I be wrong? We are a country where Yasin Malik, murderer of minorities, is given a platform on News channels where he accuses Kashmiri Hindus of 'identity crisis'. How much more will our country bend backwards to appease a few in the name of secularism?
I long for the day when Muslims in this country stand up to these 'secular' politicians and tell them that this brand of 'secularism' isn't in their interest. I long for the day when Muslims will refuse to vote for politicians who use them for their selfish interests. I long for the day when every Muslim voice in India will declare that they will not allow divisive policies of political parties which keeps them alienated from mainstream never giving them an opportunity to integrate.
On a personal note, I often remember the day we fled from Kashmir. As a young girl, I didn't have much sense of the upheaval, but I did know something was seriously wrong. Minutes before we left our home forever, my mother gave me Bournvita milk in my favorite mug to drink.  I had barely had a sip, when we were told that we couldn't wait any more. I placed the mug on the window sill and ran. I still wake up in the middle of the night wondering what must have happened to my Bournvita milk.
I wonder what happened to my father's enviable collection of books which we had to leave behind because when you are fleeing for your life, books are the last things on your mind. I often stay awake in the nights trying to recollect the titles of those books. There are so many memories, so many stories, and so many tragedies but as the poet said 'woh kahaani phir sahi' (that story will be told another time)…
This guest post comes from Sunanda Vashisht who is a friend of CRI. She can be followed at @sunandavashisht
Get Swarajya in your inbox everyday. Subscribe here.
An Appeal...
Dear Reader,
As you are no doubt aware, Swarajya is a media product that is directly dependent on support from its readers in the form of subscriptions. We do not have the muscle and backing of a large media conglomerate nor are we playing for the large advertisement sweep-stake.
Our business model is you and your subscription. And in challenging times like these, we need your support now more than ever.
We deliver over 10 - 15 high quality articles with expert insights and views. From 7AM in the morning to 10PM late night we operate to ensure you, the reader, get to see what is just right.
Becoming a Patron or a subscriber for as little as Rs 1200/year is the best way you can support our efforts.
Become A Patron
Become A Subscriber