Two years ago, when we launched our heritage campaign, we wished to see our temples, which are not just places of worship, but also repositories of art, culture, and knowledge, flourishing. Which, unfortunately, is not the case in most parts of the country.
One of our key concerns was government control of Hindu temples, the mismanagement arising therefrom, the need to ensure the funds or the temple wealth are used for the larger temple ecosystem and the community, and not so much for 'secular' causes.
The Karnataka BJP in its election manifesto also spoke of certain action in this direction. So, as the government completes 100 days this weekend, we talk to Sri Kota Srinivas Poojary, the Minister for Muzrai, which is the Department of Hindu Religious and Charitable Endowments, to know of the intentions and actions of the present government as far as temples in the state are concerned.
Here are excerpts from the interview:
In your election manifesto, you promised minimum government interference in temple administration. You had assured non-interference in the administration and management of Hindu temples. In this direction, what action have you taken?
Whatever we have said in our manifesto — that we won't interfere in the administration of temples, that Hindu society will manage the administration of the temple, is the reason we have not needlessly interfered in the management of temples, ever since our government came to power.

Unless there have been administrative issues, financial concerns, mismanagement of funds, or if the social law is disturbed or politics intervenes, the government will intervene only then. But we have decided that we will keep government interference to a minimum. We will work with the people.
What about applying the Somnath temple model in Karnataka?
As far as implementing the Somnath model is concerned, we have to think about it.

That is a model where society and government function in tandem and together.

Society checks if the government errs, and if the societal representation has a flaw, the government alerts it.

Whether this system can be implemented in Karnataka will have to be checked. We have not thought about it, but we will surely hold discussions about it.

Even now, the society works with the government. Since the management bodies that are formed are from society itself. But as far as applying the Somnath model of administration is concerned, we will think about it and see if we can apply it here.
In your manifesto, you also spoke about allocating a Rs 500 crore Punaruththana Fund for temple welfare. How will this be utilised?
It has just been two months since our government assumed office. The dharmic parishads were not there when we took charge. We will form these in the coming week or so. Also, around 30 districts in the state have no dharmic parishads. Those will also be established in the next one month.
Over 100 temples in the state have no administrative committees or management bodies. Towards this end, we will call for applications and begin work.
As far as distribution of funds is concerned, in the last two months, we have distributed funds worth Rs 100 crore to different temples, mathas. Another Rs 100 crore will be distributed in the next one week.
In the next year, we will ensure the remaining amount is also spent on temples and religious activities. Because of the floods and the situation in the state, there may be a delay, but what has been promised in the manifesto will be done.
Talking of funds, in the manifesto, there was also an assurance that temple funds will only be used for dharmic purposes. In this regard, would there be any Government Order that ensures that HRCE funds are not directed to the Consolidated Fund?
I feel there is no need for it. The minute our government has come to power, we have said that we will not use the funds that come from Hindu temples for any other causes. The money will only be spent for activities of Hindu dharma alone.
Also, we have promised to ensure there is no mismanagement of any kind.
There are a lot of developmental works taking place through our temples — be it providing funds to smaller temples, adopting some temples, or other developmental works.
There are 34,000-odd temples in the state. Of these, the high-income temples are only 190. The rest are categorised as Category B and Category C temples.
From the funds availed through these 190 temples, we have decided to conduct free community weddings for poor couples. We will select 100 temples out of these 190.

Poor young girls who seek to get married will be given a gold mangalsutra weighing 8 grams. The government will provide garments to the couple, take care of the marriage registration procedure and costs, and also give each of them a bond of Rs 10,000.
We are looking at conducting 1,000 such weddings as of now. But with our estimation and efforts, this figure could double.

Apart from this, we also provide funds for a lot of other dharmic activities, be it medical care or for meals and for smaller temples — like you mentioned — many temples belonging to C category, which go back to many centuries, are in need of attention and have no funds.

In this regard, we are looking at bigger temples adopting them by devoting a certain portion of their income to the maintenance of these smaller shrines.
Of the 34,000 (temples), around 20,000 get a monthly tastika amount, a total of Rs 48,000.
We intend to use every pie of these temples for the people with utmost accountability.
Talking about these District Dharmic Samithis – what purpose will they serve? What role will they play?
The samithis that will be established will have representation from women, SC/ST, agama shastra scholars, people who are well-versed in dharmic matters, researchers who have studied dharmic issues, and will be headed by the District Commissioner if he or she is a Hindu, else any officer befitting.
At the state level, the dharmic parishad formed will have similar members — it will be a committee of nine members headed by the Minister for Muzrai.
In Karnataka, a lot of matters including those directed by the SC come to us — pertaining to temples, and disputes therein. And these matters are discussed by the dharmic parishad and resolved.

But if the decisions or judgements we give are not satisfactory, the SC then intervenes. Which means we have utmost authority in this regard. Hence, using this level of authority, we intend to ensure good administration and address hygiene, upkeep, ensure plastic ban, management issues and the like.
You spoke of 'C' category temples and their ecosystem. The tastika amount is not a very big amount. But the temple has an ecosystem — of archakas, musicians, temple elephants, veda pathashalas. How do you intend to support the same?
To my knowledge, our government runs three veda pathashalas. There are 19-20 run by other institutions. If these seek aid, we do provide. But since these are mostly run by different mathas, they do not ask us for anything.
It is the wealthy temples which maintain elephants, so the funds are not an issue for the same.
For instance, some of our temples have an annual revenue of Rs 50 crore — which is utilised for various activities in and around the temple.

Apart from this, if these temples can be linked to any educational institutions for the poor, or if the funds can be utilised to provide for weddings or medicinal aid for poor — there are opportunities to think on these lines and we are using them.
It is not about money alone, right, but its right utilisation even if it is around the temple itself, maybe the right kind of development of the temple towns.

Also, about cleanliness, what have you thought of? Sadly many of these high-revenue temple towns also host lakes and rivers which are extremely polluted. Hundreds of tonnes of garbage have been lifted by some organisations recently.

What action does the ministry intend to take to maintain the sanctity and cleanliness of these temple towns?
We seriously need to think about the cleanliness and hygiene in and around our temples. Even the biggest of our temples, be it Kollur or Subrahmanya, issues have arisen there. We need to work on ensuring hygiene.
A few individuals and organisations run by them have taken up the task at these sites. But we are trying to spread awareness regarding cleanliness in these temples.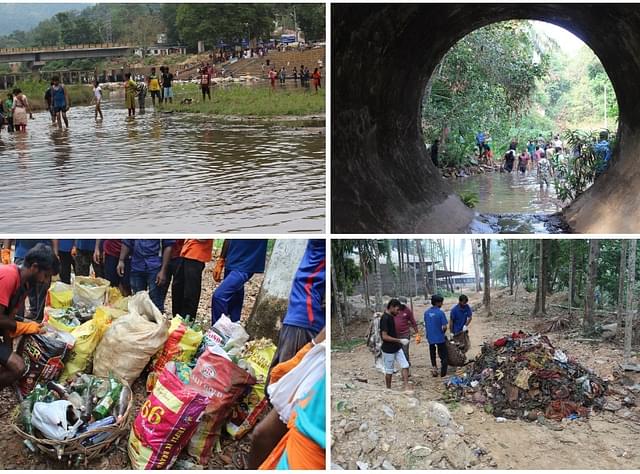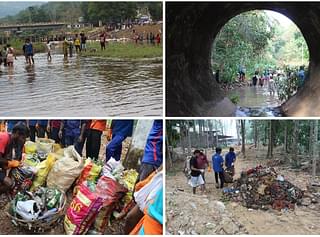 The Kumaradhara river of the Kukke Subrahmanya temple, the richest temple of Karnataka, being cleaned up by volunteers of Yuva Brigade. 
Plastic is being banned in temple premises. Its implementation is not yet full-fledged. The legislation is in place. But we are yet to see a complete application of the same as people still carry offerings to the temples in plastic covers. So, in a meeting earlier today, we have also decided to provide cloth bags from our temples itself.
Also, the sale of plastic around the temples will be prohibited and the Tahsildar will be in charge of ensuring it doesn't take place and keep vigil for the same.
We are also prohibiting the use of chemical kumkuma in our temples. It causes reactions on the skin, hence we have passed an order prohibiting the sale or distribution of the same.

We will ensure health officers also take notice, confiscate the chemical kumkuma, and ensure this is completely banned.
While we are working in this direction, we do feel we have fallen short. But we will continue to work towards all these — hygiene, chemical kumkum and also CCTV cameras.
There was an incident in a temple somewhere in Chamarajanagar where children died eating prasada laced with poison. I had taken the then government to task as the leader of opposition. Which is why we have now said that if the prasada is being cooked in the kitchen of the temple, installation of CCTV cameras is mandatory.
In short, we are doing different sets of things, but it will take another three months to see the results of these efforts.
What about the reconstruction and redevelopment of temples that are dilapidated? Is there a way in which applications for the same can be made more approachable?
In a democratic setup, we have a decentralised structure. So MLAs , MPs will ask for funds and aid for the repair of temples in their respective constituencies. Leaders tell us, "I need Rs 1 crore for the development of temples in my region – I will give Rs 10 lakh each to ten different temples… give me 25 lakh, 50 lakh".
They seek such aid and it is all well intended. Even common people come to us. But we intend to give priority to the MLAs and direct efforts in this direction. We are looking at all the options. When MLAs take Rs 10 lakh from us, they will pool in another Rs 90 lakh from the public and direct it for temple welfare.
Also, the funds that we have in our department, we can only distribute it to limited preset systems.

For instance, just because there is a dilapidated temple, in order to restore its old glory, we cannot give it a fund of Rs 1 crore. Even if we have to reinstate it, we can only contribute a certain amount, maybe 10-25 per cent. For the rest, the public joins hands, we form a committee, and work towards it.
What about the display of information pertaining to temples. We have temples that go back centuries in time, but hardly any temple museums or the like are present.

Why not have apps with, say, scan codes, like was done in Barkur during the Alupotsava? When we boast of such a rich cultural heritage, why not put in systems for its dissemination?
We are working on the website for our temples, which should be ready in a fortnight or a month. Documentation and information about at least one- to two-thousand temples of the 34,000 temples will be made available to the public.

With the tastika, even though it is bare minimum, we have at least ensured a lamp is lit in these temples. It is true that tourists have even forgotten that many of our temples exist. If you see some of our temples, it is like an illusion — its ancientness, its heritage.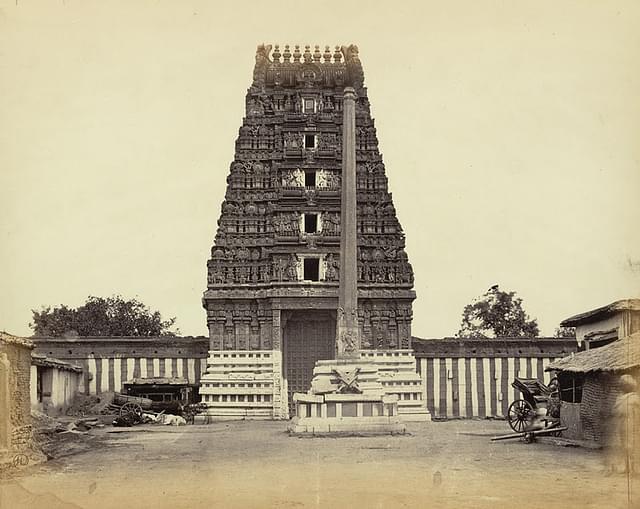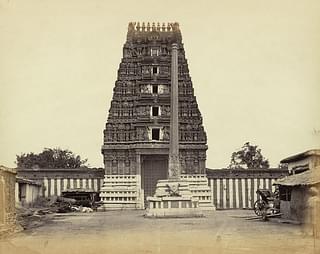 An 1868 capture of the Halasuru Someshwara Shrine entrance from the Archaeological Survey of India Collections (Hnery Dixon/WikiCommons) 
For instance, seven years ago, during my previous stint as the Muzrai Minister in Jagadish Shettar's regime, the Prime Minister of Canada visited the Halasur Someshwara shrine here in Bengaluru. They saw our sculptures, heard of our history and heritage, our systems, and were very happy to see the grandeur and returned.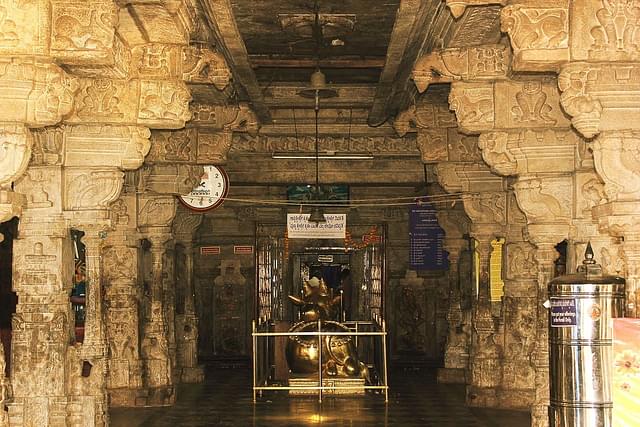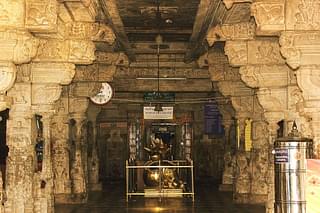 Inside the Halasuru SOmeshwara Temple (Dineshkannambadi/WikiCommons)
But after their visit, when the news of their visit to this ancient shrine spread, the temple saw a surge in visitors; almost 500 more people visited it each day.
Which means we had not been able to raise awareness about our culture, our heritage, among our people until then. Hence, we intend to make efforts in this direction — to bring these tales to the fore. We will have to wait for another six months and see how fruitful our efforts turn out to be.
Finally, about land encroachments. Temples have shrunk, their land captured by land mafia, lakes have vanished. A lot of factors that have depleted temple resources have taken place. So how do you seek to address this issue?
In the past, the kings and royal families gave land endowments as donations to temples. Those temples have a land grant of around 1,000-2,000 acres. But this land mafia with its high-handedness has almost taken over every bit except the portion on which the temples sit.

After I have become the minister (for muzrai), I have asked for a survey to be undertaken — a survey of all temple lands, encroached land, and all details pertaining to it.

A survey team has been formed from the Survey Department and we look forward to freeing temple lands from encroachers.

But even in this, some of them have been occupying the place for over 50 years now, some are priests, some are poor people. So if they are really poor, we are thinking about compensating them and maybe giving them a certain portion of the land.

But if it has been taken over by land agents, then we will compulsorily take it back. These are our expectations, let us see.
You mentioned in passing, but can you elaborate on using temple funds for Hindu causes. The previous government stopped funds from Kollur temple to Sri Rama Vidyakendra School in Kalladka. Would such actions be reversed? Can temple funds be directed towards such schools that are aligned to the dharmic cause?
There are temples which have, say, a revenue of Rs 100 crore. Now we do give meals to school students, say, to 2,000 students. But these are schools which do not come under the purview of the existing government provision of mid-day meals, to unaided Kannada schools.
Else all the activism of "save Kannada" and the like on November 1 is plain talk. While these Kannada-medium schools are doing good work, they are well-intentioned efforts.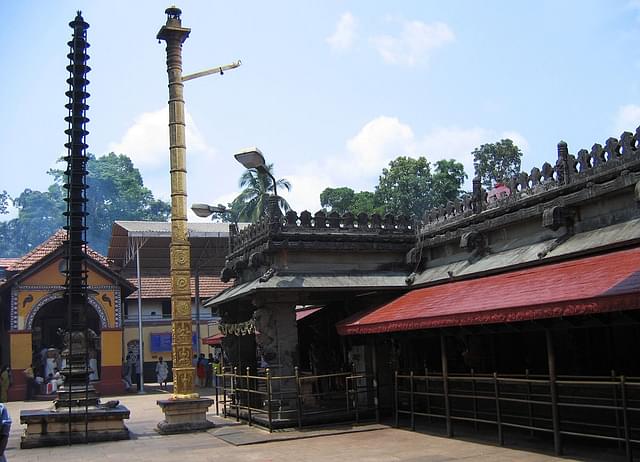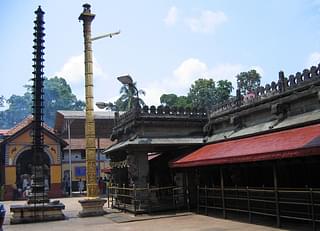 Sri Mookambika Temple of Kollur that had funded mid-day meals to two schools in Karnataka, but was barred from doing so by the previous government. 
For instance, if you visit the school in question, Shriram School, where around 2,000 children are studying, if you see their discipline, their ritualistic orientation, their social welfare-oriented approach towards life, you will see it is not possible for any government to set up such a school.

Such schools are what our temples are funding and providing meals to the students — whatever the amount. The previous government stopped funds and we are looking at restarting it.
The only question is about 'should it be just one school'. There are many schools like that, so we are looking at this and in a few days' time we will see how to provide mid-day meals either from the government or from our department.

The injustice that was done to Shriram School children will be undone.