Banaras Hindu University: How The Terms "Banaras" And "Hindu" Define The University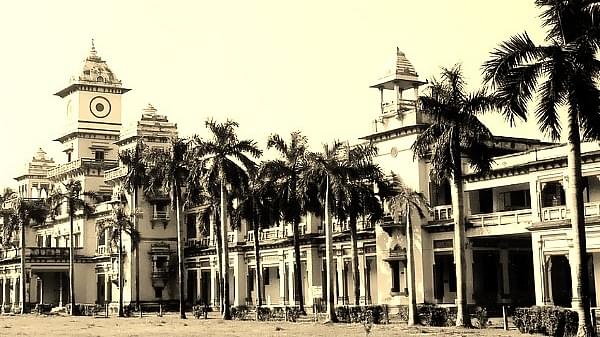 Banaras Hindu University (Wikimedia Commons)
Few universities in India reflect the spirit of the city where they belong in the way that Banaras Hindu University (BHU) does. This organic link between Banaras and "BHU" is not rhetorical, but very substantive and real. If Banaras is older than history and myth, as Mark Twain thought, BHU offers a possibility where the city of immortality moves from experience to knowledge, or, should we say, knowledge of immortality?
In more ways than one, BHU is an extension of the sacred geography of Banaras and has an aura of timelessness and temporality. The gates of the university, and its landscape, do not mark the beginning of knowledge in a reductive sense, something for which a university is often celebrated as an island of excellence. But the entrance to a space where the sacred is not replaced by the secular, but gets reinforced and partakes in the other. The ghats of Banaras morph into the towers of the university; both the city and the university exist in an epistemic and experiential unison, feeding each other, complementing each other, and losing themselves so much that they become indistinguishable.
We are often told by academic and secular mercenaries (read: intellectuals) that entities and organisations not associated with India's independence movement (such as the Bharatiya Janata Party) do not have the legitimacy to speak for India the way more legitimate forums have (read: Congress). But even by that logic, BHU is one of those universities which was directly involved in the independence movement, and its founder, Pandit Madan Mohan Malaviya (also, Annie Besant) played a yeoman's role in the same.
BHU is unlike many other central universities, which are upstarts and were pampered by successive central governments – the reason why certain types of faculty members associated with a particular ideology were preferred and massive amounts of money were pumped into them so that they could become "world class". A university like BHU, which was a private enterprise in its early days and located in the hinterlands of India (Purvanchal), did not help its cause, as its association with Hinduism was seen as an impediment to knowledge.
The fact that Malaviya was a revolutionary thinker was ignored in the post-independence vocabulary dominated by Nehruvianism. It was forgotten that Mahatma Gandhi was appreciative of Malaviya's role and had also spoken eloquently about his contribution on the occasion of the opening of BHU. With Gandhi was present Lord Hardinge, the viceroy who had come to lay the foundation stone of the university. Thus, BHU was a unique experiment where study of dharma shastras (one of the objectives of BHU) was promoted by the most powerful functionary of the colonial government and consecrated by Gandhi's presence. This established the idea that the pursuit of Hindu shastras and philosophy is not something that will act as a gateway to some sort of chauvinism, nor was Hinduism seen as a passport to violence, the way today's intellectuals make us believe.
A University in and of Banaras
How many times have we heard that the worth of a university lies in it being an island of excellence, or how it is vital for the university administration or the state to create opportunities for the faculty and students to realise their potential. Those universities while being located in a city don't have to belong to it. Like Jawaharlal Nehru University (JNU), these universities are in the city, but not of the city, and their effort is to maximise that divorce so that they can be great places of learning. Though this insulation is not such a bad thing for institutes given to innovation and technology development, for a university given to human knowledge production and consumption, such a disconnect need not be celebrated at all.
BHU is one of those rare places where Banaras, its vibe, and way of life are recreated and circulated; this is not to insinuate that the university remains a playground for local politicians or that the chaos of Banaras is replicated in the university. What is proposed here is that while being local and vernacular, BHU is a place of universality, both as knowledge as well as lived experience. So even when the vision of the university in the beginning was to study shastras and other such literature, the university's founder gave equal importance to the study of sciences and, more importantly, ethics. The universality was iterated in Malaviya's words when he said that the country could move forward only when all the communities (not just Hindus) come together.
This was a unique experiment, to say the least, much before the claptrap of critical theory had descended onto academia. Here is a visionary who believed that particulars and universals are not binaries, that the East and the West can collaborate and that one can be culture-specific and yet cosmopolitan. The university's name has the word 'Hindu' in it – an anathema for contemporary academics and the liberal elite class – and a Shiva temple in its premises to supplement the presiding deity of the city, Viswanath, and is Hindu in its institutional thinking. At the same time, it is universal in the sense that it deals with human behaviour and various disciplines (such as engineering and medicine), which are not necessarily limited by Hindu philosophy. The Banaras Hindu University Act of 1915 states that the university will be open to people cutting across gender, race, creed, caste, and class, something which makes this early-twentieth-century university truly inclusive.
So it comes as no surprise that a visit to Banaras is incomplete without a visit to the impressive campus of the university and its awe-inspiring Viswanath temple, constructed by the Birlas after a request from Malaviya. A bhakta (devotee) coming to the holy city for earning punya (virtue) and immersing oneself in the ghats or the bylanes leading to Viswanath temple is emotionally overpowered with the possibility of salvation, yet pricked with a sense of incompleteness, owing to the fact that the abode of the lord stands denuded of its glory. A visit to Viswanath temple in BHU compensates for that sense of loss. The university temple offers an opportunity to the scholar-devotee to transcend the feeling of hurt associated with the original Kashi Viswanath temple, destroyed by Islamic invaders/rulers many times. It is in the university temple that the experience of shame is transformed.
Needless to say, the temple is an architectural wonder with a tower believed to be the tallest in the country. It was Malaviya who had requested the Birlas to undertake its construction, perhaps knowingly, to create a pathway for the Hindu devotee to recover his lost sense of pride; the scholar of the university and the devotee of the street become indistinguishable.
A Hindu University
Contrary to the belief that a Hindu space engenders tribal instincts and that Hinduism cannot accommodate secular knowledge, BHU is a space where such liberal abracadabra is overturned. The university has 14 faculties, more than 120 departments, many interdisciplinary centres, and constituent schools dealing with a mind-boggling array of subjects across all branches of the humanities, social sciences, sciences, engineering, and medicine. It boasts of more than 15,000 students and close to 2,000 faculty members who come from all castes and religions, thereby being true to the University Act that promotes an inclusive environment. Defying conventional wisdom, the university's humanities and social sciences departments offer the very best of Indian talent (both faculty members and students) as well as the Engineering Institute, which is treated like an Indian Institute of Technology ("Institute of National Importance"). Every year, hundreds of students come from various countries to pursue different programmes and courses. This is something few universities can match – that is, being the very best across domains and specialisations.
This excellence does not come from the university's movement away from its Hindu character, but because of it. BHU proactively instills the local character and Hindu values, as a space of mutual respect and accommodation, not just to the students of liberal arts and social sciences, but also to engineering students. This keeps students rooted to their intellectual and spiritual traditions. Engineering students are required to participate in Project Varanasi, which includes narratives around the Ramayana, river Ganga, and Buddhist Sarnath. IIT (BHU) director Rajeev Sangal's reason for using this method was that engineering students exposed to the culture and civilisation of Varanasi would create new technologies for the development of the city and thus change the human condition for the better rather than theorising and magnifying them, and deriving a perverse pleasure in perpetuating them – something our intellectuals revel in. The said project has been divided into five tracks, focusing on river Ganga, Varanasi city, handicraft, Ramayana literature, and Buddhist Sarnath.
This unique feature does not dilute the field of engineering but contextualises and materialises it, thereby socialising and strengthening it. In this context, it may be said that the celebrated Indian scientist, S S Bhatnagar, penned the university's anthem, where he highlighted the presence of disciplines like music, arts, economics, mathematics, and mining, and the way they created a forum where both the East and the West could collaborate. He also went on to highlight the significance of Varanasi as a treasure chest of jnana (knowledge), dharma (the right way of living), and satya (truth), and how the city acts as a nucleus of all disciplines. It is not a stretch to propose that BHU is a microcosm of Banaras, where the spirit of Banaras is not dispensed with for a modern university to rise, but to reiterate the same so that the modern can fuse with the ancient.
The same desire to find the universal in the particular justifies the establishment of Bharat Adhyayan Kendra (or the Centre for Indic Research), dedicated to unearthing the minefield of Indian texts as well as promoting a scientific study of the same. This is a step to reverse the Orientalist thrust of contemporary knowledge about India as well as to offer a scientific basis to pursue India's rich cultural heritage. If maintained properly, this enterprise can also foil the Western designs of appropriating Indian knowledge systems and its intellectual traditions.
It may be added here that though various study centres have mushroomed in various universities that cover China, the Middle East, Canada, Australia, France, Britain, and so on, what irks the right-wing person is the absence of such an effort to understand ourselves and offer that understanding to the outside world. Bharat Adhyayan Kendra fills that void and addresses the imperative of writing our own stories.
Need For More BHUs
Like the vague 'idea of India', which is a mischievous ploy not to allow any other idea of India to emerge, the idea of a university, which we often hear is a strategy to ring-fence Nehruvian thought, which is increasingly becoming obsolete, if not completely irrelevant. With its roots in Cardinal John Henry Newman's The Idea of a University, rooted in intellectual pursuits as ends in themselves, such an idea is no longer relevant in Indian universities that focus on professional education. In an emerging economy such as India, with millions of its people looking for skill development and jobs, this idea of a university is elitist, to say the least. In contrast, the idea of university that BHU stands for is a combination of liberal education and training for industry. Those who mourn the absence of liberalism in BHU or highlight only some stray student protests (not uncommon in educational institutions) as a doomsday-like scenario are oblivious of similar or more sinister campaigns against the idea of an organic and rooted India that lives through its people.
Liberal education in a reductive sense (to the exclusion of cultural values as well as skill development) can impede learning and create a false notion of education where the knowledge-seeker is only interested in the use of reason but not in their familial, social, and communitarian obligations. What we need is a university which has the best of instrumental and non-instrumental knowledge, the best of local and global, something which is both vernacular and cosmopolitan, particular and universal, and sacred and secular. What should concern us is why other hallowed universities and their high-flying academics have not yet opened themselves up to the philosophical foundations of BHU.
A liberal university and its votaries – given to an imaginary, elitist, and academic notion of liberalism – may do well to learn a thing or two from BHU, which is in sync with its environment rather than a university whose values are at loggerheads with the world outside. The anti-India crusaders of JNU were afraid of moving out of the university campus for the fear of backlash from the masses, and their supporters were refused accommodation and other services in Munirka village, just outside the university gates. So headlines in the Wire such as 'At BHU, Women are Being Restricted by RSS's Chains' and 'How Long Must BHU Wait Before It Finds Progressive Leadership and Liberal Thought?' fool nobody. Thank god, we have a BHU, which can compete with the very best of educational institutions and act as a bulwark against the agenda of controlling intellectual debates and stifling alternative ideas of being and belonging.
Get Swarajya in your inbox everyday. Subscribe here.
An Appeal...
Dear Reader,
As you are no doubt aware, Swarajya is a media product that is directly dependent on support from its readers in the form of subscriptions. We do not have the muscle and backing of a large media conglomerate nor are we playing for the large advertisement sweep-stake.
Our business model is you and your subscription. And in challenging times like these, we need your support now more than ever.
We deliver over 10 - 15 high quality articles with expert insights and views. From 7AM in the morning to 10PM late night we operate to ensure you, the reader, get to see what is just right.
Becoming a Patron or a subscriber for as little as Rs 1200/year is the best way you can support our efforts.
Become A Patron
Become A Subscriber