How Not To Repeat Ashoka's Mistake At Krea: An Open Letter To New Vice Chancellor Mahesh Rangarajan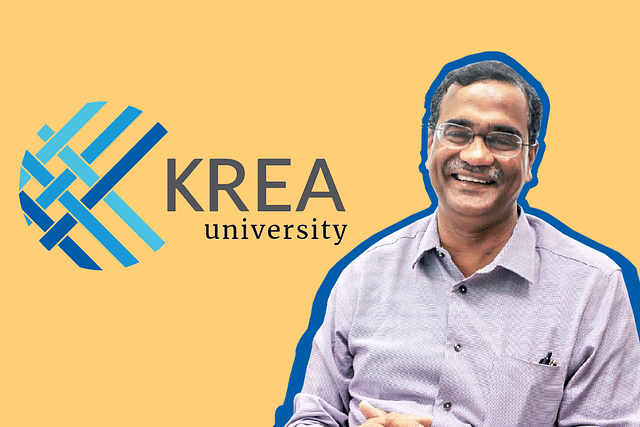 Dr Mahesh Rangarajan.
Snapshot
Please do the right thing for Krea where it is not reduced to another ideological echo chamber of the Left-liberal elite as in JNU or Harvard or Ashoka.

Dear Dr Rangarajan
I am happy to note that you have been appointed vice-chancellor of Krea University from July. Not only because you are now free from the toxic atmosphere left behind by the exit of Pratap Bhanu Mehta at Ashoka, but also because you will have a chance to make Krea a truly important learning institution that encourages a free and non-threatening environment for students and professors of all shades of opinion.
I have interacted with you briefly in the past, and more, importantly, I have read a lot of what you wrote, both as a political commentator and as an environmentalist who cares (for pachyderms, among other animals). From what little I know of you, I see you as a sensible person and not someone who wears his ideology on his sleeve and who is given to making woke pronouncements that are essentially illiberal.
As we have seen with recent developments at Rutgers, Oxford, Ashoka and Jawaharlal Nehru University, the real issue is not which shade of political opinion defines you, but whether everybody – meaning everybody – feels safe in his identity and is free to express an opinion without fear of being ridiculed or labelled in a dismissive sort of way ('Sanghi', 'anti-national', etc).
It is clear from the attitude of the Rutgers administration that it will defend a toxic Hinduphobe like Audrey Truschke in the name of academic freedom, but will refuse to acknowledge the ideological biases in woke universities that make Hindus feel targeted or less included. In contrast, Subramanian Swamy's courses at Harvard were truncated in 2011 for an article he wrote that some considered Islamophobic. Covert or overt Hinduphobia forced a Hindu student out of Oxford recently. (read related articles here, here, here).
But this is not about Hindus alone. It would equally apply if some Hindus seek to make Dalits or members of other communities feel excluded from any institution. The point is, inclusion and exclusion work both ways. And it is not always the minority that is excluded.
A toxic "liberalism" or "secularism" that can make Hindus feel alienated in their own land, and in universities financed by taxpayer money or philanthropists, should not be acceptable either.
I am writing this open letter not to tell you how to do your job, but to remind you that a liberal university is supposed to at least live up to its name and stated goals of being inclusive. The question is how you are going to achieve that.
I would suggest two ways forward.
One is to commission surveys of all your students and professors about how safe they feel expressing their opinions in the campus and outside, and whether they feel they cannot speak about what they think is right. If you hold these surveys annually, and slice and dice the results by broad communities, you will know if there is a problem at Krea.
This is something Rutgers, JNU, Oxford and Ashoka should have done and can still do. If these surveys are anonymised and analysed, you will know if you are a truly inclusive institution or not.
Two, as a matter of policy, your university should seek wider inclusivity by going out of its way to appoint historians, sociologists, and other humanities experts from outside the Left-liberal caucuses that have reduced JNU to an illiberal battleground of anarchic ideologies.
You already have a Ramachandra Guha as distinguished professor at Krea. You know that he is a vituperative critic of all things Bharatiya Janata Party (BJP) or Rashtriya Swayamsevak Sangh (RSS), which is fine. He has every right to be so.
But do you really believe that this is the only strand of ideology that Krea needs? Are we going to have diversity in the ideological and political moorings of your professors or not?
If there is no ideological diversity among your professors, how do you expect your own students to become true "liberals" who are open-minded in how they deal with disagreement and difference?
It is, of course, possible to claim that there are not enough intellectuals or learned professors outside Left-liberal circles. But this is a copout, Dr Rangarajan. It is your job to develop this diverse talent from young people who show an inclination to think differently from the Lutyens consensus.
Towards the end of my letter, let me also point out that the word "liberal" no longer means what it is supposed to mean, given the context of Ivy League and JNU cancel cultures.
One of Krea's (visiting) faculty, V Anantha Nageswaran, examined this very question in an article for Swarajya some time ago. He quotes TCA Srinivasa Raghavan to make this observation about who or what makes a liberal:
"So, who is a liberal, then? A liberal, by my reckoning, is a person designated as a liberal by other liberals, usually on a single communal sub-criterion. As a result, the most liberal person can be labelled illiberal by liberals and the most illiberal as liberal…. Most Indian liberals are wannabes. They are anxious to 'belong' and see selective liberal-certified illiberalism as the entry ticket to a certain type of social acceptability."
In universities, where most students are impacted by peer pressure and thus forced to conform or keep silent, this article in Swarajya should be required reading and discussion point. I hope you can circulate it at Krea.
At another level, let me confess that I no longer covet the label "liberal" for myself, not because it has no value, but because I believe that labels are reductionist in nature. A truly open-minded person should think beyond labels, and you should be "liberal" or "conservative" or somewhere in-between depending on what the situation demands.
We can seek democracy and dissent as values in themselves, but when we are at war, we do curb dissent and some democratic rights, don't we?
In short, dissent is not an end in itself at all times. We need to be and do what the situation demands, and being liberal all the time can just become another kind of tyranny that defeats the very purpose of being liberal. Remember Karl Popper's paradox: how tolerant can the tolerant be of the intolerant?
To conclude, here is my sincere request: do the right thing for Krea where it is not reduced to another ideological echo chamber of the Left-liberal elite as in JNU or Harvard or Ashoka.
You have to ensure that the Truschkes, Guhas and Mehtas are counter-balanced with professors and ideologues from the other side so that no one ever has to leave under a cloud. Inclusion cannot be limited to what Left-liberals define it as. For some, it spells ideological oppression and exclusion. Ask the Hindu students at Rutgers or even JNU.
Yours truly
R Jagannathan
(Note: V Anantha Nageswaran was former Dean of the IFMR Graduate School of Business at Krea University and a former full-time faculty of Krea University. He is now a visiting faculty).
Get Swarajya in your inbox everyday. Subscribe here.
An Appeal...
Dear Reader,
As you are no doubt aware, Swarajya is a media product that is directly dependent on support from its readers in the form of subscriptions. We do not have the muscle and backing of a large media conglomerate nor are we playing for the large advertisement sweep-stake.
Our business model is you and your subscription. And in challenging times like these, we need your support now more than ever.
We deliver over 10 - 15 high quality articles with expert insights and views. From 7AM in the morning to 10PM late night we operate to ensure you, the reader, get to see what is just right.
Becoming a Patron or a subscriber for as little as Rs 1200/year is the best way you can support our efforts.
Become A Patron
Become A Subscriber