How To Criticise Your Government In The Time Of Coronavirus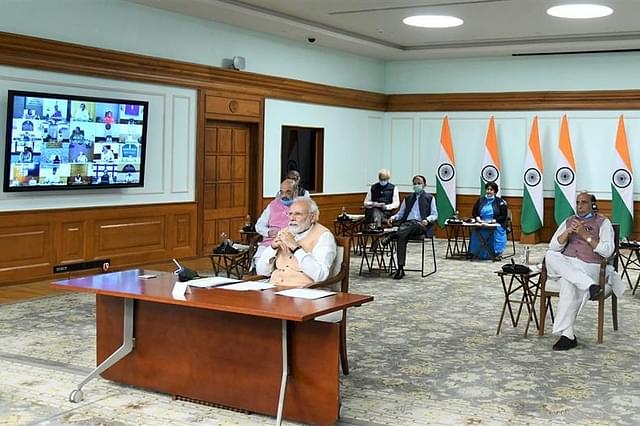 (PMO)
Snapshot
Criticism of public policy in the time of Covid-19 is of course welcome. But it should respect the complexity of the times we are in.
My WhatsApp and Facebook feeds have seen a sharp increase in posts and comments criticizing governments for their action against the spread of Covid -19. This criticism is not just in India, but also in other countries like the UK, US, and Philippines.
I believe that we should be rationing our criticism as carefully as many of our fellow citizens are rationing food and toilet paper. I explain why.
Decision-making in the face of Covid -19 is tough and the first challenge that the disease has posed to leaders across the world is that we don't know enough about it.
Leaders Are Working With Imperfect Information
Everything we know about Covid -19 is tentative. Take for example the question — How infectious would it be in India?
There are estimates based on how fast it spread in China and Italy. But a leader in India cannot take those estimates as given.
The infectiousness may decrease with heat and humidity. It may also be lower than it is in Italy as our population is relatively younger.
But, our population density is very high and as stories such as that of Tablighi Jamaat have shown, we may not be able to persuade people to practise social distancing very strictly.
You can get expert opinion, but experts contradict each other. They even contradict themselves over a very short period of time. Remember that as late as mid-January, the World Health Organization (WHO) was telling all of us that COVID -19 did not have human-to-human transmission. Or note that the Center for Diseases Control (CDC) in the US has been telling its citizens that masks are not useful for them.
CDC will change its mind soon.
Take another issue — the issue of migrants. Do we know how many economic migrants are there in the country? Not really. The Economic Survey made estimates and they ranged from 50 to 100 million as I have discussed here.
We have all seen stories of migrants fleeing in buses and even on foot, but does anyone know what percentage of the migrants actually decided to go? Of course not. Nobody knows and it is unknowable.
Do note that I am not suggesting that all experts are wrong. Some of them may eventually turn out to be right, but we have no sure way of knowing who those are right now.
Unfortunately, lack of information is not the only problem. Perhaps, a bigger problem is that every action, including inaction has negative consequences.
You Are Not Choosing Between A Good And Bad Alternative But Between Two Bad Alternatives
When should the Indian government have imposed the lockdown? There is no right answer for this question. If you leave it too late, a very large number of people could be infected and would in turn infect others. If you do it too early, then it is likely that many citizens would be unprepared for it. Also, if you do it too early, it is likely that people do not take it seriously because they have not seen or heard of people in their neighbourhoods get infected and die.
This is true nearly all over the world. People in Italy did not learn from China and people in US did not learn from Italy. We can be sure that residents of Maharashtra will not learn from US and nor will Biharis learn from Maharashtrians.
Let us look at the issue of migrants again. Any lockdown policy for migrants has negative consequences. Should the government somehow force/persuade a migrant to stay where he is? If yes, how do you convince him that if he does get diseased, he would not be the last in the queue for medical help? How does he pay rent? How does he get food? What does he do to persuade his fearful landlord to not chuck him out?
If you somehow transport migrants back to their villages, then you have a different set of problems/risks. What if they carry the infection back to their homes — places which are woefully short of health care infrastructure. Would their fellow villagers allow them to come back? What happens to the critical manufacturing that the migrants may be engaged in? Would this exodus mean that we run out of critical goods and services immediately or at best in a few weeks?
The problems of choosing between two bad alternatives is made worse because of the size and complexity of the country.
India Is Large And Complex
The country has 28 states. Many of them are larger than prominent nations. Uttar Pradesh, our most populous state, has nearly as many people as Brazil! The country all together has 6,00,000 villages and more than 4,000 towns. This means that all decisions are being implemented more or less by the central government, the state government and the relevant local body.
Most of the rural local bodies are powerless and understaffed. Many of the urban local bodies are also understaffed too. The municipalities of a town of 100,000 people could have only a score of employees and may be in no position to execute decisions.
But if you are a decision maker, this is the machinery you have. It is what it is.
The decision makers are working in a large, complex country on a problem where the data is inadequate as well as contradictory and every action has a negative consequence. Does it mean that they should get a free pass as far as criticism in concerned? No. Criticism has huge benefits.
Criticism Is Very Necessary
Focused criticism can make the government act. If there are pockets or even large areas where people are undergoing extraordinary difficulties, criticism will help force the governments to assist them. The focus of media on the plight of migrants probably helped all the relevant governments to take steps to help them reach home.
Second, a lot of money is being pumped into the economy by the government. As sure as night follows day, there will be corruption. It may be blatant corruption for example, in buying medical supplies.
Or it may be subtle, for example, in supporting businesses without imposing any costs on equity holders as Taleb as argued against. Criticism in such cases may hopefully limit this corruption a little.
Third, the crisis will encourage governments to curtail the freedom of citizens and many times, it would be a sensible move. The challenge is that governments tend not to let the citizens get their freedoms back easily. Civil society that watches the government like a hawk would be essential in getting the freedoms back.
So What Do We Do?
If you are criticizing government actions all the time, while not acknowledging the complexity of the situation, the chances are that nobody is listening to you outside your bubble.
Just like nobody reads the posts of hard-core supporters of governments outside their bubble. Your criticism needs to be rationed and nuanced to be credible.
How could you make criticism credible? I would suggest the following format.
"I understand why the government has taken the step XYZ".
I understand that not taking this action had the following consequences, OR, I understand that these were the possible benefits of the action.
a)
b)
c)
But, I would have taken alternative action ABC and would have lived with the following consequences of my actions."
I)
II)
III)
Of course, the actions you suggest should not be adverbs. So you should not say that I would have taken the same steps but executed them more efficiently or more compassionately! That is neither here nor there.
Such a criticism would force you to study the complexity and automatically reduce the frequency of your posts.
It will hopefully also make you Steelman instead of Strawman the actions that you are criticizing. That would make your criticisms more credible and credible criticism is something we need.
Post Script
I believe that the following three categories should be exempt from the requirement of Credible Criticism
· I need love: It is possible that your social media posts are just your way of handling the stress of the situation. Your posts are just saying, "OMG, I am freaking out!" and that is OK.
· Holy warriors: It is also possible that you feel that the only thing that really matters is who wins the next elections in your country/state. In that case too, you can ignore what I have written.
· Comedians: If you are a professional or an aspiring comedian, you have to keep posting and you probably do not have the time to dive into any kind of complexity.
(This piece was first published on medium.com is is republished here with permission)
Get Swarajya in your inbox everyday. Subscribe here.
An Appeal...
Dear Reader,
As you are no doubt aware, Swarajya is a media product that is directly dependent on support from its readers in the form of subscriptions. We do not have the muscle and backing of a large media conglomerate nor are we playing for the large advertisement sweep-stake.
Our business model is you and your subscription. And in challenging times like these, we need your support now more than ever.
We deliver over 10 - 15 high quality articles with expert insights and views. From 7AM in the morning to 10PM late night we operate to ensure you, the reader, get to see what is just right.
Becoming a Patron or a subscriber for as little as Rs 1200/year is the best way you can support our efforts.
Become A Patron
Become A Subscriber