Interview: Mohandas Pai On Why BBMP Simply Lacks Capacity To Manage A City Of 12 Million Population And $140 billion GDP
by
Sharan K A
-
Thursday, September 8, 2022 06:42 PM IST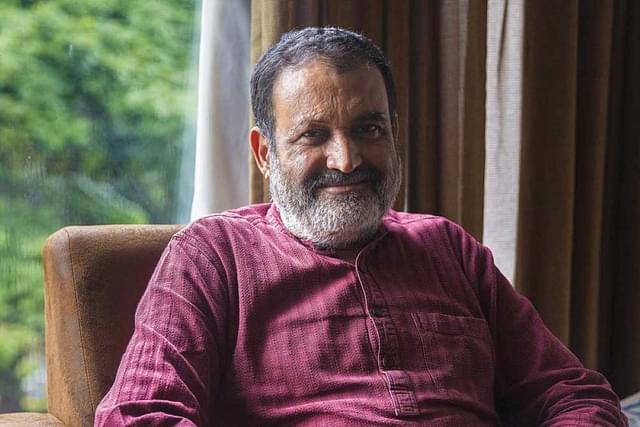 Mohandas Pai
Shri Mohandas Pai is among Bengaluru's foremost business leaders and a public-spirted citizen of the city. He has worked closely with local state and union government in various public initiatives. He has articulated key urbanisation challenges and infrastructure woes of the city over the years
In a free-wheeling discussion with Swarajya's Associate Editor Sharan Setty, the former Infosys executive not only highlights the governance deficit, execution inefficiency and funding inadequacies plaguing the city administration but also suggests a possible roadmap to ensure that 'Brand Bengaluru' remains intact
Q 1: The last few days have been an eye-opener for everyone residing in the city. What do you attribute to the growing infrastructure woes of the city, especially the eastern part?
A: There are mainly three reasons why Bengaluru's infrastructure is a mess:
Lack of good governance: Our city corporation (Bruhat Bengaluru Mahanagara Palike) has become highly corrupt. There's no accountability one can expect from the BBMP. They lack the capacity to manage a city with a GDP of $140 billion, a population of about 12 million people, and 10 million vehicles. The corruption exists because they don't hire people directly; instead, they get them on deputation, and no action is taken against them.
The apathy of the state government in Karnataka: Every Chief Minister of Karnataka wants to improve Bengaluru. They never said no to us for two decades now. I've met the last five CMs myself. Even the senior bureaucrats understand the importance of Bengaluru, but the lower-rung officials respect them or fulfil their duties. I'm shocked that they don't do any work, indulge in corrupt activities and get away with it.
Lack of urban reforms: If you don't have proper urban reforms, empowerment of the city, a full-time Mayor, and smaller corporations, it will not work. I remember Bangalore University (BU) had 880 affiliated colleges under the umbrella at one point! It's ridiculous. We spoke to the government and asked them to divide it into 3-4 parts for smoother governance. They did a decent job, not an entirely satisfactory one. Scale - that's the problem today.
A country like Singapore today, with about 50-60 lakh people, has a prime minister, an army, a cabinet, a bureaucracy and a city with double the population like Bangalore has nothing! How can it run? Bangalore, which contributes 60% of Karnataka's GDP and has 20% of its population, has nothing - just one commissioner.
Bengaluru is the wealthiest city in India today. It has a per capita income of about $10-11,000. It receives one of the lowest investments for its governance. We are the country's second-largest payer of income tax, third-largest deposit base for any city, and fourth-largest in lending. But then, what do we get for all our taxes? Peanuts!
We have only 26-28 seats in the legislature out of 228 seats. We have a political class which rules Bangalore, takes all our tax money, puts it in the rural areas, gets the votes and comes back to show us the finger.
Q 2: Will creating micro-corporations within the city help the city with better governance and more transparency?
A: Bengaluru Mayors have a term similar to the Institute of Chartered Accountants president! I've seen many presidents spend half their term doing felicitations around the country. By the time they get to work, their term is over. What can they possibly achieve in such a short period? We need a full-time mayor elected directly by the city's people. We need small corporations simply because one single corporation for 800 square kilometres and 12 million people is simply too much.
It's important to recast governance in a manageable manner. The BS Patil Committee recommended five corporations for the city with five Mayors and proposed a unified Bangalore Metropolitan Authority headed by the Chief Minister to ensure that the common mobility, transportation and water can be done together.
BBMP has had so many commissioners in the past. Tell me if a single one of them has visited all the wards in the city. Outer Ring Road has some of the biggest companies in the world. It probably employs close to ten lakh people. Any sensible government in the world would focus on such corridors and provide them with good infrastructure. What has our government done? This is the result of benign neglect. They simply don't care.
CM Bommai is an engineer himself. Hopefully, he'll act very soon and show us some good results in the months ahead. Officials must fear action being taken against them. Sack some of them, and set an example. Prime Minister Narendra Modi has sacked at least 500 people in the last 6-7 years because of corruption, inefficiency etc. Why can't the government do this here? Show them you mean business.
Q 3: Has the city reached a point where you cannot accommodate more than a million people? It was originally planned that way. Maybe that's the reason?
A: That's an old attitude reflected by some urban planners and experts today. I disagree with them. It's no longer a 'pensioner's paradise. Tokyo is a city of 30 million people, and Beijing has 25 million people. The growth is happening on the outskirts of the city. London, today, has become a big agglomerate. We need good jobs and a sustainable way of life. It requires good public transport. You have only 6,000 BMTC buses since the last ten years. Your metro is behind schedule by 4-5 years. No one knows when that's going to happen.
Below the metro lines, life is horrible. The roads are dirty. There's dust and debris everywhere. When they built the metro, the roads were all made up in Delhi. Traffic moves smoothly, but here it doesn't. Simply cleaning up the place requires a minister or a big budget for it? Why can't we even clean up the place, for God'sGod's sake? People in the city must be able to walk on footpaths easily. Everyone pulls out their car to travel even a kilometre or less.
Q 4:Would you say that the political class has failed us completely? There's no electoral punishment, perhaps?
A: The Parliament of India, around 1975-76, passed a law freezing certain seats for Bangalore for a period of 30-40 years or something. That's why Modi is also building a Parliament building that can accommodate nearly 800-odd MPs. South India is going to get affected by this. We have done exceptionally well. We controlled our population. We did economically well. We have become more prosperous today. The same applies to the city too.
We are not empowered enough in our cities vis-a-vis political representation. Delimitation doesn't mean increasing the wards from 200 to 243 wards. It means nothing.
Q 5: Will investments be affected? Will companies move out?
A: Some may, but people are waiting to see what the government will do about all the problems. If they improve the infrastructure, public transport etc, the damage will be very minimal.
Q 6: But only parts of East Bengaluru are primarily affected by floods and infra woes. Why is that?
A: That area had intense rainfall in a short period of time. It's a one-off event, not a recurring one. Water accumulated and did not get absorbed into the ground. Drains are all blocked and choked. On paper, don't be surprised if you see the contractors billing the corporation for cleaning the drains. It's only on paper. Rajakaluves have been covered up. Outlets have either been blocked or accumulated. They were the main drainage.
There are rare occurrences of heavy rainfall, which usually creates water channels in any geographical area if you learn from history. It doesn't get created by normal to scanty rainfall. You saw what happened when Bombay's sea level rose and the streets flooded? That's what happens. Clean the drains first.
Q 7: Have we become overdependent on Cauvery for our water requirements? Today water supply is affected even if we receive ample rainfall! Lakes were the primary source of water for the city.
A: Cauvery supplies 500 million litres of water every single day. There's enough water for everyone. We must create local storage capacity and recycle the water for domestic use. Very little water is actually recycled. Why can't we aim for a 100% recycling rate where we use the water for gardening, cleaning etc.? Use water efficiently. We must also deepen the lakes so that the groundwater levels increase. I also like the idea of a 'pensioner's paradise. I'm nearly a pensioner now. But what about young people like you? You deserve good jobs. For that, we need good infrastructure in the city.
Cities will naturally grow. India's population at the time of our Independence was 33 crore. Today we are touching a billion and a half people. We still have the same landmass. We need good infrastructure, clean air and water.
Q 8: We've been defeatist in our attitude? Maybe futuristic planning is necessary as far as urban governance is concerned?
A: I remember going to an NDTV debate a long time ago. Many environmentalists were talking about saving trees. Ironically, someone pointed out that the location where the NDTV headquarters is situated had a lot of trees. We may have to chop a few trees, but we need to make sure that we compensate for it by planting more trees in and around the city. Lung spaces are very important, but it's almost impossible to undertake any project without the felling of a few trees. Bangalore has 30 lakh trees. In critical junctures, just work it out! Everyone wants to see someone else suffer. We can't do that, right?
Nostalgia won't help with anything. You have to be forward-looking, futuristic, and plan for our future.
Get Swarajya in your inbox everyday. Subscribe here.
An Appeal...
Dear Reader,
As you are no doubt aware, Swarajya is a media product that is directly dependent on support from its readers in the form of subscriptions. We do not have the muscle and backing of a large media conglomerate nor are we playing for the large advertisement sweep-stake.
Our business model is you and your subscription. And in challenging times like these, we need your support now more than ever.
We deliver over 10 - 15 high quality articles with expert insights and views. From 7AM in the morning to 10PM late night we operate to ensure you, the reader, get to see what is just right.
Becoming a Patron or a subscriber for as little as Rs 1200/year is the best way you can support our efforts.
Become A Patron
Become A Subscriber