Kerala's Demographic Shift: Three Axes Of Change And Salafism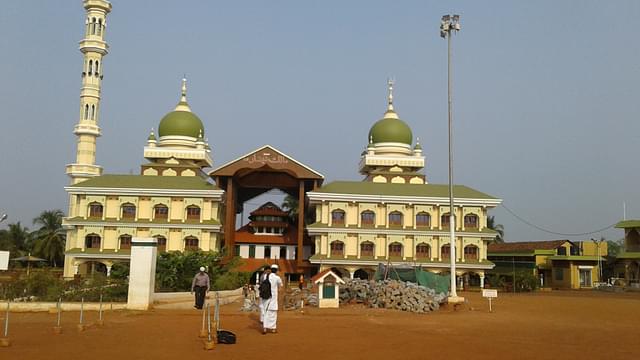 A mosque in Kasargod. (Wikimedia Commons)
Snapshot
Kerala is inching towards a population imbalance that is spread across three aspects. A Salafist Muslim domination looms dangerously in the resulting cultural shift.
On 14 June 2016, Krishnendhu R Nath, an Indian, now residing in Malaysia, was travelling in Kerala's Malappuram district when she suddenly fell sick. Nath asked for lime soda. Her husband's friend tried to buy it from a shop on the highway. The friend was told that it was a period when Ramzan fasting was on (the eighth day of the month) and no shop there could sell soda or any eatable for that matter.
Piqued, Nath herself went and asked a shopkeeper what his problem was in selling a lime soda or lemon juice during the fasting season. She wondered what travellers would do when they are not fasting. The shopkeeper politely replied that he was eager to supply, but his shop will be destroyed after that. Nath, who recorded her nightmare in a Facebook post, said that she got similar responses from other shops too, forcing her to wonder if she was in Saudi Arabia.
The stark reality in Malappuram — where Muslims make up 70 per cent of the population — is that it is not possible now for non-Muslims — Hindus or Christians — to open shops or restaurants during Ramzan and sell eatables. Former BBC journalist and director of South Asia Studies Project at Middle East Media Research Institute in Washington, Tufail Ahmed, recording his impressions in New Age Islam, says that local Hindus have been unable to protest and have willingly accepted their position as second-class citizens or 'dhimmis'.
Things are changing in Muslim-dominated areas in Kerala. The month of Ramzan is now called Ramadan, as in Saudi Arabia, thanks to Gulf money and its influence. The traditional veshti and lungi are being replaced by Arabian gowns, and Muslim women in Kerala are now covering themselves fully with black burqa — with the Popular Front of India (PFI) gaining a strong foothold in Muslim-dominated areas.
The situation, experts fear, is bound to aggravate, given the changing demographics of Kerala. Statistics point to the emerging ominous trend. In 1901, Hindus, numbering 43.78 lakh, made up 68.5 per cent of Kerala's population with Muslims and Christians making up 17.5 per cent and 14 per cent respectively. By the 1960s, the Hindu population dropped to 60.9 per cent, while that of Muslims increased marginally to 17.9 per cent. Christian population expanded to 21.2 per cent.
Since then, there has been a dramatic change in the composition of Kerala's population. In the next decade, Muslim population grew at over 35 per cent, with that of Christians and Hindus registering a growth of about 25 per cent. The growth of Hindu population has been on a downhill since then, growing by a meagre 2.29 per cent between 2001 and 2011. The phenomenal growth of Muslim population has continued, though it slowed to 12.84 per cent in the said period.
Today, Hindus make up around 55 per cent of the population (55.05 per cent in 2011 Census), Muslims 27 per cent (26.56 per cent in the Census) and Christians 18 per cent. But there is another development that has taken place in 2016 – the number of Muslim births exceeding that of Hindu births.
According to the Kerala Department of Economics and Statistics, the percentage of Muslim births topped that of Hindus at 42.55 per cent in 2016. This means, of every 100 children born in Kerala, over 42 were Muslim, while the number for Hindu children was slightly lower at 41.88. In terms of real numbers, over 2.11 lakh Muslim children were born in 2016 compared with 2.07 lakh Hindu children.
A former bureaucrat, who spoke on condition of anonymity, says Muslims will make up 40 per cent of Kerala's population by 2030 going by the current trend in births. "There are attempts to ensure that Muslims make up over 50 per cent of the population as soon as possible. That's why you hear stories of love jihad," the bureaucrat said. The rising Muslim population is only one aspect of a three-dimensional problem. This issue has hogged the headlines because it is so much visible that people have seldom taken note of the other two.
The second dimension of Kerala's changing demography is the ageing population of the state. Nearly 15 per cent of the population is above 60 years of age. A study has found that since 1981 Kerala has been adding 10 lakh elderly people to its population every year. Kerala has seen a lakh people above the age of 80 being added in every Census since 1980 until 2001. In 2011, this increased to 2 lakh — compared with 2001.
A paper prepared by S Irudaya Rajan of Centre for Development Studies, Thiruvananthapuram, and three others, says that age specific growth in Kerala has declined with the exception of 60 years and above. The most concerning aspect is that there is a negative growth in the young population of 0-14 years. And added to this, fertility and mortality rates have declined. The fact that there are 1,084 females for every 1,000 males is another problem that Kerala has to grapple with. This dimension then leaves Kerala to face the danger of having more elderly people in due course of time.
The third dimension of Kerala's changing demography is increasing migration to Kerala. It all started at the beginning of the century when it had to bring people from the east and north-east to tap rubber in plantations. Local youth were reluctant to take up rubber-tapping due to a variety of problems, including finding brides. Later on, the state has had to depend on migrant workers to do carpentry, plumbing, construction and electrical works.
According to Gulati Institute of Finance and Taxation, in 2017 at least 35 to 40 lakh migrant workers could have been working in Kerala, though economic stagnation during 2017-18 fiscal could have resulted in some of them leaving. The state is also seeing over 20 lakh people migrating abroad every year and over 60 lakh people to other states.
Irudaya Rajan says in his paper that Kerala is bound to witness a negative growth in its native population. This means, migration is set to alter the composition of the population. The state needs these migrants in agriculture, services and construction sectors. As migrant workers are set to play a key role in Kerala's economic growth, the change in the state's demography could be sooner than expected. Along with Kerala, other southern states like Tamil Nadu and Andhra Pradesh are also likely to see a transformation in their demography.
Politically, the Muslim community seems to receive patronage under the regimes of both the Congress-led United Democratic Front (UDF) and the Communist Party of India (Marxist)-led Left Democratic Front (LDF).
With the Indian Union Muslim League (IUML) calling the shots in the UDF government, its members got the key ministries, such as industries, information technology, electricity, education, panchayats and urban development. There is one advantage for the person who gets panchayat and urban/rural development as his/her portfolio. Most funds from Centre come to these ministries and the person in charge can utilise these to promote his/her party or personal agenda through schools and other institutions, including local bodies.
IUML walking away with panchayat and urban development portfolios helped it to look after its constituency of voters, mainly the Muslim community. So, most funds headed to panchayats controlled by IUML, with Muslim-run or dominated schools also getting a helping hand. In the current LDF cabinet, panchayats, rural and urban development are in the hands of A C Moideen, thus ensuring the Muslims continue to get priority in fund allocations.
Muslim domination in places like Malappuram, Kasaragod, Kannur and Kozhikode has left Christians worried too, as these districts are seeing young Muslims attracted to the extremist Salafist ideology. Two years ago, a procession taken out by Hindus to celebrate Krishna Jayanthi faced stiff resistance from these elements.
A Christian family in north Kerala says that non-Muslims in the region are more concerned over growing Salafism, with youth aggressively backing organisations like Islamic State (IS). In July 2016, 21 people left Kerala to join IS in Syria. All the 21 were well educated — some of them even doctors — and came from influential backgrounds. It later emerged that these 21 were promised 'good postings' in the areas controlled by IS.
At least four of the 21 are dead, while what happened to the other 17 is not known. Unfortunately, the courts aren't viewing the issue with the required seriousness. At least two people who were deported to India from the war-torn areas controlled by IS have been acquitted by the Kerala High Court, which said that supporting such terrorist ideology is not waging a war against the state.
Love jihad and entry of women of all ages into the Sabarimala Ayyappa temple are other issues that are seeing the changing demography and simultaneous appeasement by state government come into play with full force. In the Hadiya case, the Supreme Court failed to take note of a very important aspect. Hadiya was born Akhila Ashokan but converted to Islam. When she was under the care of a woman Zainaba, who has links with PFI, she was married off to a Muslim, Shafin Jehan. When Hadiya's father petitioned the Kerala High Court, the marriage was annulled. But the Supreme Court overturned the ruling and allowed Hadiya to go with Jehan. How can a caretaker or guardian marry off a girl without informing the parents when it is not a case of love?
Amid the current controversy of women's entry into Sabarimala temple, Rehana Fathima trekked up the hill in an attempt to break the age-old tradition, backed by the Pinarayi Vijayan government's police. Unfortunately for her, the devotees held firm and the temple tantri, too, threatened to close the shrine, forcing her to back pedal.
So, Kerala is growing older, is witnessing more migrants coming in, and is growing more Muslim each decade. All of this, meanwhile, comes against the backdrop of appeasement politics of both the LDF and the UDF. And regarding appeasement, history is unambiguous — it only makes the aggressor more aggressive. If such is the state of affairs when Muslims make up less than 27 per cent of the population, what does Kerala have in store when that number goes above 30?
Get Swarajya in your inbox everyday. Subscribe here.
An Appeal...
Dear Reader,
As you are no doubt aware, Swarajya is a media product that is directly dependent on support from its readers in the form of subscriptions. We do not have the muscle and backing of a large media conglomerate nor are we playing for the large advertisement sweep-stake.
Our business model is you and your subscription. And in challenging times like these, we need your support now more than ever.
We deliver over 10 - 15 high quality articles with expert insights and views. From 7AM in the morning to 10PM late night we operate to ensure you, the reader, get to see what is just right.
Becoming a Patron or a subscriber for as little as Rs 1200/year is the best way you can support our efforts.
Become A Patron
Become A Subscriber