Ground Report: When A Mob Shouting 'Allahu Akbar', 'Modi Murdabad' Pelted Stones At Hindu Homes, Desecrated A Temple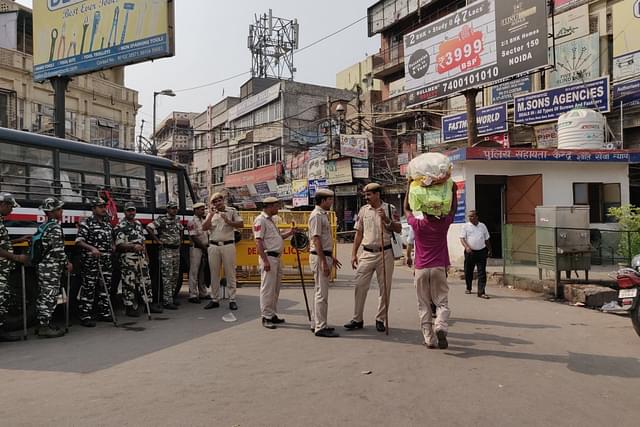 Police and paramilitary personnel at the entrance of Lal Kuan market in Delhi's Chandni Chowk on Tuesday/Swarajya
Snapshot
On the night of 30 June, an Islamist mob attacked homes of their Hindu neighbours in Lal Kuan market of Delhi's famous Chawdi Bazaar, hurled religious and political slogans, desecrated their temple - all in retaliation over a minor dispute related to parking.

While normalcy is slowly returning to the area, total justice is still awaited.
A CCTV camera installed inside the Durga mandir lane in Lal Kuan market of Delhi's famous Chandni Chowk, shows what happened here on the intervening night of 30 June and 1 July.
A group of nine-ten men barged in and pelted stones and bricks, kicked at the doors, threw stuff around and attacked the parked vehicles while shouting something at the residents. The 8-minute long video that residents have shared with the media shows the time to be around 12:40 am.
Watch part of the footage here:
Durga mandir lane is where the Hindus of Lal Kuan live – some 50 families, amid rows and rows of Muslim-populated colonies such as Farash khana, Chabuk Sawaar gali, Katra Sheikh Chand, Ballimaran and Hamdard Safakhana. Entrance of the narrow, congested lane opens to a Durga temple while the other end of the lane is closed. It's not a typical temple per se but a row of idols locked inside glass panels on the side wall of the lane.
The midnight violence jolted the families out of sleep. A resident, who did not wish to be named, recalled, "We had all gone to bed early as it was a Sunday and we had to get up on time the next day. I heard a commotion and looked down my window. A mob of youngsters was pelting stones and bricks at our homes. They hit scooters and bikes parked in the street and tried to break shutters of shops."
"When they spotted me, they hurled the choicest of abuses my way. I woke up families around saying we are under attack," he said.
The residents say they had no idea why they were being assaulted. But they knew the youths were from the Muslim community.
"Initially I thought they were venting out their anger as India had lost to England and it hurt Pakistan's chances of getting into the World Cup semi-final. We were in fact anticipating some commotion after the loss," said another resident, again on the condition of anonymity. "We did not know the real reason then. Nonetheless, some of our men gathered in the street and rushed to close the gate," he said.
The entrance has a big iron gate.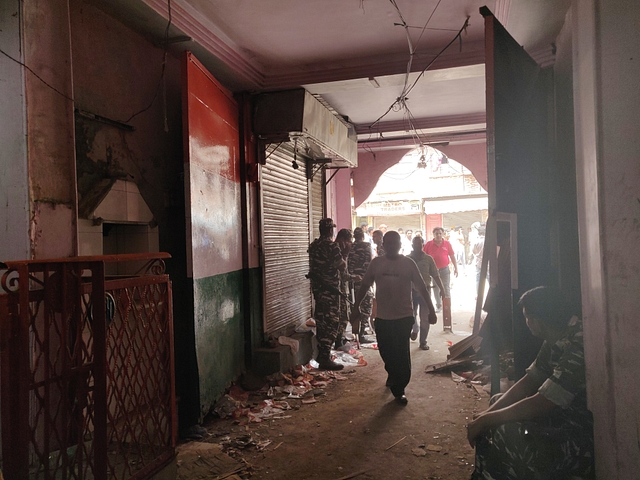 He said some 10-15 men standing on the other side of the gate stopped the residents from closing it but they eventually managed.
Another resident said the mob seemed to have come with full planning. "They had rods, sticks, stones and what not. They were shouting slogans of Allahu Akbar and abusing us, daring us to come out," he said, recalling that a youth said "saare Hinduon baahar aao, hum tumko batayenge kaata kaise jaata hai. Kaatna humse seekho" (All you Hindus, come out, we will teach you how to cut)".
He said some of the youths shouted political slogans, saying "Modi murdabad, hamara Imran Hussain zindabad. Kejriwal zindabad."
The residents soon learnt that the temple had been desecrated. They saw the broken panels and idols, and the burnt curtains. The next day, they saw mobile-shot videos of the mob chanting "Allahu Akbar" and "Naara-e-Takbeer" while proceeding to vandalise the 100-year-old temple.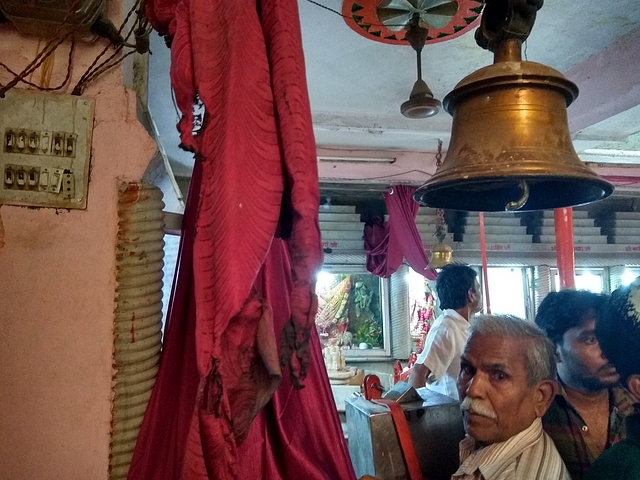 The residents say the police arrived after an hour despite several phone calls, even though the Hauz Qazi police station is just a few hundred metres away. The cops, instead of assuring them protection, went on to erase evidence of the violence that had been unleashed on them without any provocation whatsoever, they say. "All that the cops did was to change the burnt curtains and clear the street of the debris to cover up the matter," a resident said. "But it's all been captured in the CCTV camera," he said.
A woman said she shudders to think what if the residents hadn't closed the gate and more men had barged in. "What would have happened? There is no exit on the other side of the lane. It's a dead end. We only have this one gate. It could've been a massacre," she said.
While the residents shared their ordeal when Swarajya correspondents visited them on Tuesday (2 July), none of them agreed to give their name. They argued that being a handful, they would be easily identified by name, which could put their safety at risk. However, they allowed their statements to be audio-recorded.
The Trigger – A Minor Dispute Over Parking
The residents later learnt that the trigger of it all was a dispute between two locals - one Sanjeev Gupta and Aas Mohammad - around three hours ago, over nothing even remotely related to religion.
While Aas Mohammad, as per locals, is still under police custody, Gupta was at home on Tuesday. His first-floor tenement is right opposite the Durga temple lane. He said that around 9 pm on 30 June, he was standing at the window when he saw a man trying to park his scooter below his house. "I asked him not to park the vehicle there as cows pass by that route. I feared that if a cow knocked down his scooter, he would blame me," said Gupta, recalling that the man was "needlessly abusive".
"He asked me if cows take the stairs and enter my house too. This made me angry and I hurled abuses at him in return. He then challenged me to come downstairs and I did. We then had a scuffle," he said.
Gupta says the man left, promising to teach him a lesson. "I did not take it seriously and came home. Within no time, over 50 men gathered outside my house. Some of them tried to enter inside but I managed to shut the door at them," said Gupta.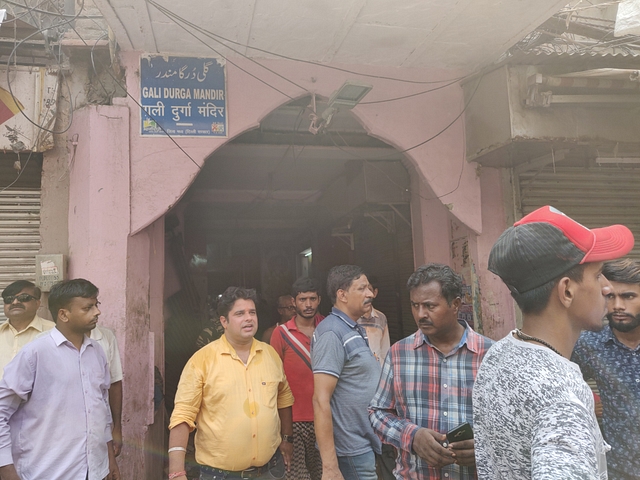 Soon, police arrived. The call had been made by a family member. The cops took both Gupta and Mohammad to a local hospital and then to Hauz Qazi police station, he said.
Gupta's mother said the crowd continued to bang at the door. "We women and children were terrified. But there was not a single cop deployed for our safety despite a mob outside," she complained, and went on to add that the family is still scared for their safety and do not want any scuffle. "We only want peace. Please do not write anything that endangers our lives," she said.
Gupta said he was horrified to see a crowd of hundreds of Muslim men outside the police station. "I did not know what they were sloganeering, whether they wanted me handed over to them or Mohammad to be let free, but I was shocked," he said. Gupta spent the night in the police station. The police later told the media that the mob had gathered after reading fake and provocative messages on WhatsApp that a Muslim man had been lynched by Hindus.
The Gupta family, meanwhile, kept the windows and gate closed, but recalls hearing a commotion around midnight.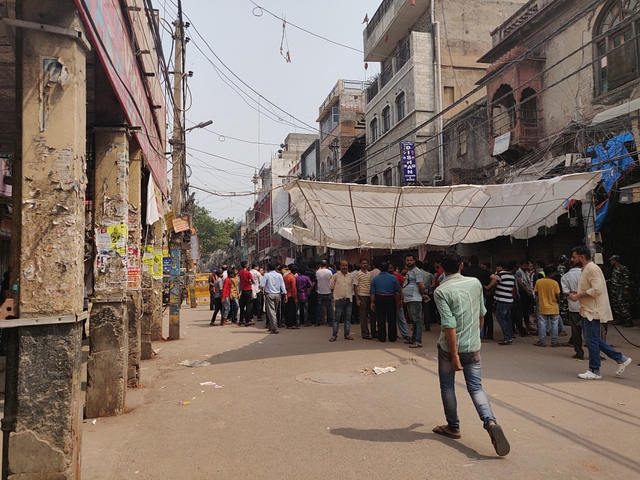 The Missing Son
When the mob left the Durga temple lane, it took away a minor boy who has still not been recovered, as per locals. What's worse, the police did not take the family's complaint on the night of 30 June and made it wait till late evening even on the next day, they say.
Mona Saxena, mother of the missing boy named Keshav, showed Swarajya a copy of the FIR that was registered around 9 pm on 1 July. Her statement says that some unknown Muslim men took away her son from home around 11:30 pm. The men entered the colony vandalising the temple and shouting "Allahu Akbar", and began thrashing the residents. Her son was sleeping inside the house but the men barged in and took him away. The statement further says that she is very worried for her son and the police should act against this "terrorism".
The police booked the alleged kidnappers under IPC sections 363 (kidnapping), 452 (house-trespass) and 34.
Mona told Swarajya, "My son had intervened when Gupta and that Muslim man were fighting. The Muslim man had even slapped him. My son had come home, changed his clothes and gone off to sleep."
Two nights and a day later, a wailing Mona and her distressed husband Devendra have no clue of their son's whereabouts. The colony is left shaken and is fearing the worst. The boy, who quit school to financially support the family, is the elder of the couple's two sons.
The Talk Of Migrating From The Area
Residents of Durga temple lane say that local Muslims want even the 50-odd Hindu families living among a thousand Muslim families in Lal Kuan to leave so they can "take over" the entire area. They say that the area used to have a lot of Hindus till the 1980s when constant curfews and violence triggered their migration.
The latest clash could further drive them away.
"If they shout Allahu Akbar and break our temples, or abuse our community for no reason, then naturally Hindus will migrate out. There are many families that are seriously considering the option now," one resident said.
His wife said there was no recent history of any clashes between the two communities in the area. "We exchange sweets on festivals. Some of their men come to our colony to burst crackers on Diwali. I don't know what's got into them," she said.
The 30 June incident may be a tipping point in their decision to migrate but Hindu families complain that even right now, they don't enjoy religious freedom at par with the Muslim majority which is degrading to them as a community.
"We haven't organised a jagran in many years. Police don't give us permission. We can't get even half of the road for our religious functions while Muslims occupy the entire streets on their festivals. We have to be careful with our crackers on Diwali and water colours on Holi while they roam with swords on Muharram without any fear," a resident said. "A few years ago, our youth tried to organise a Sandhya on the road. Police made us wrap up by 10 pm," he complained.
The Road To Normalcy In Hauz Qazi
Some sections of the media and opinion-makers are not only playing down the violence but also prematurely claiming that the area has already returned to normalcy. This is highly misleading. On Tuesday, when Swarajya visited Lal Kuan, it resembled a militarised zone due to heavy security. More than 1,000 Delhi Police and paramilitary personnel armed with anti-riot gear were deployed throughout the day. On the main road, Police had put on barricades separating Muslim and Hindu crowds numbering in hundreds, chanting "Allahu Akbar" and "Jai Shri Ram" at each other in a game of competitive sloganeering. The market was shut.
Swarajya spoke to several men from the Muslim crowd. Surprisingly, many expressed ignorance of the temple desecration. Shakeel Ahmed, a local, said that all he knew was that two men fought over parking and some people gathered outside the police station. He said he had not heard of the temple vandalism.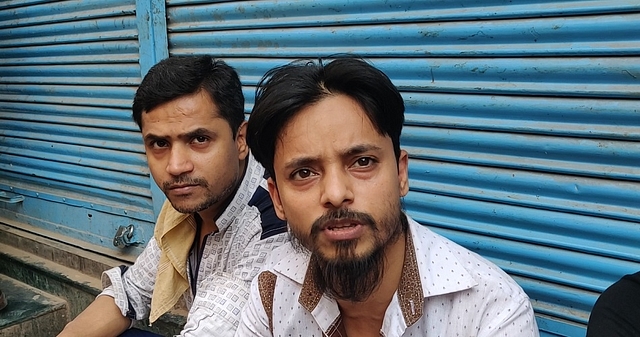 Several men dismissed the vandalism as work of the "Hindus" themselves. Others said it could be design of the "outsiders". "Who knows who vandalised the temple. It could be Hindus doing it themselves to give us a bad name," said one. Another said that no real Muslim would desecrate the place of worship of another religion and thus it seemed like a handiwork of "BJP-RSS".
Even in the Muslim crowd, the men spoke on the condition of anonymity but some agreed to let us audio-record the statements.
On this denial, a local resident named Rakesh Khanna (name changed) whose family migrated here from Lahore after partition, said he wasn't surprised at all. "Partition kiya inhone, blame karte hain Hinduon ko. Kashmir se Panditon ko nikala inhone par kehte hain ki khud bhaag gaye. Abhi mandir toda aur bol rahe hain Hinduon ne toda (They did the partition but blamed it on Hindus. They threw pandits out of Kashmir but say they migrated on their own. Now they vadalise a temple and again blame Hindus for it)," he said.
He said that while everyone was imposing normalcy by force, no such thing on ground existed. "If the situation was normal, would there be hundreds of security personnel here?" he said.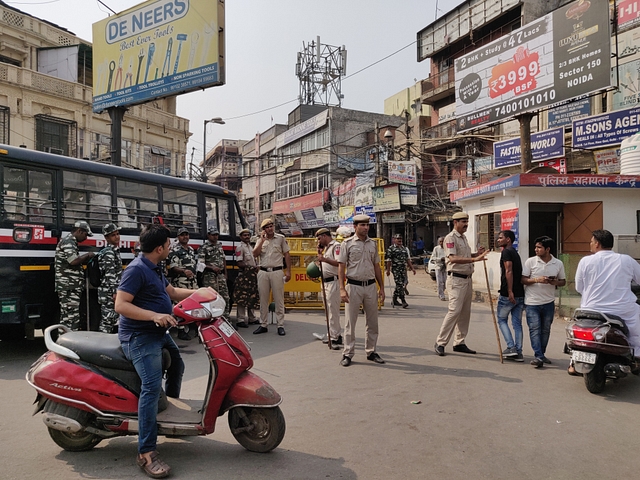 It's clear that tempers in both the Hindu and the Muslim communities are high and it would take a lot to restore normalcy.
The police have so far arrested three youths for temple desecration – 21-year-old Mohammad Zubair, 22-year-old Mohammad Anas and a juvenile – who are residents of nearby colonies. Tuesday evening, representatives of both communities had a dialogue at Hauz Qazi police station and decided that a havan would be held at the Durga temple on Wednesday, post which the shops would open and business would resume as usual.
Residents welcomed an end to the current gridlock. However, men from both sides said that the talk of Hindu-Muslim unity in the area was a farce. One Mohammad Zahid said that "Muslims" were being "lynched" everywhere in the country and the community won't take it lying down.
Khanna, on the other hand, asked, "Ekta hoti to mandir todte? (If there was unity, would they break our temple?"
He said that Lal Kuan has about 5 per cent Hindus as against 95 per cent Muslims and that if Hindus from elsewhere in Chandni Chowkr had come to stand up with the community, they could not be labelled as "outsiders".
He, and indeed several locals, said they expected heavy police deployment till at least 15 August, Independence Day.
Get Swarajya in your inbox everyday. Subscribe here.
An Appeal...
Dear Reader,
As you are no doubt aware, Swarajya is a media product that is directly dependent on support from its readers in the form of subscriptions. We do not have the muscle and backing of a large media conglomerate nor are we playing for the large advertisement sweep-stake.
Our business model is you and your subscription. And in challenging times like these, we need your support now more than ever.
We deliver over 10 - 15 high quality articles with expert insights and views. From 7AM in the morning to 10PM late night we operate to ensure you, the reader, get to see what is just right.
Becoming a Patron or a subscriber for as little as Rs 1200/year is the best way you can support our efforts.
Become A Patron
Become A Subscriber