Dear NSUI, Bhagat Singh And Subhas Chandra Bose Admired Savarkar And His Ideas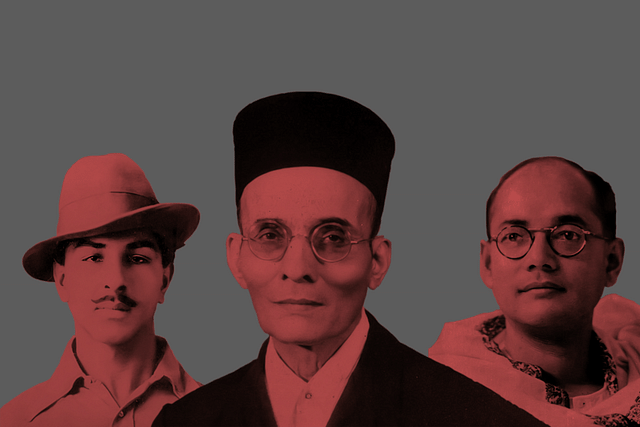 Freedom fighters Bhagat Singh, Subhas Chandra Bose and Veer Savarkar..
Snapshot
Not only do Savarkar, Bhagat Singh and Subhas Chandra Bose belong to the same league of freedom fighters but the latter two admired the former.
Controversy has erupted with the installation of a commemorative pillar for freedom fighters in the University campus by the Delhi University Students' Union (DUSU). The pillar carries the busts of Veer Savarkar, Bhagat Singh and Subhash Chandra Bose.

The Congress party has officially stated that 'by placing Savarkar in line with Bhagat Singh and Subhas Chandra Bose, they've disrespected the very freedom fighters in whose name they seek votes (sic)'.
In a subsequent development, the student leaders of National Students' Union of India (NSUI) — the student wing of Congress — put a shoe garland around Savarkar's statue, and blackened its face.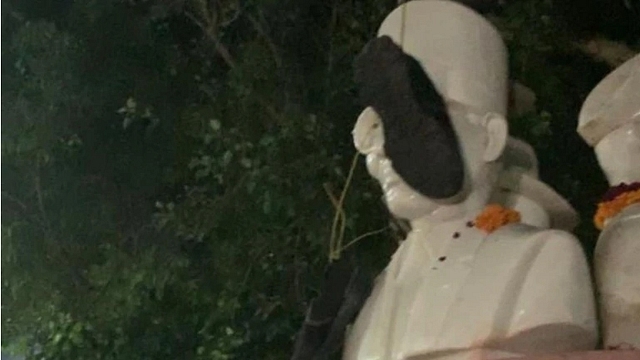 This is an interesting development in the evolution (or devolution) of the Congress.

After the Indian National Congress was captured by Indira Gandhi, the old leaders were sidelined or expelled. Though Indira Gandhi created the Nehru-Gandhi dynasty cult and marginalised names and legacies of other freedom fighters, she did not abuse such leaders.
In fact, Indira Gandhi released a stamp commemorating Veer Savarkar.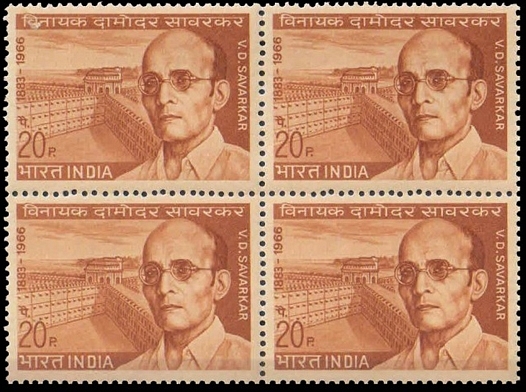 That one may agree or disagree with Savarkar on the way he visualised the nation is one thing, but demonising a national leader and a freedom fighter is another.
So one should understand that the blackening of Veer Savarkar's bust and garlanding it with a shoe by the NSUI is another event in the fall of the Congress that started decades ago.
The ascendancy of Savarkar in the national narrative for them is absolutely intolerable, not because he was an 'ideologue of hatred' but because they know he represents a worldview that subordinates personality and dynasty cults as well as ideological sectarianism to the welfare of the nation and security of its citizens.
Incidentally, the other two freedom fighters — Bhagat Singh and Subhas Chandra Bose — whose busts adorn the pillar understood this aspect of Veer Savarkar.

They valued his writings, his thought process, his pragmatic approach to obtaining freedom for the nation.

It is well known and well documented how Savarkar provided a crucial link between Subhash Bose and Rash Behari Bose in Japan.
It was on the advice of Savarkar that Rash Behari Bose wrote to Netaji Bose, the then Congress President, informing him of the activities of revolutionary freedom fighters abroad who were working under the Indian Independence League (IIL).

The radio broadcasts of Azad Hind Fauj from Singapore acknowledge the debt they owed to the vision of Savarkar.
Bhagat Singh too was inspired by the vision of nationalism that Savarkar provided. Bhagat Singh actually provides a wonderful template for all Indian youths, whatever their ideological stand, to understand Savarkar.

In 1976, Durga Das, who was the former Chair of the Punjab Legislative Council, gave an interview about his younger days when he was a revolutionary. He had worked with Bhagat Singh.

When he met Bhagat Singh for the first time, he also met Sukhdev (who too became a martyr with Bhagat Singh). Bhagat Singh was keen about developing the intellectual clarity of the revolutionaries. He wanted the new recruit to be familiar with the different struggles going on in the world.
So Durga Das was told to read Bukharin and Preobrazhensky's The ABC of Communism (1920), Daniel Breen's My Fight for Irish Freedom (1924) and on the Indian side, Life of Barrister Savarkar, written by Savarkar under the pen name 'Chitragupta'.
While Bhagat Singh was indeed attracted by the establishment of Bolshevik rule in the USSR and the principles of Marxism, he never became an official Marxist. He read Marx and Engels and took notes. He also read other thinkers.

But it is interesting that in the case of Indian thinkers it was the thoughts of Savarkar that attracted him — particularly to the Hindutva classic Hindu Pad Padshahi (1925), which would be considered 'communal' by the present dynastic sycophants.

It appears that this book was a must read in the inner circles of Bhagat Singh's Hindustan Socialist Republican Association (HSRA).
While discussing the famous Jail Note Book of Bhagat Singh, historians Malwinder Jit Singh and Harish Jain state:
Hindu Pad Padshahi by Veer Savarkar is one book which I would list among those he read thoroughly. May be for him, it was a re-reading as it was also found among the books seized by the police during raids on their hideouts after Sukhdev's arrest.
Does this mean Bhagat Singh was in complete agreement with Veer Savarkar? We do not know. The Hindutva of Savarkar was also fiercely non-partisan in its implementation. Perhaps it was a secularism that Bhagat Singh could sympathise with.

It should be remembered that one of the initial assignments given to Rajguru (another co-martyr with Bhagat Singh) was the assassination of Hassan Nizami, who was at the forefront of the campaign proselytising Hindus. (That Rajguru shot the wrong man is another story).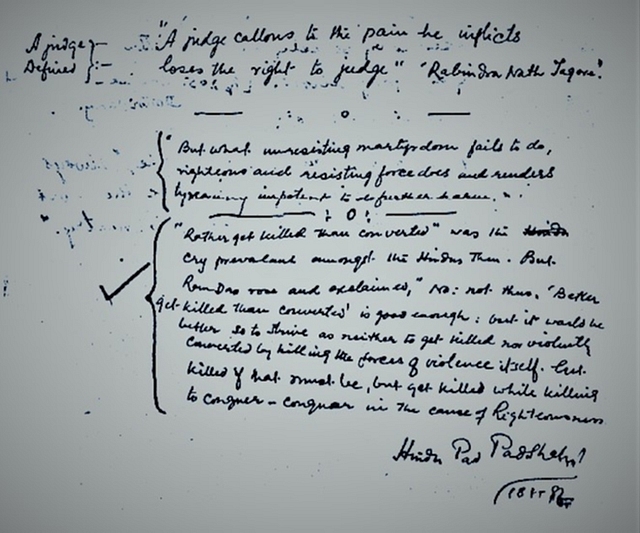 The influence of the writings of Savarkar on Bhagat Singh was well known to the family of the martyr.
In 1970 when Atmahuti, a biography of Savarkar written by Shivaramu and published by the Rashtrotthana Sahitya, was released in Bangalore, it was done so by Mataji Vidyavati Devi, mother of Bhagat Singh.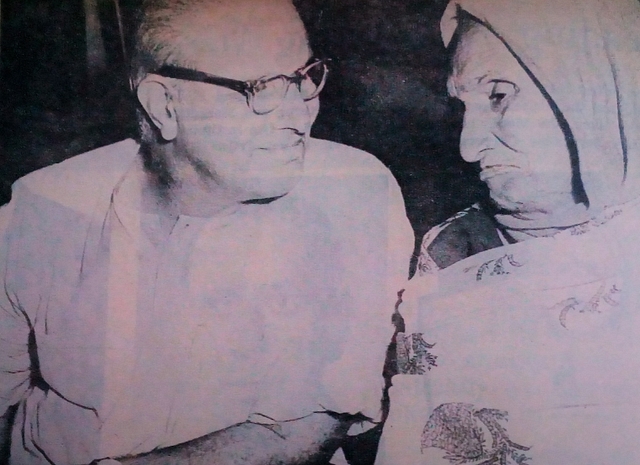 Given these facts, one can clearly say that despite the three great freedom fighters possibly having had ideological differences in their views and approaches, both Bhagat Singh and Netaji Bose respected Veer Savarkar.

His vision of India helped their missions.

It was the pan Hindu-Buddhist vision of Savarkar that inspired Rash Behari Bose and helped him guide Subhash Chandra Bose. It was his Hindu Pad Padshahi which, despite Bhagat Singh's admiration for ideologies like Marxism, always made the martyr to be rooted in Mother India and strive for her freedom.

Those who flirted with Marxism without this national anchorage often became afflicted with an internationalism that ultimately proved inimical to the interests of the nation.
So the student leaders of NSUI who insulted Veer Savarkar, actually also humiliated Bhagat Singh and Bose.

You may not agree with Savarkar but he is undeniably an architect of India's freedom and a person who sacrificed his everything at the altar of national independence.
Get Swarajya in your inbox everyday. Subscribe here.
An Appeal...
Dear Reader,
As you are no doubt aware, Swarajya is a media product that is directly dependent on support from its readers in the form of subscriptions. We do not have the muscle and backing of a large media conglomerate nor are we playing for the large advertisement sweep-stake.
Our business model is you and your subscription. And in challenging times like these, we need your support now more than ever.
We deliver over 10 - 15 high quality articles with expert insights and views. From 7AM in the morning to 10PM late night we operate to ensure you, the reader, get to see what is just right.
Becoming a Patron or a subscriber for as little as Rs 1200/year is the best way you can support our efforts.
Become A Patron
Become A Subscriber