Explained: Northeast Delhi Riots—From Terror Hotbed And Influx Of Bangladeshi Illegals, To 70-Day Siege And Economic Chaos
by
Yaajnaseni
-
Monday, March 2, 2020 10:13 AM IST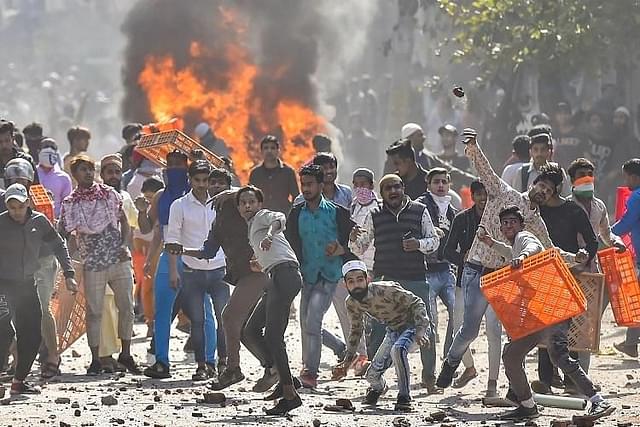 Delhi riots
Snapshot
The seventy-day siege of Seelampur-Jaffrabad area by anti-CAA protesters had caused economic chaos. The common people in this "liberated zone" were suffering but both media and police turned a blind eye.


Last year, after Ankit Saxena, Pankaj Narang, Khyala family, Dhruv Tyagi murders in the area, locals had raised the issue of demographic change due to illegal Bangladeshis.
After the recent violence in Delhi, there has been a concerted attempt to brand the unfortunate events as an "anti-Muslim pogrom" orchestrated by the "Hindutva goons".
However, the peddlers of this narrative forget that the anti-CAA protests had been full of hate speeches and violence since the very beginning, and the anti-CAA leaders had been blatantly lying to whip up a frenzy.
Also read: Delhi Riots: Here's A List Of Hate Speeches That Were Barely Reported In The Run Up To The Violence
The recent violence has occurred in northeast Delhi.
Nearly 7,000 Central Paramilitary Forces have been deployed in the affected areas of northeast district. Besides, Delhi Police has also deployed personnel.
A look at the Jaffrabad and Seelampur areas in northeast Delhi, which have been the locus of violence, indicate that the riots had long been in the making.
Seelampur in Delhi is dominated by the Muslim community and is the constituency of AAP MLA Haji Ishraq.
Anti-CAA protests were violent since the beginning
The Seelampur area saw violence, arson, stone-pelting and attack on common citizens in the very first wave of the anti-CAA protests.
On 17 December, angry anti-CAA protesters were flooding the streets and pelting stones at the police force in the Seelampur-Jaffrabad area.
The miscreants vandalised Delhi Transport Corporation (DTC) buses along with private vehicles. They were also caught throwing bricks at school buses, amidst chants of "Allahu Akbar".
Citizens had raised concerns at the time that in the buildings near the narrow lanes of Seelampur and Jaffrabad, stones had been gathered on the rooftops to attack the police.
Seven metro stations in northeast Delhi had to be closed in the face of violent anti-CAA protests.
On 20 December, Delhi Police conducted a flag march in Seelampur.
Reportedly, 10 companies of paramilitary forces had to be deployed, and 1,500 other security personnel were stationed in the sensitive areas. Drones were also being used to monitor the situation.
The police at the time said that the situation had been brought under control, but as soon as the drone surveillance in the Seelampur area was relaxed, the violence re-surfaced, a News 18 special correspondent stated.
On 27 December things again escalated in Seelampur. Outlook reported that the region had "turned into a fortress with heavy police force deployment".
"In Seelampur and Jaffrabad, which have been the epicentres of riots since December, only one community was doing the attacking ...when Jamia blew up on 17 December, Seelampur was used as an "east of the Urals" safe zone, to use a sovietism," Abhijit Iyer-Mitra says in a thread on Twitter.
It was after the Jamia violence was crushed that the anti-CAA groups started the pretence of a 'peaceful protest' at Shaheen Bagh, says Iyer-Mitra, adding that the Seelampur-to-Jaffrabad is almost a contiguous slum, known for crime.
Also read: CAA-NRC: Busting 10 Big Lies Peddled By The Left To Provoke Protesters Into Burning Down Delhi
Seventy-day siege of the common public
Seelampur, Jaffrabad, and Ashok Nagar were blockaded as a result of the anti-CAA protests. People in the region had been suffering for over two months.
On 23 February, the protesters blocked the Seelampur-Jaffrabad road near the Metro station. They blocked road no. 66, which connects Seelampur with Maujpur and Yamuna Vihar.
Anti-CAA protests in the capital had led to the closure of Shaheen Bagh-Kalindi Kunj-Sarita Vihar road, Wazirabad-Chandbagh road and Maujpur-Jaffrabad road — with sit-ins at Shaheen Bagh, Seelampur, Wazirabad and Jaffarabad.
"As to why a second community joined the violence yesterday, look at this map marking Seelampur green, Jafrabad/Maujpur blue and Ashok Nagar in red," says Iyer-Mitra.
The map makes it clear that the protesters were blocking some of the main east-west arterials of the region, causing economic chaos.
While the mainstream media quickly tried to brand the riots as "anti-Muslim pogrom" perpetrated by the "Hindutva goons", it was the anti-CAA protesters, and not the BJP leaders, that had the incentive to create chaos during US President Donald Trump's visit, while a BJP government is in office.
Iyer-Mitra says that the people were already frustrated by the siege. But both the police, and the liberal media kept mum on this virtual "liberated zone" in northeast Delhi.
"Understand that the "retaliation" has come after 70 days of siege and blockade of the Hindus of the area by a certain other community. The police stood by and did NOTHING, and the liberal press was mum on this virtual "liberated zone". Something had to give," he adds.
On 26 February, The Hindu reported the "members of the majority community saying they are not clashing because of the CAA but because they want the roads cleared".
"We want all the roads cleared. They can't turn the entire Delhi into Shaheen Bagh. Our people are facing problems for so many days now. If they want to stay in Delhi, they have to stay with us"
The hotbed of radical Islamist terror
For a long time now, northeast Delhi has been in the news for radical Islamist terror.
In December 2018, the NIA cracked down on an Islamic State (IS)-inspired module operating in Jaffrabad, and arrested five, including a civil engineering student. One of the arrested was a mufti in a Madrassa and yet another was an Imam at the Jama Masjid, Baksar, Uttar Pradesh.
NIA recovered very large quantities of explosives and material to make bombs — 120 clocks, 25 kg explosives, 100 phones, 135 SIM cards — along with a country-made rocket launcher.
"They weren't just making bombs, they were making a large number of bombs," the NIA had told the press.
Reportedly, the group was planning to carry out blasts and attacks on top political leaders of the country.
In April 2019, a key accused inspired by Islamic State, Mohammad Faiz, a resident of Jaffrabad, was arrested.
Faiz was a main member of the Pro-IS module Harkat-Ul-Harb-E-Islam.
NIA stated that Faiz was closely involved in the procurement of arms and ammunition to carry out terrorist acts in and around National Capital Region.
Mufti Mohammad alias Suhail, a resident of Jaffrabad in Seelampur was the 'Amir' of the pro-IS module, and mobilised funds and procured weapons, ammunition and explosive materials to prepare IEDs.
The group inspired by Islamic State to wage war against India, was targeting the National Capital Region.
In January 2020, the Special Cell of the Delhi Police arrested three IS terrorists from Wazirabad area after an encounter.
Anti-CAA protests and Bangladeshi terror connect
In a tweet on 28 February, Subramanian Swamy said:
The government needs to clarify if Intelligence Bureau officer Ankit Sharma was targeted and killed at the behest of AAP's Tahir Hussein because Sharma was tailing him for Tahir's Bangladesh terrorists connection. If true, it becomes very very serious matter.
Sharma's family has alleged that he was dragged by a mob inside Hussein's house. His dead body was fished out from a drain nearby the next day.
The post-mortem report stated that Sharma had been repeatedly and brutally stabbed, so much so that his intestines were falling out.
India has seen multiple terror attacks orchestrated by the terror-groups emanating from Bangladesh in the past.
In October last year, it was reported that a Bangladeshi terror group Jamaat-ul Mujahideen Bangladesh (JMB) was trying to spread its tentacles across India.
The NIA stated that the Islamist group had spread its activities across India in the guise of Bangladeshi immigrants.
Notably, illegal Bangladeshis were identified to have played an important role in the December anti-CAA violence.
Delhi SIT had identified at least 15 Bangladeshi infiltrators to have caused the violence. The Delhi Police has also found that Seelampur violence was instigated by illegal Bangladeshi Muslims.
"Several such Bangladeshis with a criminal past were instrumental in initiating violence, some armed infiltrators wearing masks set afire to state properties," said police sources.
The role of demography
The illegal Bangladeshi infiltration is also connected to the fast demographic changes in the area.
Journalist Swati Goel Sharma has highlighted that this has been a cause of concern for a while now.
"Do you notice how victims are blaming "outsiders" for violence in their areas? I wrote this report last year on increasing communal friction in a pocket of Delhi. Locals complained that a flood of immigration has brought about rapid demographic change and a spurt in crimes."
In May 2019, she had reported that the Ankit Saxena, Pankaj Narang, Khyala family, Dhruv Tyagi murders all happened within 6-7 km of each other.
She reported that there was a perception of fear and panic among locals, that stems from what they see as a pattern.
Interestingly, there is something common between the above and the IB officer Ankit Sharma's case.
Just like Sharma, Tyagi was murdered by knife-stabbing multiple times. Saxena's throat was slit with a sharp knife, while Khayla family members were also stabbed to death.
Also read: Fear Of The Butcher's Knife In New Delhi
In another thread, Swati reported that the media channels were only showing mobs chanting "Jai Shri Ram" because both were on the same side of the barricade.
"If most journalists are showing you crowds chanting Jai Shri Ram, it's simply because most of them are standing on that side of the barricades. Have seen it in two riot-hit places since morning".
"In Maujpur, barricades separated crowds chanting Jai Shri Ram and crowds chanting Allahu Akbar. Exactly how I saw it during Hauz Qazi temple desecration. Guess which side of the barricades were journalists standing and shooting?"
Get Swarajya in your inbox everyday. Subscribe here.
An Appeal...
Dear Reader,
As you are no doubt aware, Swarajya is a media product that is directly dependent on support from its readers in the form of subscriptions. We do not have the muscle and backing of a large media conglomerate nor are we playing for the large advertisement sweep-stake.
Our business model is you and your subscription. And in challenging times like these, we need your support now more than ever.
We deliver over 10 - 15 high quality articles with expert insights and views. From 7AM in the morning to 10PM late night we operate to ensure you, the reader, get to see what is just right.
Becoming a Patron or a subscriber for as little as Rs 1200/year is the best way you can support our efforts.
Become A Patron
Become A Subscriber