For more than a week now, the town of Kawardha in Chhattisgarh has been in a state of curfew.
Section 144 of the CrPC (Criminal Procedure Code), that prohibits gathering of more than four people, has been imposed in most parts.
Internet has been shut. Residents say streets are quieter than they were during the Covid-19 pandemic lockdown.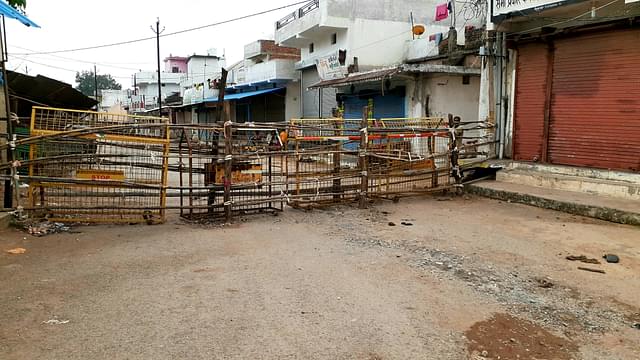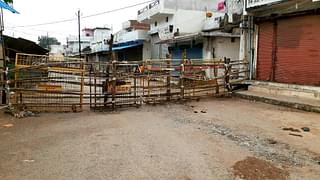 Such barricades can be seen all around town
This is a result of ego clashes between youths of Hindu and Muslim communities. Both took umbrage to 'disrespect' shown to their respective religious flags.
Mobs ran riot on streets, heavy stone-pelting was witnessed and at least one youth was cornered by the other community and beaten up.
When this correspondent visited Kawardha on 8 October, few residents were willing to talk. Policemen repeatedly prohibited taking pictures of empty streets and shuttered shops.
As per reports, more than 1,500 policemen have been deployed to maintain peace — one cop for every 30 people.
Several mobile-shot videos of the clashes, however, give a peek into what really unfolded in this small town of less than 50,000 people on three days beginning 3 October.
This report puts together the cycle of events provided by the videos, together with testimonies given by residents - inside their houses and in low voices.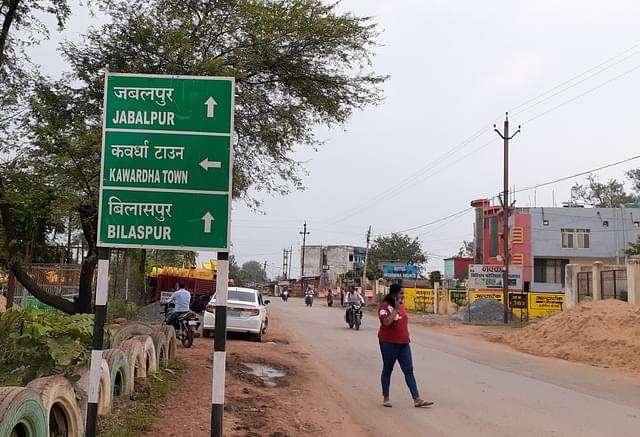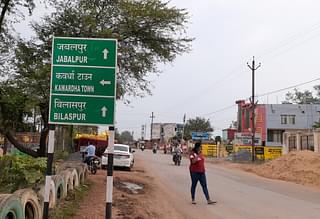 A hoarding outside the town of Kawardha
About Kawardha Town
Kawardha falls under 'dharm nagari' Kabirdham district of Chhattisgarh state. It's around 125 kilometres from Bilaspur, from where this correspondent arrived.
From Bilaspur, one can enter Kawardha from two entrances: one, from Mini Mata Square and two, from Raipur Naka. Both entrances were heavily barricaded. It was only after repeated requests that the cops allowed me to enter, after the mandatory identity and vehicle check.
I was shown a shortcut into the town, about two kilometres from Raipur Naka, where, I noticed, residents were being stopped from leaving the town as well.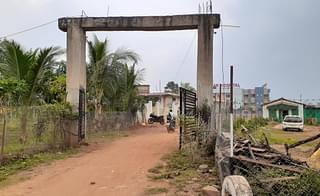 The entrance where this correspondent entered from
The same day, the police stopped several opposition leaders from entering the town citing restrictions.
These included prominent names such as Dharamlal Kaushik, who is leader of opposition in Chhattisgarh Assembly; Brijmohan Agarwal and Ajay Chandrakar, all three from the Bharatiya Janata Party (BJP).
The group, joined by many others, went on to stage a dharna near the Kawardha circuit house.
Background
The epicentre of the clashes is Lohara Naka square located in the heart of the town.
Come Navratri, Hindu youth groups decorate the town with flags and frills to welcome Goddess Durga. Since 2015, the youths have been additionally organising a 'Bharat Mata Maha Aarti' in front of a murti of Bharat Mata on one of the nine days of Navratri.
Raja Piyush Tatiya, a member of Ma Bharti Rashtra Jagran that organises this annual aarti, told this correspondent that the idea is to invoke love and respect for Bharat in the hearts of children and youth. Tatiya also holds a post in Kawardha unit of BJP.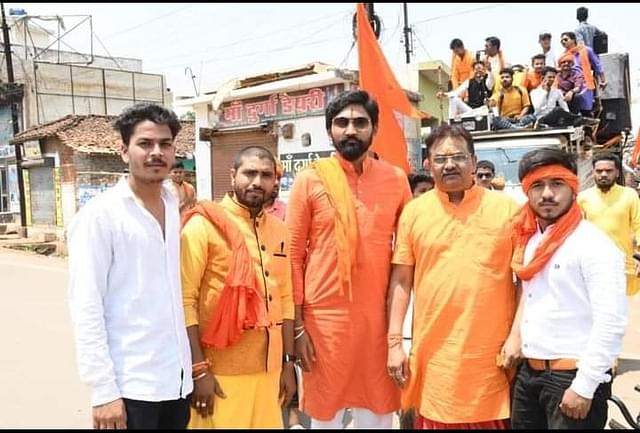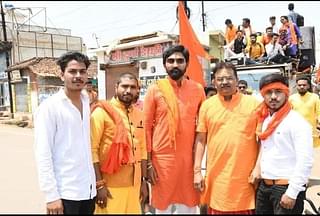 Raja Piyush Tatiya (in the middle wearing shades)
In the past, a poster bearing the image of Bharat Mata was found to be slashed in a way that it showed the throat of the deity as having been slit.
A Vishwa Hindu Parishad (VHP) volunteer, Ankush Tiwari, said that the police hurriedly picked up a mentally-ill person from the streets and showed him to be the culprit. The Hindu groups continue to hold Muslim youths responsible for the act "as they are the ones who don't like Bharat Mata aarti".
Navratri has since been a sensitive occasion in the town. It's become a practice for the police to make leaders of Hindu and Muslim communities meet up before the nine-day festival and decide on terms and conditions of celebrations.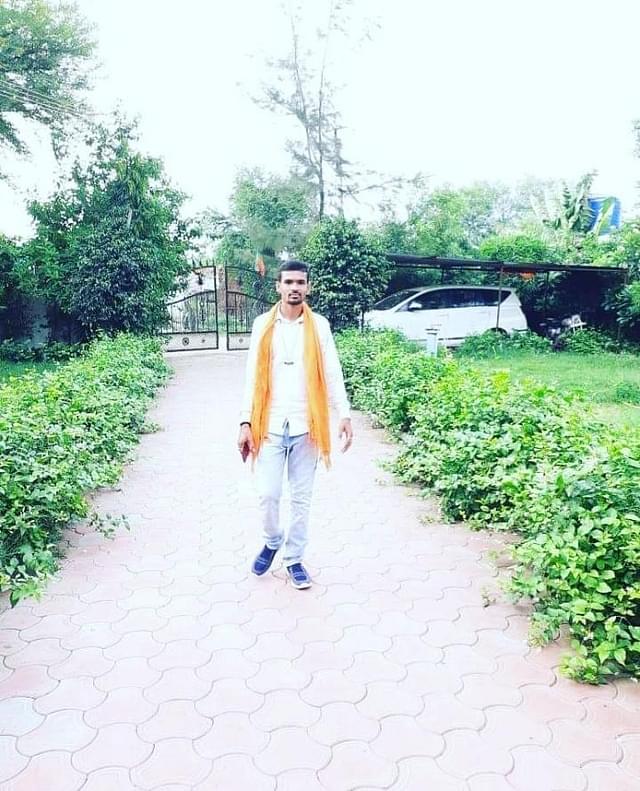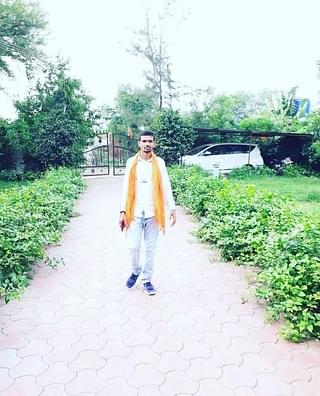 What Happened This Year
This year, the point of contention was — where to install their respective flags at Lohara Naka square. Muslim youths too wanted to install their flag ahead of Milad-un-Nabi (Mohammed's birthday) that is expected to fall on 18 October this year (date may vary).
The nine-day Hindu festival of Navratri began on 7 October.
A resident, Kapish Tiwari of Gupta Colony, told this correspondent that it was decided in the meeting that Hindus would use an existing bamboo pole to install their saffron flag while Muslims would fix a temporary pole and install their green flag.
Things did not go as planned.
A video from 3 October shows a crowd running towards a pole and pulling down what appears to be the green flag. Visuals show the green flag is flanked by a saffron flag each — a faded one installed on a pole adjoining the Vindyavasini Temple and a new one installed on another pole.
Residents said the faded was one installed on Makar Sankranti.
Muslim residents say that the crowd comprised of Hindus who were unhappy that the green flag towered above their saffron ones. In a video statement, the police chief of Kawardha has also said that the green flag was taken down first.
Another video shows a man climbing a pole, pulling down the faded saffron flag and throwing it on the ground. Members of the crowd trample on it and beat it with a stick, before a man picks it up and puts it on a tarpaulin shade.
Hindus say the crowd comprised of Muslims. Indeed, one can see people wearing skull caps in this crowd.
Another video shows a youth being cornered by a mob and beaten up. He is rescued by two-three men who drag him away, push him inside a room and pull down the shutters.
Residents say the youth was Durgesh Devangan and the crowd beating him comprised of Muslims.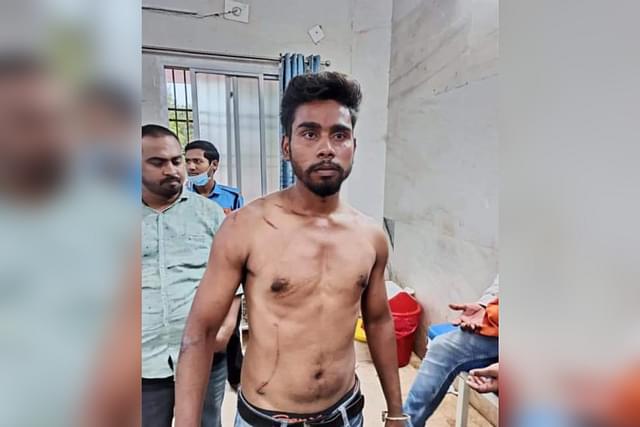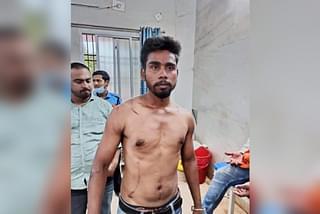 A picture of Durgesh after the assault.
A resident, Bharat Chandravanshi, said that Durgesh had objected to 'deliberate disrespect' shown to the saffron flag which carried an image of Hanuman.
Durgesh volunteers for Vishwa Hindu Parishad (VHP).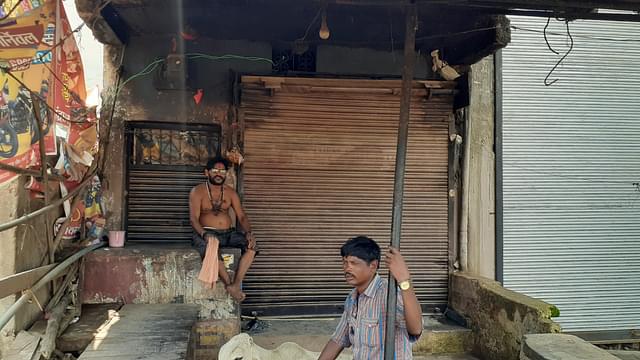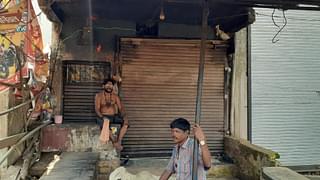 Bharat Raghuvanshi (the one sitting on the platform)
Ironically, the videos show cops standing but doing nothing when the saffron flag is being taken down or when Durgesh is being thrashed by the crowd.
Repeated Lathi-Charge By Police
The first lathi-charge by the police was witnessed the same day — 3 October. Crowds on both sides had swelled and the police resorted to violent measures to calm them.
As per residents, VHP men went to Kotwali Kawardha the same evening to file a police case against the mob that had assaulted Durgesh.
VHP volunteer Ankush Tiwari says the police refused to file an FIR.
Residents say that the next day, leaders of Hindu and Muslim communities were called to the police station.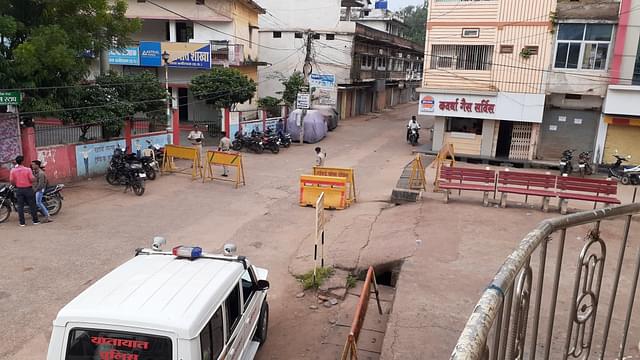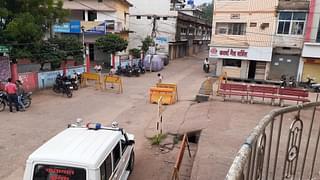 Several sites inside the town were barricaded on 8 October
The 'shanti samiti' decided that both green and saffron flags would be reinstalled and both communities would mutually forget the assault on Durgesh.
VHP leaders, however, rejected this compromise. They called for a 'chakka jam' (deliberately creating a traffic jam) on 5 October to put pressure on the police to register a case in the assault on Durgesh.
The administration imposed Section 144 of the CrPC in the town, effective from 5 October.
While 4 October passed largely peacefully, the day of the agitation resulted in chaos.
As VHP volunteers and leaders gathered at one Gandhi ground in the town, from where they proceeded to the Lohara Naka square and reinstalled the saffron flag, they were pelted with stones. VHP volunteers and Hindu residents the stones were pelted from the Muslim side.
Several videos from that day show a crowd of men in the street, many wearing Islamic skull claps carrying sticks in hands and chanting 'Allahu Akbar' and 'Naara-e-Takbeer'.
On 8 October, vehicles parked at the site bore testimony to the violence through their damaged body and broken window panes.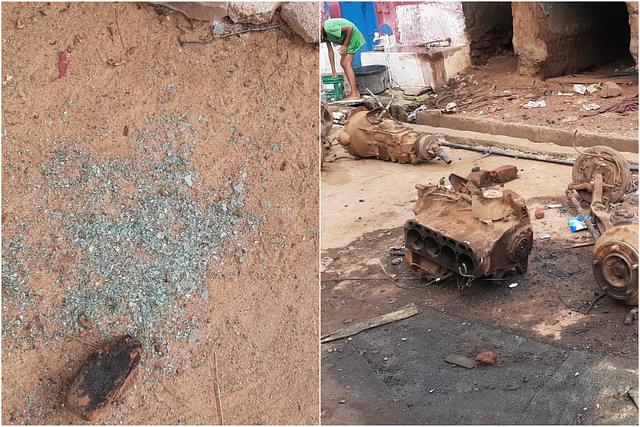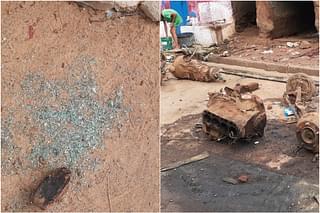 Broken window panes and parts of vehicles are still lying on streets in Kawardha
Fortunately, there has been no casualty or severe injury in the clash.
As per local accounts, the VHP rally had begun at 9 am. The town was in grip of the violence by 2 pm. By early evening, police had managed to 'control' the situation by lathi-charging again.
Several videos of police's lathi-charge are available. In a video, a crowd of men chanting 'Jai Shri Ram' is marching on the streets when the policemen attack them with lathis.
VHP Begins 'jail bharo' Protest
On 7 October, leaders of the VHP and the BJP in Kabirdham district announced a 'jail bharo' movement.
Anil Thakur, who introduced himself as district president of BJP Kabirdham, said that more than 2,000 volunteers have offered arrest and are in jails. He even gave a break-up: 78 in Pandaria, 306 in Bodla, 21 in Chilphi, 742 in Lohara, 213 in Pipariya, 300 in Panda Tarai, 35 in Renga Khar and 150 in Kunda.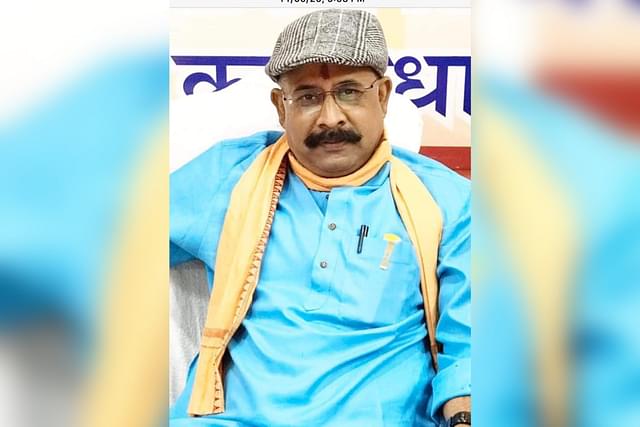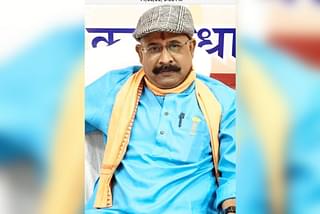 This correspondent could not verify this information with the police as senior officers were not available for comment.
Official Statement By Police Chief
Superintendent of Police (SP), Kanwardha, Mohit Garg, addressed the press on 8 October over the matter. He said that a total of seven FIRs have been filed in the violence and more than a thousand people have been booked.
Those booked included BJP MP Santosh Pandey and former BJP MP Abhishek Singh, who is the son of former chief minister of Chhattisgarh Raman Singh.
A total of 93 arrests had been made till 8 October — 16 people one community and 77 from the other, the SP said. Though he did not specify the communities, locals said that most of those booked and arrested were from the Hindu side.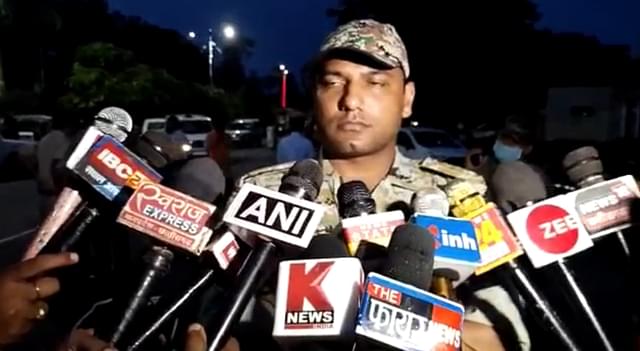 Pradeep Gupta, a Kawardha-based journalist, told this correspondent that when he visited the police station a couple of days ago, eight Muslims and more than 50 Hindus had been arrested.
The SP said that at least six policemen had sustained injuries in the stone-pelting. He said that a separate team has been assigned the duty of identifying damage to public property.
On 8 October, the town witnessed its first 'peace march' since the violence.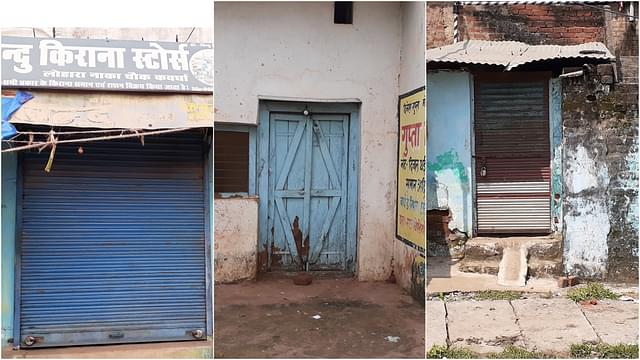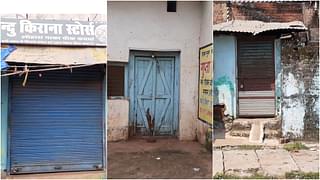 Many houses and shops in the town are locked
Kabirdham District Collector Ramesh Kumar Sharma joined the march and told the residents that the situation was in control and the police would protect them from the rioters.
Residents were also told not to fall for misinformation on social media.
BJP And Congress Trade Charges
Leaders of the ruling Congress party in Chhattisgarh have blamed the BJP for the violence, saying the saffron party is indulging in the politics of communalism and it has "run out of issues".
Insinuating that the violence was BJP's conspiracy, Chhattisgarh Agriculture Minister Ravindra Chaubey said that a large number of people had entered Kawardha from other districts such as Mungeli, Dhamtari, Rajnangaon and Bilaspur. He even said the violence was "sponsored" by the BJP.
The BJP, on the other hand, has accused congress of "bias". Santosh Pandey, who has been booked, said that the Congress government is taking action only against BJP workers.
The BJP has also criticised Chhattisgarh chief minister for running to Lakhimpur Kheri in Uttar Pradesh to stand with anti-BJP protesters instead of addressing the "weakening" law and order in his own state.
In Kawardha, a VHP volunteer, Ankush Tiwari, said that the view among the Hindu residents is that ever since Mohammed Akbar (from Congress) won the Kawardha assembly constituency, Muslims from out of Kawardha are being brought and settled here. He said that illegal immigrants into India are also being settled in the area.
Violence Has Marred Festive Business
Given the large number of people booked for the violence, it was no surprise that many houses were locked and people weren't willing to talk to the media or get photographed.
Whatever they shared, they did so when they made sure that the phone camera was off.
What was surprising was that the police repeatedly asked me to abruptly stop my reporting and leave the town.
Some 300 metres from the Lohara Naka square, a group of youths were preparing a pandal for Goddess Durga. They declined to talk. Instead, the pointed to a colony and said: "Wahan Musalman rehte hain, unse miliye wo bataenge, hamein kuch nahi kehna' (In that colony, Muslim families live. Go and ask them. They will tell you. We don't want to say anything).
Their angry response is a testimony to anger among Hindu residents who say the police are targetting men from their community.
Outside the Muslim colony, policemen stopped me. After some time, three women from the colony who had noticed me took me to a corner and narrated their version of the events.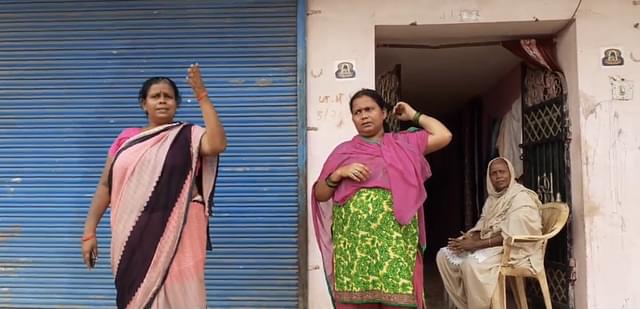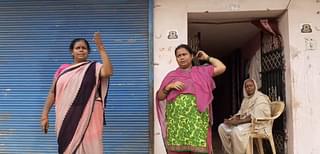 Three Muslim women who spoke on camera but did not give their names
One of them said that it was not Durgesh alone who was beaten up. A Muslim youth was similarly thrashed by Hindus, she said. When asked about his name and house, the women failed to give any details. They eventually said that they had only heard about such a victim.
Residents hesitatingly revealed that the two Hindu and Muslim youths who had climbed up the poles and removed the flags, are absconding.
The only person in the town who spoke openly and loudly was a woman who gave her name as Geeta Banjara.
She said the curfew had "destroyed" her plans of earning some money in the festive season.
She said she had borrowed Rs 40,000 from a moneylender to buy fruits, vegetables and perishable packed food ahead of Navratri. Due to restrictions, she has not been able to operate her food cart.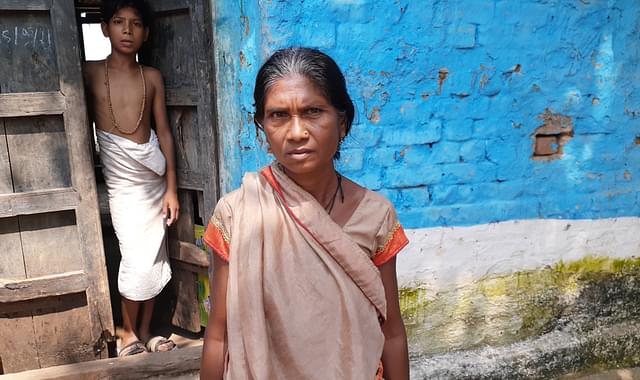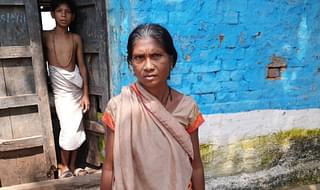 Geeta said she had somehow recovered from the blow of repeated lockdowns and was looking forward to the festive season.
"All efforts have gone in vain," she said.
(This report has been edited by Swati Goel Sharma)