Here's Why Amartya Sen Is Wrong And Mamata Banerjee Is Completely Unfit To Become Prime Minister Of India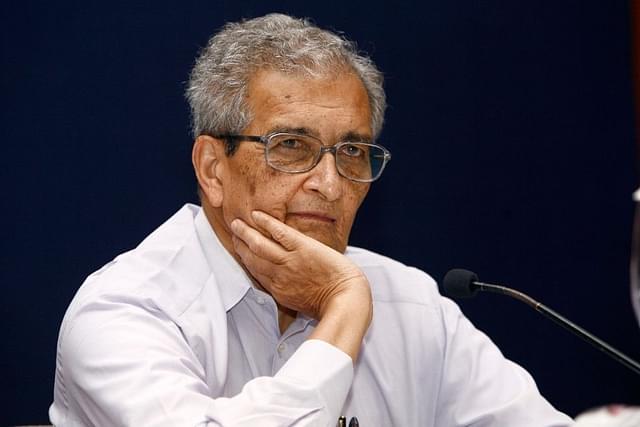 Prof Amartya Sen. (Subir Halder/India Today Group/GettyImages)
Snapshot
Sen, being an intelligent person who holds an important position at Harvard University, will not be unaware of all the reasons that make West Bengal CM Banerjee completely unsuitable for the Prime Minister's post.
Economist Amartya Sen, who was awarded the Sveriges Riksbank Prize in Economic Sciences in 1998, stirred a political controversy last weekend by contending that Bengal Chief Minister Mamata Banerjee "clearly has the ability" to be the next prime minister of India.
An elated Banerjee promptly responded by saying that any advice from Sen "is like an order to us", thereby indicating that she has her eyes set firmly on the Prime Minister's post despite recent protestations to the contrary.
"Amartya Sen is a world-renowned pandit. His insights always show us the path. His advice is like an order to us. His analysis of the current situation in the country should be taken seriously by all," said Banerjee.
Sen is no stranger to controversies, especially centred on his tenure as chairman of Nalanda University from July 2012 to July 2015 (read this and this).
Apart from very serious charges, Sen is also accused of appointing a junior teacher of Delhi University to the weighty post of Vice-Chancellor of Nalanda University in an arbitrary manner.
The economist turned into a staunch critic of Prime Minister Narendra Modi ever since he stepped down as Nalanda University chancellor, the post he was appointed to by the UPA (United Progressive Alliance) government in 2015.
It is widely believed that Sen wanted a second tenure at that post, but was unofficially told that the NDA (National Democratic Alliance) government was not inclined to grant his wish.
Sen also ran into controversy over his house in Santiniketan a little over two years ago. He was accused by Visva-Bharati authorities of illegally occupying property in Santiniketan.
The high-profile economist, who is currently a professor of economics and philosophy at Harvard University, runs a trust that receives a lot of patronage from the Trinamool Congress government in Bengal.
But all that aside, Sen is hardly an expert on politics and, given his close links with Banerjee, can hardly be relied on to offer a dispassionate view of the Bengal Chief Minister and her abilities, or the lack of them.
And that is why Sen is totally wrong in his assertion that Banerjee has the ability to ascend to the Prime Minister's post.
Here are some of the reasons why Sen is wrong and the Bengal Chief Minister is completely unsuited for the high chair she aspires to sit on:
Banerjee's stints in the Union government inspire zero confidence in her abilities: Banerjee was appointed Union Minister of State for Human Resource Development, Sports and Youth Affairs and Women and Child Development by prime minister Narasimha Rao in 1991.
Though she was sacked two years later on grounds of indiscipline, she had absolutely nothing to show in her two-year tenure in these departments. Though a junior minister, she has no achievements to her credit and cannot boast of a single initiative she had taken.
The same holds true for her two stints as railway minister (October 1999 to March 2001 and May 2009 to May 2011). Apart from introducing new trains mainly in her home state, she did nothing to improve the performance of Indian Railways.
Her refusal to increase passenger fares bled the public sector behemoth, and her inability to improve passenger services and amenities, improve railway tracks and carry out structural improvements that the railways urgently required marked her out as a dismal failure as the country's rail minister.
Banerjee also had a very short stint in the Union Coal and Mines Ministry from January to May 2004. Her only 'achievement' during this period was blocking the strategic disinvestment in National Aluminium Company and laying the foundation stone of a multi-speciality hospital for Coal India employees in Kolkata. The hospital project has not seen the light of the day.
Banerjee's performance as an MP has been only 'show sans substance': Banerjee, during her first tenure in the Lok Sabha from 1984, distinguished herself as a front-ranking member of Rajiv Gandhi's infamous 'shouting brigade'. A band of MPs who were Rajiv loyalists earned this sobriquet after shouting down any criticism of Gandhi and the government from opposition benches.
In 1999, when the Atal Bihari Vajpayee government lost the trust vote in the Lok Sabha by one vote, Banerjee took the lead in loudly condemning the Congress's Giridhar Gamang who voted against the trust vote.
The Vajpayee government fell because of Gamang's vote and Banerjee contended that since Gamang had become the chief minister of Odisha by then, he should not participate in the vote. Banerjee's loud 'go man go' slogans urging Gamang to leave the house was one of the low points in Lok Sabha's history.
She staged dramas whenever it suited her political goals. One of the most 'memorable' examples of such drama was her theatrical resignation from the Lok Sabha on 4 August 2006.
Annoyed over speaker Somnath Chatterjee's refusal to allow her adjournment motion on 'illegal infiltration" from Bangladesh, she stormed into the well of the house, tore papers and hurled them at the speaker's chair while announcing her resignation from the Lok Sabha.
Ironically, Banerjee wanted to move the motion alleging that the CPI(M)-led Left Front government in Bengal at that time was allowing lakhs of Bangladeshis to enter Bengal illegally and granting them Indian citizenship.
Today, dictated by political interests, she denies the presence of illegal settlers from Bangladesh in Bengal.
Banerjee has never made any substantial intervention in any debate in Parliament and has never moved any private member's bill, nor has she initiated any discussion on a subject of national interest or importance during her many terms as a Lok Sabha MP.
Banerjee's political moves make her unreliable and unprincipled:
Banerjee is known for her political U-turns. She has joined hands with rival parties and ditched them at her convenience.
She has teamed up with the BJP and even served in the Vajpayee-led government, resigned twice on flimsy grounds before returning without any explanation.
She also teamed up with the Congress twice in the past and broke ties with her parent party when the alliance outlived its utility.
This marks her out as an unreliable politician who is driven only by her immediate political interests.
Such a person is ill-suited for the Prime Minister's post, more so since the nation has suffered in the past when politicians driven solely by their own interests have occupied the PM's post.
Banerjee's poor record as Bengal Chief Minister:
Banerjee may have succeeded in staying on in power in Bengal since 2011, but that has been at the cost of the state.
Bengal is neck-deep in debt and in the 11 years that she has been in power, Banerjee has doubled the state's debt burden. Her reckless borrowing to fund her doles and populist handouts has played havoc with the state's finances.
Banerjee's sole focus is on staying in power and all her policies are aimed at that, not the larger interests of the state.
Her lack of governance skills and administrative acumen is well-known and she does not inspire awe, but only fear and foreboding, from even the senior bureaucracy.
She encourages sycophancy and is intolerant of divergent views. She presides over a mere rubber-stamp cabinet where even senior ministers are scared to act independently and fall over themselves to please her.
Banerjee has failed to attract substantial investments to Bengal, mainly due to the notoriety she gained for driving the Tata Motors project out of Singur in October 2008.
Industry insiders say that as long as she remains Chief Minister of Bengal, big investors will give the state a wide berth. Such a person with an anti-industry image is, obviously, unsuited for the prime minister's post.
Banerjee presides over a corrupt regime in Bengal:
Banerjee's association with corruption is well-known in Bengal. While it is widely perceived that she is personally honest, it remains a fact that her government has, frequently, been buffeted by serious charges of corruption.
Many of her cabinet colleagues and senior party functionaries had been arrested on corruption charges and are out on bail, or are behind bars.
A huge number of Trinamool functionaries stand accused of corruption and involvement in scams starting from the Saradha and Narada (chit fund) scams to coal smuggling, cattle smuggling and recruitment scams.
Lower-level party functionaries have been accused of siphoning off funds meant for welfare schemes and the huge corruption in PMAY and MGNREGA that have come to light recently has put the party on the backfoot.
Even Banerjee's nephew and heir apparent — Abhishek Banerjee — has been accused of amassing wealth.
Opposition parties have often alleged that the Chief Minister's brothers and their families have amassed huge wealth and have bought properties worth crores of rupees in South Kolkata.
Any person who is accused of condoning corruption and whose party is populated by functionaries battling serious charges of corruption and wrongdoings is hardly fit for the high post of Prime Minister of India.
Banerjee lacks vision and any plan of developing India:
Banerjee, during her stints as Union minister and her current tenure as Bengal Chief Minister, has amply proved that she lacks a clear vision of where she wants to take Bengal.
Her only platform is populism and staying on in power by playing to the gallery and giving doles to communities, groups and organisations in order to please them.
In stark contrast to Prime Minister Modi's widely-lauded vision for India and the world, Banerjee has failed abjectly to frame even a plan for Bengal and where she wants the state to be in, say, 10 years from now.
Unlike Modi, she does not have any knowledge of the rest of the country (outside Bengal) and her politics, and policies, have always been Bengal-centric. Consequently, she was often called the 'Railway Minister of Bengal'.
The Triamool's unsuccessful forays into Manipur and Goa, and her current attempts to get a political foothold in Meghalaya, have carried a strong Bengali sub-nationalism imprint, thus marking them out for failure.
Outside Bengal, and even among many within Bengal, Banerjee is viewed as a provincial politician whose influence and concern is and will always be confined to the boundaries of her state.
Banerjee has no ideology, save that of being in power, and lacks any vision for the economic, industrial, scientific, educational and social progress of the country.
She is devoid of a strategic vision and will be completely at sea if she has to ever deal with the military and strategic leaders even in a limited manner.
Banerjee cannot make a mark on the global stage:
The Bengal Chief Minister, admit even her senior bureaucrats, cannot hold substantive discussions with any political dignitary or business delegation.
She only parrots Bengal's tourist and other attractions, and indulges only in small talk with visitors.
"She tries to portray herself as a warm and caring human being by discussing small and inconsequential matters with businessmen and leaders from other countries she meets. She enquires about their families and interests, and chats with them only on petty matters. She showers them with gifts. But she does not hold any substantive discussions with them and leaves that to her top bureaucrats or, occasionally, her senior political colleagues," said a former bureaucrat who has first-hand knowledge of this.
"One can hardly imagine Banerjee making any impression on world leaders. She will be a disaster on the global stage and will be a huge embarrassment for the country," said leader of opposition Suvendu Adhikari.
Banerjee cannot, also, be trusted with handling the intricacies of foreign relations and standing up to China or Pakistan, and laying out a clear path for advancing India's interests in the Indian subcontinent, Indo-Pacific, the Indian Ocean Region or at international fora.
Banerjee is too short-tempered:
The Bengal Chief Minister is known for her short temper, for intolerance of opposition. She cannot suppress her anger even in public and often flies off the handle.
She is not trustful of even her senior party colleagues and treats them as dispensable. She has no tolerance for any challenger.
A person with these traits cannot, for obvious reasons, become the Prime Minister of India.
Sen, being an intelligent person who holds an important position at Harvard University, will not be unaware of all this that makes Banerjee completely unsuitable for the Prime Minister's post.
But he chose to ignore all that and try to endear himself to Banerjee by saying she has the abilities for the top post in the country.
The only reason for that is, perhaps, his own selfish interest. Sen, like Banerjee, cannot be accused of rising above his narrow self interest.
Also read: Here's the long history of Mamata Banerjee throttling opposing viewpoints
-The many times that Mamata Banerjee displayed her strongly mercurial streak and acted out of blind rage
Get Swarajya in your inbox everyday. Subscribe here.
An Appeal...
Dear Reader,
As you are no doubt aware, Swarajya is a media product that is directly dependent on support from its readers in the form of subscriptions. We do not have the muscle and backing of a large media conglomerate nor are we playing for the large advertisement sweep-stake.
Our business model is you and your subscription. And in challenging times like these, we need your support now more than ever.
We deliver over 10 - 15 high quality articles with expert insights and views. From 7AM in the morning to 10PM late night we operate to ensure you, the reader, get to see what is just right.
Becoming a Patron or a subscriber for as little as Rs 1200/year is the best way you can support our efforts.
Become A Patron
Become A Subscriber