On reaching Tulsi Niketan residential area in Ghaziabad near the New Delhi-Uttar Pradesh border, I ask locals for directions to the house of Baldev Singh.
They don't know the name.
"Naina Kaur, who was murdered last week?" I ask again.
"Yes, a girl indeed got murdered. By a Mussalman boy. Why don't you ask the policeman sitting there? He is posted here for that case only," says a men's salon owner, pointing to a spot some 200 metres away.
The policeman agrees to take me to the girl's house, on the condition that he would be present throughout the conversation.

"We have orders from above," he says.
The house is a one-room tenement in a two-storey building. Each floor houses three families. Toilets are common.
"Try to finish your work soon. The building is rickety," the policeman says. "Yesterday, a chunk of the plaster came off the staircase."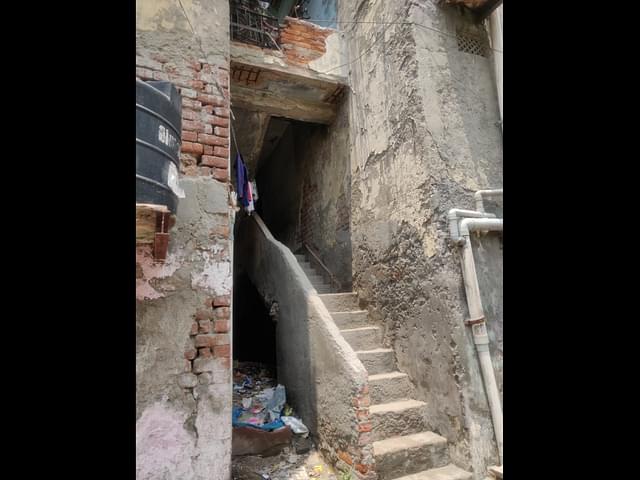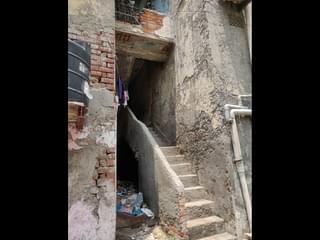 Entrance to Naina's building
Naina's father Baldev Singh, her mother Neelam Kaur and aunt Balvant Kaur are sitting on the double-bed. I take one of the two plastic chairs near the bed. The policeman insists on standing at the door.
A corner of the room functions as a kitchen. The walls, the paint peeling off, have pictures of Guru Nanak and Hindu deities.
A small framed picture of Naina, who turned 19 in December, is hung on the wall, a string of yellow marigolds around it.
"Our daughter was beautiful. Very beautiful," Singh says.
"Her beauty eventually became her undoing. That motherf****r chased her like a mad dog from the moment he set his eyes on her," he says.
"6 December 2018," Neelam Kaur recalls the day.
It was Naina's birthday. The mother and the daughter were in the market to buy a cake when Neelam got hit by a vehicle. A boy, about the same age as Naina, immediately came to their rescue and helped bring a bleeding Neelam home. He helped dress up her wounds and stayed on till the situation in the Singh family became normal. He introduced himself as Sherkhan Choudhary, a resident of the nearby Sunder Nagri market which is about a kilometre away. He said he owned a garment showroom in the market.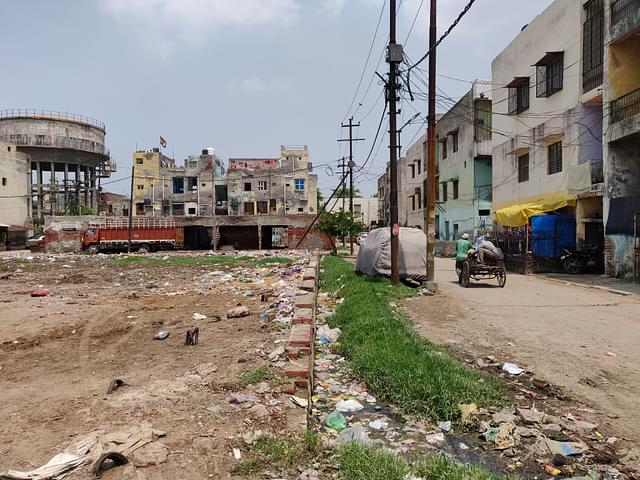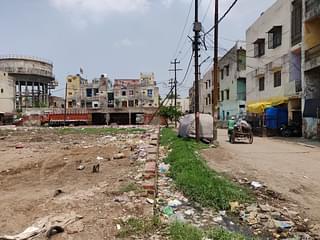 A view of Tulsi Niketan residential colony
Sherkhan visited the family again after a few days to check on Neelam.

"For some reason, he called me mummyji instead of aunty. Initially we felt awkward, but as he began to frequent our house, we adjusted to it as we decided he was like a son we never had," says Neelam.
For several years after their marriage, the Singh couple did not have any children. They eventually adopted a girl from within the family. In the coming years, however, Neelam finally conceived and Naina was born.
The elder daughter married in 2017. About three weeks ago, the family fixed Naina's wedding too, with a Sikh boy from Indore who owns a restaurant. The date was finalised as 22 June.
For the wedding, Baldev, Neelam, Balvant and Naina were scheduled to take the Golden Temple Mail on the morning of 20 June from Delhi's Hazrat Nizamuddin to Madhya Pradesh's Nagda junction.
On the night of 17 June, Naina was murdered. Her mother witnessed it.
Around 8 pm that day, the three went to the local market to buy a new mobile number. On their return, the women stopped at a food cart, some hundred metres from the house.

Singh got annoyed at the unnecessary expense and told the women to come on their own even as he proceeded towards the house.
Neelam recalls, "We were waiting for the theli-wallah to pack our food. Just then, a man got off a scooter, wrapped his arm tightly around Naina's throat and dragged her inside a lane. He began to stab her manically. I struggled to get my daughter out of his grip, but only managed to tear his T-shirt and face mask," says Neelam.
"It was Sherkhan," she says. "He was wearing a full-sleeved pitch-black T-shirt and had a mask that almost fully covered his face except for the eyes."
Two men waited on the scooter while Sherkhan stabbed Naina. First on the throat, then on the waist. Sherkhan then hopped onto the scooter and the three fled, she says.
The lane in which Naina was dragged into, is a dingy one with trash all around. On either side are buildings housing several families. There is no resident in sight.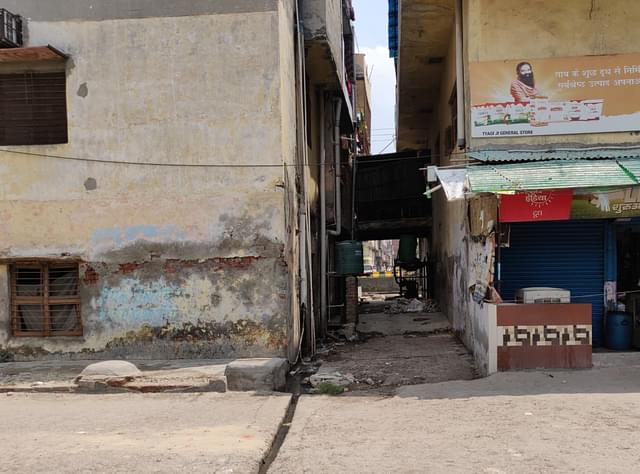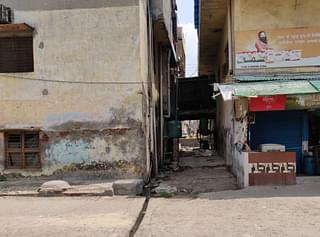 The lane into which Naina was dragged and stabbed
A tailor adjoining the lane excuses himself from any comment saying he was not at the shop that time, and he knows neither Naina nor Sherkhan.

He says if I must take pictures of the lane, his shop should not feature in them at all.
Naina was taken to the GTB hospital, but was declared 'brought dead'.
The Tila Mor police filed an FIR (number 212/2020) against Sherkhan and some unidentified men and booked them under IPC 302 (murder).
The next day, the police arrested three of Sherkhan's accomplices — Salman, Ashiq alias Asiz and Aamir Choudhary. Two of them allegedly rode Sherkhan to the spot while one helped him buy the knife and escape.
The police announced a bounty of Rs 20,000 on Sherkhan, and launched a search by involving the Crime Branch.
Sherkhan was eventually arrested on the intervening night of 21 and 22 June. The cops nabbed him when he was changing his location from Harsh Vihar to Panchsheel colony.

He was accompanied by his brother Imran and brother-in-law Rizwan. The police booked the relatives for giving shelter to the accused.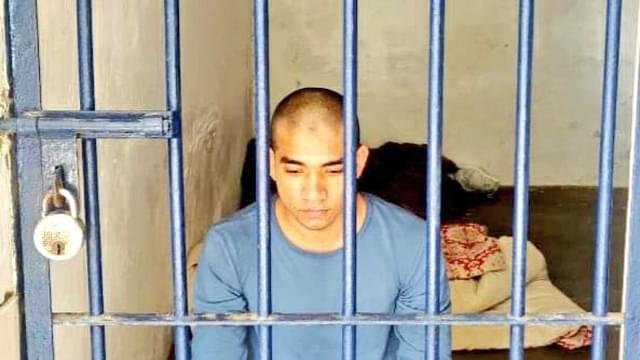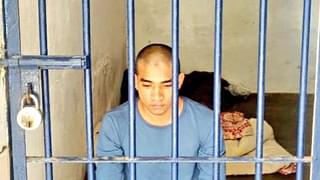 Sherkhan, after his arrest. The picture was posted by Ghaziabad police on Twitter
They also seized the weapon from Sherkhan, and have sent it to a forensic laboratory for matching the stain on it with the blood sample from Naina's body.
Keshav Kumar Mishra, circle officer (Sahibabad), told Swarajya that the weapon is a foldable knife, about one-foot long.
The police filed another FIR after recovery of the weapon — FIR number 220/2020, under the illegal arms' Act.
Baldev Singh says that seven-eight months ago, Naina revealed to him that Sherkhan had been harassing her for some time. Neelam says the revelation left the couple surprised.

"We did not expect this from the boy who called me mummyji. He was quite nice to us, even if a little too intrusive," she says.
Singh says Naina told him that Sherkhan, in fact, had been after her since the time he brought a bleeding Neelam home.

"We asked her why she had hidden it from us all along. She said she did not think it was serious enough," he says.
The couple learnt that Sherkhan had even enrolled himself in a course in the same college that Naina was pursuing her Bachelors in Arts from. Singh says he took her out of the college and instead got her enrolled in a nursing course.

Sherkhan, however, continued to stalk her.
"At one point, I went to Sherkhan's garments showroom and told his elder brother that it was his responsibility to see that the boy leaves my daughter alone. He told me — uncle, you should not worry, I will beat up my brother when he comes home in the evening," recalls Singh.

"I don't think that ever happened," he says.
The accused's family runs 'Palika fashions' in Sunder Nagar market. Sherkhan, who is something of a social media sensation in the market thanks to his four lakh followers on Tik Tok and thousands of followers on Facebook and Instagram, made a number of videos featuring and promoting the showroom.

He used the hashtag #palikagarments or #palikafashion in those videos.
Most of the 961 videos he had posted on his Tik Tok account (sherkhanchoudhary02) since 2018 are about his showroom, his love for workout, his fascination with Sanjay Dutt and Shah Rukh Khan, and virtues of being a namaazi and wearing the Islamic skull cap.
In his Tik Tok bio, he has described himself as 'zinda zeher' and 'killer boyz'.
Only one of these videos feature Naina.
In June 2019, he posted a lip-sync duet video with Naina featuring a song from the 1989 movie Ram Lakhan, in which actress Dimple Kapadia asks Jackie Shroff, who plays her boyfriend, if he has broached the subject of their marriage to his parents.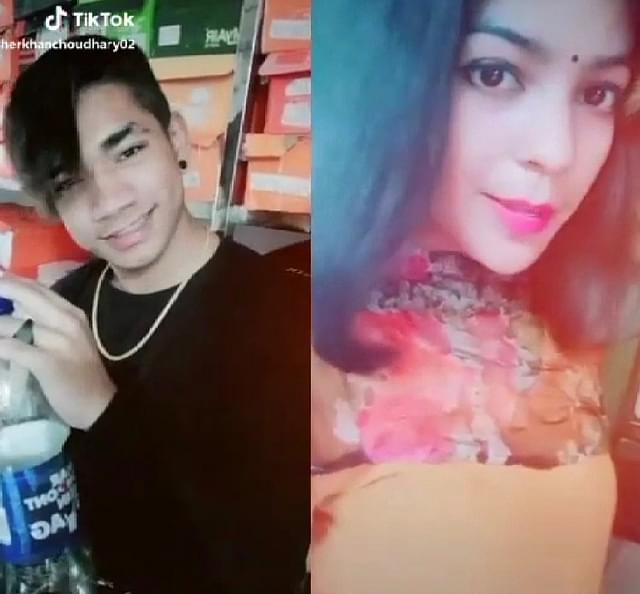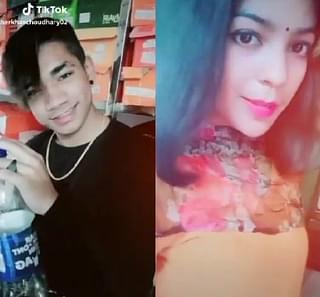 Baldev Singh says he was not aware of the video. He says he has never heard of the mobile app Tik Tok, and is just not clued in about "what young people do on their mobile phones".
"I use this Nokia handset that cannot even click pictures," he says as he looks tensed.
"Is that what the boy is telling the police? That the two were in a relationship?" Singh says, enraged.
"Naina to gaali bakti thi usse [Naina would curse Sherkhan]," he says.
Singh says Naina was a shy and quiet girl who always avoided escalating matters. He says he is sure that all that Naina felt towards Sherkhan was disgust.
"This boy from Indore who she was supposed to marry, Naina chose him herself from the Internet. The ones that deal with arranged marriages."
"Matrimonial websites?" I ask.
"Yes, exactly that. We don't know about those things. She did it all herself. She was least interested in Sherkhan. She wanted to get rid of him. In fact, this is precisely why she wanted to buy a new mobile number [on 17 June]. She told me, papa, I don't want to use my old number after marriage otherwise Sherkhan would continue to harass me," says Singh.
He says things had become ugly over the last two weeks after Sherkhan somehow found out about her arranged wedding.

"He came to our house one evening. He told me I should marry his daughter to him. I said what are you even talking about — I am a Punjabi, you are a Mussalman, there is no way it can work out," says Singh.

"I kicked him out of the house, and told him never to see my daughter again."
Sherkhan left the house, but from the next day onwards, he began to spend the entire afternoon sitting on a chair in a park right behind Naina's house, staring at their house. "We told Naina not to go out alone at all, at any time of the day," he says.
Singh says that while he thought Sherkhan was proving to be a nuisance, he never imagined that the boy would take such an extreme step.

"Naina never told us he threatened her on the phone. If I had any inkling of his plan, I would have killed him myself, there in the park itself," he says in anger.
Yet, says Singh, he made "a terrible mistake" that night when he returned to the house alone on 17 June.

"I was just annoyed, you know, that after spending 300 rupees on the SIM card, these women wanted to spend 30 rupees more on chilli potato."
"I wish I had not left," he says.
Neelam turns to her husband and says, "If you had not left, he would have probably attacked you too."
The policeman interrupts. "It's time to leave ma'am. This should be enough," he says. I request for some more time.
Singh shows a recent call received on his mobile phone. He says it's from the man Naina was supposed to marry.
"She had found such an excellent boy for herself, we can't even begin to tell you. He drove down to our house the very next day of the incident. Even his parents came with him. They wept with all of us. They helped with the funeral. The boy said, papaji, you are not alone. We are still one family," Baldev says amid sobs.
Neelam says that in her elder daughter's wedding, she had gifted whatever gold she had on her and there was nothing left for Naina. Yet, the groom's family never complained and, instead, assured them that they would bear all the expenses of the wedding, she says.
"Three days after the marriage was fixed, the boy called me and told me — papaji, all you have to do is catch the train and come here, I have booked the gurudwara for 72,000 rupees, and you don't have to stress at all," says Singh.

"We spent about 50,000 rupees on Naina's clothes and some preparations, including the train tickets. That's all."
The couple says he has been calling them every day since the incident.

"The boy is diamond. He would have kept my daughter happy," says Neelam.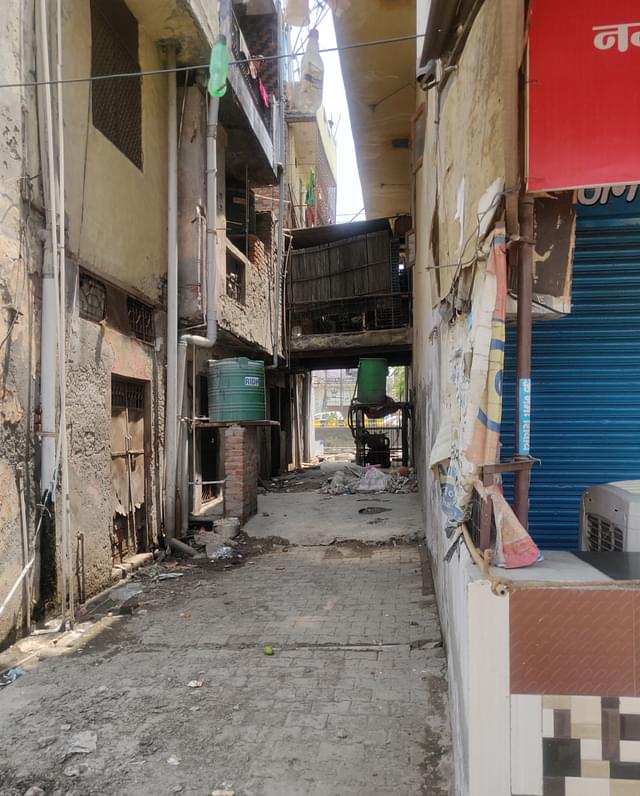 A view of the lane inside which Naina was dragged from the other side of Tulsi Niketan
Naina's neighbours excuse out of commenting on the matter, saying they don't really know the family, or any family in neighbouring buildings for that matter.

"She was beautiful. She was a Sikh. She would hardly step out of the house. That's all we know," a woman, washing clothes at the house's entrance, says.
On the other side of the lane in which Naina was stabbed, is a confectionery shop.

The owner says he did not come to know about the murder as it happened on the other side of the lane and it was dark.

"Had he [Sherkhan] tried it in front of our shop, I would have caught him and buried him alive under this very spot," he says.
The shop owner says I can find Sherkhan's garments showroom near "Murga market" in Sunder Nagri. "I think it is closed, but you can try anyway," he says.
The showroom is not closed. It's open and there are customers. At the counter extending into the street, is a woman who I recognise as Sherkhan's mother from his various Tik Tok videos featuring her.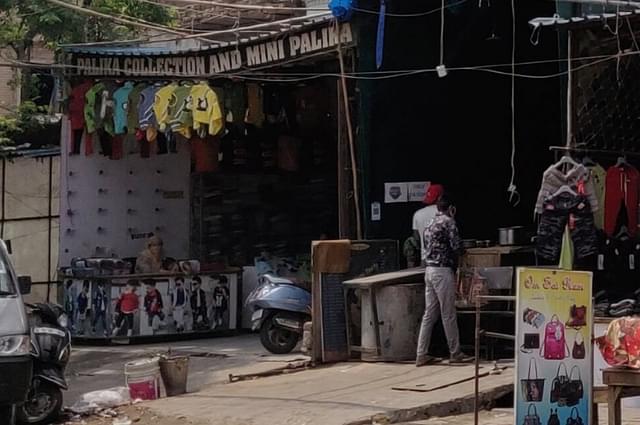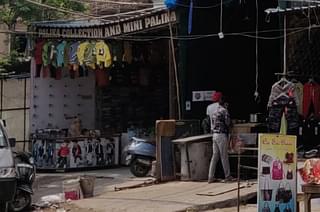 A view of Sherkhan's garments shop
In a video posted on 8 April, Sherkhan talks on the phone to a friend, with speaker on. Sherkhan asks the friend about the lockdown; the friend says he is doing fine, but has not been able to buy the cigarette that Sherkhan had asked for. The video then shows his mother threatening to hit Sherkhan with the kitchen ladle.
"Is it true what is being alleged about your son?" I begin.
"If everyone is saying it, it must be true," she says.
"Do you want to say anything?" I ask.
"He had given up food and water for two weeks. He wasn't speaking to anyone," she says.
On 13 June, Sherkhan had posted a video on Tik Tok where a hand is seen searching for the right key on a keyboard to place a ring on, before it settles on the letter 'N'. "Really my life," the post said, tagging Naina Kaur's Tik Tok account.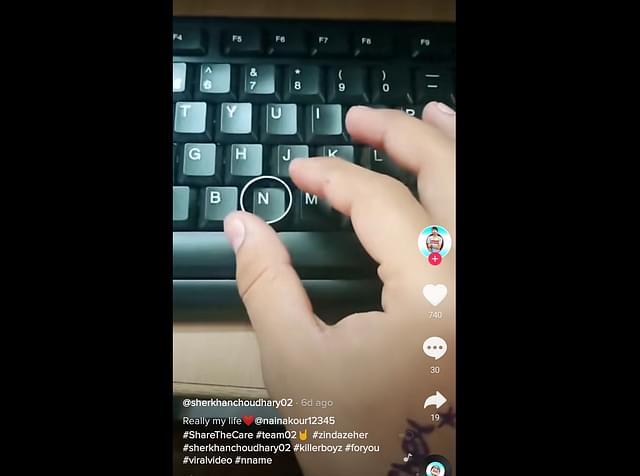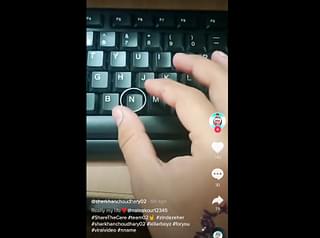 "Do you know about that video?" I ask.
"No, I do not."
Did he ever ask you to talk to Naina's parents for marriage?"
"No, he did not. He never mentioned the girl to me. Now I hear that he was practically running her household."
"Did you expect your son to…kill?"
"Who can foresee such things? It's between him and the police now. We have opened the showroom only today [25 June]," she says.
"Did he..like fall into bad company?"
"Oh, no. He was a five-time namaazi. He would even wake up for Fajr ki namaaz at dawn."
The woman says her name is Kehkasha. Her husband, who started the clothes business, died seven years ago.
She has five sons and three daughters. The family owns the building and lives on the first floor, above the showroom.
"I am from Rampur. I am from Pathan caste. My husband was from Rangad Rajput caste," she says, volunteering the information on her own.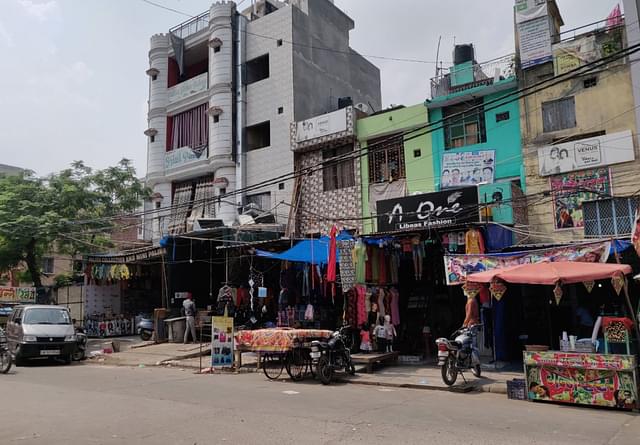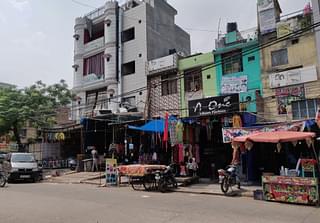 The tallest building in the picture is of Sherkhan's family
A little girl joins the woman, and I recognise her as Sherkhan's niece from various Tik Tok videos.
"Maybe you can ask her to go away, as we are talking about…that?" I ask.
"It's fine. She knows what has happened. She does not understand it," says Kehkasha.
I decide to leave.
On the other side of the street, owner of a shop selling electrical appliances, which has an idol of Lord Ganesha at the entrance, says he has heard about Sherkhan's act.
"He used to make videos. Sometimes at his showroom, sometimes here in the street," he says and declines to comment on the matter any further.