Indian Prime Ministers And Their Attitude Towards Enterprise
by
Sumit Jha
-
Thursday, April 14, 2022 06:54 PM IST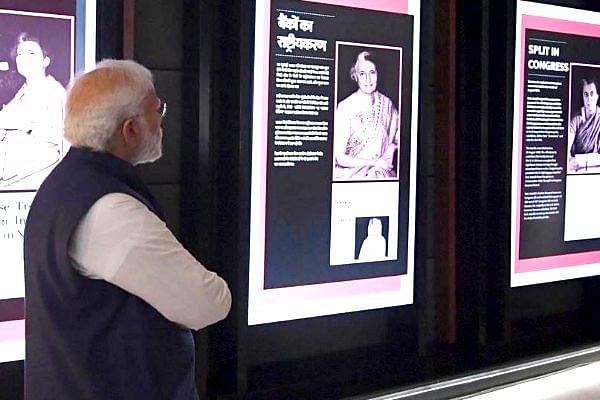 Pradhanmantri Sangrahalaya inauguration in Delhi.
Snapshot
As a new museum Pradhanmantri Sangrahalaya honouring all our prime ministers, was inaugurated today, it's an opportune time to appraise our leaders on an important metric - their attitude towards businesses.
In 2021, India blazed a trail in nurturing start-ups, making India the home for 44 unicorns (start-ups with a valuation of over $1 billion) – among the highest in the world. Many analysts opine that this has been the impact of over seven years of de-cluttering onerous corporate laws, untangling tax issues and an unequivocal message from the very top of the government that entrepreneurs are to be celebrated and not hounded.
Since 2014, Prime Minister Narendra Modi has worked assiduously to foster an environment where entrepreneurship is no longer a dirty word but an aspirational one. The government drastically cut down on the discretionary powers of the bureaucrats and inspectors -- which have been used to harass and extort businesses in the past.
But the most important element in the transformation was Prime Minister's upfront declaration in his 2019 Independence Day speech that businesses and entrepreneurs are wealth-creators who are not to be doubted at every turn. They create wealth for the country and contribute to its progress, he emphasised. PM Modi said:
In our country, certain wrong beliefs have come into existence. We have to come out of that mindset. Those who create wealth for the country, those who contribute to the nation's wealth creation are all serving the country. We should not doubt our wealth creators.
India is on the path to rectifying the post-independence attitude that painted people involved in business as crooks, when there were concerted efforts to demonise entrepreneurs and businesses. For a poor country ravaged by colonisation, the anti-business attitude in the top echelons of power right after independence caused enormous harm and manifested itself in stifling laws that killed sincere wealth creators while engendering a class of crony capitalists that thrived on their proximity to power.
As a new museum honouring all our prime ministers is being inaugurated, it's an opportune time to appraise our leaders on an important metric - their attitude towards businesses.
The contrast between prime ministers' attitudes towards businesses and businessmen can be gauged from various parameters, but one of the most effective methods is parsing through their Independence Day speeches as the annual addresses are considered to be a veritable statement of the government's policy and intent. So, it becomes pertinent to look at the messages – overt or subliminal – that some of the prominent prime ministers of India conveyed over the years.
Prime Minister Modi's speech in 2019 has been backed up by entrusting private entities to run loss-making companies previously held by the government, with Air India being the most noteworthy example.
The government opened the mining sector for private enterprise, signalling trust in wealth-creators. The substantial cut in corporate taxes allowed Indian private companies to compete with the world, especially with East Asian countries.
Further, the decriminalisation of the Companies Act and significant improvement in ease-of-doing-business over the last eight years convinced businesses that the government trusts them as an important partner in economic progress. In 2021, India ranked 63 in the World Bank's Doing Business Report 2020, a meteoric rise of 79 ranks from 142 in 2014.
The contrast between PM Modi and prime ministers from the Nehru-Gandhi dynasty is depressingly stark in this aspect. Jawaharlal Nehru in his 1950 Independence Day speech implied that all businesses and shopkeepers were indulging in profiteering by hoarding scarce food grains. He said:
The other problem is that there are a lot of people in this country who are trying to make money from other people's problems, be it a businessman or a shop-owners they are hoarding food grains for their benefit so that they get huge price or maybe in a year or two when they need it, they can bring it out.
While the above excerpt is one example, in the 17 long years as the prime minister, Nehru's speeches were littered with direct or suggested suspicion of businesses – small and large. The then government's failure to reign in rampant inflation and food shortages was often blamed on traders, who were portrayed as unscrupulous by nature.
This outlook resulted in the enactment of onerous laws that pulled the Indian economy back at a time the Asian neighbours were making rapid progress. As economist Arvind Virmani pointed out in 'The God that Failed', during Nehru's tenure India's per capita GDP at purchasing power parity (PPP) fell by 3 percentage points compared with the world per capita GDP at PPP. This means India was getting poorer with progressively lower living standards than the world on average.
The Essential Commodities Act, 1955, brought to control inflation and regulate production, became a tool to harass businessmen by detaining or imprisoning them. The Industries (Development and Regulation) Act, 1951 heralded the dreaded Inspector Raj as it made it mandatory for businesses to obtain licenses or permissions for many simple things.
By 1953, nine private airlines had been nationalised which soon started making losses. On Nehruvian economic policy, C Rajagopalachari had observed: "The individual and his creative ability are smothered by a proliferating bureaucracy and innumerable rules and regulations."
Already gasping for air, Nehru's daughter Indira Gandhi further squeezed entrepreneurs. Indira Gandhi in her 1968 Independence Day address, said that industrialists and businessmen were making too much money, suggesting that this was a cause for worker unrest. She said:
However, if I speak to workers about discipline, then I must also ask our rich industrialists something. If they want discipline then even they must take responsibility. They cannot ensure discipline if they continue to make bigger profits and draw fatter salaries.
The barely-concealed suspicion and distrust of industries was a hallmark of Indira Gandhi's tenure, and that was reflected in the disastrous government policies too. The government took over banks, coal mines, engineering and general insurance sectors, and pretty much any other sector they wanted, sounding a death knell for dynamic private enterprises.
Soon enough, the government was running IT companies and hotels while producing scooters and tractors, refrigerators and watches, and even selling bread, aerated drinks and fruit concentrate!
In the 1970 budget, the marginal income tax rate was raised by 11 percentage points to 93.5 per cent on all incomes above Rs 2 lakh. With a 15 per cent surcharge, the highest marginal rate rose to 97.5 per cent. This led to a surge in tax evasion and the formation of a parallel black economy, thus denting the government's revenue and severely affecting its ability to execute welfare schemes.
The rest of the world, along with Africa, Latin America and developed countries taken together was progressing faster than India due to Indira Gandhi's policies!
The third prime minister in the Nehru-Gandhi dynasty proved to be a chip off the old block in stymieing entrepreneurship. Rajiv Gandhi in his 1989 Independence Day speech even declared, "Indiraji devoted her entire life to fighting and eliminating the capitalist forces."
In the same speech, he even declared capitalists as the people who did not let Mahatma Gandhi succeed!
By the end of Rajiv Gandhi's tenure, India was facing a balance of payment crisis due to profligate spending, while Public Sector Units had turned into white elephants.
However, the Nehru-Gandhi dynasty has refused to learn from the past. While 2004-2014 was a continuation of the crony capitalist legacy of the past, even after losing power in 2014, Rahul Gandhi and his party have indulged recklessly in rhetoric against businesses that give lakhs of jobs.
If given a chance, the clock will be turned back to the times of romanticisation of poverty and squalor, from a time of unicorns and the fastest growing economy.
Also Read: Jawaharlal Nehru And How His Love For Marxism Affected India
Get Swarajya in your inbox everyday. Subscribe here.
An Appeal...
Dear Reader,
As you are no doubt aware, Swarajya is a media product that is directly dependent on support from its readers in the form of subscriptions. We do not have the muscle and backing of a large media conglomerate nor are we playing for the large advertisement sweep-stake.
Our business model is you and your subscription. And in challenging times like these, we need your support now more than ever.
We deliver over 10 - 15 high quality articles with expert insights and views. From 7AM in the morning to 10PM late night we operate to ensure you, the reader, get to see what is just right.
Becoming a Patron or a subscriber for as little as Rs 1200/year is the best way you can support our efforts.
Become A Patron
Become A Subscriber