Is The Hinduphobic Left Liberal Seeing A Way Out Of Deracinated Irrelevance?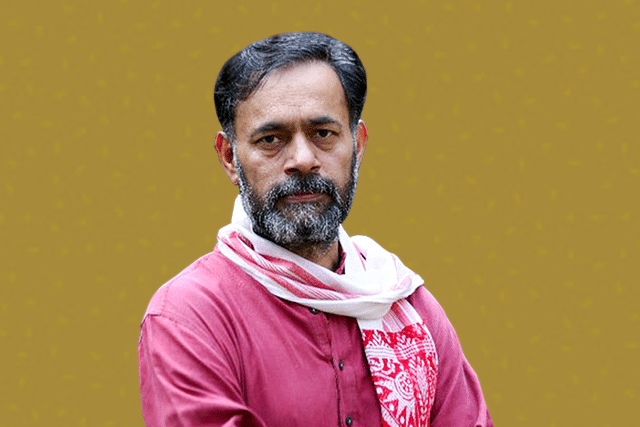 Yogendra Yadav
Snapshot
The education of comrade Yadav is far from complete, but he has taken baby steps to lift himself out of the cesspool of deracinated ideas, even if for the wrong reasons.

It is progress of sorts.
Is there hope yet for the deracinated Left Liberal intellectual of India?
A few signs are beginning to surface. When people like Shashi Tharoor go about saying they are all for Hinduism but not Hindutva, when politicians suddenly find the need to rediscover their Hindu-ness (ie, Hindutva), whether it is wearing the janeu, offering yoga classes to the public, or reciting the Hanuman Chalisa or Chandi Paat at election meetings, clearly they know that they have left the masses cold by their past Hinduphobia and deracination.
In recent years, many voices from the cultural Right have pointed out that our Republic has been conceptualised on the basis of synthetic values that originated in Christian Europe, including large parts of the Constitution of India. Many writers, including this one (read here, here, here), have called for a wholesale rewrite or even a new constitution that is rooted to Indian soil without in any way rubbishing the western experience and the good parts of its inheritance. We do need to create a Second Republic.
Now, it seems, the Left Liberal elite are also seeing some virtue in this, even though their reasons for coming to this conclusion may be the exact opposite of what the cultural Right thinks is problematic with our Constitution and our republic. Some of the reasons cited may be based on illogic or falsity, but the conclusion is something to be noted.
In a recent article in ThePrint.in, Yogendra Yadav, a card-carrying Left Liberal intellectual (but probably more Left than Liberal), had this to say: "India's first republic is over. The republic that was inaugurated on 26 January 1950, whose shadow we celebrate today, is all but dead. It is time to acknowledge that what we have lost over the last eight years is not just democracy, federalism or secularism; we have lost our republic."
We can ignore his claims that the first republic is nearing its end only because we voted Narendra Modi to power in 2014. This is more polemics than reality, and we shall let that pass. But what is interesting is who he blames apart from Modi and the Bharatiya Janata Party (BJP) for the decline and impending fall of the first republic.
First, in the classic liberal tradition, he blames the public. He writes: "This Republic Day, let us acknowledge that our republic has been undone by the public. What we face today is not merely the result of an unscrupulous political force that has hijacked our country. We are not victims of a bad accident. This democratic capture was made possible by a disconnect between our constitutional values and the political values upheld by the public." (Italics mine)
In short, Modi isn't the problem. It is the voter who gave him this mandate who needs fixing. Her "political values" are obviously not as pious and holy as Yadav would like them to be. Yadav does not consider the possibility that the voter is merely junking politicians who do not speak the truth or who do not respect her values.
Second, he blames the sharp fall in India's intellectual traditions since the 1960s for the coming fall of the first republic. He writes: "The republic of India was nourished by more than 100 years of a living tradition of vibrant political thinking. This intellectual tradition began with 'Bengal Renaissance' and shaped India's encounter with colonial modernity. It produced India's very own modernity. It gave rise to Indian nationalism. It laid the foundations of our Constitution, our democracy. This intellectual stream suddenly dried up in the 1960s. With the departure of B R Ambedkar, Jawaharlal Nehru and Ram Manohar Lohia, the age of great leaders-cum-thinkers came to an end."
Now ask yourself? What really happened in the 1960s? The Congress party moved sharply Left, and academia was captured by the Left to the exclusion of those whose thoughts were rooted in Indian culture and tradition. History was rewritten wholesale in the interest of "secularising" India, if necessary by excluding the truth and resorting to half-truths and falsehoods, including the sanitisation of Islamist bigots and British colonisers.
The Macaulay-putras joined forces with Left historians and Islamists to give India a history unrelated to public memory or cultural aspirations. When four of the first five education ministers of India were Muslims, and the most rewriting of history happened during Indira Gandhi's rule when Nurul Hasan was education minister for six years at a stretch, academia clearly sold its soul for power and position. They went about manufacturing a new history for alleged nation-building purposes.
So, Yadav has got this right in terms of when the decline of intellectual freedom began, even though he does not seek to answer the questions why and who enabled this decline. His own side started the slide.
Third, and this is the most interesting part of the article. Yadav sees Indian political and social consciousness in the twentieth century as being driven by two streams of thought. One was the egalitarian principles espoused by the Socialist group (which includes assorted Nehruvians, the Communists and Naxals). The other stream was indigenous thought leadership, which saw problems in seeking India's proposed modernity within the context of western civilisational and cultural experiences.
So, what does Yadav propose? "The challenge is to make these traditions speak to each other. Occasionally, you get a glimpse of synthesis in the 19th and the 20th century. You can discern its seed in Swami Vivekananda and Bankim Chattopadhyay. The radical moment of Gandhi shows a fusion of the indigenous with an egalitarian streak. The very special Indian brand of socialism, especially in Ram Manohar Lohia and its follow-up in Kishen Pattnayak, can be interpreted as a synthesis of these two intellectual currents. What we need today is a conscious ideological integration."
However, what Yadav has essentially proposed is a kind of pathway out of the corner the Left Liberal intellectual class has painted itself into. By pitting modernity against Hinduism, secularism against community, upper castes versus Dalits and Other Backward Classes, and egalitarianism against cultural rootedness, they have contributed to creating conflicts more than dialogue and synthesis. Synthesis is the essence of Indian thinking, and by privileging conflict over cooperation, the Left Liberal essentially separated itself from the society it claimed to represent. What Yadav is proposing, assuming he is honest about his intentions, is to give the Left Liberal a way back into the national conversation.
There is another problem, though. The truth is all the words — modernity, secularism, et al — are loaded with western meanings.
What is modernity? The western meanings could include placing reason above faith and tradition, when the Indian experience shows that these are false binaries. Secularism is about separating church from state, but this conflict has not been a major source of tension in Indian history till the Abrahamic religions arrived in India with their contemptuous attitudes to Indian religions, cultures or traditions. Secularism is thus a cure for a problem we did not have. Egalitarianism has its roots in the French Revolution slogans of "Liberty, Equality, Fraternity", but the Indian tradition has never accepted absolute values like these without objection.
Extreme ideals and values lead to extreme solutions, and the only logical outcome of putting egalitarianism above other human values like compassion and empathy will be autocracy and dictatorship, whether of the communist or Islamist varieties. The true Indian value is the middle path of not sacrificing one value for another, and achieving change with continuity. The real Indian strength lies in mixing Conservatism and Liberalism in appropriate doses depending on the situation and exigency.
One has to wonder whether Yadav's Lohia-ite politics will provide the synthesis for India to move on to a second republic or whether a balanced Dharmic approach, of change with social stability, offers a better vision. The education of comrade Yadav is far from complete, but he has taken baby steps to lift himself out of the cesspool of deracinated ideas, even if for the wrong reasons. It is progress of sorts.
Get Swarajya in your inbox everyday. Subscribe here.
An Appeal...
Dear Reader,
As you are no doubt aware, Swarajya is a media product that is directly dependent on support from its readers in the form of subscriptions. We do not have the muscle and backing of a large media conglomerate nor are we playing for the large advertisement sweep-stake.
Our business model is you and your subscription. And in challenging times like these, we need your support now more than ever.
We deliver over 10 - 15 high quality articles with expert insights and views. From 7AM in the morning to 10PM late night we operate to ensure you, the reader, get to see what is just right.
Becoming a Patron or a subscriber for as little as Rs 1200/year is the best way you can support our efforts.
Become A Patron
Become A Subscriber