Jharkhand: Why Bypoll To This Assembly Segment In Ranchi Is More Interesting Than You May Think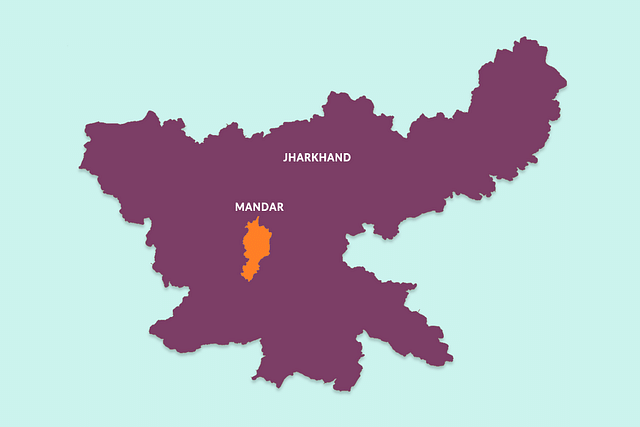 Mandar by-poll.
Snapshot
The era of divisive, artificial identities is passing, and there is a likelihood that Mandar electors may put old labels aside and vote for policies.

A few key observations and inferences offer pointers to possible electoral outcomes.
It is one of the enduring mysteries and travesties of our mainstream media, that a Rajya Sabha election in Maharashtra hogs the headlines for days, while a fascinating by-election in Jharkhand goes almost unreported.
Here, then, is the story of Mandar assembly constituency, which goes to the polls on 23 June.
Mandar seat lies immediately to the west of Ranchi, straddling a plateau abutting the Lohardaga Ghats. The Damodar River has its origins in the north of the constituency. It is reserved for tribal candidates, is one of the segments making up Lohardaga Lok Sabha constituency, and is administratively a part of Ranchi district.
The demographics of Ranchi district are fairly diverse. About half are Hindus, Muslims are around 10-12 per cent, Christians about 6 per cent, and a full third subscribe to tribal faiths. Around 5 per cent are Dalits, and a third are formally registered as tribals.
But in Mandar itself, according to some reports, half the population are Sarna tribals. Many of them follow beliefs, customs and practices centred around ancestor worship and village deities. Hindus and Muslims are about 20 per cent each, and Christians slightly under 10 per cent.
This diversity is reflected in provincial and general elections, with the vote routinely getting split four or five ways. As a result, candidates have won with less than 30 per cent of the vote, and they often change parties from election to election.
In the 2009 Lok Sabha elections, the Congress swung this segment with just 26 per cent. In 2014, the BJP gained this segment by a slender margin with 34 per cent of the vote. A semblance of normalcy did appear in the general elections of 2019, with the Congress and the BJP together polling 90 per cent of the vote (the BJP won the segment with 45.2 per cent, to the Congress's 44.6 per cent).
But this was transitory; in the assembly elections later that year, the Congress got only 4 per cent, and the vote was once again split four ways.
For almost two decades now, the man to beat in Mandar had been Bandhu Tirkey. He won in 2005 with 38 per cent on a United Goans party ticket (fancy that!), in 2009 with 38 per cent again on a JHJAM ticket (Jharkhand Janadikhar Manch), and in 2019 with 41 per cent on a JVM ticket Jharkhand Vikas Morcha (Prajatantrik) of Babulal Marandi who was then temporarily not with the Bharatiya Janata Party.
The only time he lost was in the 2014 assembly elections, to Gangotri Kujur of the BJP, when he contested on a Trinamool Congress ticket. He got 25 per cent and the BJP, 29 per cent.
In 2020, Tirkey joined the Congress when Babulal Marandi wound up his rebel JVM to return to the BJP. This would be his sixth party, starting from his stint with the RJD in 2000, when he contested from Mandar and got 15 per cent. But then fate caught up, and Tirkey was convicted in a disproportionate assets case in March 2022. That led to his disqualification from the Jharkhand legislature, and hence the need for a by election in Mandar this month.
But Tirkey is irrepressible. Consequently, it is no surprise that the Congress candidate for this month's by-poll is none other than his daughter, Shilpa Neha Tirkey. Her principal opponent is 2014 winner, Gangotri Kujur of the BJP.
So, how might the elections in Mandar play out?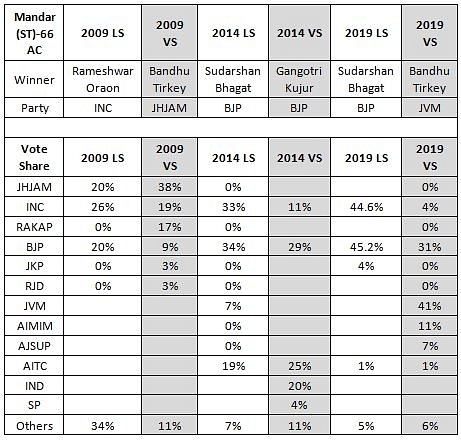 As the table above shows, the seat's electoral history is confusing, to say the least. For convenience and clarity, the columns with Vidhan Sabha data are shaded in grey. Readers may also note that the Lok Sabha results are for Mandar assembly segment alone, and not Lohardaga parliamentary constituency, which it is a part of.
Nonetheless, a few key observations and inferences offer pointers to possible electoral outcomes.
First, Mandar seat has become slightly more bipolar since 2019, than it was in the past. The rank 'Others' vote has declined to under 10 per cent.
Second, the base vote share of both the Congress and the BJP is around 30 per cent. However, while the Congress is dependent on Tirkey for its presence, the BJP has built its base up slowly over the past decade.
Third, Babulal Marandi's disbanding of his JVM in 2020, and his return to the BJP, will aid the national party's cause. Marandi has been campaigning actively for Gangotri Kujur, the BJP candidate, in Mandar this week.
Fourth, the AJSUP, which got 7 per cent in the 2019 assembly elections is allied with the BJP, even though there are splits within the outfit at the state level. We can expect the bulk of this vote to go to the BJP.
Fifth, there is a bloc Muslim vote of 11 per cent which voted for the AIMIM in the 2019 assembly elections. In the prevailing atmosphere, and a season of stone-pelting, one would expect this vote to go to the Congress en masse. But strangely, the AIMIM's head, Asaddudin Owaisi, has been campaigning in Mandar for a BJP rebel named Dev Kumar Dhan, who is standing as an independent candidate. If the Muslim vote gets split, or doesn't shift to the Congress, then the advantage will be to the BJP. Or, the plan is that the BJP rebel's votes plus the 20 per cent Muslim vote could give Dham the lead in a three-way contest.
Sixth, Tirkey got 41 per cent in the 2019 assembly elections on a JVM ticket, which is 3 per cent more than what he got on his own when his popularity was at its peak. Also, it may be noted that he got only 25 per cent in 2014 on a Trinamool ticket. Today, we may assume that around 5 per cent of what Tirkey got in 2019 will shift to the BJP.
Seventh, and oddly, Chief Minister Hemant Soren's Jharkhand Mukti Morcha party has never had a presence in Mandar. But he sees this as a prestige poll for his alliance, and has repeatedly declared that the Congress will win convincingly.
Eighth, Gangotri Kujur has been active in the rural tribal areas for the past few years, collecting soil from numerous Sarna Sthals (sacred groves) for dispatch to Ayodhya for the 'bhumi puja'. This has riled opposition parties and FIRs have been lodged against her. But the point remains, that good old-fashioned grassroots sanghatan work has continued without a break in Mandar, which should reap some dividends in this by-poll.
Putting all this together, what may we expect?
On paper, the rebel Dhan, assisted by Owaisi, could cut into the BJP's base, while denying a significant portion of the Muslim vote to the Congress. The Congress is banking on Bandhu Tirkey's undeniable popularity, and his ability to attract the crucial fence vote which traditionally used to go to independents. The BJP expects to improve its standing through the return of Babulal Marandi, an alliance with the AJSUP, their candidate's high recall value, and their grassroots activity in the tribal areas.
But the biggest factor which could influence electoral outcomes in Mandar is the rioting in Ranchi on 10 June, which led to police firing at communal mobs, and the death of three rioters. The Internet is flooded with video clips of policemen and civilians sheltering within a Hanuman temple in the city centre, while the mob outside hurled stones at the temple. And for once, even mainstream media was forced to report that the mob spilled out onto main road from mosques, after Friday prayers.
Will Dhan, then, be forced to pay a price for allowing Owaisi to canvass his candidacy? Or, will the Muslim vote reject Owaisi's calls and find strength in greater numbers under a Tirkey-Congress banner? It is difficult to say.
But this much is sure: hitherto, Mandar assembly constituency had unfortunately been benighted by divisive, artificial identities. That era appears to be passing. There is, therefore, a slender possibility that this time, its electors may put old labels aside and vote for policies, rather than for emotions.
Get Swarajya in your inbox everyday. Subscribe here.
An Appeal...
Dear Reader,
As you are no doubt aware, Swarajya is a media product that is directly dependent on support from its readers in the form of subscriptions. We do not have the muscle and backing of a large media conglomerate nor are we playing for the large advertisement sweep-stake.
Our business model is you and your subscription. And in challenging times like these, we need your support now more than ever.
We deliver over 10 - 15 high quality articles with expert insights and views. From 7AM in the morning to 10PM late night we operate to ensure you, the reader, get to see what is just right.
Becoming a Patron or a subscriber for as little as Rs 1200/year is the best way you can support our efforts.
Become A Patron
Become A Subscriber