Madan Ravichandran's Explosive Insider Account Of How Periyarists, Communists Impose Ideological Hegemony In Tamil Media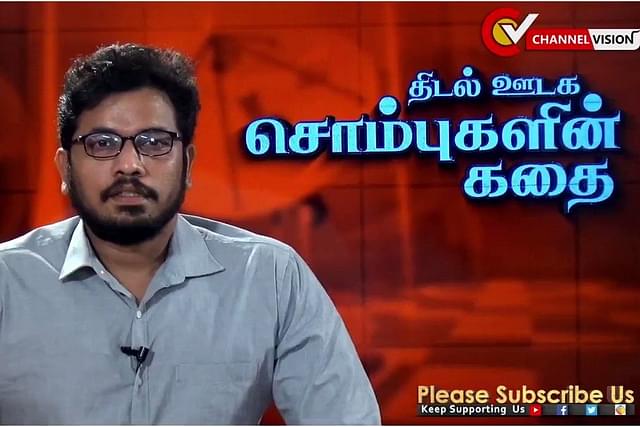 twitter
Snapshot
News Head of Channel Vision, Madan Ravichandran, who was earlier part of some of these mainstream media channels, has published a new video that provides an insider account of the modus operandi of Tamil media.

In a short span of time, he has earned a formidable reputation as an irrepressible interviewer, who has posed probing questions to personalities across the ideological and political spectrum.
The mainstream media houses in Tamil Nadu like Puthiyathalaimurai, News 7, News 18 Tamil Nadu, which have been often accused of practising a policy of ideological hegemony and creating a narrative that is favourable to the Dravidar Kazhagam, Dravida Munnetra Kazhagam and Communists, are now facing backlash after two prominent social media personalities — Madan Ravichandran of Channel Vision and Youtuber Maridhas — published viral videos providing disturbing details of their operating model.
Popular vlogger and social media activist Maridhas released a video on 5 July exposing the nexus between journalists at News 18 Tamil Nadu and the DK, DMK and Communists.

He also shed light on a shadowy organisation called Centre of Media Persons for Change (CMPC) (www.cmpc.in), which appears to operate as a nodal point for the infiltration of communists, DK groups into the media.
Some of the persons associated with CMPC and content writers in news channels like News 18, and Puthiyathalaimurai trace their history to One Mind Generation Research run by Udhayanidhi Stalin (son of MK Stalin), Anbil Mahesh Poyyamozhi (son of former MLA and close confidante of MK Stalin Anbil Poyyamozhi), Mohan Karthik (son of current Anna Nagar MLA M.K. Mohan of DMK) and Sabareesan (son-in-law of MK Stalin).
In light of this, News Head of Channel Vision, Madan Ravichandran, who was earlier part of some of these mainstream media channels, has published a new video that provides an insider account of the modus operandi of Tamil media.
In a short span of time, Madan Ravichandran has earned a formidable reputation as an irrepressible interviewer, who has posed probing questions to personalities across the ideological and political spectrum.
In the video titled "Thidal Udaga Sombugalin Kadhai", roughly translating to "The Story of Thidal (Periyar Memorial) Media Houses", Madan Ravichandran traces the journey of his experience right from his recruitment to how he ended up doing what he is doing now.
He says that it has been his interest to work in the press by becoming a journalist in one of the mainstream media houses in Tamil Nadu, for which he is said to have undertaken a 3-month journalism course.

He says that he started applying for the roles of sub-editor and anchor in some of today's well-known Tamil news channels and adds that he would clear the written test rounds but not pass the interview round.

He notes that during the interview, they test the ideological and political affiliations of one by asking "who is your favourite leader?"

Madan says that he answered "Netaji Subash Chandra Bose" in one and "Velupillai Prabhakaran" in another interview and both the times he failed to get the job.
He remarks that he just spent ₹500, which did the trick for him. He says he bought a T-shirt with E.V. Ramasamy Naicker (Periyar)'s photo and showed up in events attended by journalists of these media houses.

He notes that he had to create the impression that he was "Periyarist" and finally managed to land up in a news channel.
Upon entering, he found that there were several people who were working in that place who had bypassed the processes that he had to go through to get the job.

He says that one of them was a DMK MLA's sister's son and adds that there were many other people who had connections with the party or its affiliates.
"Sometimes, persons who are of the same caste as that of the Editor are hired", he says.
He says a commoner from a middle class background has to cross several hurdles to get the job in these media houses, but those with the party backing and its affiliates bypass all these process.

This, he says, is against Periyar's ideals. He also says that it is an added advantage for candidates who apply for jobs in these outlets if they wear a Periyar T-shirt or take a photo at Periyar's memorial.
He says that his life in the media took a turn after his interview with Dravida Kazhagam President K. Veeramani.

In that interview, Veeramani walks out after facing tough questions from Madan. He mentions that there were hurdles in airing that interview.

He says that since then, he came to be identified as a "Sanghi". He was discriminated at his workplace post that interview. In order to prove that he was not a 'Sanghi', he says that he interviewed Rangaraj Pandey, the CEO of Chanakyaa, who the DK, DMK and Communist folks identify as an 'RSS person'.

He says that it is only then that the discrimination against him stopped.
He also mentions that religious sentiments are hurt and quotes an incident when he turned up at office with sacred ash on his forehead on Thaipoosam day and one 'junior Maniammai' and 'junior Periyar' passed a derogatory adult joke about it.

He said that he brushed it away, considering that they were atheist. However, the same people were playing servile to the owner of the channel by smearing sacred ash on their forehead when they found that he was a devotee of Lord Murugan.
After this, he had shifted to another channel, where during his interview, he was asked what his caste was.

"It was your people who made 'that party and alliance' lose right?", the channel's editor had supposedly asked Madan.

He had told Madan to not venture into any 'revolution' but dance to the tunes of the one party and their affiliates.

He got the job, but he faced frequent interventions from his boss. They had placed a video editor, who would edit out portions that would show the DMK, DK or the Communists in bad light.

This person was supposedly part of another news channel, who stole some tapes from there and joined this channel due to a tiff between those two media houses.
In one of the interviews with Velmurugan (Tamizhaga Vaazhvurimai Katchi leader), the latter had mentioned that Mr. Vaiko, the present Rajya Sabha MP, was put in jail and beaten during the DMK's period.

This portion was edited out, fearing a backlash.
Madan asks if they are journalists or party men in disguise.
After this controversy, he was asked to do interviews with cinema stars. Even then, he was told to not touch topics about lyricist Vairamuthu of #MeToo fame who had sexually harassed singer Chinmayi Sripada.
Later, he shifted to another channel, where the owner had promised full freedom to him.

However, the Editor-in-Chief, Jen Ram, had cut his wings by restricting him only to YouTube. Ram had told Madan 'to soft tread'.
After interviewing Aloor Sha Navas, the Deputy General Secretary of Viduthalai Chiruthaigal Katchi, the latter had apparently called the Editor-in-Chief and lashed out at Madan saying, "How dare that Sanghi fellow ask me such questions?"
Since this incident, Ram had asked Madan not to proceed with any interview without getting all aspects of the interview (the guests, questions, interview time, et cetera) vetted by him.
Madan asks if this is the freedom of expression that they stand for.
He was to interview former DMK MLA and DK ideologue Suba Veerapandian, who Madan says, he has huge respects for, considering the depth of his knowledge and his conduct.

But Ram did not allow it. Madan later approached WIN News' owner, Devanathan, who gave the go-ahead to Madan. This interview became a huge hit on YouTube. Post this, the employees at WIN News who were part of Ram's lobby had protested against Madan, by wearing black ribbons for his interview with Suba Vee.
Suba Vee had even posted in his Facebook handle that Madan had asked the right questions, but that it was Suba Vee who lost to him.
Madan asks, "Is this the neutrality that you preach? After Suba Vee, I interviewed H. Raja, where I had asked questions cornering him."
At a later point in the video, he says he got branded as a 'Tamil Nationalist' for having Velupillai Prabhakaran's photo on Maaveerar Day (November 27) and was kicked out of the particular news channel he was working with then, citing that "he won't be able to mingle as they were going in a 'different direction'".

He says that, when he had invited Naam Tamilar Katchi's (NTK) Kaliammal for a debate in his show, he was lashed out by the editor of the channel saying, "Do you think I am running a channel for promoting NTK?"
When the Pollachi murder and rape case happened, the editor of the channel that he was working with then, had asked to 'sensationalise' the issue, to trigger a protest like the Jallikattu protests.

He says that the editors' lobby in the Tamil Nadu media had decided to focus on that particular issue to create a 'favourable atmosphere' for the DMK.
Madan also highlights how these news channels 'balance' the situations by having the non-DMK party members for special programmes about their personal journeys, interviews, etc.

He says that they exploit the desire of members belonging to smaller parties to get featured on TV, by inviting them for debates.

However, they are cornered by the moderator and other panelists during the debate to establish their supremacy.
He says that some of the parties will not speak out against this and rightly so because, then there would be accusations of "stifling of voices".
Madan also takes a dig at social media personality and DMK mouthpiece Savukku Shankar as he had put out a tweet that said that Channel Vision has a person from ADMK investing in it.
He says that Savukku Shankar, who had once released highly confidential documents and tapes, has now come down to the level where he has to counter people like Madan.
He points out how Savukku Shankar, who was once smoking a 'beedi and ordinary Scissors' has changed now with the latter having an office near Gemini bridge in Chennai and in Nungambakkam, and wearing costly watches, and riding fancy bikes, etc after he started functioning as the mouthpiece of DMK.

Madan says that he is not smart enough like Shankar to earn like that.
Madan accepts that there is an investment from an ADMK person along with his own personal investments and from other friends and well-wishers not affiliated to any party.

However, they haven't asked them to be favourable to them. Madan says that he had only one condition for getting investments for his Channel Vision venture — that the person should not have any ties with the DMK or its affiliates, because then, there would be stifling of his voice.
He ends by saying that he will continue to keep exposing the Tamil news channels and their hidden secrets.
"I have learnt the trade from you. Now I am going to do what you have been doing for years! It will be against you and the party you support!" Madan openly declares.
To questions on whether he will question the the ADMK, he says he will invite ADMK spokespersons for the debate and they will be grilled with questions the same way he has been doing so far.

However, he asks Savukku Shankar if he will ask the DMK chief MK Stalin and his son Udhayanidhi Stalin to come for a live show on his channel.

He also asks Savukku Shankar if he will be obliged to ask Puthiyathalaimurai's Managing Editor, Karthigaichelvan, to conduct a debate on suicides happening in SRM College or News 18 Tamil Nadu's M. Gunasekaran to debate on DK's many dubious organisations.
Savukku Shankar, the DMK mouthpiece, did not condemn RS Bharathi's comments over Dalits or Jagathrakshakan's investments in Sri Lanka's Hambantota to build an oil refinery.
He also takes a dig at how Savukku Shankar comments on others' personal affairs (Recently, he made sexist comments on former TN Health Secretary Beela Rajesh). Madan said that he won't stoop to such lows like him, but requested that he pay alimony to his divorced wife.
Savukku Shankar is believed to have been with the police, but many, however, say he was only a clerical staff who became famous after he exposed sensational documents pertaining to DMK's corruption in the 2G spectrum case. He has, however, now taken a complete U-turn.
Madan says he is willing to face all the challenges thrown at him by Savukku Shankar through DMK or its allies.

He says he still has people 'monitoring' Savukku Shankar. "I have voice tapes that might help me in the future. Hope you understand," he says in response to Savukku Shankar.
He also responds to his tweet about Madan Ravichandran wrongly mentioning about the Myalpore Jannal Baji shop owner's death.

He apologises for the same as he got 'misled' by reports published in news agencies.

However, he questions Savukku Shankar when his friend M. Gunasekaran of News 18 Tamil Nadu will apologise for his crime of driving Naveena, a woman belonging to the Vanniyar caste, to suicide as it was after Gunasekaran sensationalised the issue that the young lady broke down and fell into depression and later died.

Family members of Naveena still accuse Gunasekaran of sensationalising the issue by conducting a debate on it.
Finally, he ends by saying that these are just a 'few pages' out of his diary and that 'more is coming along' and that he plans to bring out them in several episodes.
"After all, what will you do? You will make me run. I have been on the run. I am used to it. So, bring it on!", Madan concludes.
On Friday, Channel Vision released a poster of "Madan Diary".
(A version of this post was originally published in The Commune Mag)
Get Swarajya in your inbox everyday. Subscribe here.
An Appeal...
Dear Reader,
As you are no doubt aware, Swarajya is a media product that is directly dependent on support from its readers in the form of subscriptions. We do not have the muscle and backing of a large media conglomerate nor are we playing for the large advertisement sweep-stake.
Our business model is you and your subscription. And in challenging times like these, we need your support now more than ever.
We deliver over 10 - 15 high quality articles with expert insights and views. From 7AM in the morning to 10PM late night we operate to ensure you, the reader, get to see what is just right.
Becoming a Patron or a subscriber for as little as Rs 1200/year is the best way you can support our efforts.
Become A Patron
Become A Subscriber