Neither Partition Nor The Moplah Massacres Can Be Normalised Or Rationalised Anymore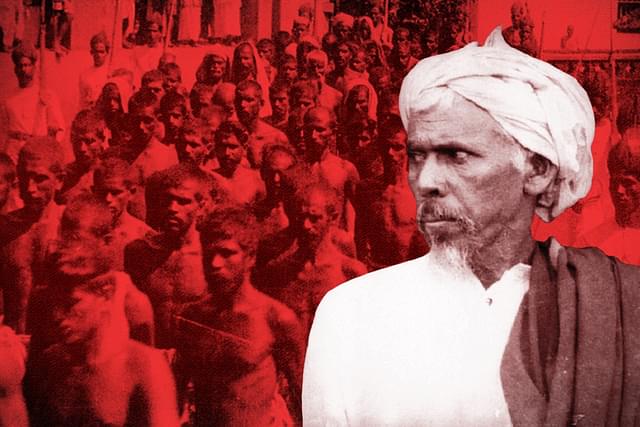 The Moplah Rebellion had nothing to do with India's quest for freedom, and was in fact a ruthlessly violent attempt to establish an Islamic Caliphate in Kerala.
Snapshot
The Hindus of Kerala in particular and India in general are moving on from the trauma without letting go off the truth.

But, if political forces try to condone what happened, or whitewash criminal acts, then there WILL be a forceful reaction.
The toughest job in the world is to be a liberal journalist in Kerala. No matter how hard you try to put a spin on things, whitewash history, ignore truths, or bend over backwards to highlight 'majoritarian' injustices, and manufactured laments of desperate victimhood, local politicians end up shooting their mouths off, and throwing a spanner in the works.
It is truly a thankless profession, meriting a clutch of gallantry awards from the Editors' Guild. Last week, for example, just as Malayalam TV channels were carefully tiptoeing around any euphoria over Kabul's fall to the Taliban, their own Dr. Shashi Tharoor of the Congress party senselessly (in their view) tweeted a video clip. It purportedly showed two jihadis speaking in Malayalam (to understand what sort of Indian would be euphoric at the Taliban's victory, or why a media house would not want to report such expressions of euphoria, ).
That solitary tweet was enough to send the story to prime time, nationally, and re-ignite tempestuous debates on the alarming rise of Islamic radicalism in Kerala, the curse of identity politics, and growing cultural separatism among Muslim Moplahs of the state. To make it worse, Tharoor even used the term 'Malayali Taliban'.
As it is, provincial mainstream media had been hard-pressed since Christmas, trying to downplay the violent Moplah Rebellion of 1921, whose centenary year this was. Surely, they sighed, Dr. Tharoor could have thought twice before tweeting.
But it is the nature of karma that truth always triumphs. Even as the local press went about their work, pretending that 1921 never happened, MB Rajesh, a Marxist, and the speaker of the Kerala Assembly, decided to hold forth in public on that very subject. He said that the contributions of Variyamkunnathu Haji, , were at par with those of legendary freedom fighter Bhagat Singh.
This was perplexing; why on earth would any sane human seek to equate a freedom fighter with a jihadi, when the only thing they had in common, was that both were hung by the British? Haji was merely a petty thief who industriously worked himself up the crime ladder with recidivist zeal; the same zeal, which rebellion leaders like Ali Musaliar spotted, and harnessed, to butcher pregnant Hindu women.
Rajesh might as well have tried to equate Sarojini Naidu with Pol Pot, or the sadhus of Palghar with Burhan Wani. Such efforts, to romanticise, valorise and canonise Haji were right up there with recent efforts to portray Kunjali Marikkar IV, admiral of the Zamorins of Calicut between 1595-1600, as some sort of nationalist hero, instead of the upstart he really was (he turned against his Zamorin and was killed by the Portuguese, while seeking to establish an independent land of the pure in Malabar).
And yet, like with everything else the Left-Liberal jamaat does these days, there's a backstory here too.
Rajesh's defense of Haji was prompted by a report issued by a committee of the Indian Council of Historical Research (ICMR), plus Ram Madhav's observation, that the first manifestation of a Taliban mindset was in Kerala, during the Moplah Rebellion of 1921.
The ICHR report recommended that the names of 387 Muslims killed during the Moplah Rebellion by the British authorities, be removed from the official list of those martyred .
The government committee concluded after reviewing historical data, that there was nothing nationalistic about the actions of these 387 Moplahs, even though they were carried out contemporaneous to Mahatma Gandhi's Khilafat Movement (a grand plan by Bapu to bring Indian Hindus and Muslims together, in protest against the abolishing of the Caliphate in Istanbul, which flopped miserably, degenerated into communalism, and laid the foundations for eventual partition).
Rather, that 'the Moplah outrages were communal…against the Hindu society and done out of sheer intolerance'. Incidentally, they also recommended the deletion of ten Hindu names in a separate case.
This decision went directly against the traditional narrative, which was that the Moplahs were ill-treated, underprivileged, oppressed serfs, who rose against their evil Hindu Nair landlords in abject despair, amidst a prevailing national mood of revolution. It was a justified peasant uprising against feudalism and colonialism which burst out of control; religion had nothing to do with it. (Haven't we heard that before?)
This, however, is pure myth. The truth, as documented by numerous reports of the day, plus thousands of court proceedings, is that the Moplah call was for the establishment of an Islamic Caliphate in South Malabar. Many thousands of Hindus were slaughtered for this. There is not a Hindu family in Malabar which did not suffer from the rebellion. It had nothing to do with Indians, Hindus, or our freedom struggle. Haji, in fact, proclaimed himself as the Sultan of Eranad, and the landlords actually lost their lands only well after 1947, when new land acts were implemented under communist regimes.
These are the old wounds which Rajesh reopened, when he sought to contest the ICHR report, the truth, and Ram Madhav. So why do it? Why equate an Islamist murderer of innocents with a nationalist? The answer is depressingly obvious: electoral politics in the first instance and ideology in the second (The communists won the May 2021 assembly elections in Kerala by successfully attracting the minority vote in many seats, while holding on to the bulk of their core, OBC Ezhava vote base, through an effective mixture of alarmist anti-Hindutva and anti-Brahminical rhetoric lathered with welfarism).
But, what Rajesh and his breed don't get is that the times are rapidly a-changing; traditional, historical narratives which were once electorally profitable are rapidly losing their utility to such an extent, that the employment of these tropes are, in fact, becoming progressively counterproductive now. For example, saying that Islam is in danger in India, when it patently isn't, only makes cries of victimhood seem even more foolish and misplaced than they already were. Instead, it highlights the actual, pluralistic nature of dharma to a larger number of people. No one here is asking for a ban on the burqa, like they are doing in Europe.
Similarly, fretting over so-called 'savarna supremacy', exactly when reservations and rising prosperity have made caste differences increasingly redundant, especially in the cities, and in a socially developed state like Kerala, only makes more people think more cogently of their deeper Indic identity. What else explains an incongruity noted in Tamil Nadu, for example, where flagrant efforts by an openly militant, atheist administration, to continue casting Tamil Brahmins as hate objects, actually results in BJP candidates winning elections on the non-Brahmin vote?
Indeed, it's gotten to a stage where, the more the Left-Liberal jamaat plugs a line, the more people question its veracity; meaning, the louder you cry wolf, the lesser the threat perception. Consequently, new codicils of social change in India decree, that the Left can't appease votaries of the Taliban and smash Brahminical patriarchy at the same time; it has to be one or the other, and they'll have to choose.
Of course, this process, while relentless, is admittedly a slow one, but maybe, the communists recognise its inevitability better than we think. No wonder there was a touch of existential desperation to Rajesh's efforts – not in tone, but by deed. The strain, of somehow trying to hold on to the Muslim vote, even if it meant trying to equate a monster with a martyr, was finally beginning to show.
The rhetoric is growing shriller, and fear is being gradually replaced with open hatred. Hence, the 'Dismantle Hindutva' seminars, and a rising sense that hinduphobia is sadly devolving into hindumisia (hatred of Hinduism; identified independently and , amongst others, and ).
To put matters in perspective, the actual, separatist nature of the Moplah rebellion was glossed over in the past because Malayalees wanted to move on past that carnage, just as the rest of India sought to, after Partition. But, if political forces try to condone what happened, or whitewash criminal acts, then there will be a forceful reaction. Questions will be asked:
If indeed the Moplah Rebellion was a legitimate, secular, nationalistic, peasant uprising against feudalism and colonialism, why did Haji crown himself as the Sultan of Eranad (in South Malabar)? If the agitation was truly rural, and bereft of specific identities, why were Hindus killed in urban centers like Kozhikode? Why were so many cases of forced religious conversions reported? How come no other 'oppressed' communities joined in the fray? What explains the historical truth that the violence of 1921 was, in fact, only one of a string of similar incidents dating back to a century before – including the assassination of East India Company magistrate, Henry Valentine Connolly, on 9/11 1855? Be it Kabul, Srinagar or Malabar, why have the options remained the same: 'Leave, convert, or die'?
Rajesh will have no satisfactory answers to give. Rather, such hypocrisies would stand further exposed, if ever an independent commission of inquiry were to comprehensively survey, and document, those temple lands and sacred groves which were illegally taken over during that 'secular peasant uprising'.
In that sense, Ram Madhav is absolutely right; an enabling of cultural separatism will inevitably lead to geographical separatism. This is how the two-nation theory took root. This is why India was partitioned. This is why Malappuram district was carved out in 1969. This is why radicalisation is on the rise in Kerala, with even Tharoor being forced to tweet about 'Malayali Taliban' in Afghanistan. And it is this same enabling sophistry which fuels further deracination today.
In conclusion, these are the sordid truths Rajesh and his ilk wish to paper over:
Although the Moplah Rebellion had nothing to do with India's quest for freedom, and was in fact a ruthlessly violent attempt to establish an Islamic Caliphate in Kerala, through ethnic cleansing, the propagation of an opposite fiction into our present age, to appease a specific demographic, is what keeps the secular crowd politically relevant.
Thus, even if subjective, postmodernist moral equivalence is invoked, a criminal like Variyamkunnathu Haji can never be set on the same pedestal as a martyr like Bhagat Singh.
Bottom line: Intellectuals have spent only 75 years trying to rationalise and normalise Partition; they've spent a lot longer trying to show that the Moplah Rebellion was a part of the Indian freedom struggle. Both attempts are now failing.
Get Swarajya in your inbox everyday. Subscribe here.
An Appeal...
Dear Reader,
As you are no doubt aware, Swarajya is a media product that is directly dependent on support from its readers in the form of subscriptions. We do not have the muscle and backing of a large media conglomerate nor are we playing for the large advertisement sweep-stake.
Our business model is you and your subscription. And in challenging times like these, we need your support now more than ever.
We deliver over 10 - 15 high quality articles with expert insights and views. From 7AM in the morning to 10PM late night we operate to ensure you, the reader, get to see what is just right.
Becoming a Patron or a subscriber for as little as Rs 1200/year is the best way you can support our efforts.
Become A Patron
Become A Subscriber