With the recent utterances of Tamil Nadu Congress chief, EVKS Elangovan, public discourse in Tamil Nadu hits an all-time low.
The cadres of the ADMK and the BJP have erupted in fury over a recent speech of the Tamil Nadu Congress president E.V.K.S Elangovan. The grandson of the iconoclastic ideologue of Dravidian movement E.V.Ramasamy Naicker, Elangovan is a serial offender, notorious for his vile and crude interventions. Prior to his disgustingly vulgar innuendo linking the Prime Minister and Tamil Nadu CM, Elangvan likened Modi to a gorilla even as Congress cadres lustily cheered at his crass comparison.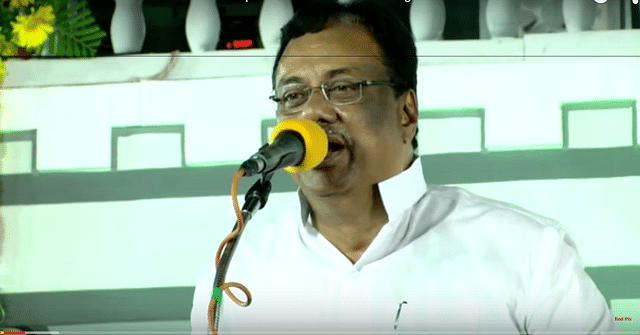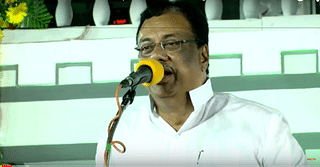 The Congress party may be an electoral non-entity in TN but at least in public imagination and popular perception, it is still associated with illustrious legacy of Kamaraj. A quintessential Gandhian, his legacy of impeccable honesty combined with a healing touch is fondly recalled even today.
Even as the Congress party's irretrievable fall into electoral irrelevance nationally is hastened by the unbearable vacousness of Rahul Gandhi, the likes of Elangovan and Khushbhoo are scripting Congress's further descent in TN. In its freefall, the Congress is turning into a political force that is attracting revulsion from the public. As any observer of Tamil Nadu would vouch for, Elangovan is a handpicked choice of the Sonia-Rahul duo with unfettered access to the dynasty household.
The tipping point of Congress party's rapid fall into the cesspool of TN political crudity came in 1996. The then Prime Minister P.V Narasimha Rao, against the popular wishes of Congress cadres, decided to forge an alliance with Jayalalitha who had turned massively unpopular for running a corrupt dispensation. A group of Congressmen destroyed a cut-out of Rao in party's Chennai headquarters and indulged in public urination over it. This gross imagery was splashed in the newspaper though given the notoriety that Rao had gained for his shady alliance deal with Jaya, the act did not evoke much revulsion.
Truth be told, it would be unfair to single out Congress president Elangovan as the harbinger of crude Dravidian discourse. The complete breakdown of basic decency in Tamil Nadu's political discourse is a development that is nearly four decades old.
Cinema and charisma aside, there is one understated reason for the stranglehold the Dravidian parties have achieved on the political landscape of Tamil Nadu.
Street-side political awareness of their ideology and concomitant popular mobilization that they have achieved is largely due to the surfeit of "Medai pechalars" in their ranks. Stage Orators—that's the nearest English translation that I can come up for this. However, it does not do justice to the profound nativeness of this Tamil word.
Energised with two or three liberal servings of potent TASMAC stuff, they spew venom on their political opponents in the most crass and vulgar way. The assembled audience gleefully laps it all up. By drawing analogies and allegories from ancient Tamil Literature, Tamil movies, global political developments, Mahabharat/Ramayan/Bible, contemporary national political scene, they create an engaging and compelling canvas that manages to keep the audiences spellbound.
As quickly as they move from one meeting to another, they also keep switching loyalties from one Dravidian formation to another and back. One professional Pechalar joined a national party albeit very briefly and made a quiet, uneventful exit. Reason? He said national parties didn't organize enough political meetings for his trade to flourish and eke out a living. Elangovan though, being in the Congress, might be changing all that.
While both sides of political divide have formidable speakers in their ranks, the original Dravidian political party, the DMK, can boast of impressive array of Medai Pechalars who not only revel in wisdom and wit but also in sexist innuendoes and crass cracks (That their principal antagonist happens to be a lady makes it easier) .
In one particular speech, purportedly to emphasise the secular-rational credentials of the DMK, a party stage orator provided a 'biological' explanation of Ram's birthplace as opposed to the 'geographical' birthplace that Bhagwan Rama bhakts believe in. This is a loose translation of how the DMK stage orator displayed the much vaunted Dravidian rationality:
"I told the Hindu Munnani guys who keep insisting on building a temple at Ram's birthplace –Why do your morons want to build a temple on that narrow part (vagina)"
Demands by Karunanidhi for producing, in triplicate copy, the engineering degree of Bhagwan Rama pales in comparison to such stupendous display of 'rationality'.
Another infamous speech that stands out for its sheer crudity is on a lady politician of the state, using a strategically taken bio-break in the middle of a speech. An apology to the gentle readers of Swarajya but permit us to explain how this piece of crudity was crafted . A fiery DMK stage orator unleashed vulgar insinuations on a lady leader of the opposition. During the middle of the speech he excused himself claiming that he needed to take a urine break. He re-emerged on the stage and asked the audience—"At what place did I leave when I was on her?".
Kazhaga Undan Pirapukal (party siblings, a crude translation) responded in unison—"At the urinating point".
Raucous Cheering and uproarious laughter followed. Long live decency in polity.
Incidentally, this Medai Pechalar (i.e public speaker), later defected to the ADMK but was left cooling his heels there before he died unmourned.
Though ADMK was a laggard initially, it too joined the bandwagon by importing talent. A famous cinema comedian, who defected to ADMK after long stint in DMK, was deployed to telling effect. He once linked the construction of flyover in the heart of Chennai city to the alleged bigamy of the CM who initiated the project. He insinuated that the flyover was not build for public welfare but to facilitate the "itchy" CM's travel from one "house" to another, with no traffic jams to worry.
The DMK patriarch himself is no stranger to the art of innuendo-laden speeches. He once asked Indira Gandhi, who was on a visit to state, to avail the benefits of the widow remarriage scheme that he had implemented in Tamil Nadu. As a party that placed political opportunism over values, it came as no surprise when Indira Gandhi led Congress and Karunanidhi later entered in to an alliance.
Politicians across the country have occasionally failed to maintain decorum in public discourse, but the quality of political discourse Tamil Nadu is unparalleled for its crudity and vulgarity. However, it needs to be mentioned that despite such vile political discourse, Tamil Nadu has never witnessed the kind of blood-soaked political violence that we see in communist party-dominated states like West Bengal. Innate decency of Tamil society, well-educated and largely apolitical people engaged in productive economic activities and a high degree of socially inclusiveness have served as a bulwark against such tendencies.