Why Only A Select Few Crimes Like Hathras Generate National Outrage And Why It's Problematic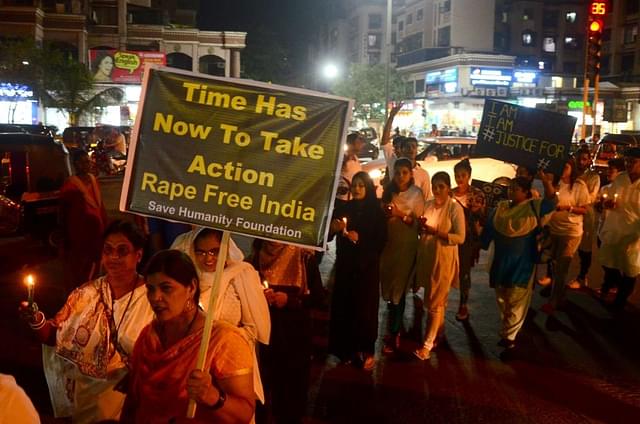 A protest march against rape. (Representative image) (Bachchan Kumar/Hindustan Times via Getty Images)
Snapshot
All crimes matter. Media houses highlight only those cases which suit their ideological agenda and try to whip up national outrage.

This is problematic because selective outrage translates into selective justice, thereby creating a sense of resentment in the society.
Why do some criminal cases attract national outrage, as in the case of Hathras incident, from journalists to civil society to politicians putting all their might to fight for the victim while thousands of cases go unnoticed, eliciting not even a whimper of protest from anyone?
One explanation could be that some crimes are more sickening than others. That's indeed true. The "rarest of rare" crimes understandably attract more attention in the society.
Another factor could be that the state is seen to be openly flouting norms of justice in select cases — trying to take sides, burying evidence, silencing victims by pressure tactics, etc. It's natural then that this would evoke rage in public.
But these are bona-fide explanations, applicable only when everyone behaves as per their dharma — speaking out against all injustices of the state, against all rarest of rare crimes and so on. In a highly politicised and polarised society like ours, that's hardly the case.
And this is even truer when it comes to rape crimes. Women are vulnerable to sexual assault across the country. Some states fare worse than others.
According to National Crime Records Bureau (NCRB) data from 2019, Maharashtra, Rajasthan, Madhya Pradesh, Kerala and Uttar Pradesh topped the list of rape crimes in the country. Rate (rapes per lakh population) in Rajasthan was at 15.9 followed by Kerala (11.1), Madhya Pradesh (6.3), Maharashtra (3.9) and Uttar Pradesh (2.8).
Moreover, from 2018 to 2019, Rajasthan also a drastic increase of 49.11 per cent in cases of crimes against women.
But the outrage is hardly driven by statistics. Nor is it driven by the heinous nature of the crime.
For instance, in 2018, a woman had that 40 men had raped her for four days in a guest house in Haryana's Morni. But most of the readers wouldn't have even heard of this case.
Just last month, in Rajasthan, six men a 45-year-old woman in front of her nephew and then also forced the nephew to rape his own aunt. Certainly, this is a shocking crime but no outrage was witnessed in this case.
Even when Hathras case in Uttar Pradesh was being reported widely and political leaders were trying to reap some electoral benefits out of it, two underage sisters from Rajasthan's Baran were gangraped.
On the incident, Chief Minister Ashok Gehlot made a despicable that the girls have said in their statement that they had gone with the boys on their own. Going on their own doesn't give the licence for the boys (and their friends) to force themselves on the girls. And the law specifies that sex with minor is rape. Consent doesn't even come into the picture. In any case, girls have alleged that they were raped so the matter should end there.
But how much outrage did Gehlot's reprehensible statements generate? Less than that of a BJP MP from Uttar Pradesh who said "girls should be raised better to avoid rapes!"
So, let's be clear. The outrage is not driven by data, level of barbarity or the government's attitude to crimes. It's primarily driven by journalists and media houses setting narratives on behalf of their ideological travellers in politics.
Nonetheless, the prime motive is chiefly to set narrative to suit one's biases and political agendas. Given that the Left enjoys dominance in English mainstream media, academia and popular culture (movies, TV shows, etc), they end up dictating the terms of outrage.
Some mistake this establishment to be the same as the government in power. Nothing can be farther from the truth. Governments are temporary. Establishment is permanent. As Rahul Roushan, founder of portals like Faking News and OpIndia says, "establishment is the bunch that systematically controls your thoughts through media and academics, not the govt that's there for 5 years."
This Left establishment is a well-oiled ecosystem, comprising media houses, academics, politicians, activists who work in tandem and operate like a mafia — with a ruthless behavioural code. Its moral compass moves only when the crimes fit its ideological worldview.
As I had after this cabal's repugnant reaction to the lynching of two sadhus in Maharashtra's Palghar, in the left's worldview, every group has victimhood points that they can claim based on factors such as numbers, perceived atrocities faced by them, their separatist tendencies from the Hindu or Indian mainstream, etc.
The rankings of the groups in the victimhood pyramid vary based on the above factors. So, the Scheduled Castes (SCs) have a bigger claim on victimhood compared to the so-called upper caste Hindus but Muslims are on a higher pedestal than SCs because their number is small and they are a bulwark against Hinduism.
This is the reason why the Muslim-on-SCs atrocities are swept under the carpet by this ecosystem. And SCs are treated as SCs and victims only if they are in clash with their upper caste Hindu brethren. If they are clashing with Muslims, their victimhood card is taken away, and they are treated as Hindu as the next Brahmin or Baniya.
Moreover, you can claim your victimhood points only as long as you show separatist tendencies.
For instance, if you are a Muslim and try to put your country before religion, you are instantly thrown off the pyramid and your group victimhood card is snatched away. Ditto for SCs. If they try to be zealous Hindus or (gods forbid) 'Hindutvawadis', they are treated with scorn.
One can see the same behaviour being displayed again and again by the Left ecosystem. They only take up certain cases, in only certain states, where victims are SCs and perpetrators are from "upper castes".
If a crime fits these criteria, everyone from eminent journalists to prominent Bollywood personalities to politicians starts outraging — as if playing to perfection the roles assigned to them by scriptwriters in a movie. The amazing coordination they exhibit can even impress the best of organisations. But just as we found out after the anti-CAA (Citizenship Amendment Act) protests, there is no coincidence and someone somewhere in some WhatsApp group is making this all happen.
It's no surprise then that the Left's moral compass gets broken badly as soon as they find that a perpetrator is a Muslim and a victim is a Hindu, even if he or she is an SC. The bitter truth is that the Left establishment cares neither about victims nor about the rise in crimes. For it, only the narratives matter.
But this is a dangerous game and has serious implications.
If the country is going to be whipped into a frenzy of outrage only when crimes against certain sections are committed, then those communities will naturally start nurturing the feeling of resentment towards the Indian state. They will of course feel constantly under siege and develop victimhood mentality.
Moreover, the inefficient and corrupt criminal justice system will learn to respond only to outrages. It means that only a select few victims will get compensation while tens of thousands continue to be ignored.
Only in a few cases, the government will set up fast-track courts rather than overhauling the judicial system so that everyone can get speedy justice. The Prime Minister will be forced to condemn only select cases chosen by the Left establishment.
And because these decisions (to outrage on) by the Left ecosystem are driven based on caste and religion of the victims and perpetrators, the Indian state will be painted as systematically working against certain communities.
It becomes very convenient then for the Leftist 'malcontents' to dent India's legitimacy in the international arena as a democracy which is not of all the people, not for all the people, not by all the people.
One hopes that the current government is aware of what is afoot. It needs to do a lot to improve the security of women, provide speedy justice for everyone and create a modern state that is accessible to every community.
Administrative, police and judicial reforms are of utmost importance to achieve that worthy goal. Only a strong state and a strong society can hope to fulfil the aspirations of 'New India' and counter the 'malcontents', who are working overtime with ulterior motives.
Get Swarajya in your inbox everyday. Subscribe here.
An Appeal...
Dear Reader,
As you are no doubt aware, Swarajya is a media product that is directly dependent on support from its readers in the form of subscriptions. We do not have the muscle and backing of a large media conglomerate nor are we playing for the large advertisement sweep-stake.
Our business model is you and your subscription. And in challenging times like these, we need your support now more than ever.
We deliver over 10 - 15 high quality articles with expert insights and views. From 7AM in the morning to 10PM late night we operate to ensure you, the reader, get to see what is just right.
Becoming a Patron or a subscriber for as little as Rs 1200/year is the best way you can support our efforts.
Become A Patron
Become A Subscriber