Bihar: Allies BJP And JD(U) Now Engaged In War Of Words Over Mauryan Emperor Ashoka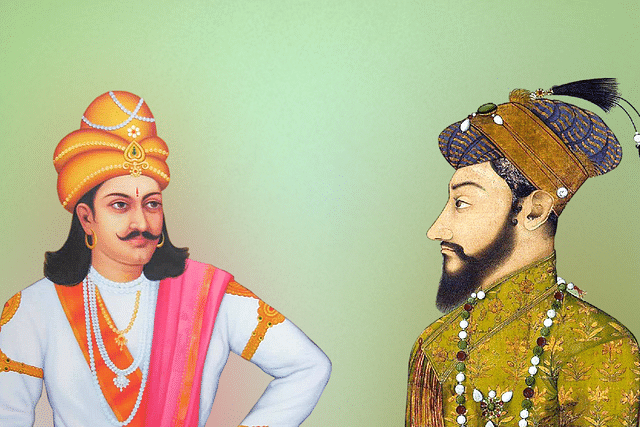 Ashoka (left) and Aurangzeb (right)
Snapshot
Author and playwright Daya Prakash Sinha said in a recent interview that the many cruel acts perpetrated by Ashoka were comparable to the barbarity of Aurangzeb.

Sinha received a Sahitya Akademi award for his drama Samrat Ashoka that is based on the life of the Mauryan emperor who ruled over vast swathes of the Indian sub-continent for 36 years.
Bihar allies--BJP and Janata Dal (United)--are currently engaged in a war of words over BJP leader and Sahitya Akademi awardee Daya Prakash Sinha's comparison of Emperor Ashoka with Aurangzeb.
Sinha, 87, a retired IAS officer who is the national convenor of the BJP's cultural cell and vice-president of the Indian Council for Cultural Relations (ICCR), said in a recent interview to Hindi newspaper that the many cruel acts perpetrated by Ashoka were comparable to the barbarity of Mughal emperor Aurangzeb.
Sinha was awarded the Padma Shri and had also received a Sahitya Akademi award for his drama Samrat Ashoka that is based on the life of the Mauryan emperor who ruled over vast swathes of the Indian sub-continent for 36 years from 268 to 232 BCE.
The former bureaucrat, a learned man who is well-regarded in academic and intellectual circles, said in the course of the interview that he was "surprised" to discover during the course of his research (for the drama) "the many similarities between Ashoka and Mughal emperor Aurangzeb".
"Both had committed sins in their early life and then preached hyper-religiosity so that people would get digressed towards religion and their sins were overlooked," he said. Sinha also cited Buddhist texts to label Ashoka as kamashok (amorous) and chandakosh (cruel).
"Three Buddhist works – Deepvansh, Mahavansh and Ashokavadan – and writings of Tibetan writer Taranath, say that Samrat Ashok was ugly. His face had marks and he was lustful in his early days. Buddhist works also refer to Ashok as kamashok and chandashok," Sinha said.
This criticism of Ashoka got the JD(U)'s goat and many senior colleagues of Bihar Chief Minister Nitish Kumar started demanding Sinha's head.
JU(U) national president Rajiv Ranjan Sinha tweeted: "Criticism of one of the greatest kings in ancient India cannot be accepted. A person who used offensive words against the celebrated king does not deserve accolades. I request the President of India to take back Padma Shri from Sinha".
JD(U) parliamentary board chairman Upendra Kushwaha Singh echoed: "He (Sinha) made a very foul remark against Samrat Ashok. We demand that his Padma Shri be taken back and other honors like the Sahitya Akademi award should also be withdrawn. Also, the BJP has to expel him from the party".
The JD(U)'s anger is understandable because Nitish Kumar has been trying to build Ashoka as a superhero of Bihar and an icon of the state. Kumar has, in many of his speeches, extolled the virtues of Ashoka and had never missed an opportunity to project the Mauryan ruler as a 'model samrat' (emperor) famed for his sushasan (good governance).
The capital of the Mauryan empire was Pataliputra (present-day Patna) and that is why the JD(U), especially Nitish Kumar, has been so keen on associating Bihar and Bihari asmita (pride) with Ashoka.
Chief Minister Kumar had commissioned historians to find out Ashoka's date of birth in 2015, and these historians, after extensive research, settled on April 14. Since then, Ashoka's birth anniversary is celebrated in Bihar with a lot of fanfare and is a state holiday.
The JD(U) has been trying, with some success, to link Bihari pride with Ashoka and many in the state have started revering the samrat. That's why the BJP, wary of hurting Bihari sentiments, initiated action against Sinha.
State BJP chief Sanjay Kumar Jaiswal against Sinha for "spreading misinformation to cause enmity and hatred in society". "Sinha had been spreading 'misinformation' to cause enmity and hatred in society, so an FIR should be lodged against him under the IPC and IT Act," Jaiswal said in his written complaint to the police.
But the JD(U) was not placated with just an FIR being filed against Sinha. JD(U) leaders started demanding that the President recall the Padma Shri that had been given to Sinha. They tagged Prime Minister Modi in their tweets demanding that Sinha be stripped of the Padma Shri.
That drew an angry response from Jaiswal and other Bihar BJP leaders who warned the JD(U) against crossing limits. "The JD(U) leaders should know that the Padma Shri cannot be recalled or withdrawn. Wrestler Sushil Kumar, who has been arrested for murder, has not been stripped of the award. And JD(U) leaders should also refrain from playing 'twitter twitter' with the Prime Minister or the lakhs of BJP workers will respond," said Jaiswal.
A few BJP leaders who spoke to Swarajya defended Sinha. "There is no harm in taking a critical look at any historical figure. Ashoka is no demi-God and if there is evidence about his misdeeds, there is no harm in talking about it. Sinha undertook research and quoted from texts to criticise Ashoka. His was a scholarly exercise and that cannot be banned just because some people feel offended. The trust has to prevail," a senior office-bearer of the saffron party who did not want to be named told Swarajya.
Sinha is not the first one to criticise Ashoka and highlight the emperor's barbarity. Popular historian and economist Sanjeev Sanyal, in his book The Ocean Of Churn, also throws light on Ashoka's misdeeds and cruelty and demolishes the myth that Ashoka was a benevolent and pacifist ruler (read ).
Why historians say Ashoka was 'not great':
Sanyal, and some other historians who have researched Ashoka, say that the cruelty of the Mauryan emperor started even before his ascension to the throne. When emperor Bindusara (Ashoka's father) died suddenly in 274 BCE, crown prince Sushima (Ashoka's half-brother) was away in the northwestern frontiers of the empire.
Sushima, according to irrefutable accounts, rushed back to Patliputra to find that Ashoka had taken control of the capital with the help of Greek mercenaries. Ashoka had Sushima killed brutally--some accounts say the crown prince was roasted alive!--and this was followed by four years of bloodshed in which Ashoka killed all male rivals in the family, including his ninety-nine half-brothers, and hundreds of courtiers and others who were loyal to Sushima.
Another myth about Ashoka that historians have busted is that he converted to Buddhism after being filled with deep remorse over the bloodshed during his invasion of Kalinga in 262 BCE. In fact, Ashoka had embraced Buddhism--and historians ascribe a wholly political motive to his conversion--two years before invading Kalinga. And his embrace of the pacifist religion did not stop him from putting more than a lakh to death and taking 1.5 lakh men as prisoners!
A lot is made out about Ashoka's remorse over the bloodshed and loss of lives during his invasion of Kalinga. History texts say he expressed his remorse in his rock inscriptions. But, none of these inscriptions are to be found in modern-day Odisha (roughly commensurate with the erstwhile kingdom of Kalinga) and were placed only in faraway places like Shahbazgarhi in modern-day north-western Pakistan.
The Ashokan rock inscriptions at Dhauli (the now-contested site of the Kalinga war) do not mention anything about Ashoka's remorse at all.
Sanyal and some other historians argue that logically, it would have made sense to express regret and remorse to the people (of Kalinga) who suffered due to his invasion of that kingdom. But the fact that these rock inscriptions were placed at faraway places gives the lie to the myth about Ashoka's remorse. The inscriptions were, argue these historians, more of political propaganda tools to counter Ashoka's reputation for barbarism and meant for future generations.
And even the inscriptions mentioning Ashoka's remorse contain threats of violence against those who do not accept him as their sovereign. For instance, defiant forest tribes are warned in these inscriptions they would be punished with death if they do not bow down to Devanampriya ('beloved of the Gods'--a title Ashoka had bestowed on himself). This dire threat, contend some historians, does not make Ashoka a pacifist by any measure.
Even the supposedly regretful inscriptions include a clear threat of further violence against other groups like the forest tribes who are unequivocally 'told of the power to punish them that Devanampriya possesses in spite of his repentance, in order that they may be ashamed of their crimes and may not be killed'. This is no pacifist.
Ashoka-vandana, a Buddhist text, contains accounts of more killings and genocidal acts committed by Ashoka. He put a huge number of Jains and to death; Ashoka massacred 18,000 Ajivikas of Bengal to death in one episode!
In another instance, Ashoka ordered a Jain and his family to be locked inside their house and the dwelling torched because the Jain had drawn a picture of Buddha bowing before a Jain tirthankara! Ashoka then declared a reward of one gold coin for every decapitated head of a Jain and thousands of Jains were killed all over the empire. The carnage, wrote Sanyal quoting the Ashoka-vandana, ended only when Ashoka's brother Tissa (who had become a Buddhist monk and taken the name Vitashoka) was killed by a person who mistook him for a Jain monk.
Sanyal suggests that this episode "suggests frightening parallels with modern-day fundamentalists who kill cartoonists whom they accuse of insulting their religion".
Sanyal, who is now the principal economic advisor in the Union Ministry of Finance, contends that apart from being a particularly cruel ruler, Ashoka was also an incompetent administrator who in his later years, "watched his empire disintegrate from rebellion, internal family squabbles and fiscal stress".
In The Ocean Of Churn, Sanyal contends:
"As one can see, Ashoka does not look like such a great king on closer inspection but a cruel and unpopular usurper who presided over the disintegration of a large and well-functioning empire built by his father and grandfather. At the very least, it must be accepted that evidence of Ashoka's greatness is thin and he was some shades of grey at best. Perhaps like many politicians, he made grand high minded proclamations but acted entirely differently. This fits with the fact that he is not remembered as a great monarch in the Indian tradition but in hagiographic Buddhist texts written in countries that did not experience his reign. He was 'rediscovered' in the nineteenth century by colonial era orientalists like James Princep. His elevation to being 'Ashoka the Great' is even more recent and is the result of political developments leading up to India's independence".
Get Swarajya in your inbox everyday. Subscribe here.
An Appeal...
Dear Reader,
As you are no doubt aware, Swarajya is a media product that is directly dependent on support from its readers in the form of subscriptions. We do not have the muscle and backing of a large media conglomerate nor are we playing for the large advertisement sweep-stake.
Our business model is you and your subscription. And in challenging times like these, we need your support now more than ever.
We deliver over 10 - 15 high quality articles with expert insights and views. From 7AM in the morning to 10PM late night we operate to ensure you, the reader, get to see what is just right.
Becoming a Patron or a subscriber for as little as Rs 1200/year is the best way you can support our efforts.
Become A Patron
Become A Subscriber