Why Sushma Swaraj Is Wrong On The 'Rising Hindu Count' In Bangladesh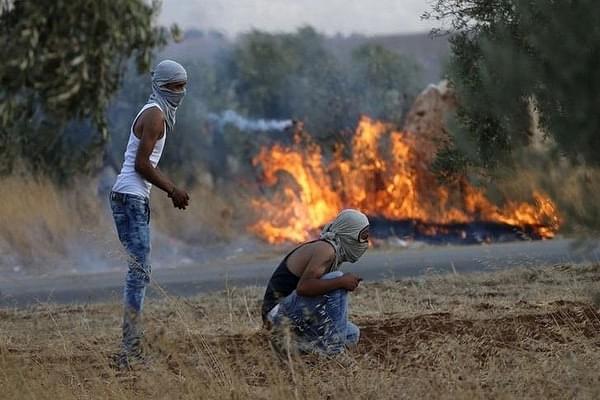 Houses being set on fire in Bangladesh (ANI)
Snapshot
The External Affairs Minister's statement in Parliament is not based on actual ground knowledge of Hindu plight in Bangladesh.

Rather, it seems like a declaration meant to appease a neighbouring dispensation which is in control of the relationship.
Persecution of Hindus in Bangladesh is not a new phenomenon. Rather, it could be truly said that neither Bangladesh, nor India, nor even the international community care about their plight seriously enough to warrant a public conversation in recent times. Yes, there are some noble and courageous people from both countries and the outside world working with genuine concern to draw the attention of the international community to the fate of Bangladeshi Hindus, but the world at large, and not to forget certain vested interests, is indeed working overtime to 'cleanse Bangladesh of unfaithfuls.'
On 19 July 2018, when Indian External Affairs Minister Sushma Swaraj declared in Parliament that the number of Hindus in Bangladesh had increased by 1 per cent, she did so by accepting Bangladesh government records as axiomatic.
However, those who are familiar with the plight of Bangladeshi Hindus will understand the import of this statement. In 1951, the first census after partition recorded the number of Hindus in Bangladesh at about 22.05 per cent, which gradually went down to 18.50 in 1961, 13.50 in 1974, 12.13 in 1981, 10.51 in 1991, and 9.20 in 2001.
And, as per the last full census in 2011, it stands at a mere 8.96 per cent, according to the Bangladesh Bureau of Statistics (BBS).
However, Swaraj's statement runs contrary to the trend described above. Strangely, she also cited support from "Bangladesh government sources" in support of her claim. Though I have not come across any such report from the BBS, we should, however, be cautious in our judgement on the issue because, if any such report does exist, it will probably be based on "random sampling", and not actual count, and, therefore, not very reliable. The next census in Bangladesh is scheduled for 2021. Swaraj's statement has been supported by a report published by The Hindu without any fact-checking.
Along with this, we have a detailed report from BBS in 2017. But that does not contain any data concerning religious demographics of Bangladesh.
Before verifying the statement of the External Affairs Minister, we should summarily look towards the "politics of Hindu demographics of Bangladesh" to fully understand the gravity of the current situation.
India-Bangladesh Politics
The politics of India and Bangladesh depends on three fundamentals: Awami ambition, Indian geopolitics, and India's fractious internal politics.
The current Sheikh Hasina regime is probably following in the footsteps of the earlier Sheikh Mujib government right after Bangladeshi independence. For this sole reason, the Awami League needs long-standing support from India. Geopolitically, North East India is an Achilles heel for the Indian security establishment, given its long and often porous borders with Islamist Bangladesh. Logically, India wants someone at the helm in Bangladesh who will not become a headache for the former.
As a majority of Bangladeshis are hostile towards Hindu-majority India, Sheikh Hasina is the only relatively "safer choice" for Indian security, capital, and investment. Therefore, Indian fear and insecurity become an effective capital for Hasina and her Awami League. A secure India means less non-committal support and more options for India that will jeopardise the long-term interests of the Awami League. So, if a big chunk of Bangladeshi Muslims is fanatically hostile to India, and if the grassroots of Bangladesh become wholly Islamised, it does not concern either Awami League or Hasina.
The Awami leadership is smart enough to use the situation as a bargaining tool. That India needs Hasina more than Hasina needs India for its own interest is the wisdom of the Awami League high command.
And add the China factor to this complex web. Bangladesh has many guarantors of Chinese interests, but, for India, it's only Hasina. That's the real undoing of India in Bangladesh. On the other side, we find hapless, disintegrated, economically broken, landless and, above all, politically weak Hindus pitted against the fanatically motivated, hostile Muslims, which is dangerous, to put it mildly.
One of the principal causes for this unfortunate situation of Hindus is probably the inability of India to become "Bharat", overcoming its fractious, tribal interest-based internal politics. The axis of Indian politics has all the while tilted towards friends and beneficiaries of the British Raj rather than its own people. Like the earlier sultans, Mughals and the British, this power cartel sees Hindus as an undesirable, despised second-class group of people.
This particular politics reinforced the identity of non-Hindus, thereby strengthening their collective interests, but promoted communally driven politics among Hindus by motivating vested interests to fragment and weaken them further. Hindus of East Bengal particularly, who have a long tradition of opposing imperialism in India, never ever commanded either respect or sympathy from the current Indian power cartel. If we add the geopolitical and business interests to this internal situation, pictures of antipathy from India become unsurprising for us.
In India, if anyone has genuine concern for Hindus of Bangladesh, it is the ordinary Hindus of India. But unfortunately, the general Hindus don't rule India, despite a BJP government being in office.
The Growth of Hindu Demographics: Reality or Propaganda?
Thirty years from today, no Hindu will exist in Bangladesh. The rate of migration out of the country for the last 49 years points towards this. As many as 11,300,000 people have been forced to leave the country from 1964 to 2013, at the rate of 612 people per day, and 230,612 annually, due to Islamic hostility and discrimination. Before independence, the rate of migration was 705 per day, 512 per day during 1971-1981, and 438 per day during 1981-1991. This rate picked up again in 1991-2001 with 767 people and peaked at an all-time high of 774 people between 2001 and 2013. These tragic figures surfaced in the research work of Professor Abul Barkat of Dhaka University.
According to Barkat, this scenario is the direct result of the state economic warfare against Hindus by both Pakistan and Bangladeshi states. The "Enemy Property Act" enacted by Pakistan in 1965 and renaming it as "Vested Property Act" by Sheikh Mujib government right after independence is the main weapon to accomplish this. This literally blocked their empowerment by systematically breaking their economical backbone. Under this Act, Hindus of Bangladesh have lost more than 2.6 million acres, either by leaving the country or by being displaced internally.
Barkat's research may be summarised as follows:
- Under "Enemy Property Act/Vested Property Act", 40 per cent of Hindus have been directly affected. More than 750,000 families lost their cultivable land. The total land area lost by Hindus amounts to 2.6 million acres, which is roughly 53 per cent of the total land holdings of Hindus and about 5.3 per cent of the total land area of Bangladesh.
- India's "dependable" friend Awami League is way ahead in the race to grab Hindu properties with a 44.2 per cent tally. BNP tails Awami League's impressive showing with 31.7 per cent. Respectively, 5.8 per cent, 4.8 per cent, and 13.5 per cent tally are achieved by Jatiyo Party, Jamaat, and others.
So, it's clear that whoever sits in power in Bangladesh, the repression and terror against Hindus is the order of the day. It is also ironical that it is the Awami League that enjoys the widest support of Hindus, but betrays them as is their wont (Source).
Not just that, from 2013 onwards, Awami government hostility and terrorism against Hindus has become so widespread and violent that, according to independent observers, the situation has become even worse than the case in Pakistan today. As many as 107 people have been murdered, 25 raped, and more than 235 places of worship destroyed in Bangladesh just in 2017 (Source).
In this context, one is really at a loss to understand why Swaraj made that seemingly appease-all statement in Parliament.
Who Benefited From This?
Forget about the benefit; the loser in all this is India itself. And this is because throughout our recent administrative history, a false brand of secularism has been thrust down our throats, only to benefit a few figures who are covertly endorsing the cannibalisation of anything Hindu. By viewing the Awami League as a "moderate party" that serves Indian interests, the damage such a soft approach will do in the long run will be irreversible.
This is the translation of an original Bengali article published in bangodesh.com. The translated copy has been edited for grammar, style, and clarity.
Get Swarajya in your inbox everyday. Subscribe here.
An Appeal...
Dear Reader,
As you are no doubt aware, Swarajya is a media product that is directly dependent on support from its readers in the form of subscriptions. We do not have the muscle and backing of a large media conglomerate nor are we playing for the large advertisement sweep-stake.
Our business model is you and your subscription. And in challenging times like these, we need your support now more than ever.
We deliver over 10 - 15 high quality articles with expert insights and views. From 7AM in the morning to 10PM late night we operate to ensure you, the reader, get to see what is just right.
Becoming a Patron or a subscriber for as little as Rs 1200/year is the best way you can support our efforts.
Become A Patron
Become A Subscriber