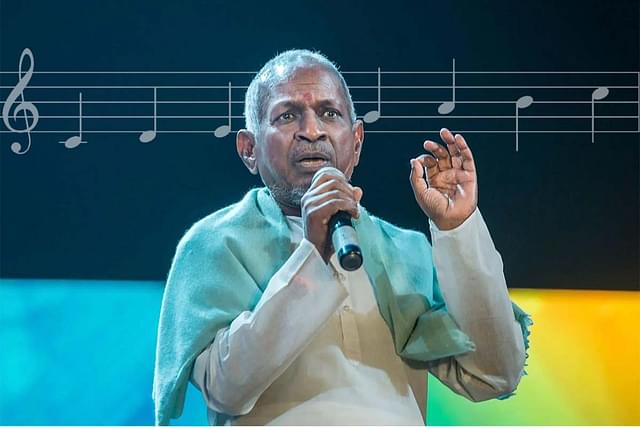 Music maestro Ilaiyaraja.
Snapshot
How a man, who didn't have the means to formally learn any of the rudiments of a great art, is now possibly its greatest exponent.

He worked for it. He gave his blood and sweat for it. But that explains only a part of it. For, Raja's art is attained not just by hard effort. It requires a kind of bhakti, a total surrender to the unknown.
Recently, a school friend, during a casual chat on film music on WhatsApp, opined that many Carnatic krithis featured in Malayalam movies, but there weren't that many in Tamil films. I really don't know in terms of sheer numbers whether this is true or not. But for me, the answer was pretty obvious: The presence of the titan Ilaiyaraja.
For, the maestro, if he were a lesser creative person or lazy music director, would have chosen the easy option of shoving in an existing Carnatic krithi in films to situations that called for those typical classical numbers. (Mind you, even when he had to choose a Carnatic krithi, Mari Mari Ninne, he eschewed the original Kamboji and settled for Saramathy, a move that triggered many a controversy.)
But Ilaiyaraja, in a sense, is also carrying on the legacy of remarkable musicians like G Ramanathan (GR) and K V Mahadevan (KVM), who too were known for prominently employing Carnatic ragas in Tamil films. (To be sure, MSV was not averse to ragas, but his approach (to ragas was a bit different). Just as well, for, because of these musical stalwarts we now have a cornucopia of truly original numbers that can stand the test of time.
Ragas To Riches
The thing about Ilaiyaraja and the way he fuses Carnatic ragas into his songs is amazingly original. He does not slackly fall back on a raga, his ability rests in the fact that he is inventive about the whole thing. Though he may be continuing the legacy of GR and KVM, he is doing so in a manner that is decidedly sui generis. That is the hallmark of a true genius. And nothing conveys this idea better than the song Vedam Nee from the film Kovil Pura.
A Carnatic nadaswara vidwan is singing vocals in a temple. I mean this is a textbook case for using a stereotypical concert keerthanai. But what does Raja do? He conjures up the ragam Gowlai, one which we are told that was never used in films before, and composes what I consider is among the greatest of raga-based songs in films ever. Sounds hyperbolic? Heck, no amount of hype is enough for the beauty and brilliance of the song. And it could also be seen as a deserved homage to one of the musical legends of Tamil films, P U Chinnappa. For, the man singing it on screen is PUC Raja Bahadur, son of Chinnappa.
Or take for example this number (Rama Namam Orru Vedame) from the film Sri Raghavendra. A song on Lord Sri Rama practically begs for one from the oeuvre of Saint Thyagarar. But our man comes up with a real classic in Maya Malava Gowla.
Consider this one from Vietnam Colony, an old teacher is actually teaching Carnatic songs to kids. It is a cinch for a straight-of-the-shelf classical song. But Raja pulls out a delightful Hamir Kalyani-based (not totally though) number, which in the voice of Bombay Jayshree sounds ethereal.
Okay, what about this one? A man is singing at a small puja at his home. This is traditionally left to be filled by a typical krithi. Raja though is never typical. He throws up at us a creative Hindolam with K J Yesudas sounding like a million bucks.
Ufff! We can keep, like that bunny in that battery ad, going on and on with this list. For, Raja's music is indeed an enjoyable rabbit-hole whose ends are still unfathomed.
Method Behind Mind-Altering Brilliance
The most fascinating thing in the way Raja fashions a song that is set to some raga is he does not place a set of words on a pre-existing tune (which is what a raga loosely is). That would be a simple, mundane exercise. Raja's unmatched ability is to bring out the finer facets of the raga in a manner that is wholly unexpected and practically unbelievable. This aspect, however, is better left to musically more qualified persons to dive into. For instance, the weekly short-timed musical clippings that the singer Sanjay Subrahmanyan shares on social media offers plenty of glimpses into his own musical prowess and also into Raja's rare felicity with ragas.
And almost every week, there's a small Eureka moment when Subrahmanyan smartly outlines, in short improvised swaras of a raga, the starting lines of a Raja number. It needs Subrahmanyan's seasoned ability to showcase the mind-boggling minutiae that Raja's music is steeped in.
In the event, the interesting study for me is not just about figuring out the aesthetics of a Raja's raga-based song but also trying to wrap my head around the creative process behind it. From what we have heard from directors and actors who have worked with him in song composing, Raja is an unbelievably instinctive creator.
By all accounts that are reliable it is said that, Raja, the moment he is told the situation, plays out a tune on his trusted and revered harmonium, and in a manner of seconds or at best a few minutes, a full-fledged song is birthed. That it fits a raga, and one that goes with the mood of the moment in the film, is a matter of — I don't know how else to put it — magic. At any rate, it is barely human. Raja himself, who is known to use words with rare precision, merely says that he is just a medium through which the music emerges. When he can't put it in words, how can we?
There is a wonderful YouTube video of a musical talk by the vidwan Madurai G S Mani, a Carnatic singer, one who has worked with many film musicians, where he talks of how the song Parthen Sirithen from the film Veera Abhimanyu was conceived (listen to it from the one-hour mark to around one-hour-seven minutes). This number, set to the ever sweet Sahana raga, is a true hall-of-famer. The music director K V Mahadevan wanted from Mani, who was assisting him during that period, a suggestion for a raga that would suit the song's placement in the film.
After long moments of discussion, they kind of zeroed in on Sahana. Then they referenced various songs in that raga composed by Carnatic giants, and after listening to Thyagarajar's Emana Dichevo, KVM got inspired and took off and came up with the amazing beauty. The whole process, when you hear it in the words of Mani, gives you gooseflesh and you involuntarily tear up in joy at the brilliance of KVM. But it is a creativity that you can comprehend as there is a certain logical sequence to it.
How To Name It — His Genius?
On the other hand, Raja's working ways don't allow us to decipher anything. In the sense, there is no working way. It's just him and his bottomless brain. That may sound reductionist, and hardly insightful. But that is the fact. The director Vishwanath told me long back that it took around two to three minutes for Raja to tune out the barebones of the Vedam Anuvilum song in Salangai Oli. How that haunting Hamsanandi emerged in that short a time cannot be explained with any amount of rationality.
Raja's intuitive grasp of ragas and its rich nuances don't lend themselves to easy analysis. In his very first year as a full-fledged music composer, in 1976, when he had not actually started going to formal Carnatic music classes, this man from the rustic hinterlands of Theni, strums out Kannan Oru Kai Kuzhandhai for the film Bhadrakali in chaste Mohanam raga but in easily accessible 'filmi' idiom. The raga-based songs before him, while eminently enjoyable, had a different fervour and feel. In this, the throb and thrum is organic, and decidedly distinct.
In a sense, this song is a simple but solid prototype of Raja's raga usage in films. The raga is not in-your-face, but its spirit is fully smeared like a sweet cream across a soft croissant. It is a skill that belongs to veterans, but Raja exhibited it in what was just his fourth film. While the Kettele Angey song in the same Bhadrakali film had a spiritual ancestor in, say, Aduthathu Ambujatha Paathela number from Edhir Neechal, the Kannan Oru Kai Kuzhandhai mould is unique, and all Raja's.
That Raja had preternatural affinity for Carnatic music is further established by the fact that in 1979, in just his third year as a music composer, he churns out the song Samayal Paadame in the film Manippoor Maamiyaar that showcases his innate understanding of swaraksharam — quite simply, it is to make a syllable of the lyric fall exactly on a note matching the lyric.
For example, if the line is 'SaMayal SaDham', the composer can make the notes Sa, Ma, Sa Dha fit with those letters (verily, you coin an aksharam with swaram). Raja not only pulled this off but in the very same song also showed his discernment of raga mudra — the actual name of the raga is used within the song in a manner that establishes the raga.
One needs to be proficient in not just music but also in language — as it happens, Raja was the lyricist for the song. (The film Manippoor Maamiyaar never got completed, and the song with some minor tweaking was later used in that musical extravaganza Unnal Mudiyum Thambi, and it required all of Kamal Haasan's comical and musical histrionics brilliance to do justice to that number.)
Music For The Movie
What adds lustre to Raja's film output is the larger fact that he is always acutely aware of the film grammar. Many a director has spoken about how Raja had suggested a song here or just a musical piece there. This comes from the essential humility that film music is always in service of the story and its shape. For instance, take some of actual Carnatic songs that Raja has used in movies.
Among his earliest was Brova Barama in Kavarimaan. In the sequence leading up to the song, Sivaji, who sings it on screen, is asked by his mother Varalakshmi whether he remembers any of the songs that she had taught him. Sivaji plays a die-hard traditionalist in the film, and hence when his mom asks him to sing, he naturally croons a well-known krithi. Raja did not fall for the temptation of filling it with his own number.
Ditto in the film Sindhu Bhairavi. The film has two standard Carnatic krithis — Mahaganapathim and Mari Mari Ninne. The film's take off point itself is the fact that the singer JKB is partial to krithis whose meaning and import nobody understands. But in the flow of the story, when the singer has a change of heart and understands the folly of his methods, Raja's music and language also transforms.
Allow me the indulgence of one more example from my favourite movie Salangai Oli. The first song Om Nama Shivaya in Hindolam is created for the film. Much later in the film, there is also Balakanakamaya, which is a well-known number from dance concerts. The S P Shailaja character already has a stage and the press is ready to build her up as a top dancer. So she doesn't need a traditional number to establish her credentials. But for Kamal Haasan's character to be seen as a talented dancer in the eyes of his mother and others, he has to match step-to-step a top-notch Bharatanatyam artiste performing a traditional number. Ergo, the Atana raga song. It is in such intricate details that Raja's resplendence lies.
Nothing But Bhakti
If Raja's grasp of film's quintessence is firm, his hold over musical ethos is firmer. His cognizance of Carnatic music history and its traditions is second to none. I have long wondered why Ilaiyaraja had T N Seshagopalan sing the Inarul Tharum song in the film Athma and not Yesudas, who was the go-to singer for such numbers. Then I found that this song was based on the rare raga Gowda Malhar (close to Suddha Saveri). Now, Gowda Malhar is a raga that is said to have been created by the musical doyen Harikesanallur Muthiah Bhagavathar. His well-known disciple was Ramanathapuram Sankara Sivam, whose famous sishya was Seshagopalan. So, in a sense, Ilaiyaraja was paying homage to Harikesanallur musical legacy through a song from one of its famed proponents. This, ladies and gentlemen, is possible only by a person steeped in the musical and cultural traditions of the land.
It is all fine. But it still does not answer the fundamental question we tried to grapple with: how a man, who didn't have the means to formally learn any of the rudiments of a great art, is now possibly its greatest exponent? He worked for it. He gave his blood and sweat for it. But that explains only a part of it. For, Raja's art is attained not just by hard effort. It requires a kind of bhakti, a total surrender to the unknown.
In the event, the line from one of Raja's songs, may perhaps fit him:
"நான் பாடும் ராகங்கள் யார் தந்தது,
என் காதல் தேவி நீ தந்தது
உன் பார்வை என் நெஞ்சில் யாழ் மீட்டுது".
The love here is verily his bhakti for Goddess Mookambika (Saraswathi), on whom he composed the now anthemic Janani Janani with which he unfailingly starts every concert of his.
If you are of the unbelieving kind, you can ignore this. But you can still believe in the religion called Raja's music. For, it is also, in a sense, an opiate of the masses.
Here are few more songs, which may have been replaced by standard Carnatic numbers if it were not for Raja. From the movie Pagal Nilavu, raga Kalyani; Ilamai Kaalangal, raga Suddha Dhanyasi; Oruvar Vazhum Alaiyam, raga Simmendra Madhyamam and Idaya Kovil, raga Khamas.
Get Swarajya in your inbox everyday. Subscribe here.
An Appeal...
Dear Reader,
As you are no doubt aware, Swarajya is a media product that is directly dependent on support from its readers in the form of subscriptions. We do not have the muscle and backing of a large media conglomerate nor are we playing for the large advertisement sweep-stake.
Our business model is you and your subscription. And in challenging times like these, we need your support now more than ever.
We deliver over 10 - 15 high quality articles with expert insights and views. From 7AM in the morning to 10PM late night we operate to ensure you, the reader, get to see what is just right.
Becoming a Patron or a subscriber for as little as Rs 1200/year is the best way you can support our efforts.
Become A Patron
Become A Subscriber