Section 377 Has Nothing To Do With Indian Culture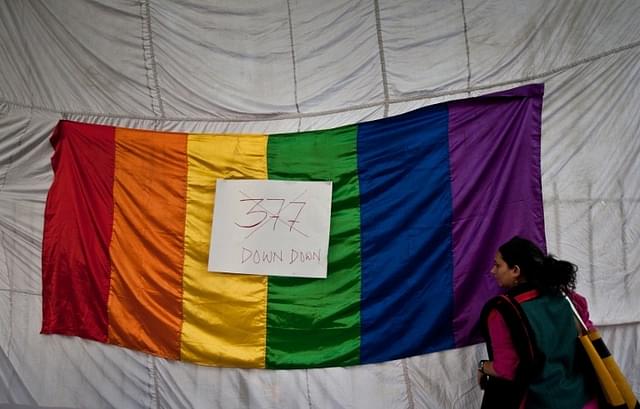 The modern Indian state's legal approach towards homosexuality is not derived from Indian culture but from the Victorian and Judeo-Christian ethos of its former rulers
With India voting against gay rights for UN employees, the debate for Section 377 has been rekindled. However, as Ms Sarasvati describes in this Swarajya piece, the debate in India on 377 has been extremely convoluted. Most of the media coverage on this topic is either about someone from the LGBT community being harassed or some politician making some absurd statements on gay rights. Some misguided statements on "Bhartiya Sanskriti" by right-wing leaders have converted this debate into a convenient stick for the Left to beat the Right with. Sadly, most of the discourse on 377 races past the real issue, which is: India's burden of its colonial past.
'Bharatiya Sanskriti' & Section 377
Indian society, and its ideas of morality, have historically been more fluid than the Victorian ones. In fact, that was one of the main reasons our white invaders called us barbarians and savages and were determined to "fix" us. From the elevated status of women in India to its innate acceptance of human sexuality (Khajuraho), everything about Indian society offended the colonizers' sensibilities.
Indian society and its rules are fluid, they change with time and our ancestors recognized that. It is for this reason that laws were never used to enforce morality in ancient India. For, requiring laws to enforce ideas of morality is the mark of a weak civilization. Indian civilization was never that weak. It celebrated dissent, plurality and all the aspects of human life, including death. One factor that distinguished Indian society from the one of its colonizers was its openness towards accepting human sexuality as a fact of life. This was unlike the Victorian society which was troubled by it. Victorian attitudes on sexuality are no secret. As is argued in this blog:
"In the Victorian era, the gender roles were still persistent.  Having sexual desire was identified almost solely with men and women of lower classes, like prostitutes. During this time even male doctors were persuaded that women had no sex drive.  When a woman did express sexual desire, it was seen as a disease that needed to be taken care of immediately and with drastic measures – like removing the sex organs .  Sexual desire was thought to be a quality that only men should have in this time period."
In fact, the very act of trying to adjudicate upon what people do inside their bedrooms is alien to Indian culture and is a Judeo-Christian idea enforced upon us by our colonisers. While Islam considers homosexuality a transgression against Allah, the Bible supports capital punishment for homosexuality.
So, the origin of Section 377 under British Law for India was rooted in Judeo-Christian theology, Victorian ideas of morality, colonial mindset of "curing the colonies" and not in Indian culture as is often argued.
As Human Rights Watch comments on one of its own studies:

"The Human Rights Watch report shows, that British colonial rulers brought in these laws because they saw the conquered cultures as morally lax on sexuality. The British also wanted to defend their own colonists against the "corrupting" effect of the colonies. One British viceroy of India warned that British soldiers could succumb to "replicas of Sodom and Gomorrah" as they acquired the "special Oriental vices."

In the early 19th century, the British drafted a new model Indian Penal Code, finally put into force in 1860. Section 377 punished "carnal intercourse against the order of nature" with up to life imprisonment.
Versions of Section 377 spread across the British Empire, from Africa to Southeast Asia. Through it, British colonists imposed one view on sexuality, by force, on all their colonized peoples. Over time, these laws came to seek punishment for not some acts in particular but for whole classes of people. The British, for instance, listed "eunuchs" – their term for India's hijras, or transgender people – as a "criminal tribe" because they were prone to "sodomy." Simply for appearing in public, hijras could be arrested and jailed for up to two years."
Entire class of Indian citizens (hijras) who held prominent positions in Indian society prior to colonization, were outlawed under the Victorian system. Compare that to our ancestors who understood the importance of sexuality in human life and gave it its proper place in the society. "Kama", i.e. desire, including sexual desire was considered one of the Purusharthas. It is definitely a cliche by now, but Kamasutra was written in India, the temples of Khajuraho were built here and not in theWest. One wouldn't be surprised if a lot of sexual positions chronicled by Maharishi Vatsyayan in the Kamasutra and in Khajuraho temples were considered "against the order of nature" under such oppressive Victorian standards. The erudite S Gurumurthy in this very pertinent piece states:
"In the Indian (Bhartiya)— read Hindu — civilisational ethos, humans had never been seen as belonging to one uniform behavioural class. The Indian civilisation had recognised diversity in behaviour and morals. It therefore never imposed one moral value or rule for all. But it believed in a hierarchy of moral principles. It held out right conduct as ideal for the rest to imbibe and follow, but on their own volition. Even as it had evolved normative moral principles for the mainline society, it had subtly ignored, rather than focus on or punish, the deviants. Those who could not follow an ideal were never held as illustration for others to follow."
So the very existence of a law that outlaws acts by consensual adults is against Indian culture.
Section 377: Concerns and the road ahead
Lets analyze what 377 is all about.
"377. Unnatural offences.—Whoever voluntarily has carnal inter­course against the order of nature with any man, woman or animal, shall be punished with 1[imprisonment for life], or with impris­onment of either description for a term which may extend to ten years, and shall also be liable to fine. Explanation.—Penetration is sufficient to constitute the carnal intercourse necessary to the offence described in this section."
Evidently, the crucial aspects of this law is the clause of  "against the order of nature". Let's take a look at how this section has been historically interpreted in courts. According to this TOI report:
"The Supreme Court, while re-criminalizing gay sex by upholding the constitutional validity of Section 377 of IPC, unsuccessfully searched for a "uniform test" to classify acts as 'carnal intercourse against the order of nature' which attracts a maximum sentence of life imprisonment.
A bench of Justices G S Singhvi and S J Mukhopadhaya scanned through judgments from 1925 till date and failed to find any uniform norm to classify what constituted the core of Section 377."
Its quite clear that no clear norm has been defined as to what is "the order of nature" when it comes to sex. Another crucial aspect of this law is not in the clause that's in the act, but a clause that's not in this act, i.e. "clause of consent". According to the same TOI report:
"It (SC bench) noticed that in all these cases, there was absence of 'consent' and the sexual act was forced on the victim. "In our opinion, the acts which fall within the ambit of the section can only be determined with reference to the act itself and the circumstances in which it is executed," the bench said."
As we can see, Indian courts in all their wisdom, have seldom used Section 377 to punish consensual acts of LGBT sex. It has been historically used to punish acts of "non-consensual and markedly coercive situations".
Does this mean the LGBT community is making all this hullabaloo for nothing? Not quite.
Even though there have been less than 200 cases filed under Section 377 in the 150 years of the law's existence, this section is repeatedly used to harass the LGBT community and to force them into hiding, according to LGBT rights oganizations. What's worse is that being underground ensures that the community cannot access quality health-care, thereby diminishing the efforts of HIV/AIDS awareness workers.
The Bench goes on to state:
"All the aforementioned cases refer to non-consensual and markedly coercive situations and the keenness of the court in bringing justice to the victims who were either women or children cannot be discounted while analyzing the manner in which the section has been interpreted. We are apprehensive of whether the court would rule similarly in a case of proved consensual intercourse between adults. Hence, it is difficult to prepare a list of acts which would be covered by the section," it (SC Bench) said."
This is a very valid and poignant concern because a quick look in IPC indicates that there is no other law to protect non-female victims of rape. So the court has historically used Section 377 to punish perpetrators of paedophilia, bestiality, male rape etc.
The new Protection of Child against Sexual Offenses Act, 2012 protects children ( defined as any person under the age of 18) against paedophilia but Section 354 and Section 375 both deal with rape of a woman by a man only. It is extremely concerning that laws against crimes of acid attacks, voyeurism, stalking etc are not gender-neutral. Moreover, the fact that the same law that protects against some heinous crimes, also outlaws consensual sex between two consenting adults because they don't fit the Victorian ideas of morality, spells trouble.
One of the proposed solutions is that a simple addition of the clause "without consent" in Section 377 would solve most, if not all, of the issues. Section 377 with a consent clause would continue to include bestiality, male rape etc., for which it is used in-practice but would de-criminalize consensual sex.
In the long-run, rape law, also known as the Nirbhaya Act, should be amended to make them gender-neutral. This would save the LGBT community against police abuse in the form of detention, questioning, extortion, harassment, forced sex, payment of hush money; against negative and discriminatory beliefs towards same sex relations and sexual minorities in general; and would bolster HIV/AIDS prevention drives. There are more proposals out there but one thing is for sure, solving the problem is an achievable goal. Many countries, like Australia, Fiji, Hong Kong and New Zealand, who had inherited same 377-like laws have since abolished them.
So if the solution here is achievable, why are our lawmakers hesitating? Because a crucial aspect of amending existing laws, especially for such controversial issues is consensus building. Consensus is effectively built when:
a) the fourth pillar of our democracy, media, presents a genuine debate, explains the issue to citizen and why their fellow citizens are suffering.
b) our politicians are open to consider unpopular opinion on such controversial topics
Sadly, India media is busy collecting TRPs and our politicians are busy pandering to religious vote-banks. Still, all is not lost.
Recently Union Ministers of the NDA-2 govt, Piyush Goyal and Arun Jaitley have come out in support for LGBT rights, so have other BJP leaders like Shaina NC and Vanathi Srinivasan. Even RSS has recently come out in favor of decriminalizing homosexuality which should be considered a huge win.
Lets continue our struggle to ask our representatives for an amendment in Article 377 so as to decriminalize homosexuality because Article 21 of the Indian Constitution states that:
"It is the fundamental right of every one in this country to live with human dignity, free from exploitation".
Get Swarajya in your inbox everyday. Subscribe here.
An Appeal...
Dear Reader,
As you are no doubt aware, Swarajya is a media product that is directly dependent on support from its readers in the form of subscriptions. We do not have the muscle and backing of a large media conglomerate nor are we playing for the large advertisement sweep-stake.
Our business model is you and your subscription. And in challenging times like these, we need your support now more than ever.
We deliver over 10 - 15 high quality articles with expert insights and views. From 7AM in the morning to 10PM late night we operate to ensure you, the reader, get to see what is just right.
Becoming a Patron or a subscriber for as little as Rs 1200/year is the best way you can support our efforts.
Become A Patron
Become A Subscriber