The Defence Research and Development Organisation (DRDO) and Indian private sector major Larsen and Toubro (L&T) are set to test their jointly developed 'Zorawar' light tank for operations at China border in March 2024, reported The Print.
The tank is specially designed for operations in the high-altitude region of the Himalayas — the Line of Actual Control (LAC).
This comes just four days after reports surfaced that the 'Zorawar' tank would be ready for roll-out in December.
It is poised to become the main competitor to the Chinese Type 15 (or ZTQ-15) light tank, which China deployed during the peak of the India-China standoff at the LAC in 2020.
The absence of a light tank led to the deployment of T-90 Bhishma tanks by the Indian Army.
Here is all you need to know about the Zorawar light tank project, how capable it is and how does it compare with its Chinese analogous ZTQ-15.
(1) Why Are Tanks Needed In The High-Altitude Mountainous Region Of Eastern Ladakh
Before going through the technical specifications and capabilities of the newly developed tank, why are tanks needed at such remote, extremely cold, never-forgiving, high-altitude mountainous region in the first place?
Ladakh consists of multiple very high-altitude mountain ranges, which can only be traversed through snow-fed passes, and valleys, whose average height varies from 10,000 to 16,000 feet.
However, there are some regions in the eastern Ladakh sector, particularly with the border close to China, where a relatively flat ground ideal for large armoured operations can be found.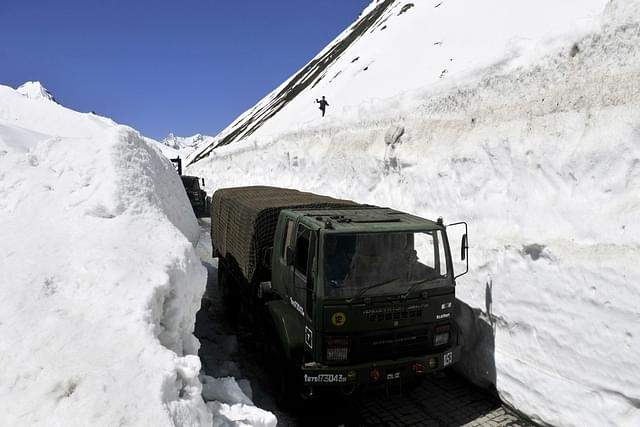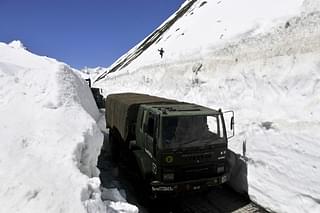 Indian Army convoy passes through a snow bound Zoji La pass (Representative Image). (via Getty Images).
This include the Aksai Chin region, the areas around Chushul and Demchok.
Moreover, the Chinese on their side of the border have built a network of motorable roads linked to the G219 highway (connecting Lhasa and Xinjiang), which passes through the occupied Aksai Chin region.
According to experts, armoured formations led by tanks can punch through enemy defences in these areas and intercept the highway at multiple locations, namely at the Aksai Chin region and the Demchok funnel (where the Indus enters India).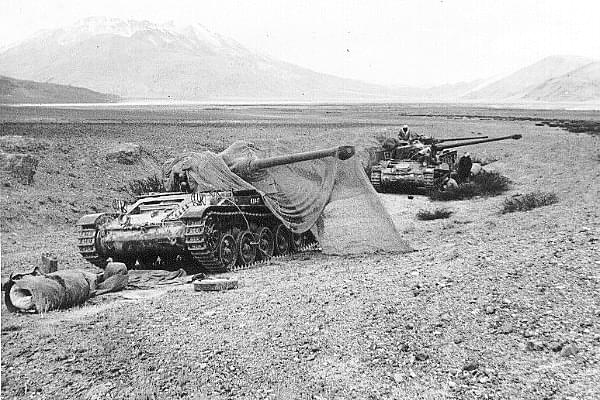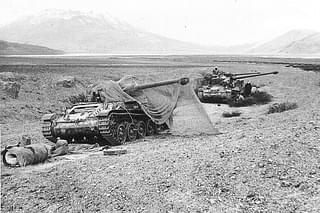 AMX-13s of the 20 Lancers in the Chushul area in 1962. (India Remembers/Flickr)
In 1962, when six AMX-13 tanks of the 20 Lancers were moved to Chushul, the Chinese had to pay dearly for every inch of land captured in this sector.
(2) What Tanks India Used In The Absence Of Light Tanks
In the absence of dedicated light tanks, the army used Russian T-72 and T-90 tanks. In the 1990s, dismantled T-72 tanks were airlifted to Leh for deployment in eastern Ladakh.
However, the operational challenges of these heavyweight tanks at high altitudes prompted the army to dismantle and airlift them back.
It wasn't until 2014, with the Indian Air Force's acquisition of the C-17 Globemaster-III, that tanks were airlifted once again to Ladakh. Over the years, two regiments of T-72 and one regiment of more advanced T-90s were stationed in the area.
During the standoff following deadly clashes at Galwan Valley in June 2020, more than 90 tanks, 330 infantry combat vehicles, and hundreds of artillery guns were airlifted to the area.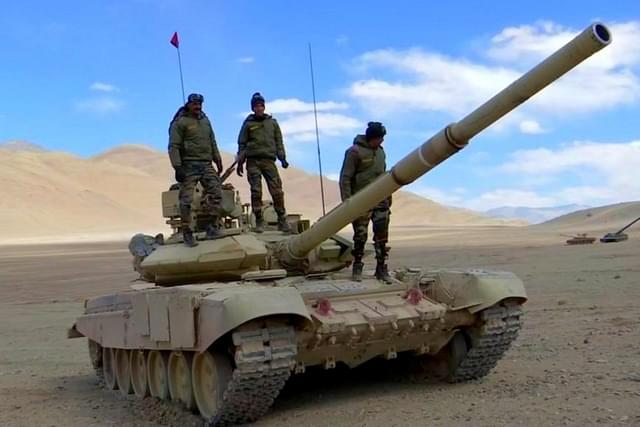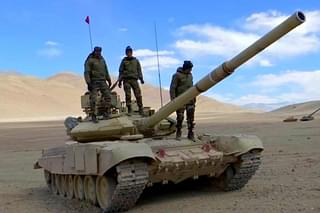 Indian Army T-90 tank in Ladakh. 
However, operating these 40 to 45-tonne behemoths proved challenging in the bone-chilling cold, where the air is rarified, and temperatures are below freezing points.
Tanks had to use special lubricants and oils to prevent freezing. Notably, tank engines were started every night, sometimes twice, to keep them in working conditions.
Moreover, the elevation and depression angle of the 125-mm guns of T-90 and T72 tanks created limitations in engaging targets on hilltops and valleys.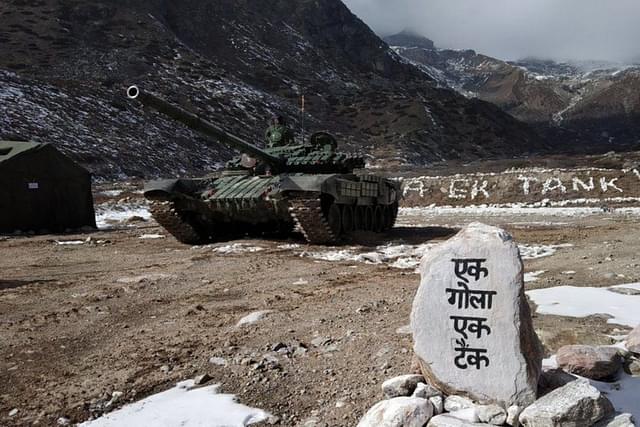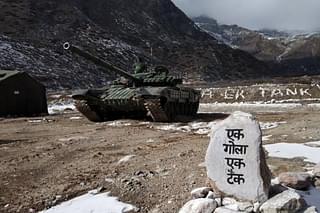 An Indian Army T-72 tank in high-altitude area. (@Aditya_G_Social/Twitter)
In these tough conditions, light tanks became a godsend. Their lightweight allows increased mobility and exceptional firepower in areas where 40-45 tonnes couldn't navigate.
The Zorawar light tank, with its Belgian John Cockerill 105mm turret, overcomes such limitations with a large elevation angle of -10/+42°.
(3) Specifications Of Zorawar Tank
The army had issued a request for information (RFI) for light tanks in April 2021. It plans to induct 7 regiments of 45 tanks each for a total of 315 light tanks and another 40 tanks in reserve, in the 25-tonne weight category.
These tanks will be optimised for operating in high altitude mountainous terrain. Their light weight will also make them suitable for airlift from IAF C-17 Globemaster-III and IL-76 heavy lift aircraft.
In April last year, DRDO selected L&T as its principal development partner.
Under the project, the light tank will jointly be developed with L&T, and 59 units will be directly purchased from L&T, after successful completion of trials.
The remaining six regiments or 290 tanks will be produced under the 'Make-1' procedure of DAP 2020.
The tank will be powered by the US-made Cummins Advanced Combat Engine (ACE), generating close to 1,000 horsepower, after the German government denied these engines to India.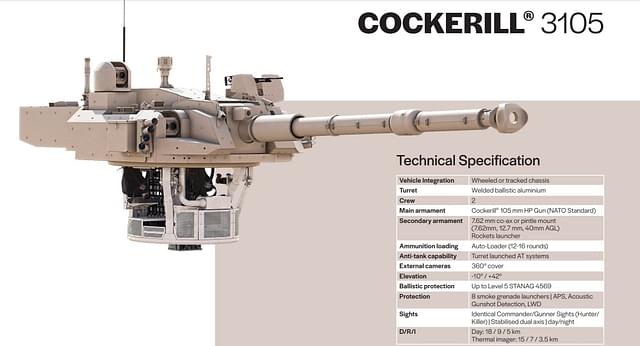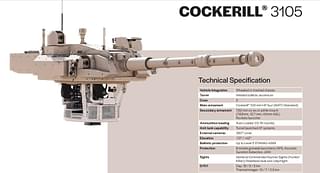 Specifications of John Cockerill 3105 turret, with 105 mm gun. (Pic via johncockerill.com)
As already stated above, the light tank will use a turret featuring 105 mm gun manufactured by John Cockerill. The turret is equipped with an autoloader and can fire high-explosive anti-tank (HEAT) rounds as well as anti-tank guided missiles (ATGMs).
The three crew tank will also incorporate an active protection system (APS) to defend against rockets, missiles, and attacks from loitering munitions.
All components and sub-components will be optimised for operations in temperatures as low as -30°C.
(4) The Competitor ZTQ-15 And How Does It Compare With It
The Zorawar light tank is expected to outperform the Chinese ZTQ-15 tank. The Chinese tank uses a 105 mm rifled gun, and is powered by a 1000 hp engine.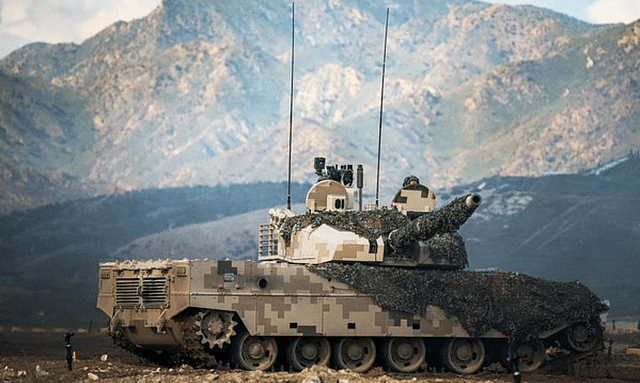 Chinese ZTQ-15 (Type-15 light tank)
The ZTQ-15 weighs between 33-35 tonne, and has a power-to-weight ratio of approximately 30 hp/tonne.
However, the Zorawar light tank will weigh around 25 tonnes, giving it a power-to-weight ratio of more than 35 hp/tonne, making it more agile, and manoeuvrable at high-altitudes.
Both tanks are also capable of firing HEAT, anti-peronnel and ATGM rounds, to a range of 2 to 3 kilometres.
Also Read: When India Airlifted Tanks To Ladakh's Chushul, The Area Where Army Occupied Heights In August To Preempt China
Over 68,000 Troops, 90 Tanks Airlifted To Ladakh: How IAF Assisted Indian Army Following June 2020 Clashes At Galwan