Corporates Must Promote Conservation Agriculture in Punjab To End the Menace of Stubble-Burning in Fields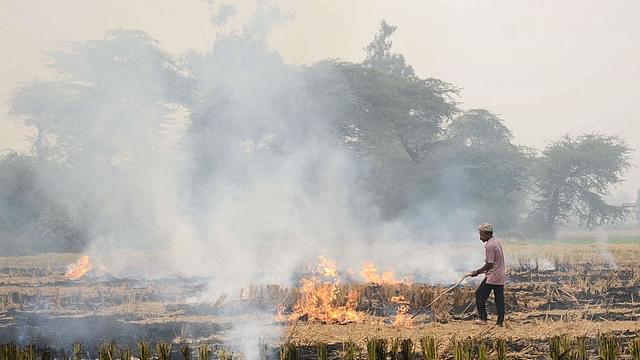 Paddy stubble burning in Punjab (NARINDER NANU/AFP/Getty Images)
Snapshot
Sowing wheat in fields covered with paddy straw appears to be a neat alternative to burning stubble in fields, reports Vivian Fernandes after a visit to the Ludhiana station of the Borlaug Institute for South Asia, where it is being practised.
Winds blowing smoke and soot mainly from Punjab's smouldering paddy fields have added to Delhi's load of vehicle emissions and construction dust taking pollution to health-impairing levels. But a drive to and around Ludhiana showed little evidence of the state enforcing the law banning burning of stubble in fields. The ruling party is unsure of regaining voter confidence in the coming assembly elections. So it is looking the other way when farmers furtively set fire to stubble and plough in the evidence.
Burning is the cheapest and quickest option. Farmers have a wedge of three weeks between the third week of October and the middle of November to sow wheat. A day's delay beyond that means a loss of production of about 23 kg per acre. Early planted wheat can escape terminal heat in March.
Punjab produces about 22 million tonnes of paddy straw, according to a handbook of Punjab Agricultural University (PAU). Not all of it is burned in fields. Basmati straw can be fed to animals. The straw of ordinary rice is used to produce electricity, though its high silica content reduces boiler efficiency. Some of it is fermented in digesters to produce gas. It can be assumed that 15 million tonnes goes up in smoke.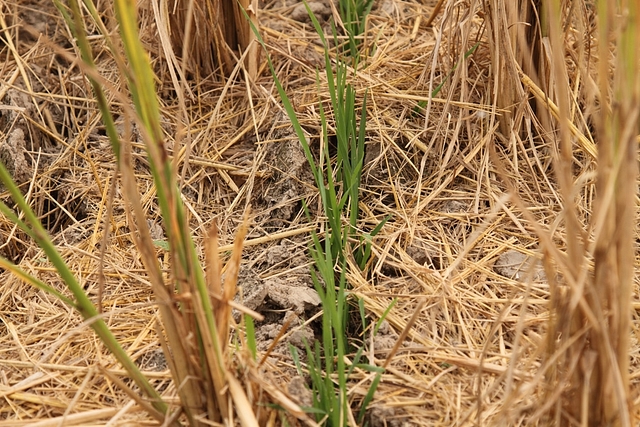 This is both unhealthy and wasteful. Retaining it in fields would add 82,500 tonnes of nitrogen, 34,500 tonnes of phosphorous, 19,500 tonnes of sulphur and 375,000 tonnes of potassium to Punjab's soil. Only 12 percent of the Punjab's soil has high organic carbon content; 32 percent is running low. Leaving straw in fields will replenish it.
Straw can be disposed of in many non-polluting ways. It can be spread as mulch in orchards to retain moisture and suppress weeds. Farmers following the rice-potato system can incorporate it in soil. Decomposed straw gives a nice sheen to the tubers and allows them to bulk up as well. It can also be used to grow mushrooms. PAU's Vice Chancellor Baldev Singh Dhillon however recommends composting and microbial decomposition of straw and stubble in fields, in the reverse order of priority. Its researchers have reduced the decomposition period to 40 days. If that time is cut by half, it will be a neat option for fields planted with early maturing rice the previous season, he says. But improving the efficiency of microbial decomposition is a tall task. One does not know when the technology can be deployed. Composting is a good option too but labour to do it is scare and costly.
A ready solution seems to be conservation agriculture. It is being practised for the past four years at the Borlaug Institute for South Asia (BISA), which has been set up at Ludhiana by the Indian Council of Agricultural Research (ICAR) and Mexico's International Centre for Maize and Wheat improvement (CIMMYT). In this system, wheat is sown while rice is harvested. With a device at the ejection vent of conventional combines, straw is shred and spread evenly in rice fields. An attachment hitched to a tractor called Happy Seeder cuts 4-5 cm deep slits in the straw-covered fields and sows wheat in them along with fertiliser. The straw acts as mulch. It conserves moisture and suppresses weeds. Over time it degrades naturally.
Farmers save about Rs 3,000 an acre by avoiding ploughing and plane-ing. Tilling is anathema to conservation agriculture. It results in loss of moisture, the destruction of capillaries formed by roots of the previous crop and the transfer of weed seeds to the surface where they can germinate.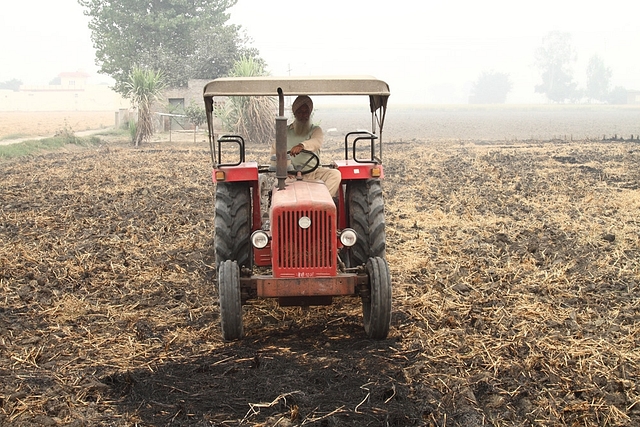 The Happy Seeder was developed by a PAU team with funding from the Australian Centre for International Agricultural Research. It has gone through five iterations. The current one can operate early in the day when morning dew makes soil hard to work upon.
This practice should be pushed energetically but is not. PAU has demonstrated it only on 150 acres across the state. B S Sidhu, Punjab's Agricultural Commissioner, who is trained as an irrigation engineer, cites difficulties in making it a state-wide practice. The seeder requires tractors with more than 50 horsepower engines. Most of Punjab's tractors do not make the grade. Combines equipped with second-hand engines do not have the extra power needed for spreaders, he says.
Though wheat is sown on 3.4 million hectares in Punjab, stubble is burnt only on about 2.3 million ha under common rice as basmati straw is hand-harvested. If conservation agriculture were adopted in all of this area, it would require Rs 860 cr to supply the Happy Seeders required. About Rs 60 cr would be needed to equip the state's 12,000 combines with shedders-cum-spreaders. H S Sidhu, BISA's Ludhiana field station in charge, whose team developed the Happy Seeder while at PAU, says the combines are not underpowered; they have powerful new engines.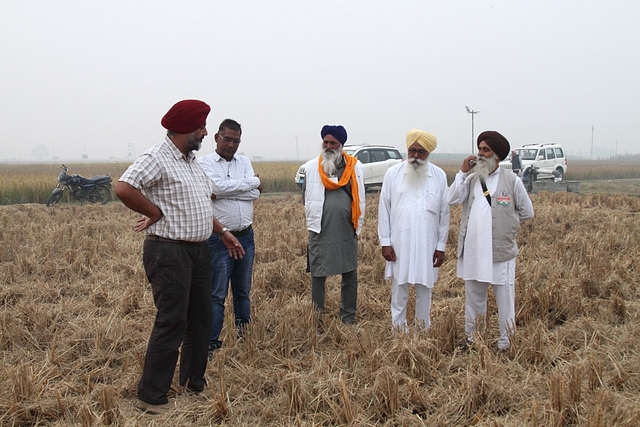 This year, BISA is planting wheat on 400 acres with Happy Seeders. This is the fourth year in a row. It is also demonstrating the practice on 300 acres in two adopted villages. Jagdev Singh Toor, the ex-sarpanch of Bagga Khurd village has sown wheat on all of his 25 acres without burning straw. He says he saves Rs 4,000 an acre by adopting the technique. Rashpal Singh of Bagga Kalan village said all of his 7 acres of wheat were under conservation agriculture. Harjinder Singh of Noorpur Bet village was doing no-straw-burn wheat planting on half of his 30-acre farm for the third year in a row. He is a half-convert. He was just being cautious, he said.
Some district administrations have been energetic in tackling pollution. Under Collector Arshdeep Singh Thind's leadership Sangrur has seen 60 demonstrations and 25 training camps for farmers. They have been given a menu of options. In 12,000 ha or 4 percent of the district's wheat area, straw has been ploughed into soil. Straw from 2,000 ha is being supplied to power plants. The area under conservation agriculture is expected to rise by 1,500 ha to 4,000 ha this year, the agriculture commissioner said.
Though conservation agriculture seems to be the best option, state institutions, operating in silos, are not pushing it hard. Curiously, BISA itself has done little to advertise it. Most journalists reporting on pollution are unaware of the practice. It should have invited journalists and TV channels over to its fields so they could spread the message. A former BISA scientist says outreach has been left to unenthusiastic state agriculture departments and Krishi Vigyan Kendras. It must learn from Indo-Israeli Centres of Excellence, where the emphasis is on bringing research to fields.
Agriculture Commissioner Sidhu asserts the ban on straw burning cannot be enforced through mass prosecutions. He cites the law to ban early transplantation of rice which was enacted in 2009, after seven years of farmers' education, by when most of them had stopped the practice.
Greater drive is needed to end stubble burning. While the role of governments cannot be discounted, corporates must step in to take conservation agriculture forward as part of their CSR activity. Recognising that stubble burning cannot continue for long, machinery manufacturers like Standard Combines have shown interest in upgrading its machines. Private risk capital must back the country's best minds to provide other quick and affordable solutions. PayTM founder Vijay Shekhar Sharma's has offered Rs 10 cr of personal money for start-ups to devise solutions to air pollution in cities. He could give a part of it make conservation agriculture popular.
Get Swarajya in your inbox everyday. Subscribe here.
An Appeal...
Dear Reader,
As you are no doubt aware, Swarajya is a media product that is directly dependent on support from its readers in the form of subscriptions. We do not have the muscle and backing of a large media conglomerate nor are we playing for the large advertisement sweep-stake.
Our business model is you and your subscription. And in challenging times like these, we need your support now more than ever.
We deliver over 10 - 15 high quality articles with expert insights and views. From 7AM in the morning to 10PM late night we operate to ensure you, the reader, get to see what is just right.
Becoming a Patron or a subscriber for as little as Rs 1200/year is the best way you can support our efforts.
Become A Patron
Become A Subscriber