It doesn't take too long to know what monsoon means to a farmer in the Malwa region of Madhya Pradesh. When you are in Mandsaur, you know it sooner than usual. Raja Ram, a farmer from Unhel, Ujjain, is sitting outside the Krishi Upaj mandi in Mandsaur. He is here to sell his produce of garlic, like many other farmers huddled around him. He says, "It has been a very difficult year. We are not getting the price for the produce. The rains and market prices are really testing our patience."
Last year, in the first week of June, farmers were protesting in Mandsaur district against the low prices for garlic and onion crops. The protests turned violent. On 6 June, six farmers were killed in police firing. A year later, the woes, worries and agony confronting farmers are still visible, but there is no sign of anger, yet. The monsoon is still distant and fondly awaited. Agricultural lands are ready and prepared to cradle the sowing of soybean.
Swarajya visited Mandsaur — Madhya Pradesh's formidable food bowl and fragrant spice bowl — last month.
Man Singh, another farmer from Ujjain, is hoping that he would be able to pull out his input cost and transportation cost after selling his produce of "good quality" garlic, this summer. He anticipates a selling price of Rs 350-500 per quintal. He says, "we are hoping that monsoon will be good this year."
Hope is persistent, the farmers' determination to get out of the helix of woes — present but feeble; discontent on hold, and anger and sloganeering — clearly absent.
Garlic, undoubtedly, is leaving its pungent flavour in a season and time of the year associated with protests and expression of anger in Mandsaur's calm demeanour. When you look at Mandsaur as the nodal point for agricultural produce from the region, the picture changes a bit. When you look at the produce brought by farmers to the mandi, the picture changes further. Under the numbing heat of an unfair summer, Mandsaur whispers strongly that more efforts have to go into untangling the complications brought by back-to-back droughts and plummeting market prices.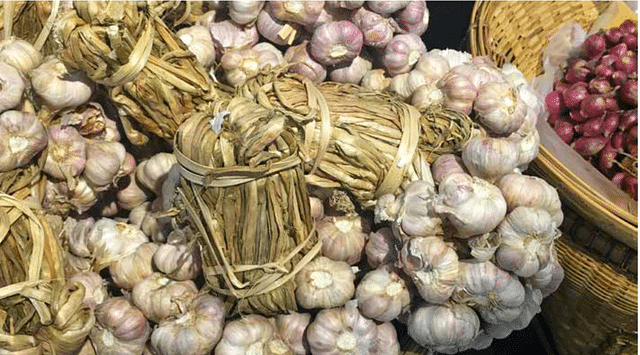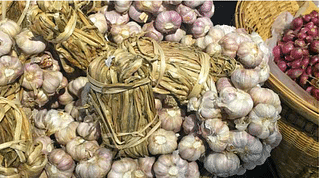 Garlic, the Mandsaur famers' favourite. 
In May this year, the political stage was being set for another agitation. Any farmers' movement with good intentions that motivates governments to come up with better solutions and more effective relief, helps in dissolving dormant volatility at the roots. It could go on in shaping the action furrow for farmers. Garlic and onion prices are low this year too. According to reports in local media, this year's stir would focus on demands, like the implementation of the Swaminathan Commission recommendations and loan waivers.
From the crashing onion, farmers shifted to sowing garlic, hoping the latter would rescue them from at least losing the input cost. But hopes have been belied. Says Ratan Lal, a farmer from Ujjain, "Onion prices were dismal. We go with the instinct. We went with garlic. But garlic is not really living up to our expectations."
Inside the mandi, Pannalal Suryavanshi sits under a shed surrounded by heaps of fenugreek. "I am the mandi guard," he says. "The mandi is witnessing an abundance of lehsun (garlic). Methi (fenugreek), soybean and onion produce are also huge this time." Under another shed, five farmers from Ujjain are huddled together, resting. They grow onion, garlic, pea, fenugreek and gram. Mohan Singh, one of them, is not expecting a good rate for his garlic yield. In fact, he is expecting lower than his input cost. He says, "I am not expecting anywhere around Rs 1,000 to 1,200 per quintal, which is what the farmer bringing garlic usually hopes for." How much? "Anywhere between Rs 200 and Rs 250. We will sell it off. We won't keep the produce with us."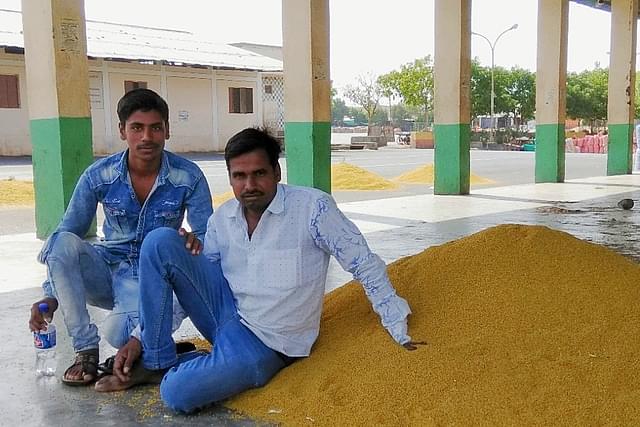 Farmers with their produce at the <i>mandi.&nbsp;</i>
There is certainly no cheer among the farmers camping outside the largest mandi in Madhya Pradesh. They are tired, their patience is wearing out. "We are all huddled here in garlic brotherhood," jokes Mohan Singh. "We are the worst sufferers of the downslide in rates and we gulp it down with heat. Most of us are have been here for more than six days. Some seven. Some eight."
However, the plummeting fortunes of garlic and onion, and last year's agitation, prompted the Madhya Pradesh government to back farmers with state support. In March this year, garlic was included in the Bhavantar Bhugtan Yojana. Theoretically, the scheme pays the farmer the difference between the market price and the minimum support price (bhaav means price and antar difference). According to a report published in Hindi newspaper Nai Duniya in March this year, garlic's inclusion in Bhavantar scheme would apply in Bhopal, Jabalpur, Sagar, Reva, Chhindwara, Shivpuri, Shajapur, Rajgarh, Chhatarpur, Guna, Neemuch, Ratlam, Ujjain, Mandsaur, Indore, Dhar, Devas, Satna, Agar-Malwa and Sihore.
Last year, the unfortunate event of farmer protests taking a political and violent turn had replaced some vital questions and answers with grief and anger. Today, people in Mandsaur become visibly uncomfortable whenever an outsider broaches the memories of last June. "We have heard that the agitation is going to happen again. We hope it passes off peacefully and the farmers' concerns are addressed," a resident of Mandsaur said on the condition of anonymity.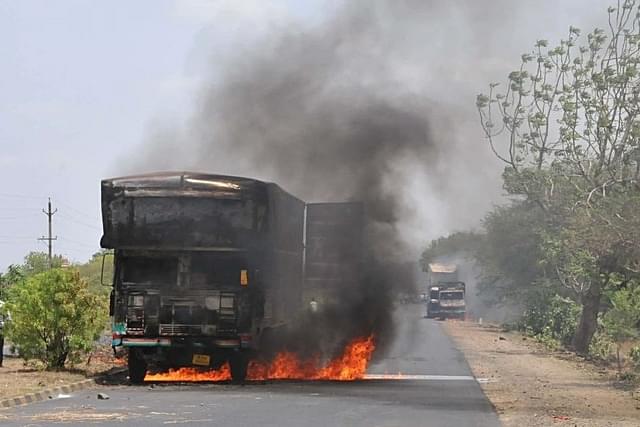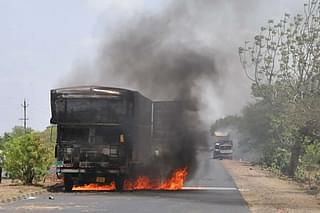 The farmers' protest that turned violent. (Mujeeb Faruqui/Hindustan Times via Getty Images)
A mix of cynicism, observation and better judgement could be sensed in farmer Baddi Ram's perception of garlic being a "dependable crop". He chuckles every time he hears "lehsun (garlic)". "I have heard about the rates garlic is fetching. It is not a wise choice to grow garlic any more," he says. Which crops does he favour? "There is so much else to grow. I grow urad, gram, moong, soybean. Growing garlic is unwise now." But he seems to be an exception. Most farmers are persisting with their love for garlic.
Bansilal Gurjar, general secretary, Bharatiya Janata Party, Madhya Pradesh tries to explain the scenario. He says, "Why is the farmer coming to the mandi even when the prices are on the downslide? He cannot keep his produce to himself. How much should he keep with himself? How many quintals? He is aware that garlic production has gone up and he may not get the price he desires. He is getting the support from government."
Gurjar, who has experience of more than a decade at the Mandsaur mandi, where he served as its president, believes that there is a strong need to look at the positives as well. He says, "we have taken initiatives that can lead to great results, gradually. In the area of garlic, we are making the best efforts we can, consistently. We are upgrading the number of dehydrating units. Besides the unit present at the mandi, more will come up in the region and state. This will help traders to be around for the farmer even in the worst market price situations."
He adds, "Farmers work on small units. They need an added support value to the crops. The state government is committed to giving the farmers better rates and supporting them."
At a time when it is crucial to redirect attention, ideas and concentrated actions to improve the challenging situations confronting farmers, the opposition would leave no effort in putting back the issue of prices on the electoral burner. Last year, when the agitation flipped towards violence, the Hindustan Times quoted then Union Minister Venkaiah Naidu as saying: "Congress is trying to give it a political twist. I only want to tell them not to politicise the issue...because it will boomerang on you."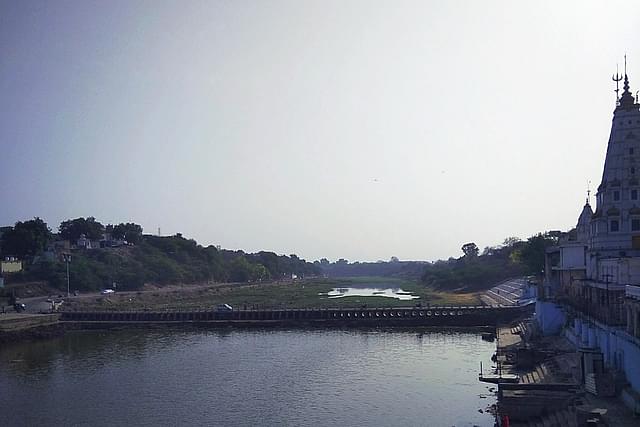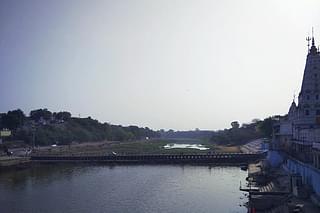 The town's famous Pashupatinath temple. 
A year after the agitation, one aspect spirals out from commotion old and commotion expected. Farmers in the region do not need lip sympathy, financial crumbs and fanning of emotions.
Minutes after the bus leaves the Ratlam-Mhow highway and cuts to the right, towards the town of Mandsaur, I realise I am outside a Shiva temple, the Pashupathinath temple, famous in the region. The bus loops over, as it proceeds further. Mandsaur unfolds as a beautiful backdrop which places you somewhere between Rishikesh and Raja Rao's Kanthapura. The other side of the temple, bhakts on the ghat and the gentle Shivna river, which, co-passengers tell me, swells during the rains. Sometimes, it submerges the stairs on the ghats and sometimes, when fuller, touches and submerges, partly, the garbhagriha of the Pashupatinath temple.
It is a Mandsaur that a visitor would not associate with a grim and restive agrarian crisis, and worse, violence. In the quiet town, people are helpful, friendly, swachchata changemakers and generously protective towards women, like in other parts of Madhya Pradesh. Some farmers I met on the bus to Mandsaur were carrying bundles of navrang, a flower I recently saw for the first time in Jodhpur from farms between Neemuch and Jawra. At the outlet of Raju Mali, near Maharana Pratap bus stop in Mandsaur, a navrang grower said, "This, too, is a colour of Mandsaur. The flower needs water, but we are able to meet its needs with the irrigation and electricity available, so far. The flower has a very short shelf life, but it is the beauty of the Malwa region."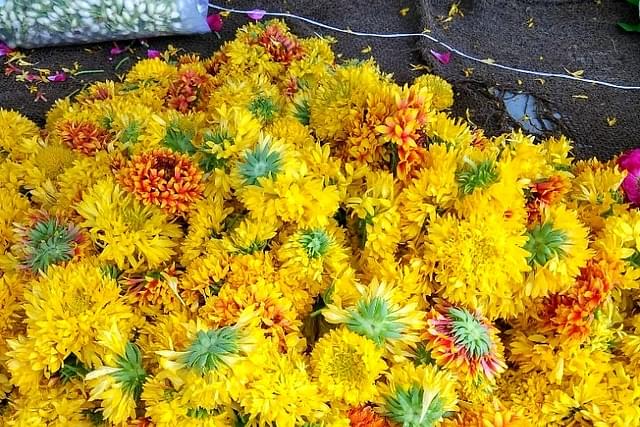 A<i> Navrang</i> flower heap in the town.&nbsp;
Then, there are other farmers, too. Kesri Mal and Madan Lal, farmer and seller of rajka, from Naringhpura near Mandsaur cannot stop gushing about the quality of Mandsaur's rajka. I tell them I recently saw much smaller and more tender bundles of rajka being sold in Jodhpur. "That rajka is nothing in comparison. We can vouch for the quality of rajka grown in Mandsaur. You won't find it anywhere else. I saw some bundles being sold in Ajmer. They were no match to what we grow and sell. If water doesn't play tricks with us, we would be even better," Madan Lal says.
This gets Dashrath Kumavat, a helper accompanying Mal and Lal, pretty excited. He holds bundles of rajka, bajra and corn, dramatically in front of his face. "These three would be double the height and much thicker than what you see now, had it received more water. A good chunk of rajka produce goes to the cows and gaushalas. We are very generous with the quality and quantity we bundle up to sell," he says, placing the bundles under my palm, as a symbol of my offering to the cows. The men have chosen a strategic spot near the bus stop to sell these bundles. A bulk of these is picked by people as offerings to cows and those who keep goats. The sale peaks on amavas (new moon) and poonam (full moon), and other days important in the Hindu calendar.
There is a palpable sense of pride among in the farmers of Mandsaur and villages and towns around it. Some of it arrives from the awareness that the Malwa region produces a plethora of crops, and could represent a grand spice box, in spite of the limitations related to water and some local factors. Baddi Ram wraps it in a question. "You get so much of water around Haridwar and the Ganga belt in Uttar Pradesh. What all do you grow besides sugarcane, some dals, rice and wheat?"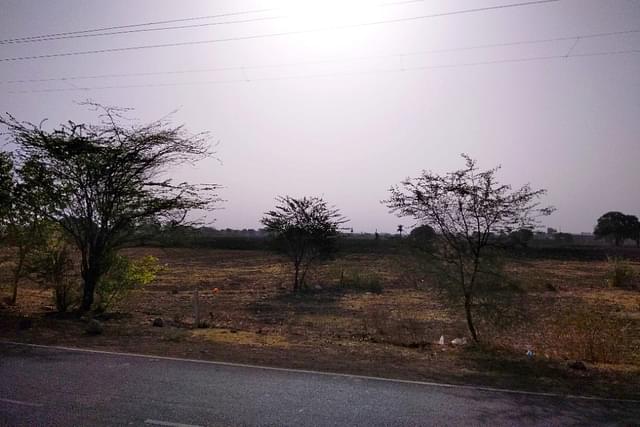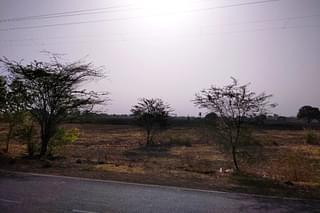 The Sun shines brightly over Mandsaur, which already has had its share of droughts in recent years. 
Then, some pride seemingly arises from their persistence and a cyclical approach to absence and presence of enough rain over the rich agricultural canvas. Kaseri Mal, a farmer at the mandi, says, "Irrigation does matter to us. Whatever share of work we can manage per day in roughly eight hours of irrigation gives us the yield we bring to the mandi, but we depend a lot on rain. What we sow after the first set of showers of monsoon sets us up until we take up the Rabi crop after Diwali."
What place does pride have in agriculture and in a farmer's life? Does pride convert to quintals in yield? Can it push the rotors of new thinking and make farmers respond to concentrated, state-specific, region-specific research? Standing in Mandsaur, among farmers from the region, one can say a firm "yes". Meanwhile, garlic in Madhya Pradesh could be needing its own Henry Ford moment.
Rodents chewing rajka crop at the roots, and opportunists chewing on rural vulnerabilities have one thing in common. They don't give up the appetite for chewing. This is something that Prime Minister Narendra Modi, who has made farm sector reforms a priority for his government, and Shivraj Singh Chauhan, Chief Minister of a state going to polls this year must not forget.
Mandsaur doesn't need short-term solutions. It needs changes that linger for long and longer, like the aroma of healing fenugreek, which comes to Mandsaur in heaps.