Can Election 2021 Be A Turning Point For Bengal?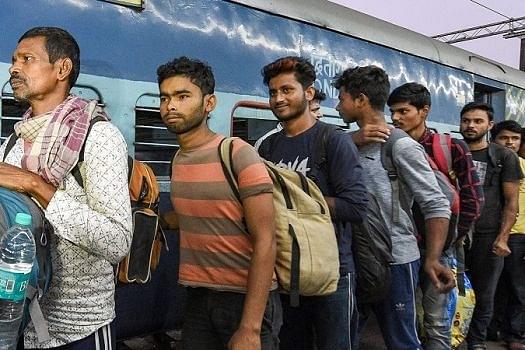 West Bengal labourers.
Snapshot
The sorry state of West Bengal and the mismanagement of a once leading state is a cancer that the rest of the nation cannot afford to carry any longer.

That West Bengal has turned a labour exporting state is not in doubt. In the absence of any record, both by the Centre as well as in states, one relies mostly on 'guesstimate' to arrive at a number of migrants to or from a state.
Based on the Census 2011 data, a recent report by the Reserve Bank of India on finances of states identified West Bengal as a major in-migration state. But an anecdotal look at movement of workers across the nations reveals a different picture.
Most urban conglomerates of India and even construction sites or industrial bases have seen migrants from West Bengal working. Even distant Kerala had seen during the Covid-19 times reverse migration to West Bengal.
The West Bengal Chief Minister had mentioned different number of migrants coming back to the state at different times — it ranged from 600,000 to 1,200,000 while labour unions in the state claimed that at least 4,200,000 migrant workers from West Bengal go to other states in search of livelihood.
In an age of ease of movement and global trade, such migrations need not be viewed disparagingly. Strangely, West Bengal and its administration seem to be keen to gloss over this fact.
The important reason for such interstate migration is the huge regional disparities in the context of labour requirements, available opportunities and labour supply across India, mentioned a recent report of the Observer Research Foundation.
Industrial regions of Maharashtra, Gujarat and Karnataka as also regions witnessing construction boom, Delhi National Capital Region for example, are a magnet for migrants. And states which had failed to create employment opportunities for its people, West Bengal is a case in point, has ended up as a major provider of surplus labour.
The flexibility and ease of migrations offered by the Indian economy encouraged such migrations. What is more, such migrant work force has ended up as a backbone of sorts for the Indian economy.
Labour-short regions offer higher remuneration to the workers from labour surplus regions. Thus people from West Bengal leave their home and seek livelihood in other often enough distant states. Some migrations are seasonal where workers move lured by higher wages and come back once the seasonal demand comes down to move again when opportunity beckons.
Some seek round the year engagements and stay back. They move with family, and perhaps some time later, accept their adopted home as a permanent one. Spread of Durga Puja in distant places illustrates such migration of both skilled and unskilled workers away from West Bengal.
People leave the safety and comfort of home only when livelihood is at stake. West Bengal as various studies have seen is characterised by large scale 'informalisation' of the economy.
A study by IIM Kolkata in December 2017 had identified this large scale use of informal sector as a reason for West Bengal's failure to increase its tax revenue. Not only the state remained deindustrialised, its refusal to mend the problems contributed to it remaining outside the radar of any investment.
The state remained a continued story of slide — for instance the IIM study pointed out that in 2014-15 West Bengal had 9,112 out of 230,435 factories in India, while Maharashtra had 28,601 factories, Gujarat had 23,433 factories and Tamil Nadu had 37,878 factories.
West Bengal's share of total gross value added (GVA) in the organised sector remained even lower than the share of number of factories in the organised sector and had declined from 4.10 per cent in 2004-05 to 2.14 per cent in 2014-15.
In 2014-15, West Bengal's share in total GVA is much lower than states like Maharashtra (20.53 per cent), Gujarat (16.87 per cent), Tamil Nadu (9.44 per cent), Karnataka (6.17 per cent) and Andhra Pradesh (5.92 per cent).
Similarly, West Bengal's share in total number of workers employed in the organised sector in India has secularly declined over the same period — from 9.69 per cent in 1990-91 to 4.69 per cent in 2014-15.
The decline is visible in absolute numbers as well.
In 1990-91, there were 578,651 workers in the organised sector in West Bengal, out of a total of 6,307,143 workers in organised sector in India.
In 2014-15, there were 504,148 workers in the organised sector in West Bengal, out of 10,555,288 workers in the organised sector in the whole of India.
Clearly, the RBI study of state finances by using the 2011 Census data was generous in categorising West Bengal as an in-migration state. A state where industrial workforce has been shrinking there is little reason for workers from other states to move in unless they are suicidal. West Bengal indeed is a labour exporting state in India.
The abysmal economic condition has created an informal economy to accommodate the huge surplus workforce. This could be seen in the appointment of temporary persons even in the state police force — civic volunteers who are paid a measly sum, much less than even a maid in large metropolitan city earns just by working in just one or two households, a much less onerous task.
The other way of keeping people engaged is giving them unchecked opportunity of extorting money. This has now been made well known as cut-money economy — that is living by taking a cut (share) from whatever the other person earns or receives.
Even the state Chief Minister Mamata Banerjee was heard in admonishing her party men for taking a 'cut' from the grant her government pays to the poor — around Rs 2,000 — for cremating their dead.
The failure to create gainful employment — either by attracting new investment in industry or services or by spending from the state exchequer in creating infrastructure and engaging its surplus labour force — remained largely outside the discourse of the state's mainstream media or thought leaders. This is yet another curious slide of the state which had ushered in Western education to India.
The sorry state of intellect, a decline initiated and aided by 34 year-long Left Front rule, also illustrates brain drain from the state. It has been seen for at least the last three decades that migration starts from the student days itself.
First the young students moved to Bengaluru or Pune for studying engineering or management and thereafter they remained outside since West Bengal could offer them no employment suitable to their skill. The massive IT and ITeS growth that had propelled India in the global stage had escaped the state, though its children could benefit by migrating.
When the mediocre remain stuck in a sliding economy, the society and therefore politics, turn rent seeker. The sorry state of West Bengal administration is an unavoidable outcome of this slide over nearly five decades.
Almost two generations of West Bengal are stuck in the rut so deeply today that the leftover intellectuals there cannot even introspect. The entire growth story that Indian economy created — even though it is less than what China could manage — has completely escaped West Bengal.
In the absence of any study some anecdotal fact checks can bring to light how much West Bengal has lost. Just check rent in say Guwahati for a two room apartment — the same is less in Kolkata.
Among the four erstwhile metropolitan cities, Kolkata is the least in the list for any new product launch in India.
Registration of four wheelers is an example. As per the CSO Infrastructure Statistics 2014, there were 43 registered vehicles per 1,000 people in West Bengal against a national average of 132.
West Bengal is left with people who are compelled to stay there. The report of the technical group on population projection of the government estimated in 2019 the growth of population at 60 year plus age group in West Bengal — from 8.6 per cent in 2011 to 11.3 per cent in 2021 and 15.7 per cent by 2031.
By 2021, West Bengal will surpass the national average in 60+ population group. This illustrates migration of younger people from the state.
The sorry state of West Bengal and the mismanagement of once a leading state over the last five decades is a cancer that the rest of the nation cannot afford to carry nonchalantly any longer.
Cancer in one geography is certain to impact the growth and stability of India as a nation. The forthcoming state election in 2021 will test if the democratic system in West Bengal is robust enough to come out of the morass of degradation or the system is twisted deeply with the abuse of more than 50 years to never ever recover. This is a test not only for West Bengal but Indian democracy as well.
Get Swarajya in your inbox everyday. Subscribe here.
An Appeal...
Dear Reader,
As you are no doubt aware, Swarajya is a media product that is directly dependent on support from its readers in the form of subscriptions. We do not have the muscle and backing of a large media conglomerate nor are we playing for the large advertisement sweep-stake.
Our business model is you and your subscription. And in challenging times like these, we need your support now more than ever.
We deliver over 10 - 15 high quality articles with expert insights and views. From 7AM in the morning to 10PM late night we operate to ensure you, the reader, get to see what is just right.
Becoming a Patron or a subscriber for as little as Rs 1200/year is the best way you can support our efforts.
Become A Patron
Become A Subscriber