An Interfaith Marriage That Has Left Two Families Shattered
Imran's family
Snapshot
This case has the elements of deceit and the Islamic zeal to convert to fit it into the "Love jihad" pattern, but for the registration of the marriage under the Hindu Marriage Act.

But even if one looks at not the intention but the outcome, this interfaith union is still a tragedy.
Interfaith unions are celebrated as catalysts for building inclusive and religiously tolerant societies. However, not all interfaith unions are fairy-tale romances promising happily-ever-after endings.
In fact, a large number of them end up in separations and even barbaric murders. But, perhaps, because the same also holds true for same-religion marriages, the phenomenon of interfaith unions falling apart has escaped any special scrutiny and attention.
But there is a category of such interfaith unions where the very intention behind entering into the relationship has been observed to be suspicious and dishonest. As several media reports suggest, the intention in many such cases turns out to be converting the partner into one's religion.
In a recent case in western Uttar Pradesh, the woman in such a union has claimed that her partner lured her into marriage with the intention of bringing her into the Muslim fold and accused him of pushing her into prostitution.
As the union was unacceptable to both the families on religious grounds, they had eloped and married. The woman had even fought a legal case against her father to live with her partner. The fiery love story ended in less than a year.
In December, the woman filed a police case against her husband and his family. Alleging police inaction, the Dalit Hindu woman has now knocked at the doors of the National Commission for Scheduled Castes (NCSC) for justice. In February, the NCSC took note of her case, which is under consideration.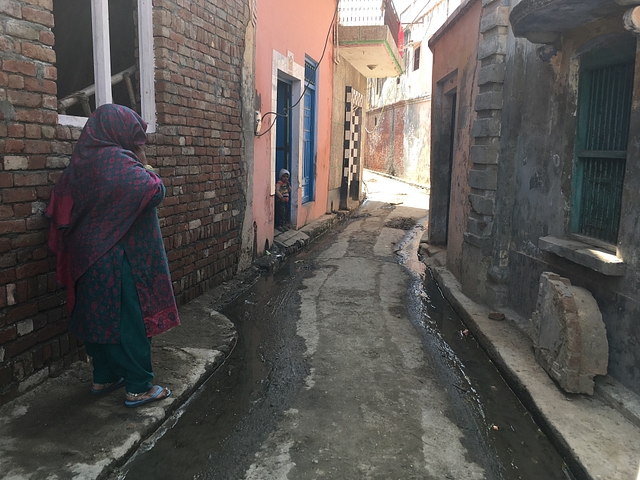 How They Met And Got Married
The two hail from neighbouring villages in western Uttar Pradesh's Baghpat district. In January last year, they met on a local bus.
"He said he knows my father as they are both in the same business of making khoya (a dairy product). We got talking, exchanged numbers, entered into friendship and fell in love," the woman, Kavita (name changed), told this correspondent.
It's worth noticing how the man introduced himself. As has been reported in several such cases, the man, in this case too, dropped a Hindu name.
"He said his name was Rahul Malik. I had no reason to not believe him as Sadikpur is a Jaat-dominated village and Malik is a common surname," Kavita, 27, said.
Kavita was living and working in Gurgaon (near New Delhi) at that time. Malik, 24, was living in his village Sadikpur in Baghpat's Sinauli, which is around 20 kilometres from Kavita's native village.
She says the man later told his name to be Rehaan and it was only in March when Kavita's father fixed her marriage and the two decided to elope, that she learnt that Rahul's real name was Imran and he was a Muslim.
Asked if this revelation would have made a difference had it come earlier, Kavita says yes, and that she wouldn't have pursued him.
Kavita's father told this correspondent that he could have considered the proposal if the man was a Hindu or Buddhist or Sikh but Kavita knew that he wouldn't agree to this match and thus she eloped. "I would rather die than willingly give my daughter into a Muslim household," he said.
The first information report (FIR) later filed by Kavita against Imran and his family, however, makes no mention of this deception.
Kavita says she eloped with Imran on 26 March, a month before her arranged marriage was scheduled. "He would often call me and ask me to run away with him, promising me that he would keep me happy. At times, he threatened to harm himself and my family if I didn't," she says. "I decided that he loves me and will keep me happy."
"Nothing even remotely like this happened. I was instead tortured," she says.
Kavita says the couple went straight to New Delhi where a friend helped them get rented accommodation in Loni area in Delhi's adjoining Ghaziabad. She says the couple stayed in Loni for two months after which Imran took her to his house in Sadikpur.
She says Imran's brother sometimes visited them in Loni and tell them that Imran has been disowned by his father.
It was in Ghaziabad that the two got married. For reasons unknown to Kavita, the couple first registered their marriage in a mosque and then in an Arya Samaj temple.
The nikahnama, dated 15 March, mentions Kavita's name as Zoya. The marriage certificate issued by an Arya Samaj temple in Ghaziabad's Shastri Nagar, dated 4 April, mentions Imran's name as Rahul.
Kavita says she had no role in either of the paperwork other than signing on them. "It was all his idea. He first asked me to sign on the nikahnama on 29 March. When I asked him why it had a date of two weeks earlier, Imran said it's not my business. A week later, he again gave me a document to sign on, this time from Arya Samaj," she says.
She admits she found it strange but never dug deeper into it. What irked her was that her marriage wasn't solemnised as per any religious ritual. "I never saw the Arya Samaj temple where we supposedly got married. There were no pheras or mangalsutra ceremony. There was only a document I signed on," she says.
Then Kavita reveals, "They would often tell me that they want to show to god that they have brought me into the Muslim fold. The paperwork is only for the government and its functioning. They would tell me that I am a Muslim now."
She says that indeed, Imran never used his Hindu identity anywhere and insisted on always calling her Zoya. She shared with this correspondent a receipt of updation of his Aadhaar details dated 17 April – a week after the court relief – that mentions his name as Imran Malik.
She says he despised her following any Hindu ritual. "He didn't even allow me to keep the idols of my gods," she says.
"He always called me Zoya and forced me to do many things despite my objections, such as cooking and eating meat."
Meanwhile, Kavita's father filed an FIR against "kidnapping". Kavita petitioned against it and, in an order dated 11 April, a bench of Allahabad High Court refused to interfere in her matter as she was a major.
When their marriage started falling apart
Kavita says that things were more-or-less fine for the first two months but became ugly once they left Loni and returned to his house in Sadikpur, from where Kavita eventually ran away on November 22.
"We went to Sadikpur in June. I remember that his family asked him to return on Meethi Eid," she says.
Kavita says that in her in-laws' house, she was "tortured".
Her statements recorded in the FIR dated 5 December, and recorded by magistrate under Section 164 on 21 December, detail the alleged harassment met out to her.
Her mother-in-law, her father-in-law and brother-in-law would beat her up for not bringing any dowry and starve her for days. They would hurl casteist slurs at her and taunt her that had Imran married into his own community, he would have got a car in dowry. When she complained to Imran, he again hurled casteist slurs at her and said that she deserved it. Imran would come home drunk and rape her. Slowly, he began bringing his friends home and force Kavita to have sex with them, thus pushing her into prostitution. When she objected, he would say this is precisely why she was brought to the house. He would threaten her with a pistol. Even Imran's brother Shahid raped her.
The statements further say that eventually, around 6 am on 22 November, she managed to flee from the house and reached Badaut district (around 7 kilometres away), from where she called up her family and her brother came to pick her up.
Kavita says the Singhawali police made her make several trips to the police station before filing her FIR.
It names five members of the family including Imran, his brothers Irfan and Shahid, and his parents Aashiya and Iqbal, booked under sections 498-A, 323, 504, 376, 506 and SC/ST Act.
Kavita says that till date, no arrests have been made. "Fifteen days ago, I went to police circle office in Badaut where I was told that the family has obtained stay order on their arrest," she told this correspondent on March 25 [Monday].
What Imran's family says
To hear the other side of the story, this correspondent visited Imran Malik's house in Sadikpur. However, his family said they had disowned him long back and are clueless of his current whereabouts. They shared copy of an affidavit filed by his father Iqbal that he is disowning Imran from his property as he has fallen into bad company. The document is dated 27 March – a day after the couple eloped.
Aashiya admitted that she wasn't happy with the marriage as she feels one should marry within one's own community but denied that she harassed Kavita. "I did everything a mother-in-law is supposed to do, including getting some gold ornaments made for her," she said.
Azgar Ali, Imran's grandfather, broke down pleading innocence of his family and maintained that they have all distanced from Imran. "We don't know how Imran treated her. That's their matter," he said. "What the woman [Kavita] is now doing is only to extract money from us."
Shahid, Imran's elder brother who is accused of raping Kavita, said he was ready to undergo any test to prove his innocence. "This is a totally frivolous charge," said Shahid, father of two, and added, "The truth is, she was used to living in Gurgaon and didn't like staying in the village. This is a huge drama to get rid of us."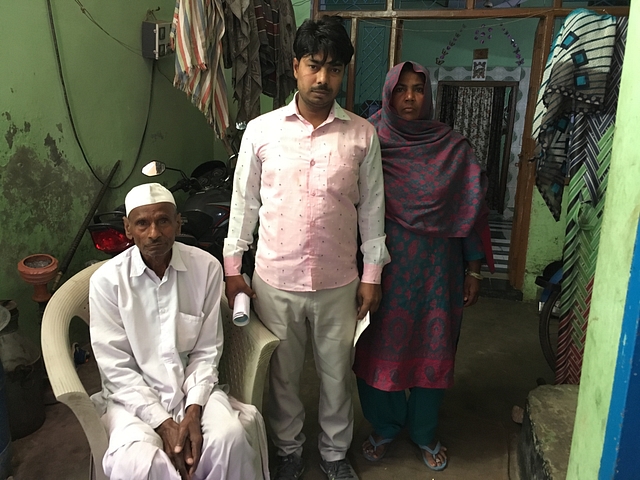 The family refutes Kavita's statement that she lived with them for well over five months. "She was here only for a few weeks. We had called Imran in November as his younger brother Jawed was to get married," said Aashiya, and shared a copy of the wedding invitation that shows the date of the wedding as 22 November (the day Kavita escaped).
Two neighbours that this correspondent talked to, supported the family's version that Kavita didn't spend more than two weeks at the house. "Ye sharif log hain [this family is innocent]," said Suresh Pal, the neighbour next-door. "We don't know about the kids. But we know the parents and the grandparents," he said.
Yogendra Singh, the village pradhan, said he could vouch for the family's character. "Law will take its own course and we are with the victim. But this is a nice family and they aren't characterless," he said.
Kavita says the neighbours are either lying or were the ones who possibly never saw her as she was deliberately kept hidden from public view. "There are several neighbours who would watch me wash clothes. I would even take milk from one of them. It seems that they are just siding with their neighbour."
She says that throughout her stay, she was kept away from the public eye. "If their relatives came, I would be asked not to step out of the room. They would hide the fact even from neighbours that Imran and I were living there, as they had already announced that they had disowned him."
She says that Imran's family is lying about not knowing his whereabouts. "I meet Imran routinely in the court. He is very much around."
Two months ago, Kavita filed for divorce under Section 12 of the Hindu Marriage Act. She says that Imran, in turn, sent her a legal notice under Section 9 [restitution of conjugal rights in Hindu marriage act]. The court case is on and she says they see each other during court hearings.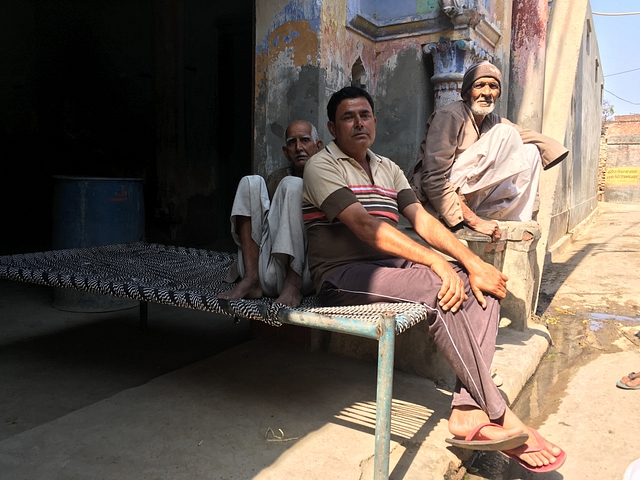 Kavita said she does not have Imran's phone number. This correspondent has not been able to reach him for his version so far.
You can listen to a part of the victim's version on record here:
Two Families Left Shattered
Some may say that this case has the elements of deceit and the Islamic zeal to convert to fit it into what's called the "Love jihad" pattern, but unthinking use of this term as a catchall phrase for any interfaith marriage has done a disservice and diverted attention from many cases.
"Love jihad" or not, this interfaith union is a tragedy. Not just for the couple, but also for the two families.
Imran's grandfather Azgar Ali, 75, could not stop his tears as his family explained their position. "The entire village can vouch for our innocence," he said amid tears. "We have always married into our own community. That is the only right way," he said.
Kavita's father, a poor man who says he makes money mainly in the wedding season and lives off his saving the rest of the year, too broke down several times while listening to his daughter tell her horrid story. "I had considered her dead after she eloped. But such is the heart of a parent that when she called up eight months later, I desperately wanted to see her and bring her back," he said.
Asked to recall the moments when he saw her, he broke down again.
"She was in bad shape," he simply said. "No father should see his daughter like that."
Get Swarajya in your inbox everyday. Subscribe here.
An Appeal...
Dear Reader,
As you are no doubt aware, Swarajya is a media product that is directly dependent on support from its readers in the form of subscriptions. We do not have the muscle and backing of a large media conglomerate nor are we playing for the large advertisement sweep-stake.
Our business model is you and your subscription. And in challenging times like these, we need your support now more than ever.
We deliver over 10 - 15 high quality articles with expert insights and views. From 7AM in the morning to 10PM late night we operate to ensure you, the reader, get to see what is just right.
Becoming a Patron or a subscriber for as little as Rs 1200/year is the best way you can support our efforts.
Become A Patron
Become A Subscriber