Over the last few months, readers may have come across multiple reports and commentaries decrying the Uttar Pradesh government's crackdown on illegal slaughterhouses, holding it directly responsible for a perceived sharp increase in stray cattle in the state.
The collective outrage against the crackdown followed a series of reports in December and January of villagers, especially in western UP, herding stray cattle and locking them up in government buildings such as schools and health centres.
In the absence of more detailed data, such stray incidents were cited to draw a direct correlation between the slaughterhouse diktat and stray cattle.
The narrative, however, left some basic questions unanswered: is the stray cattle problem a new one that emerged under the two-year-old Yogi Adityanath government? Is covert slaughter a solution? Do farmers endorse it? Are they unhappy with the crackdown on the illegal meat business?
Swarajya had tried to dig deeper into the issue by visiting several of the affected villages. We found that most farmers admitted to a stray cattle problem building up over many years and that successive governments have failed to curb it. They supported the crackdown on illegal slaughterhouses and invariably suggested more gaushalas and not more slaughterhouses as the solution, along with stricter penalties for those abandoning animals after their useful economic life is over.
For instance, Mohammad Yameen from Kalonda village in UP's Gautam Budh Nagar district told Swarajya that cow is a sacred animal for Indians and its slaughter cannot be advocated as a solution. He said the state must provide for gaushalas in every district.
Like him, almost all the farmers that Swarajya spoke to in the area supported the curb on meat trade and praised the Adityanath government for it. Likewise, a recent report published in Hindustan Times admitted that "there seems to actually be large traction for the cow shelter promise on the ground" and that "dismissing Gaushala politics as Hindutva is wrong".
Now, one only has to look at the prevailing situation in Punjab to realise how misplaced the dominant narrative was. As in UP, farmers across Punjab too are herding stray cattle and releasing them in government buildings.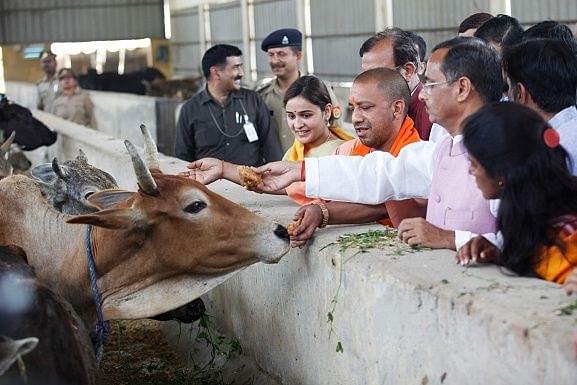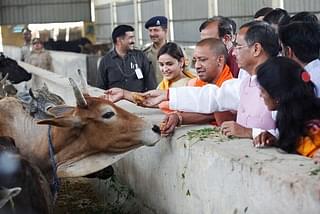 Uttar Pradesh Chief Minister Yogi Adityanath feeding cows. (Picture for representation).
Last month, farmers of Sangrur district's Pedhni village loaded stray cattle on four tractor-trailers and reached the office of the deputy commissioner (DC) to release them there. Earlier, hundreds of farmers from Ferozshah village dropped four truckloads of stray cattle at the government building housing the DC's office.
A farmers' union that recently met in Ludhiana district has warned that they would herd stray cattle to Chandigarh and "hand them over" to Chief Minister Amarinder Singh soon.
Two weeks ago in Faridkot district's Jaitu village, farmers blocked a road protesting against the administration's failure to curb the menace. Fed up, the farmers had gathered cattle in the hundreds to release in the local panchayati cow-shelter, but the facility had shut its gates on them. Three weeks ago, farmers of Hakamwala village rounded up stray cattle to release them in the bordering state of Haryana. However, they were stopped and some of them were handed over to the police.
The issue echoed in the Punjab Vidhan Sabha last month, with the opposition demanding that the stray cattle be taken in by government-aided gaushalas.
The menace is deadly. Stray cattle not only damage crops and impose heavy losses on the farmers but they also become a reason for accidents and deaths. Just three days ago, a stray bull hit a senior citizen named Gurdeep Singh in Amloh village and he died on the spot. Residents, while demanding that the government come up with an immediate solution, told the media that some weeks ago another man was hit similarly by a bull but the victim had luckily survived.
As is evident from these cases, Punjab fares no better than Uttar Pradesh if one is to gauge the situation by media reports (and not by statistics). Unlike in UP, there has been no crackdown on illegal meat trade by the state's Congress government nor have reports emerged of cow vigilante violence.
Curiously, the situation in Punjab has been conspicuously missing from mainstream media coverage.
The reasons aren't too difficult to guess. Left-liberal media has a special dislike reserved for the Hindu sentiment around cow protection. This sentiment is being increasingly shown to be a political project of the Bharatiya Janata Party. It's the same narrative that broad-brushed the much-needed crackdown on illegal meat businesses in UP as a communal move aimed at harassing the Muslim community, while raising no alarm over the significant negative impact that illegal slaughterhouses have on environment and health. It's the same narrative that erroneously blamed deadly stray dog menace in a particular area in UP on closure of slaughterhouses.
The Congress-ruled Punjab simply doesn't fit this media narrative of the stray cattle problem being a product of the Bharatiya Janata Party's s anti-minority stance.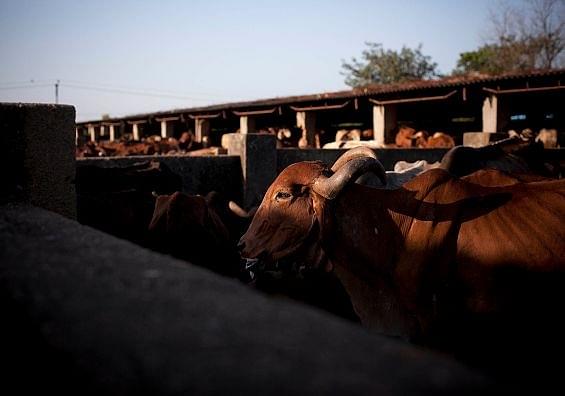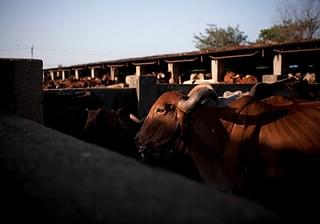 Cows at the Shree Gopala Goshala cow shelter in Bhiwandi, India. 
Kimti Lal Bhagat, who was chairman of Punjab Gau Sewa Commission for three years until 2017 end (the body has been without a chairman for a year), told Swarajya that in milk-producing states like Uttar Pradesh, Madhya Pradesh and Punjab, stray cattle has been steadily increasing over the years thanks to dairy boom and has been a menace for a long time.
Bhagat, who has worked in this area with the Punjab government for over eight years, however rejected slaughter as solution.
"Yes, it it true that the problem of stray cattle is present in states with a high Hindu population because of sentiments attached to the cow. But if the problem is unique, the solutions have to be specific. For instance, sexed semen has been found to be effective wherever used. Sadly, no government has dealt with the problem with the seriousness it requires and come up with a long-term solution," he said.
In 2015, the Bhagat-led commission initiated an ambitious project for cow conservation in Punjab that involved setting up of cattle ponds in every district. Work began with an initial grant of Rs 40 crore. At that time Bhagat told the media that if complete, the project would leave no stray cattle on the streets.
However, he now laments that with the change in state government, the project has come to a halt. "I am no more involved. But I know that if the government spends Rs 20-25 crore more and completes the ongoing works, the purpose will be achieved," he said.
Asked about the slaughterhouse ban in UP, Bhagat said he saw no reason to relate the stray problem to the "much-required" crackdown.
"I do not see the stray cattle problem in UP as a fallout of illegal slaughterhouse ban. These states have had this problem for a long time. The step [crackdown] was much-required," he said, adding that he himself led a movement against illegal slaughterhouses in Lalaru village in Dera Bassi tehsil of Punjab after water samples in 32 villages were found to be severely contaminated.