The build-up of the Gujarat assembly elections, slated for early December, is finally on. Perception management is in full swing, narratives are under construction, and early opinion polls have started appearing in the media.
Two surveys appear to ostensibly match a baseline study conducted by Swarajya in July 2022, which predicts that the Bharatiya Janata Party (BJP) will return for yet another term with an enhanced mandate.
But, as we shall see, there are issues with these surveys which merit discussion. This is necessary because if the validity of a survey isn't vetted, we would blindly buy into its findings without question, and that can be misleading.
Just to recap, the BJP swept the state in 2012, but was given a bit of a scare in 2017 by the Congress. This hiccup was the result of a three-pronged caste card which was played by the Congress.
These are the results of the past two assembly elections, after the delimitation of 2009: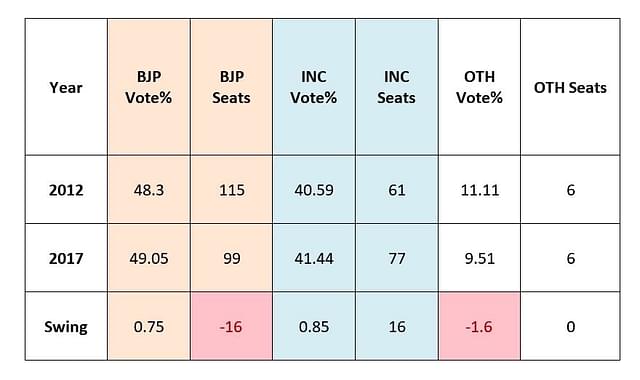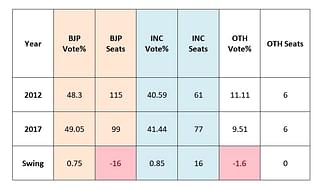 (Click on the image to enlarge)
This is the 2012 results map: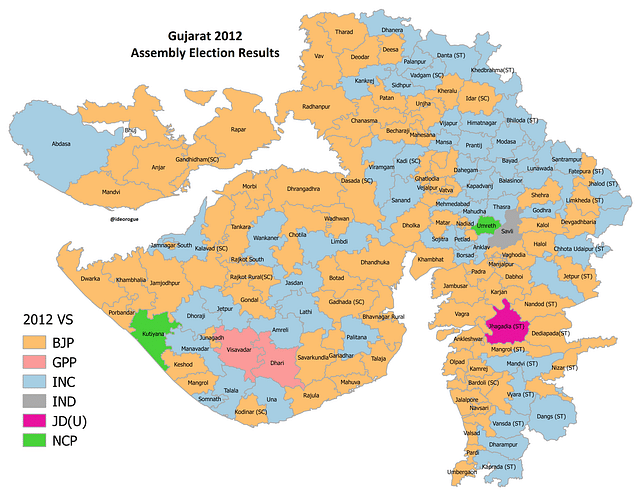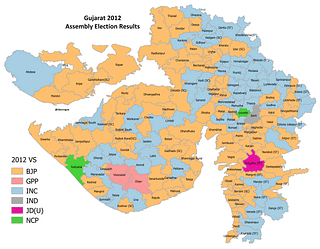 This is what happened in 2017: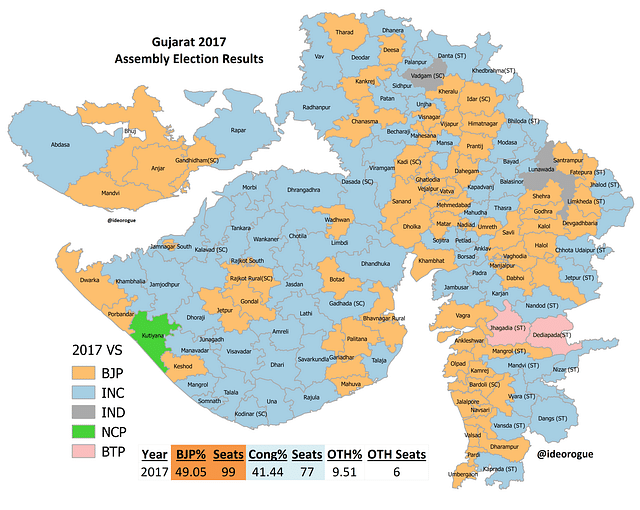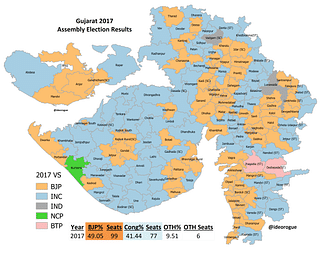 And these are the changes between 2012 and 2017.
Readers may note that the bulk of the Congress gains in 2017 were primarily in Saurashtra, and in 'demographically-advantageous' pockets.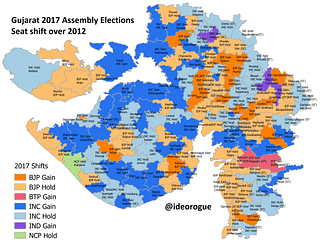 Now, coming to the surveys
The first is by India TV, dated 31 July 2022, and its findings are placed in a table below, along with the results of 2012 and 2017: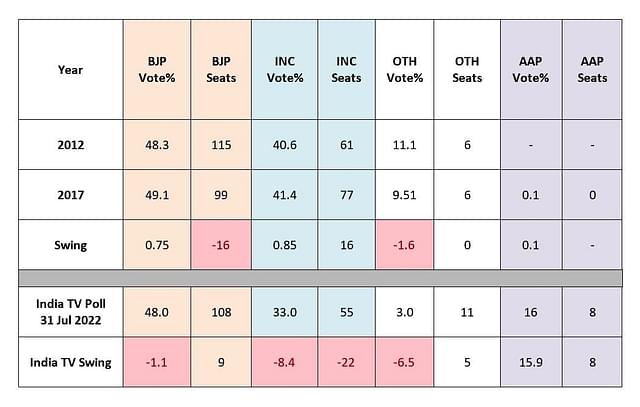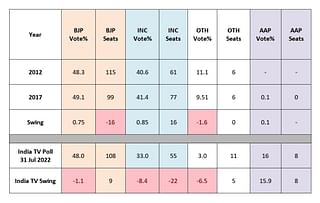 The survey predicts that:
The BJP gains nine seats from 2017 while losing 1 per cent vote share.

The Congress loses 22 seats and a debilitating 8.4 per cent vote share.

The 'Others' lose two-third of their vote but gain six seats.

The Aam Aadmi Party (AAP) makes a decent debut in Gujarat, winning eight seats with 16 per cent vote share.
This poll makes no sense, even if we are gracious and accept the BJP numbers for argument's sake (we mustn't, but leave it be!).
One, are we to seriously believe, that a Congress which gained 16 seats in 2017, with a vote swing of less than 1 per cent (all from the BJP), will lose 'only' 22 seats with a negative swing of over 8 per cent directly from them to the AAP?
The ground reality is that if non-BJP votes are split between the Congress and the AAP, the benefit goes to the BJP, but apparently, the pollsters don't seem to have kept this truth in mind while making their vote-to-seat conversions.
Two, the 'Others' vote share drops from 9.5 to 3 per cent, but its seat share nearly doubles from 6 to 11.
How is this ever possible, when the 'Others vote has never dropped this low in recorded history – not even in general elections, when the BJP's sweep is stupendous? And, further, who are these eleven phantom independents, and where exactly are they supposed to win from?
This is just not how Gujarat votes. Agreed, 12 independents won in 1998, but the bulk of them were rebels who won in the wake of the confusion created by Shankar Singh Vaghela's rebellion within the BJP, and defection to the Congress.
But that is not what the India TV survey says; here, the projected wins are on account of vote swings away from 'Others' to the AAP, and not from the BJP.
For the sake of brevity and sanity, it behoves us to conclude here that this survey is non-representative. The AAP may win eight seats, but not like this.
A second survey was released by Times Now on 28 August 2022. Here are the findings: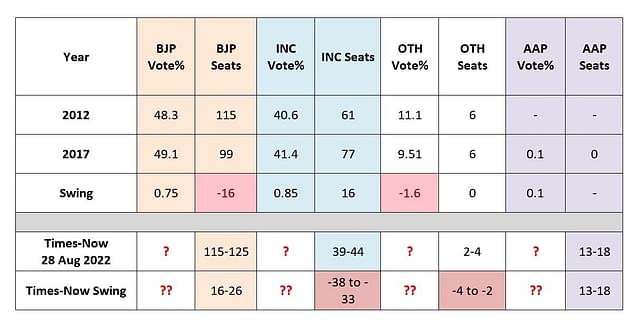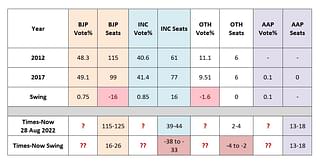 For reasons unknown, vote shares are not provided, so we have no way of knowing how these seat shares were arrived at.
All we are told is that the Congress gets decimated, with its lost seats getting divided between the BJP and the AAP. In the absence of vote shares, it is impossible to make a meaningful analysis of this survey. For the same reason, this survey cannot be taken as representative.
Some element of quality control has to be enforced on surveys, at least in the form of caveats, if they are to be accepted. Seasoned pollsters should know that.
Remember how some surveys projected massive vote swings in favour of the AAP in Goa and Uttarakhand earlier this year?
In Goa, the AAP was expected to get over 20 per cent of the popular vote according to some surveys, which in fact, they got less that 7 per cent. Similarly in Uttarakhand, while some surveys said that the AAP would get over 15 per cent of the vote, they got only 3 per cent.
Such wide margins of error are both impossible and unacceptable in India, because of historical voting patterns and trends identified by ground reports.
These are aspects that media houses and polling agencies should bear in mind as the elections grow closer. Surveys are a vital tool to gauge the mood of the electorate, but their findings must be transparent and logical if they are to be taken seriously.
If not, people might end up thinking that flutter was being sought to be created around the AAP, and that does a survey's credibility no good. Perception management is not psephology.
(All electoral data from Election Commission of India website)
Also Read: Gujarat, 1975 — The Assembly Elections That Triggered The Emergency