That Picture Of Ajmal Kasab: How Photo Journalist Sebastian D'Souza – The Unsung Hero Of 26/11 – Got The First Shot Of The Face Of Terror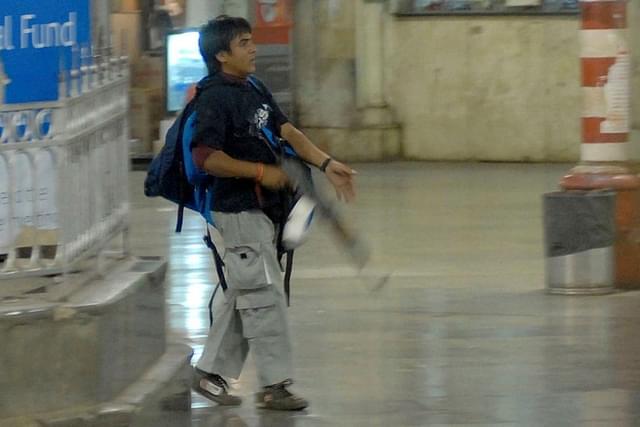 The photo of Ajmal Kasab that Sebastian D'Souza captured.
Snapshot
Sebastian D'Souza was the only photographer to take pictures of Ajmal Kasab and Esmail Khan, and it was this image along with his testimony that played a crucial role in the 26/11 trial.


While D'Souza was celebrated by the foreign media, India failed to recognise him for his stellar work.
On 27 November 2008, an image of a man holding an AK-47 rifle at the Chhatrapati Shivaji Terminus (CST) in Mumbai, dominated newspapers across the world. This man, holding the assault rifle, was Ajmal Kasab — accessories on his wrist, a black short, a backpack.
The close shot made a chilling picture of Ajmal Kasab — the man with the assault rifle who became the face of terror that shook India and the world on 26 November 2008 in a series of attacks at the Taj Hotel, the Oberoi Trident at Nariman Point, the Leopold Cafe, CST and Cama Hospital.
The photojournalist who captured Kasab on his camera is Sebastian D'Souza.
D'Souza was the only photographer to take images of Ajmal Kasab and Esmail Khan, the two terrorists who were part of the terror team that unleashed the attack. It was this image from D'Souza, along with his testimony, that played a crucial role in the 26/11 trial.
He has been quoted saying: "I still remember Kasab's face in the courtroom; a young chap who had no idea of what he had done. When Kasab looked at the photos that I submitted to his lawyer, he was cold for he knew that his death was nigh."
Today, 12 years later, just as each anniversary of this painful day and event, this chilling picture of Kasab sends a shiver down any nation-conscious Indian — part in disgust, part in fear, part in anger, part in regret.
Whenever this author sees that particular image, at the back of the mind, there is always a strong sense of gratitude, pride, and awe for D'Souza, his courage, experience and those moments of his work that fateful evening.
D'Souza was then working with the Mumbai Mirror — a publication of the Times of India. Armed with a Nikon camera and two lenses (a telephoto lens one of these two), D'Souza rushed to the CST on hearing gunshots from his office.
Here are lines from his own account. I said to one of the constables, "there they are! Shoot them!" It was at that point that I took my first picture. When the constable fired, one of the two swung around and fired back and knocked down someone right in front of us. It was the owner of a book stall who was some metres away, but right in front of us. He fell to the floor, bleeding but not dead."
The photojournalist would hide inside train compartments, in and out, to capture images and get that correct angle. He took around 90, out of which 35-40 could be used. Other images were unclear, blurred, shaken.
Kasab would be later captured — thanks to the sacrifice of Hutatma Tukaram Omble, the head constable with Mumbai Police who took bullets in his efforts to capture him.
Kasab was the only surviving terrorist. All other terrorists were killed in the counter terror operations. D'Souza got instant appreciation in the foreign press for this iconic piece of work.
For many journalists in India, he became a hero, and his feat, a nerve-throbbing, inspiring tale of bravery for many of us young journalists and his peers in the previous decade.
D'Souza dominated discussions in press photography circles across the world and would be counted as the first to capture images of a terrorist in action. 26/11 saw the beginning of another intense phase of media circus outside the unfortunate sites where terror was unleashed. It also saw the erupting of political conspiracy theories, that, owing to the courage in D'Souza's work, and the sacrifices of Omble and his colleagues, would be eventually quelled.
In political commotions centred on 26/11, in the collective-incomplete emotional closures after 26/11, in the anger over "what could have been done", India forgot to thank and celebrate one man. Sebastian D'Souza. Politicians are not expected to understand the value of this one image captured by D'Souza. Editors in general are not expected to remember good work forever. The fruits of the "fraternity" choose their own recipients. Mastheads, meanwhile, remain busy witnessing history and headlines.
Mastheads and magazines are not people.
Honouring D'Souza will take the story of his courage to people. His story must go to the people of India. Honouring him is one step towards it. Many in the current government fall for the "chhapaas and dikhaas" of celebrity media people.
D'Souza would have easily been a sensation on social media, where press photographers seem to chase ideological compulsions, today. But India should have celebrated D'Souza — the unsung, unrewarded and fairly unknown photo journalist, for his remarkable work: the image of Ajmal Kasab.
This author remembers that this image of Kasab had shocked many social media users on the morning of 27 November, 2008. "Oh, he (Kasab) looks like the boy next door type," some said. "If he sat next to me on a Blueline bus in Delhi, he would come across as a harmless college-going boy," was the mood in general.
That image and picture of Kasab had changed a lot for the urban politically-inclined middle class. Suddenly, the perception of "terror" changed. "Terror" seemed to wear cool clothes and accessories. Fear drew closer. It could be standing next, in the same queue, somewhere in the city.
D'Souza was celebrated by the foreign media, but in India, he has failed to get the recognition for his stellar work, even as several celebrity anchors continued to hog attention for their "coverage" of 26/11.
In 2009, D'Souza became the first Indian news photographer to win the World Press Photo Award for that picture in 2009. In 2013, one would hear stories about the "quiet life" he was leading back then. Published on 20 February, 2014, this interview reveals that D'Souza felt disappointed. He told this publication: "The Indian government has done nothing to honour me..." He added: "Rather it was the Supreme Court that honoured me by producing the captured images during Kasab's trial."
In the media, good work and humility is often the first victim of dominant narratives and attention hoggers. D'Souza seems to be the typical unsung professional, who gets the courage to fight fears, and generosity, from within himself and from work. He even gave the pictures for free to his photographer friend.
Gulf News asked: "You must have made a fortune out of selling the pictures?"
D'Souza answered: "I do wish I had sold the pictures to some foreign news agency and made good money. But being an honest person, I did not. In fact, I gave the pictures for free to my Mumbai-based friend Rajnesh Kakade, a photographer with an American news agency."
At the journalism schools and newspaper offices (where the real schooling begins), one gets to know and learn that a photographer must "get the shot first". D'Souza, surrounded by gun shots from assault rifles of the terrorists, had done just that on 26/11.
The policemen were poorly equipped, he has been quoted as saying. "...And the terrorists shot the brave policemen who dared to challenge them." Seeing and capturing bloodshed was part of his work.
D'Souza "hung his camera" years back. He had a passion for the arts, which perhaps occupies him today.
Here is something that tells that D'Souza wasn't an ordinary photo journalist during that moment. His moment. D'Souza was asked by Gulf News. "Do you have any regrets and feel you could have tackled the situation differently?"
To this, he answered: "I never regret things, but do feel bad and angry that there was no policeman around holding an AK47 rifle. If they had, believe me, I would have snatched the rifle from a policeman's hands and shot the two terrorists. That would have changed the entire scenario. No innocent person would have got killed outside CST."
For D'Souza, a career spanning three decades, work that became instrumental in getting Ajmal Kasab convicted, and world acclaim, seem to have been humble rewards as a professional.
As an Indian citizen, D'Souza and his work deserve honour and celebration — for the entire nation to witness, and for the younger generations to know and pass on the story of his courage and the value of that one picture.
Get Swarajya in your inbox everyday. Subscribe here.
An Appeal...
Dear Reader,
As you are no doubt aware, Swarajya is a media product that is directly dependent on support from its readers in the form of subscriptions. We do not have the muscle and backing of a large media conglomerate nor are we playing for the large advertisement sweep-stake.
Our business model is you and your subscription. And in challenging times like these, we need your support now more than ever.
We deliver over 10 - 15 high quality articles with expert insights and views. From 7AM in the morning to 10PM late night we operate to ensure you, the reader, get to see what is just right.
Becoming a Patron or a subscriber for as little as Rs 1200/year is the best way you can support our efforts.
Become A Patron
Become A Subscriber