An Enemy Less Lethal: What If, In 1971, India Had Entered West Pakistan?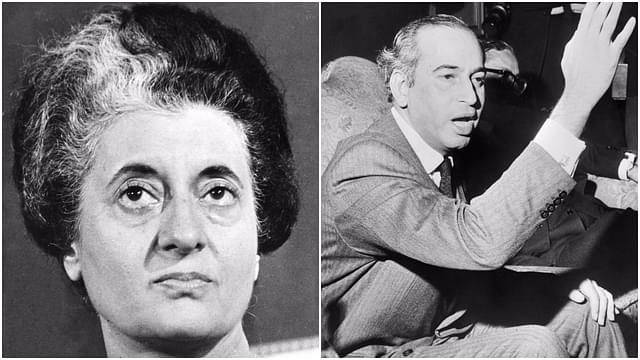 Indira and Bhutto
Snapshot
What could have happened in 1971, should always be an option on the table
The 1971 War was a military and political disaster for Pakistan, which lost its more populous and economically dominant eastern half – East Pakistan. The conflict was also a major embarrassment for the US, which had backed and armed Islamabad to the hilt, only to see its ally defeated on land, sea and air. India not only emerged the pre-eminent power in South Asia, but the emergence of Bangladesh ensured India was no longer sandwiched between hostile lands.
However, the magnitude of India's victory would have been significantly greater had its strategic war plans not been leaked by an American spy in Prime Minister Indira Gandhi's cabinet. The identity of this Central Intelligence Agency (CIA) mole remains classified to this day.
On 9 December 1971, as Indian Army columns were racing towards Dhaka, and the navy and air force were pounding Pakistan round the clock, the Americans realised their ally's game was up. Factoring in India's war plans, the CIA prepared a secret document titled 'Implications of an Indian Victory Over Pakistan'. The report listed New Delhi's aims:
A. The liberation of Bangladesh
B. The incorporation into India of Pakistan-Occupied Kashmir
C. The destruction of Pakistani armoured and air force strength so that Pakistan can never again threaten India.
The report and its conjectures may be nearly five decades old but they hold valuable lessons for the Indian political leadership. It presents a realistic scenario of how the situation could pan out in the event of Pakistan's breakup following an Indian invasion of its Punjabi heartland.
West Pakistan After An Indian Invasion
The CIA says that though the Indian military would have withdrawn after its victory, the area would also probably have suffered considerable damage during the fighting. "Much would depend on the extent of damage to such important and expensive Indus Valley hydroelectric and irrigation projects as the Tarbela and Mangla dams and on the industrial plants, centred mostly in Karachi."
However, the bigger concern for the Americans was the political future of the country. The agency adds: "Beyond this, West Pakistan might fall apart politically. The area suffers from regional antagonisms and hostilities; a major defeat could permit the emergence of centrifugal forces which could shatter West Pakistan into as many as three to four separate countries, successors to the four states which now make up most of the nation." (Punjab, Sindh, Balochistan and Khyber Pakthunkhwa)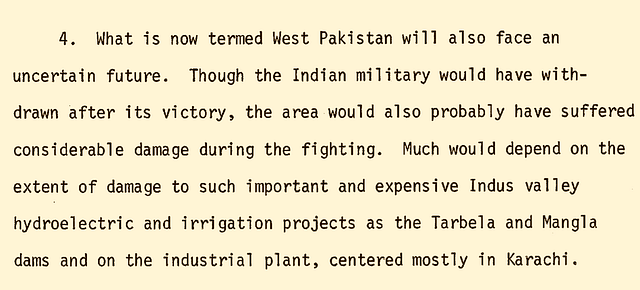 The Sindhis, "often hostile to the Punjabis, could declare their independence". The Pakhtuns of Afghanistan might take the opportunity to reunite with their brother Pakhtuns of Khyber Pakthunkhwa. "Indeed, were Pakistan to fall apart, the Afghans would probably help the process along by moving to detach (Khyber Pakthunkhwa) and bringing it under their protection." Balochistan could either remain attached to Punjab or it would be absorbed by either Afghanistan or Iran.
After the centrifugal forces have played out, what remains would be a "not inconsiderable country". In the CIA's view, provided it had not been too badly damaged, Pakistani Punjab would probably recover economically fairly quickly. But while the rump state "would remain the focus of bitterly anti-Hindu, anti-Indian sentiments", it would no longer pose a threat to India. "Nor would it have the international stature previously enjoyed by a united Pakistan. Rather it would probably be viewed by most powers as a state on the border of Afghanistan: remote and of no great consequence."
Understanding The Pakistani Mindset
The CIA's assessment that Pakistan will always remain bitterly anti-Hindu – and anti-Indian – is somehow lost on Lutyens' Delhi. In the 1965 and 1971 wars, India returned strategic borderlands captured after bitter fighting and for which hundreds of Indian soldiers paid the ultimate price. Prime Ministers Lal Bahadur Shastri and Indira Gandhi both held the belief that by returning captured land and prisoners of war (nearly 100,000 in 1971) they could score points with Pakistanis.
In the two limited wars fought in 1948 and 1999, India's leadership held back when its army had its boot on Pakistan's neck. Again, Prime Ministers Jawaharlal Nehru and Atal Behari Vajpayee believed that the enemy, now defeated, would understand the futility of attacking India.
However, the Pakistani mindset doesn't quite work like that. According to author Tufail Ahmed, Indian Muslims who moved to Pakistan in 1947 compare their migration with the flight of Mohammed and his followers to Mecca in 622 CE. And they also believe that just like the Prophet returned victorious to Mecca, the Pakistanis would one day enter Delhi as victors.
Pakistan's raison d'etre is entirely to re-conquer India. The narrative in Pakistan is that it is already a rump State – or as Mohammed Ali Jinnah, the architect of India's partition, said, "a moth eaten State". It will be complete only when all of India (and of course Bangladesh) would come under one Islamic flag.
Therefore, the Pakistani military leadership – which has the backing of more than 70 per cent of ordinary Pakistanis – will not rest after getting back a few hundred square kilometres of lost territory. As Pakistan expert Christine Fair says in her book Fighting to the End, the Pakistan Army is victorious as long as it can resist India's purported drive for regional hegemony. "Simply put, acquiescence means defeat."
Regional Powers And Pakistan's Breakup
While Fair describes Islamabad as a destabilising force in world politics, it is also true that Pakistan is one of the most disliked nations in the world, and surprisingly even in Muslim countries. In four of the five predominantly Muslim nations covered by a Pew Research Center survey, over half gave Pakistan negative ratings. Jordan (57 per cent), Lebanon (56 per cent), Tunisia (54 per cent) and Egypt (53 per cent) had an unfavourable opinion of Pakistan. The only exception was Turkey, where attitudes were divided (43 per cent negative and 37 per cent favourable).
And yet when it comes to a war between India and Pakistan, chances are the Muslim world will stick with Islamabad. Religion is, of course, the chief reason but geopolitical factors play a role in why Islamic countries back Pakistan. Saudi Arabia, for instance, has a stake in Pakistan's survival because it believes it could get hold of some of Islamabad's nuclear warheads. While India improves it relationship with states such as Pakistan's neighbours (Afghanistan and Iran), long-time patrons (Saudi Arabia and the UAE), or Islamabad's new partners (Turkey), New Delhi needs to prepare for an Islamic alignment in Pakistan's favour.
Take Iran. Labelling the Indian action in 1971 War as interference in Pakistan's domestic affairs, the Shah of Iran in an interview to the Paris paper Le Figaro openly acknowledged, "We are opposed to all interference in its internal affairs, we are hundred per cent behind Pakistan."
In 'Iran's Relation With Pakistan: A Strategic Analysis', Satyanarayan Pattanayak explains how the Bangladesh crisis and the 1971 War disturbed Iran's framework of its South Asia policy. In Tehran's view, Pakistan had an important role to play as a balancer not only vis-a-vis Afghanistan but also India. If the centrifugal forces arising from Bangladesh's breakaway had been allowed to take their logical course, Pakistan's role of a balancer in South Asia would have been jeopardised, and Iran South Asia policy would have been seriously affected.
The Shah explained his position: "If Pakistan remains a powerful country, strong and united, the danger will be less. But if what happened on the other side ever shook the unity of West Pakistan, then very grave problems would be created for us. The same would be true from the international point of view as well. The entire international scene would be changed."
Other Islamic countries are likely to have more or less similar views in an India-Pakistan conflict.
Options For India
While factoring in Islamic support for Pakistan, India shouldn't lose sight of the bigger picture. Just as the Bengalis who chafed under Punjabi domination, the other ethnic groups – the Sindhis, Balochs and to some extent the Pakhtuns – are eager to break free of Punjab's overbearing domination and economic exploitation. New Delhi should provide arms and safe havens to these minority groups so they are able to start guerrilla movements. In 1970-71, spymaster R N Kao of the Research and Analysis Wing trained and armed thousands of Bengali rebels of the Mukti Bahini, which played a key role in the Bangladesh liberation war.
The Punjabi military has not learned a thing from its Bangladesh mistake. Back in 1971, Pakistani dictator Yahya Khan had boasted of his army's atrocities: "When my soldiers kill, they kill properly." In more recent times, former Pakistani dictator Pervez Musharraf has crowed how he ordered the killings of Baloch leaders.
India must understand that Pakistan is not a country – it is just a bunch of incompatible ethnic groups held together by a runaway army. New Delhi can do multiple 'Bangladeshes' and reduce Islamabad to the status of a small landlocked, insignificant entity. It is the only policy that New Delhi should adopt in the backdrop of Pakistan's relentless support of terrorism directed at India for the past several decades.
Get Swarajya in your inbox everyday. Subscribe here.
An Appeal...
Dear Reader,
As you are no doubt aware, Swarajya is a media product that is directly dependent on support from its readers in the form of subscriptions. We do not have the muscle and backing of a large media conglomerate nor are we playing for the large advertisement sweep-stake.
Our business model is you and your subscription. And in challenging times like these, we need your support now more than ever.
We deliver over 10 - 15 high quality articles with expert insights and views. From 7AM in the morning to 10PM late night we operate to ensure you, the reader, get to see what is just right.
Becoming a Patron or a subscriber for as little as Rs 1200/year is the best way you can support our efforts.
Become A Patron
Become A Subscriber